Just picked these up at my local Target for 3 bucks each.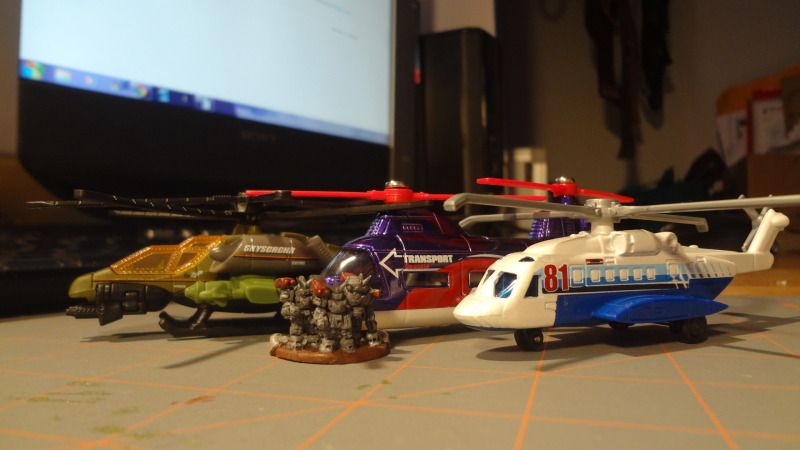 They are from the "Matchbox Skybusters" series.
I'm going to use them in a scenario with Panzer8 Sci-Fi, but I thought folks who play
DZC
and others might find a use for them also as objectives, scenery or maybe even game units. With a bit of paint (and possibly a few minor mods just for fun) these should look pretty good in a sci-fi setting.
The figures in the picture are Power armored troopers from Mechwarrior and are 10mm/1:144/N in scale.
For those seeking more exact, comparison they are 12.5mm from sole of foot to eyeline (
BT
universe power armor has big feet) and 16mm from bottom of base to top of pointy helmet topper.
I'm impressed with the size, They look to be spot on for 10mm, though 15mm players could use the purple and green copters as well. They're certainly more in-scale than the transport helicopters from the Mechwarrior CMG.
The white copter is a Skikorsky S92. Anyone know if the other two are based on a particular modern copter?
The purple is simply called "SB58 Transport Helicopter" on the bottom and "Jungle Transport" on the packaging.
The Green is called " Sky Scorcher"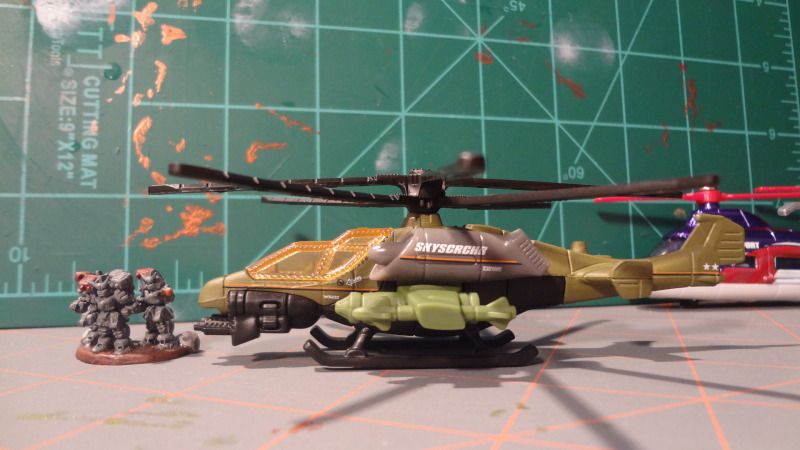 I kind of hope the last two aren't a current modern design as that would make them an even better fit in a sci-fi game.