Welcome all to GrimDork's Hobby Time!
Wow, I don't think I updated this first page all year (2016)... whoops. Sorry about that, though I'm not changing it today either

New year, new challenge! I'm gonna try to do one model for each day of the year! Preferably I'll get some major headway while I'm laid off for the next couple of months, as things will necessarily slow down in the summer. Can I do it?! Stay tuned to find out! I'll upgrade this graphic periodically as I make chunks of progress.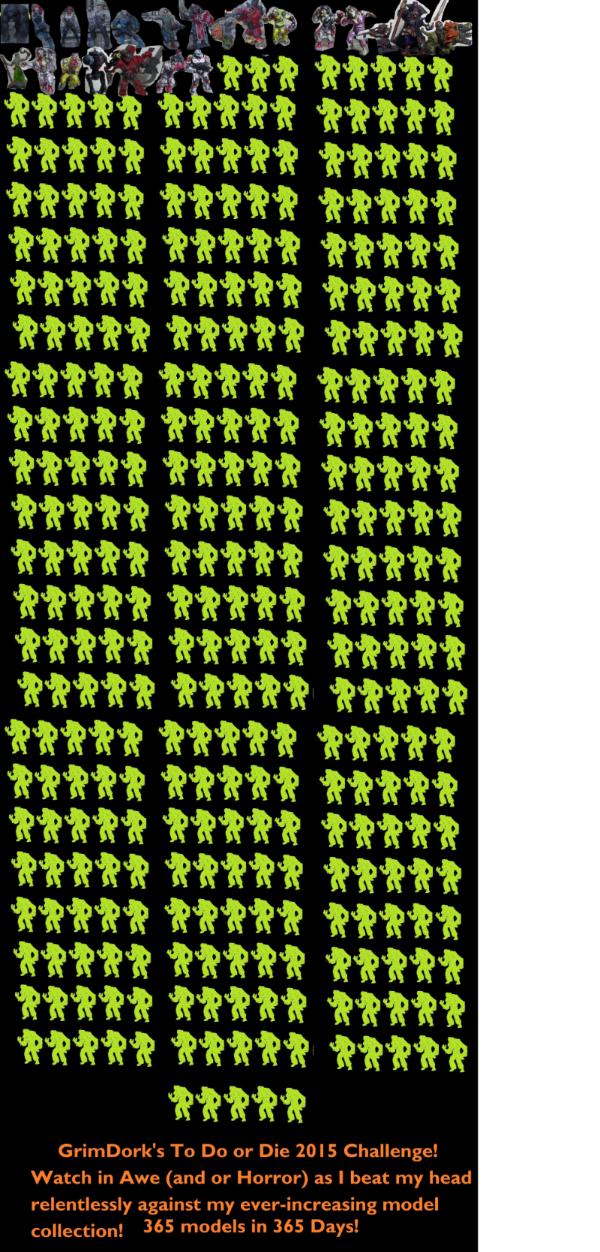 22/365=6%
Holy cow! It looks like an awful lot of work from this perspective! Remember you can click the photo to see it in the gallery and zoom in!
--1/8/2015--
I may stop doing these updates, I only periodically updated them anyway and what with the big 365/365 thing going on that will be update enough for now.
--12/04/14--
Samurai Showdown completed for all intents and purposes, woowoo! I've got some shirts to work on as x-mas gifts so may be slow here for a bit as those are not wargaming related and technically don't belong here on dakka for the most part. Here's a link to the
SS
gallery:
http://www.dakkadakka.com/gallery/images-70053-44376_Samurai%20Showdown.html
--10/29/14--
Big Mars Attacks! unboxing added. Still working on samurai diorama slowly. Probably a mix of Infinity, Deadzone, and Mars Attacks after that.
--10/12/14--
*Ahem, been a little bit. I've added shots of a 4x4' table, and have started working on the infinity diorama, those marines got finished but not Phil, he'll join the next wave.
--9/29/14--
I've added a couple of shots on page 52 of my mars attacks stuff, 9 minis in total now. Working on 5 more.
--9/27/14--
Around page 50-52 I've added some shots of my battle systems card terrain, bits and pieces of my DZ wave 2 order, and I'm starting work on 11 more Mars Attacks! minis which are now cleaned and primed. I am hopeful that this weekend sees a little paint go down.
--9/15/14--
This is where I deploy all of my miniatures wargaming hobby progress and what-not. You'll see some space marines, though I've really tapered off on those... You'll see a lot of models from Mantic Games, you'll see a lot of Infinity models too especially in the last dozen or so pages. Feel free to jump right ahead to the last page and say 'Hi!', I love all kinds of feedback and comments, or even just banter. I consider this P&M blog my backyard on Dakka, and so far nobody has ever given me cause to tell folks what to say here. Mostly you'll see me get new stuff, or pick old stuff back up, prep it prime it paint it, and often blab about the quality/nature of the items in question. Occasionally I'll put a battle report here if it's casual enough to not warrant going elsewhere. I'm going to work on getting links to a lot of my more interesting work here on the front page, but you can always click my banner or use my portrait and find my gallery, I don't think I've shown anything here that isn't in the gallery. More later, all of this set-up stuff isn't nearly as much fun as actually digging in and painting models!
Below are the original post and the last big update.
__________________________________________________
Change is coming! This first post is going to get heavily modified (as I get time) to make things easier to find. First off, the biggest news around here is: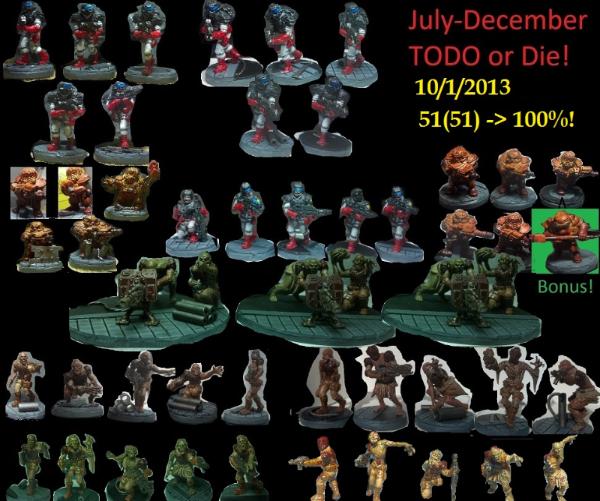 Goal complete!
So, with my TODO or DIE list finished up, I'm going to move on to a few smaller projects to kill time before Deadzone arrives. As Deadzone is now supposed to ship in late November, I'm thinking I'll be getting it either the last week of November or very early in December. That gives me the rest of October (and we're only a couple of days in), and the vast majority of November with which to work! I've got to do some housekeeping such as cleaning up my hobby desk, and storing models I'm not likely to use soon... Deadzone is going to take up a LOT of space! Aside from that (and possibly taking a break :p), I intend to paint my Bubblegum Crisis Knight Sabers, and probably some space marines (or a vendetta, something Imperial though). So keep an eye out, my *big list* may be done, but I'll still be updating regularly until Deadzone hits.. and then its crazy town.
Useful links Mk1, new and improve to come as I get time.
Jump to zombies!
Squad 1 painted.
First foray into dwarfs.
Inital effort at a goliath necromunda gang.
___________________________________________________________________________________________________________________________________________________
As I've decided to go ahead and document my progress building the mantic corporation army set, I've gotten this post switched into a blog! For completeness I'm going to leave this first post mostly intact for the time being.
I may not update constantly, but as things get done, here they shall go. Eventually, once this box is sorted, I'll recondition this blog into a joint corporation/
IG
nilla/dark angels army blog. There will be much assembly at first and painting should follow once the dust settles. If you're bored what painted marines I've got are linked in my signature.
Hey dakka! I've been debating getting these guys for months and finally decided to go for it. Things may have changed but I know when I first looked into them, there wasn't a boat-load of information or pictures. I'd like to use this space to show you whats in the box, and share my thoughts on it.
Front of box
Back of box
The very first thing I noticed when I got the box in the mail was how light it was. I thought to myself, they must have shipped me the 20 marine platoon instead or something. All is well, the box really is just that light. Alot of this comes from the large majority of the models being sprueless resin plastic (i've heard it called restic). Not only did I find everything as advertised on the box, but I found some surprising extras!
Box spilled out on couch:
I've read that these models can be fiddly or difficult to work with so I grabbed some tools!
Turns out I only really needed the hobby knife and the sprue cutters (mostly just for the bases). One tip I had heard did come in handy. This restic stuff is really hard, a sharp hobby knife is really important! Brand new sharp.
These guys come off the sprue and have just a hint of mold line. A few bits also have tabs that need cut off.
If you were going to forget to trim the mold lines on anything, these guys seem pretty forgiving.
I don't know about you, but I was intensely curious as to whether or not the bases matched up with
GW
's.
I've assembled the one marine as seen below. I can understand while people would say they are a bear. The arms go on ball joints and are fairly small so it takes a little finesse to get them in place. I definitely wouldn't warn anyone away, they may not be cake but I wouldn't say hardmode either. I'll have more information soon as I try to do some weapon swaps (and hopefully some magnets).
You get two identical marine sections, as well as one each of veterans, rangers, and heavy weapon teams.
The marine sections come with 10 marines, 3 each of 3 different bodies, heads, and arm sets, as well as a kneeling figure with a pistol and energy fist. Each marine section also comes with a small special weapon sprue including what could easily pass for a flamer, melta gun, and plasma gun.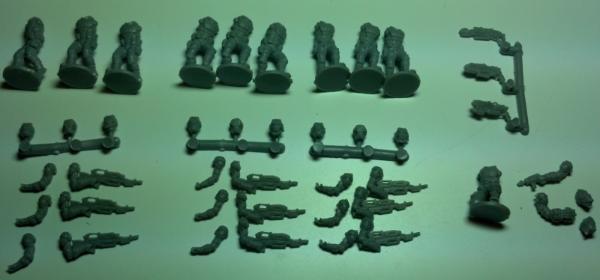 The heavy weapon pack comes with 6 kneeling figures, 3 sets of arms that attach to the 3 included heavy weapon bodies, and arms for the spotter. There are two options for each heavy weapon, an auto cannon or a laser cannon, which would be stupid easy to magnetize.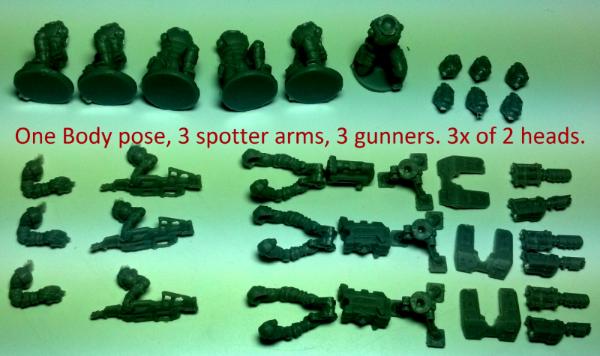 The veteran section has the same body layout as the marines, except you trade one standing body for a second one kneeling. The rest of the bits are the same with the addition of the heavy weapon (with two different bits for either auto cannon or laser cannon) and
two more special weapon sprues
. This means the veterans come with 3 of each type, 9 total!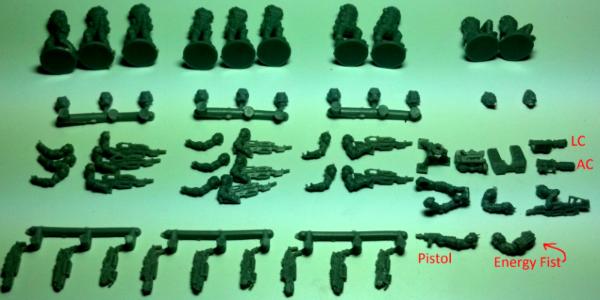 The rangers section takes the cake. You get the same bodies as a marine section, including the fist and pistol, but the rest is different. The rangers come with "heavy laser rifles" (which would make excellent hellguns/hotshot las) wielded by more armored and imposing arms. There are only 2 types of arm here, unlike marines/vets with 3 poses. There is also an "extra" set of arms, 10 total rifles along with the usual squad leader gear. These guys also get a different set of heads which makes them look even more imposing than the regular marines. In addition to their 3 sprues of special weapons (like the vets), the rangers also have grav-packs which are very low-profile jump packs. Perfect accessory for deepstriking storm troopers, and even better, they fit on the regular torso so there's no obligation to use them.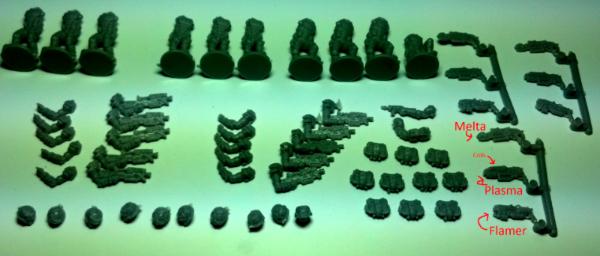 Managed to update the post with the pictures I meant to add yesterday. I'll add another post later with more assembled minis as I get to them.
I'll leave you with some quick comparison shots. While the corporation marine isn't really any shorter than the cadians, he has more natural proportions. He may look a little anemic next to
GW
's range of guardsmen, but he makes space marines look bulkier and more superhuman.

Corporation marine in line with some cadians, old metal dark angel, and
DV
librarian.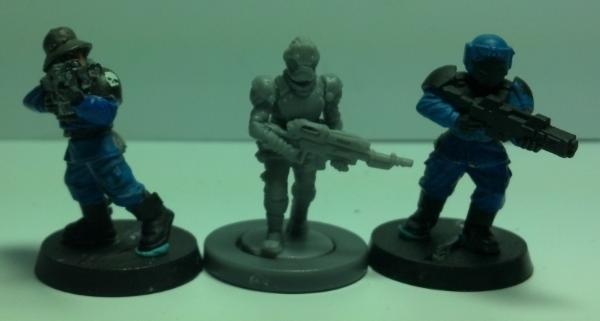 Marine in line with two cadians.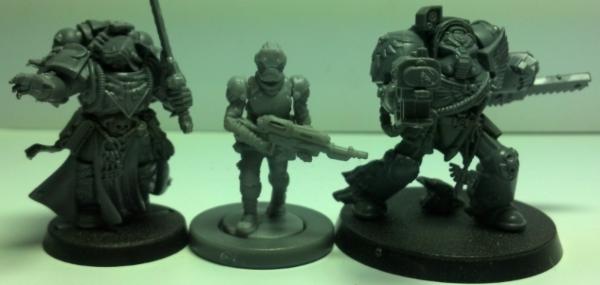 Marine with
DV
librarian and terminator
I was asked to show a ranger and a marine together, so here they are: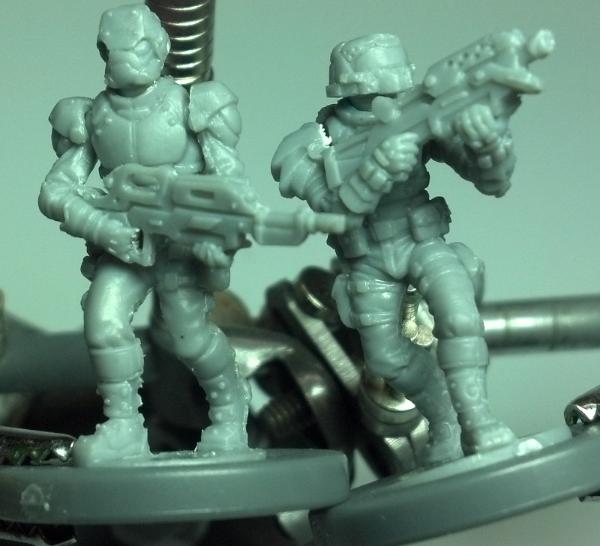 The ranger has a more imposing helmet, heavier laser rifle, and beefier shoulder guards.
The ranger also comes with the optional jump/jet/grav pack.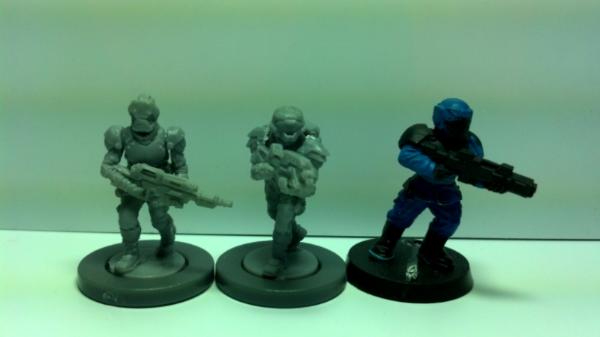 Next to that guardsman again.
Thanks for viewing! I hope to have answered some questions about Mantic's Corporation marines, back with more later as I get some assembled.
--edit: cleaned up the post, added pictures where they were needed.--