Hi Dakka!
I'd like to show you how I make bases imitating asphalt surface.
I figured out that heavy and low suspended motorbikes should not ride offroad, they're just meant to ride on highways. Driving Harley Davidson offroad is possible but is it still a pleasure?
Maybe this tutorial is not big discovery but I hope you guys will like it.
Also I'm hoping for your comments

Step 1.
You need:
- a plastic base (in this case I used base from
DV
Ravenwing motorbikes)
- pieces of cork (use cork with very small grains)
- PVA glue
- black paint (I used Vallejo primer)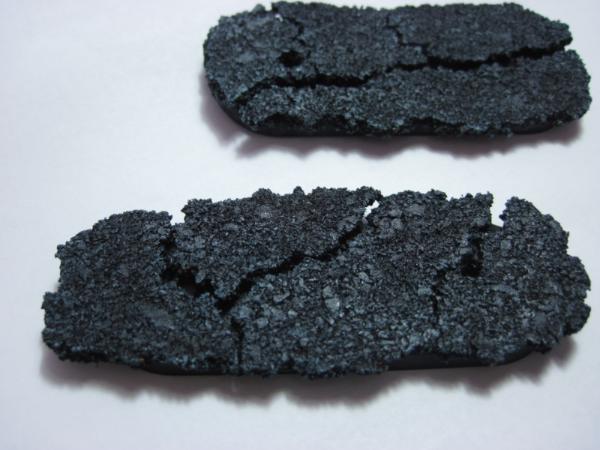 Stick pieces of cork to original base, then prime it black. When you are creating cracks just don't make them too big. Drill holes.
Drybrush your whole base with dark grey paint, drybrush edges with light grey paint.
Step 2.
You need:
- masking tape
- hairspray
- salt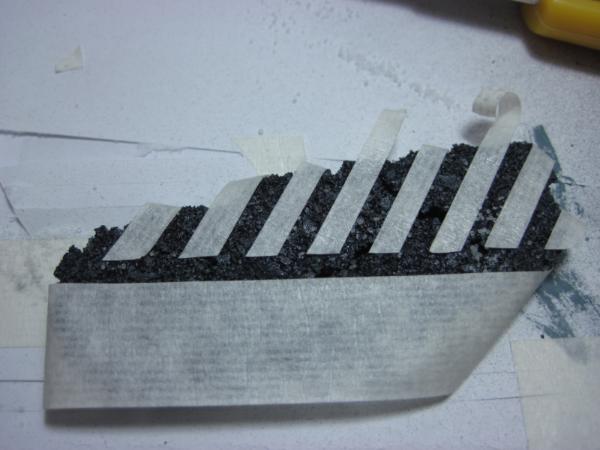 Create a pattern, secure areas where you don't want to paint.
Spray your base with hairspray and use some salt. Make sure that salt won't drop out when you will be putting paint from aerograph.
Step 3.
You need:
- yellow paint (
GW
Averland sunset)
- red paint (
GW
Khorne red)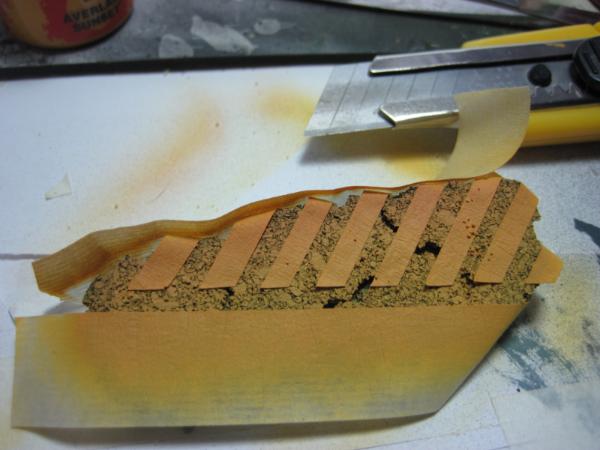 Paint your base with aerograph. Use well diluted paint (we want to achieve worn out surface so yellow paint can't cover to much, also, imagine cracks in newly painted road... can happen only in Poland

so watch out.
Do some shading. I added a little of red paint to yellow one diluted in aerograph. Just don't go to rough here.
Step 4.
You need:
- hard brush
- water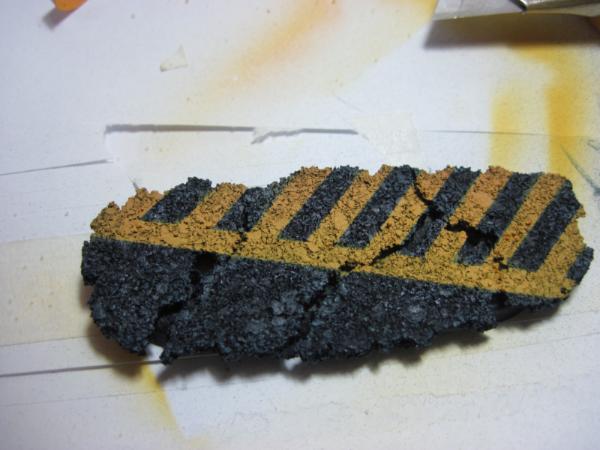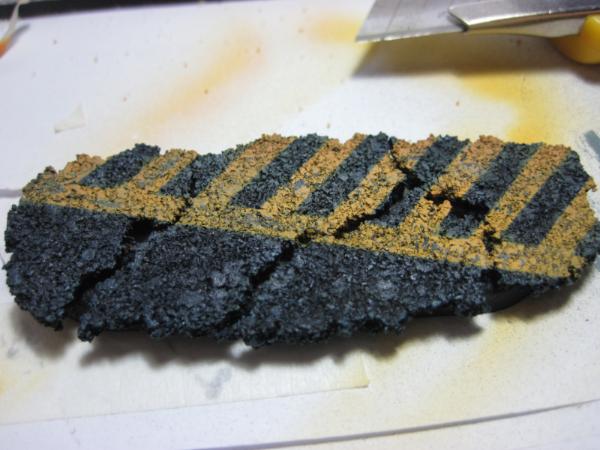 Remove masking tape and brush your yellow pattern with wet brush. Salt will drop out first showing some base paint under. Water is needed only to dilute hairspray under yellow paint so don't wet everything to much.
Step 5.
You need:
- pigment (Vallejo Natural Umber)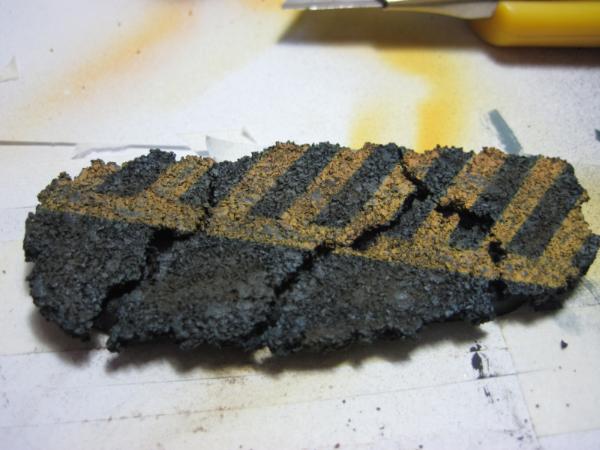 Put some pigment on your base. Than just blow to remove any unnecessary amount of pigment (we just want our asphalt to have a little dirt on)
Step 6.
You need:
- static grass
- PVA glue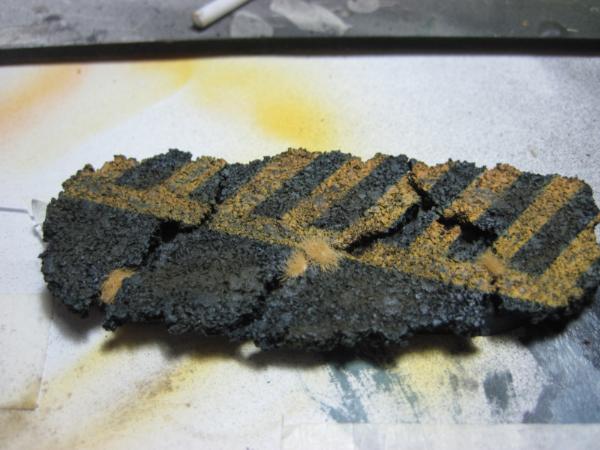 Just glue a little of static grass. Make sure you're putting your grass in cracks (I think that grass will not grow o asphalt surface

)
Step 7.
You need:
- matt varnish (Vallejo Matt varnish)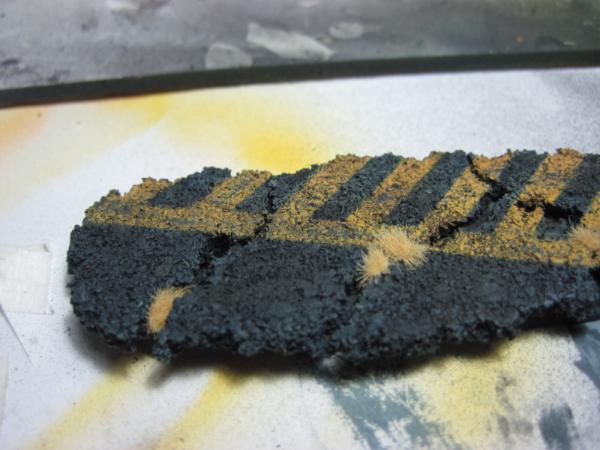 Just put some matt varnish on your base. Just don't go too crazy here, watch out for static grass.
Step 8
That's all. Just mount your model on your base and you are ready to hit the road.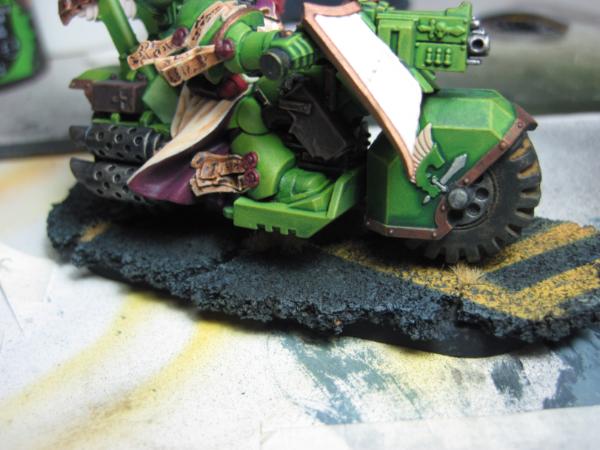 Born to be wild...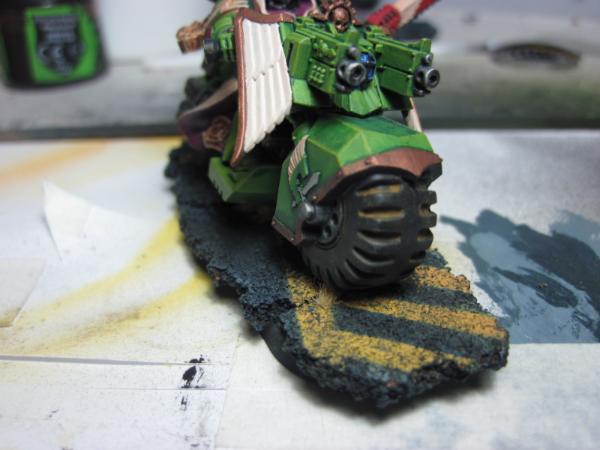 I hope you enjoyed guys!
Best of luck.
See my gallery if you liked it:
http://www.dakkadakka.com/core/gallery-user.jsp?u=71522