You have
awesome
skills, no doubt about that. It's really impressive


That being said, I think you have a bit to go on catching the right size and image. The raphael angel on the blood angel tank image seems out of place in The Grimdark (The
40k
gothic setting), where angels are either Dark, Blood or freaks made by the Adeptus Mechanicus.
Therefore, the innocent and perfect angels seem, to me atleast, out of place in The Grimdark.
This is an example of what I'm trying to talk about, english not being my first language.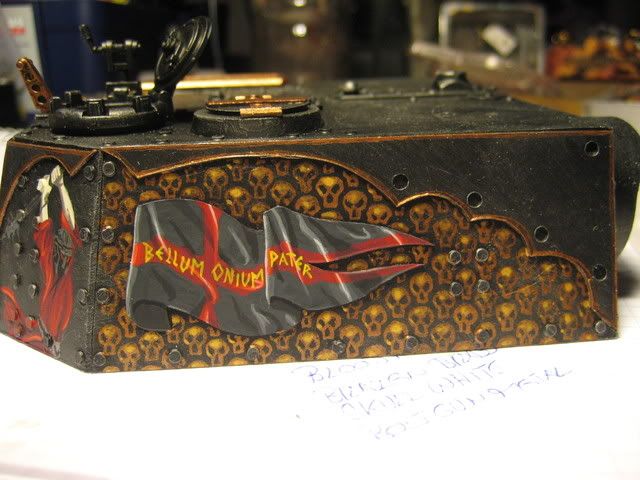 In that regards I think your Blood Angel Predator with the twinlinked assault cannons on your blog is much more on the spot, with the image of sanguinius (or something) on the rear-hatch.
Also the Ultra-marines
here
is really good about the placement of the images.
I'd say that while your art is just that, art, they seem out of scale somehow. It seems more like you wanted to paint something really small, than painting a miniature. You seem to ignore the layout of the tank, something the
40k
artist (that is, the guy that painted the image on the tank "in-game" so to speak) would properly not do. In that regard I'd say that painting on miniatures is different from painting on canvas/paper, in that it is 3d, and you need to work with this, not ignore this. For instance, you dont do weathering around the top hatch that goes straight through the image. While it might pain you to be spoiling the awesome image you paint on the tank, I'd say that for the image to work as something a space marine/adept painted on the tank, it needs some weathering in down the middle, where the 2 hatches meet. It would get wear and tear there.
So either "obey" your own weathering rules, and give the whole tank the same weathering (including the areas where you painted on the freehand designs OR paint up the tank like it is fresh out of the factory, and do no weathering at all.
The awesome freehand designs look like they were painted on after the weathering, and if they are too bold and stand out as paintings insted of part of the miniature.
I hope I'm getting my point across, and not just raining on your parade. I'm trying to point out what I think isn't working as well as it could, and what could make the tanks work even better than they do now.
Something to think about, or ignore if I'm blabbering =)
Either way, hoping to see loads more!