For an appropriate soundtrack for the battle click here!!
The Battle
White Scars turn 1
I had a lot of ground to cover - best to get moving!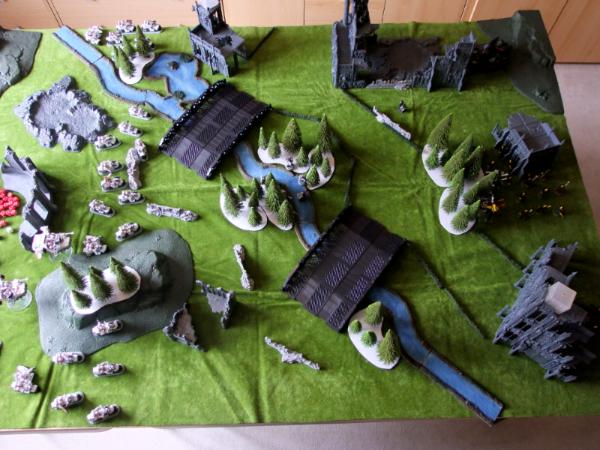 As is often the case against shooty armies, my first turn involved a lot of turbo-boosting bikes. This time I had to be a little more careful though - with the Dark Reapers' ability to ignore both night and jink, cover would be more useful than usual to me. I decided to use the south of the battlefield, leaving the tricky problem of the scorpions for later.
There was one target visible to me though: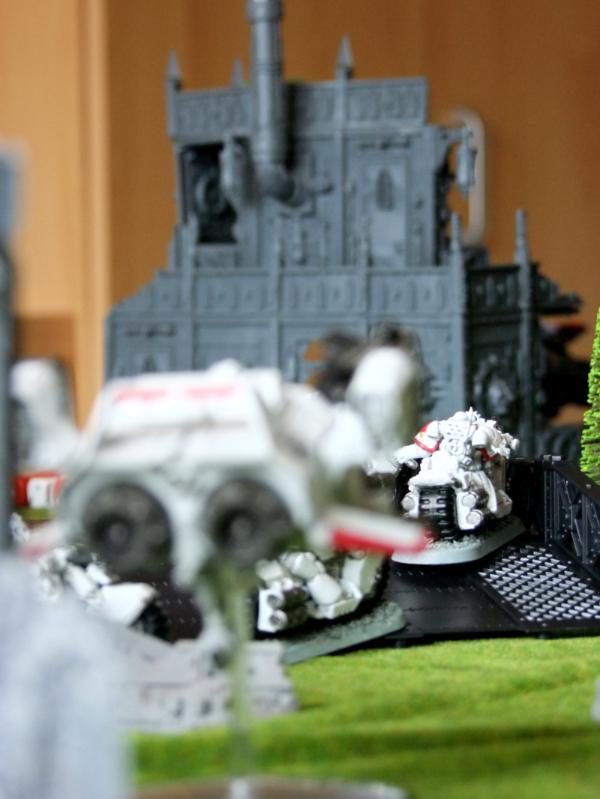 A squad of rangers were using the top of the ruins as a sniper's perch. They would get a 2+ cover save, but I didn't exactly have anything else to fire at.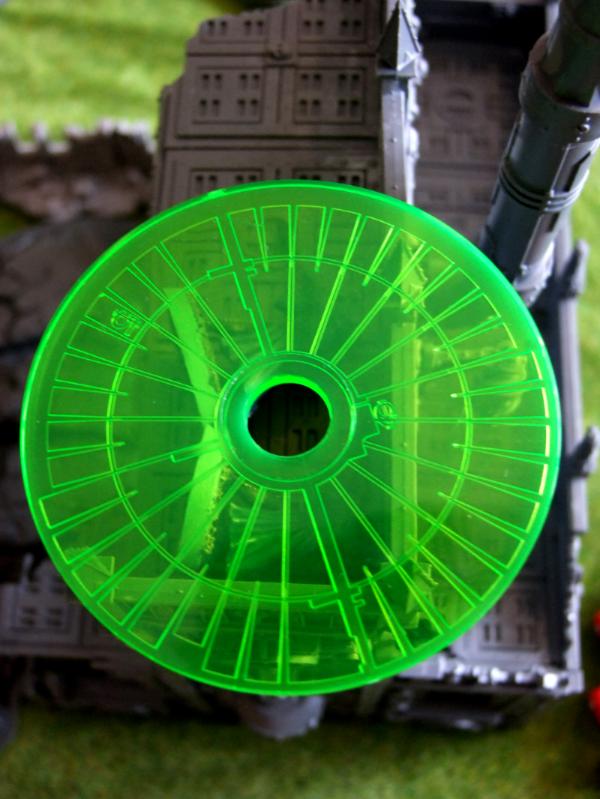 As it turns out, four accurate frag missiles and six heavy bolter shots from the typhoons, combined with another accurate missile and four sniper rifles from the scouts, puts out a lot of wounds! Three of the rangers were killed, and they were also pinned.
Eldar turn 1
The bikes were a lot closer to Cactus, although the need to keep them in cover had prevented them from moving further. This shooting phase would be key for him - if he could cause enough casualties then I would have a hard time doing enough damage with what was left.
The jetbikes zoomed out from behind their ruin, ready to shoot the nearest bike squad through the trees: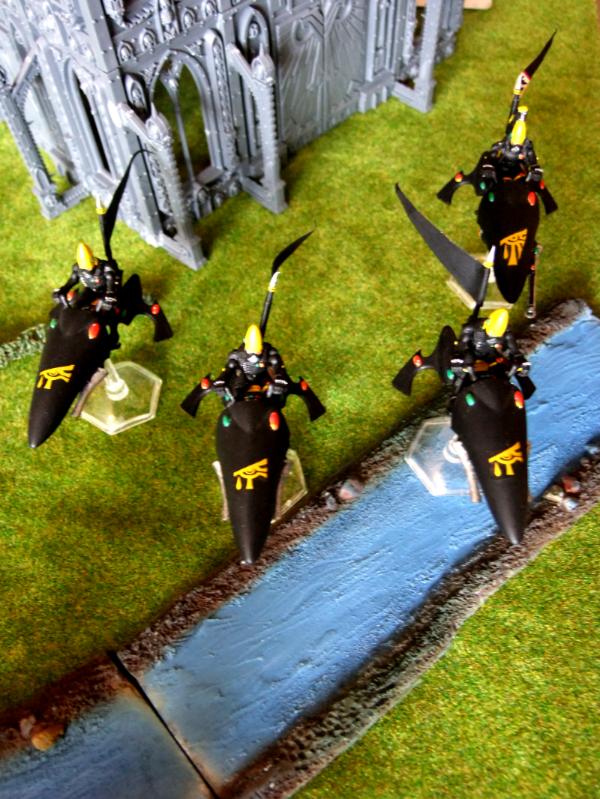 They were backed up by the dark reapers' fire. the woods helped, but even so I still lost three bikes. The jetbikes then used their assault move to get as far away from me as posible: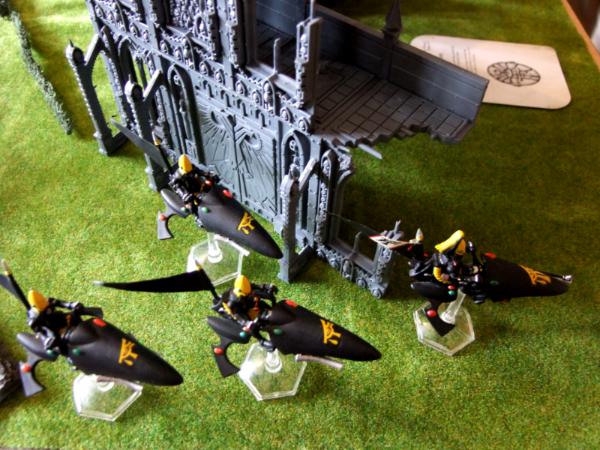 Cactus's primary target was the lead bike unit that had taken cover behind the bridge parapet. Firstly the fire prism lined up a shot: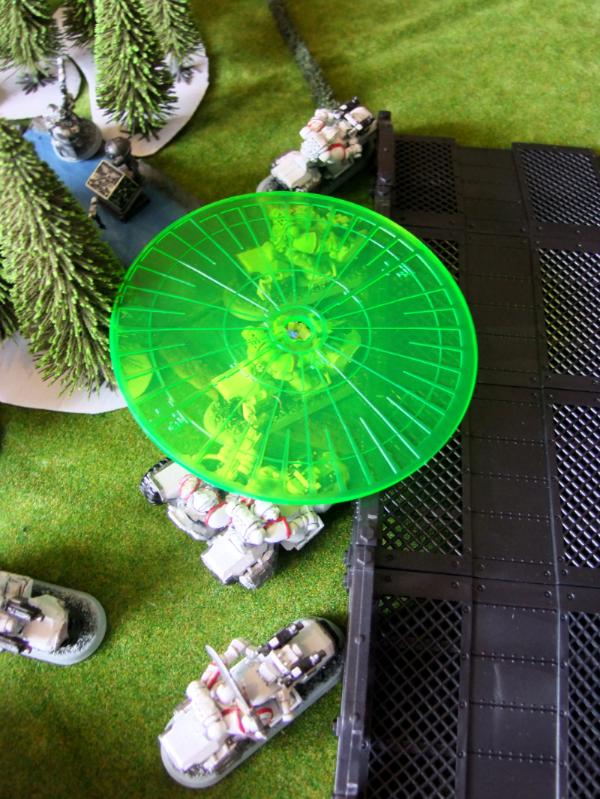 The darkness came to my aid - combines with my jink saves I didn't lose a single model. Next came the guardians and war walkers - the troops jmoved into the woods in front of them, while the war walkers went around the side: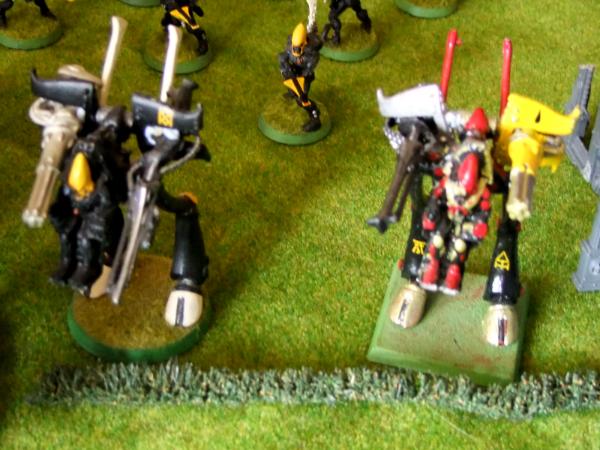 This time I wasn't as lucky. Both units combined turned the air around my bikes into a solid wall of razor-sharp steel. I was tough but not that tough - and I lost the entire unit through the death of a thousand cuts. The tricky Eldar then used their Battle Focus to back away from my forces. First Blood to the Eldar!
White Scars turn 2
Last turn had been brutal. I was now down nine bikes - almost half of the total in my force - and what was worse was the fact that I was still a worrying distance away from the enmy thanks to casualties and Battle Focus. I would really need to make this turn count!
I got off to a good start though - my heavy flamer land speeder arrived via deep strike. This single model has consistently been the best-performing unit in my army list - could it keep up the good work? I decided to drop it in behind the large ruin protecting the dark reapers. Although they would still benefit from their armour saves, they were also only T3 - and I REALLY wanted them dead as quickly as possible. this time I didn't roll a hit - I knew it had to happen sooner or later. However my disappointment turned to joy when it simply scattered directly over the Dark Reapers position - and landed in perfect heavy flamer range on the other side of them!
Three of the four - including the exarch - succumbed to a terrifying wave of burning promethium - phew! My scouts also took a pot-shot - although they didn't kill the last one, Cactus did decide he should go to ground to have the best chance of survival.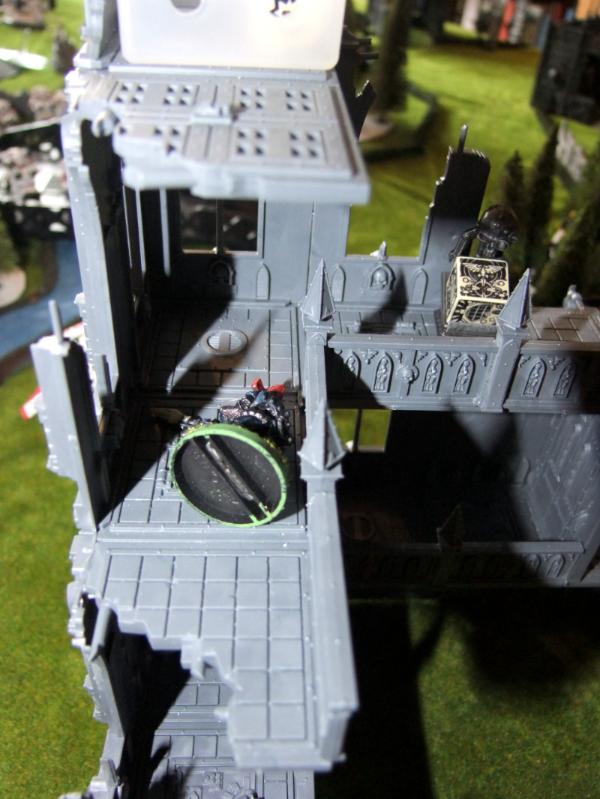 All of my bikes moved up, and the unit shot by the jetbikes and Dark Reapers last turn wanted revenge. They combined their fire with the Typhoon land speeders who wanted to shoot the war walkers but couldn't draw a bead on them thanks to Battle Focus. Shooting managed to down three of the four jetbikes - unfortunately the last one held his nerve and didn't break.
Things were looking OK so far - could I follow it up by getting into close combat with the black guardians in the woods?
Only one bike unit was close enough to give it a go. Once again fire filled the air - and my lead biker from that unit took a shiruken to the eye. I had been 5" from the nearest guardian - with him down that made it 7". I rolled the dice for the difficult terrain charge - and got 6"! No close combat for me this turn.
Eldar turn 2
The casualties taken by the Dark Reapers and jetbikes has been a blow for Cactus, but in return I still wasn't in combat with his guardians - giving him another turn's fire against me.
In addition Cactus's reserves now both came into play. First up were the swooping hawks - by dropping in the north they avoided my bikes, and dropped a grenade on my scouts. Two died thanks to the large blast ignoring both cover and my armour, and this was followed up by las-blaster fire which took care of the rest.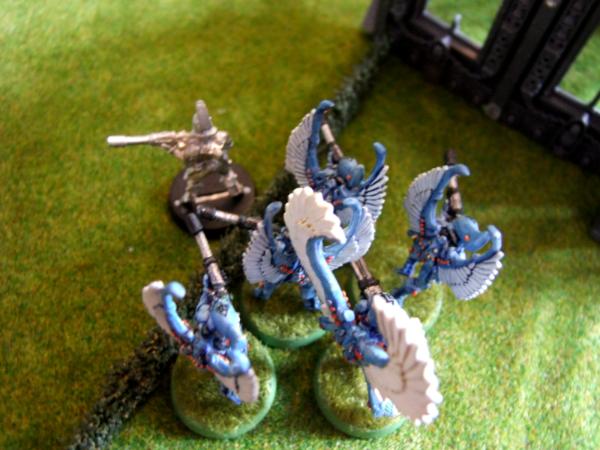 Next up were the warp spiders. A bad scatter put them in the trees but they were lucky and didn't take any casualties - and were still in the perfect position to fire on my land speeder typhoons. Incredibly, I managed to pass a whole series of jink saves, and only took one penetrating hit which shook the rear speeder!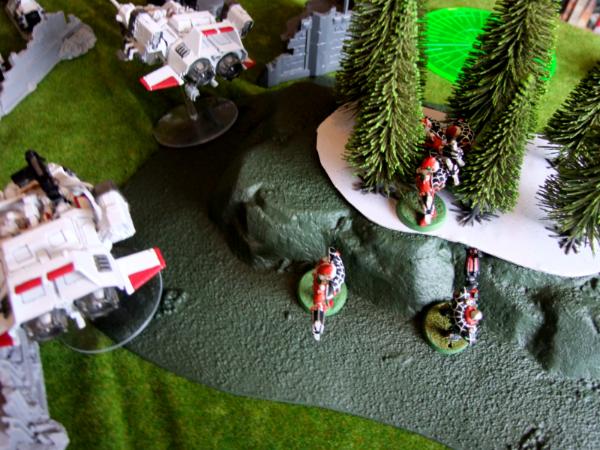 There was one unit that Cactus wanted to take out just as much as I had wanted to kill the dark reapers, and that was my other speeder. this was capable of causing mass carnage to the Eldar - and thanks to my scatter was in line of sight for his war walkers. A jetbike also moved up to help: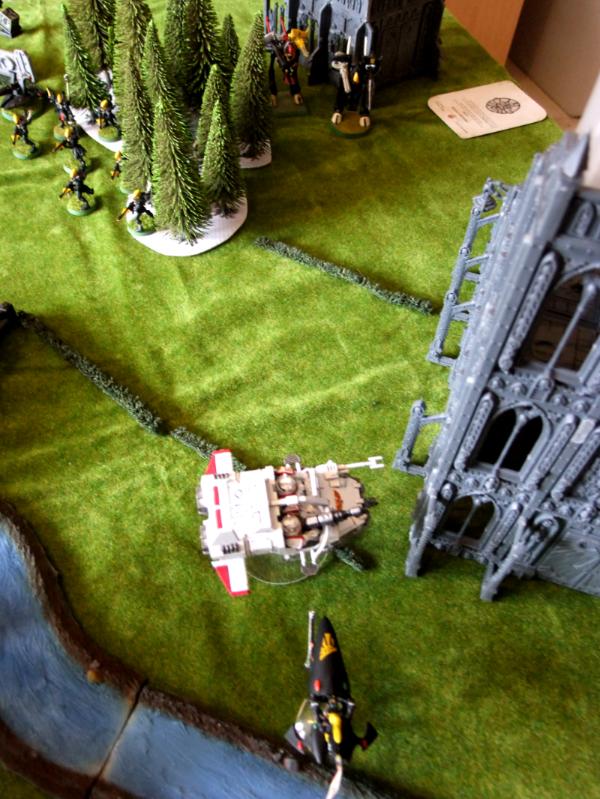 That much fire was a death sentence and my speeder exploded - but it had done its job before it was shot down.
Finally there was still my bike unit with my captain to take care of. firstly the fire prism had a perfect shot: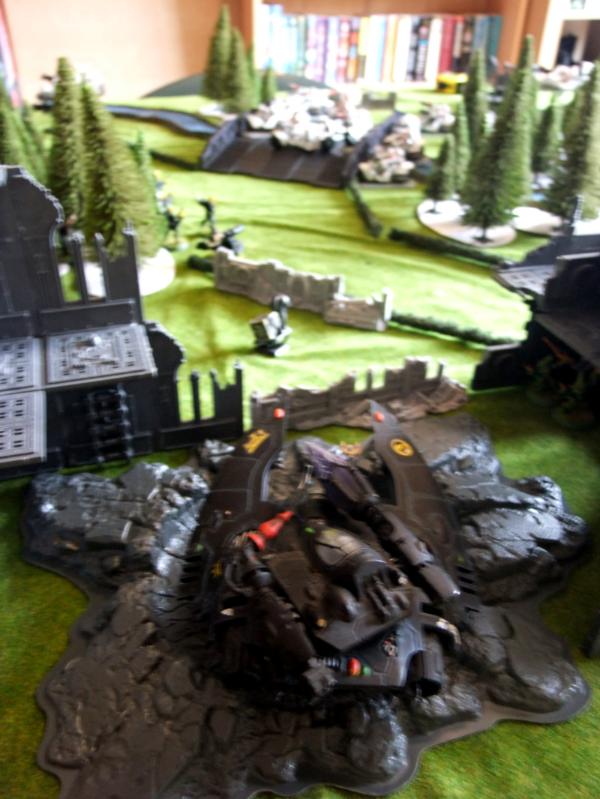 Once again I was lucky, losing only a single biker to its large blast. Finally it was the guardians turn - and once again the shiruken catapults proved their worth. Thousands of slicing blades formed an almost solid wall of razor sharp steel, and skilled several bikes - causing the unit to break! they wouldn't be getting into combat any time soon.
White Scars turn 3
Things were looking very bad for me at this point: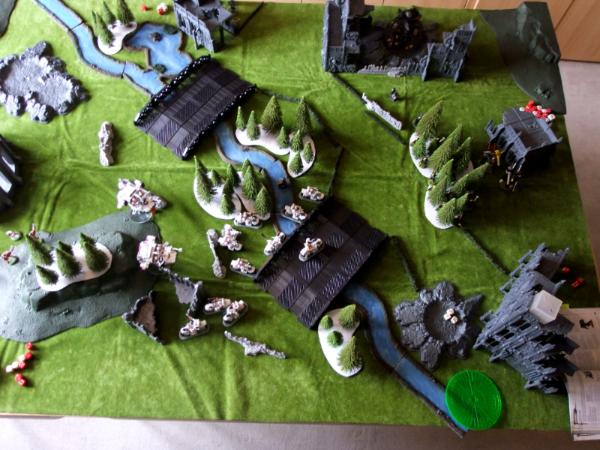 My broken bikers rallied and moved back onto the bridge. They still had a couple of plasma guns left and took a few shots at the War Walkers, without effect. My land speeders also had a choice of targets - I decided to try and take out the war walkers. Although the warp spiders would almost certainly kill me next turn, I figured I had to take the walkers out, and their volume of fire was capable of tearing straight through my army. Unfortunately my speeders failed abysmally! The walkers were still intact.
I had had an abysmal shooting phase, having failed to cause a single casualty. I had once ace up my sleeve though - Konchi Khan: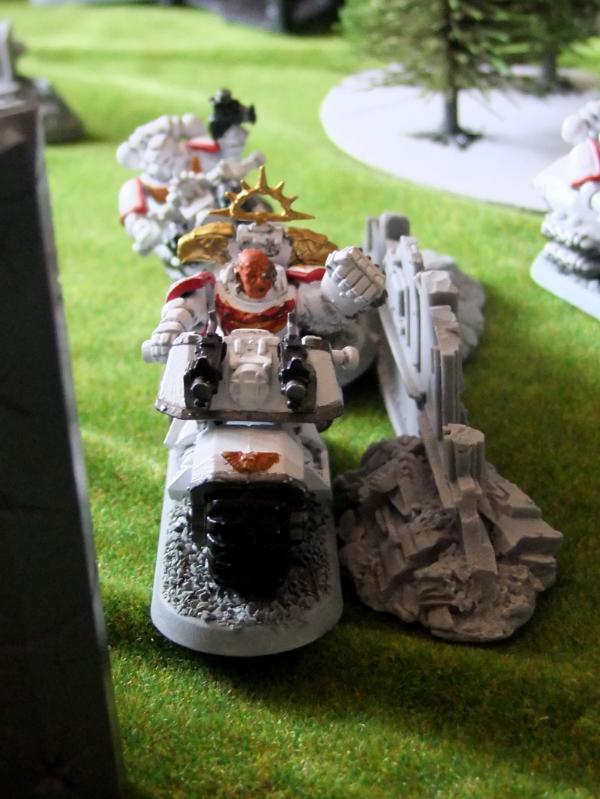 I decided to detach him to go after the guardians and the farseer on his own - although it might take longer, I decided that I was so short of units that I needed as many running around as possible.
At least this time round there was no problem with charge ranges, and he made it into the guardians, albeit having taken a wound from overwatch fire: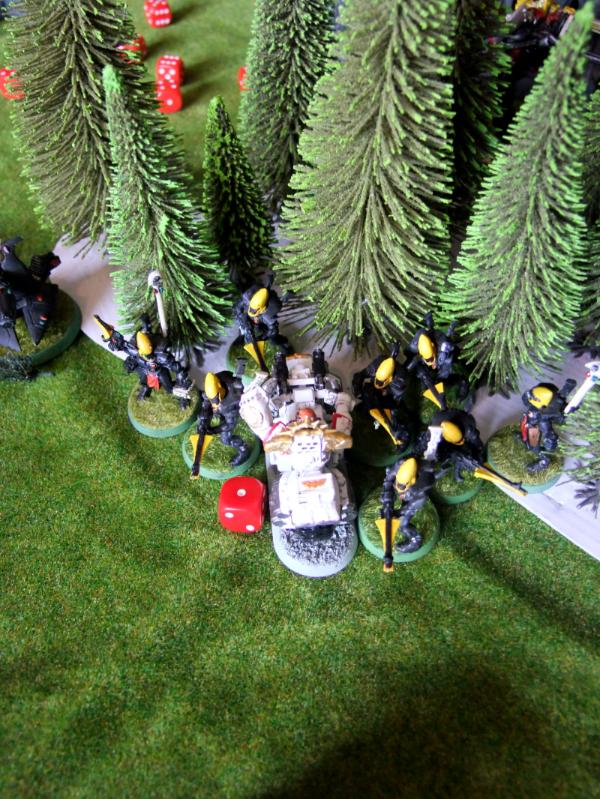 The farseer sensibly declined to fight in the challenge, so Konchi Khan struck the nearest guardians down with his power fist. the black guardians held (although I've a feeling we my still have been incorrectly using the farseer's leadership - I can't remember if this was the case or not!).
Eldar turn 3
Here was the situation: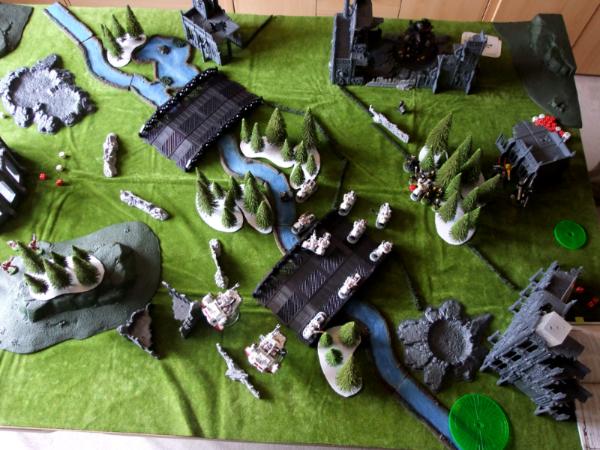 As the swooping hawks sky-leapt ready for another grenade pck next turn, the warp spiders moved up behind my speeders - unlike last turn they had no problems finishing the job: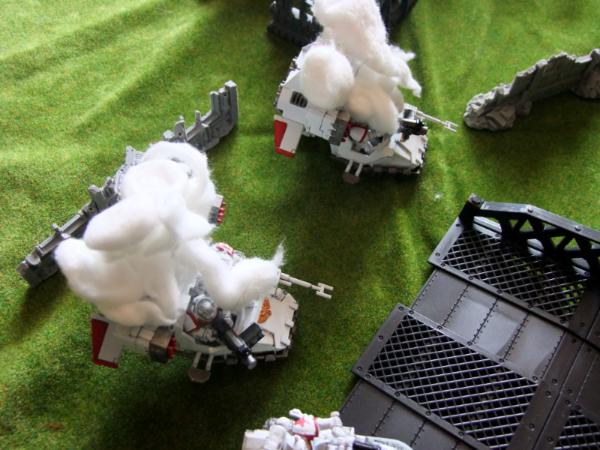 Luckily Cactus was running out of ranged fire. The fire prism hopped over the ruins ahead, but once again failed to cause a single casualty thanks to a bad scatter. The crew must have been novices - they had only managed to kill a single bike all game!
Finally the war walkers fired at the three remaining bikes near them on the bridge - this time, they only caused a single casualty.
In close combat, Konchi Khan killed a couple more black guardians, but they loyally continued to protect the farseer, and refused to break.
White Scars turn 4
I had survived the turn better than expected - but was it enough?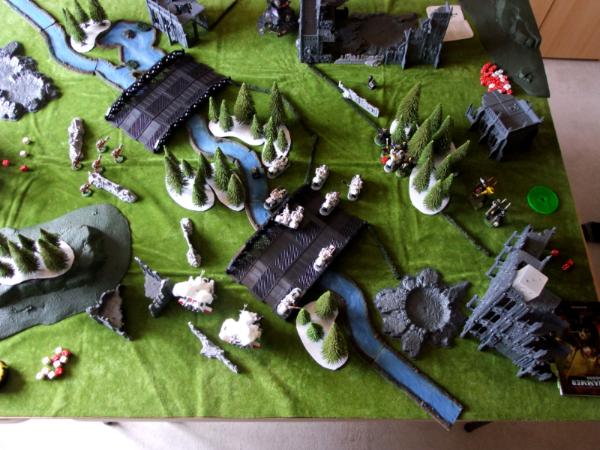 The Eldar had yet to lose a single unit, while I was down to a grand total of eight bikes and my captain. I needed victory points, and I was unlikely to get them by holding objectives, as the Ulthwe forces still had plenty of units to deny them to me. I therefore devised a plan - I would try and kill some of the heavy support units for their
VPs
, then hope I could survive long enough to deny the Eldar the objectives themselves. It was a desperation move, but the only one I had...
First up was a beautiful target directly ahead of my largest bike unit - the fire prism. my shooting only knocked off a single hull point thanks to its holo-field - but nothing could save it in close combat!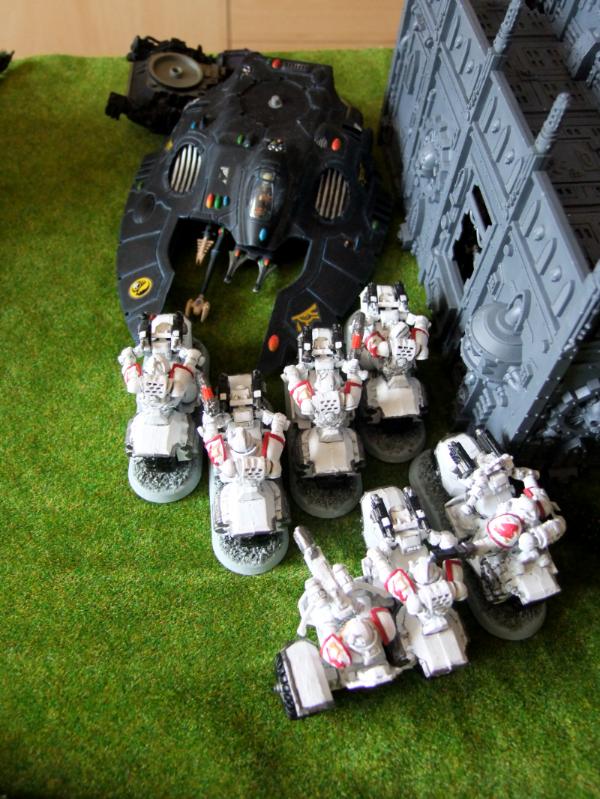 Next up were the remnants of my other bike unit - they had two plasma guns to kill two war walkers. Could they do it?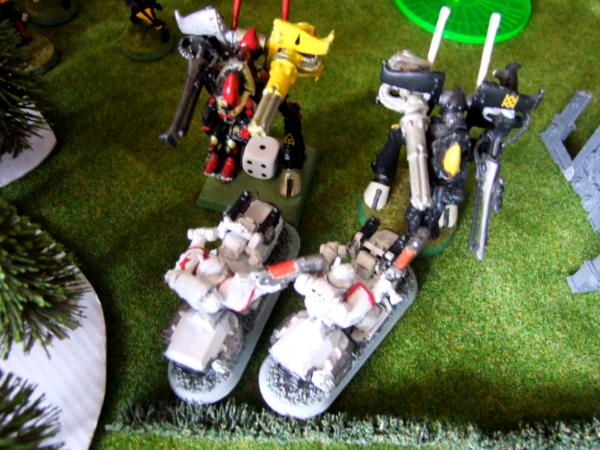 Apparently not. in an abysmal round of fire every shot either missed, failed to penetrate, or was saved by their shields. In desperation, I charged them simply to be away from their firepower. The close combat was failed to yield any damage to either side.
Konchi Khan continued smashing Eldar guardians into pulp - I think he was enjoying himself at this point! Once again they managed to hold.
Eldar turn 4
Most of Cactus's firepower was neutralised at the point: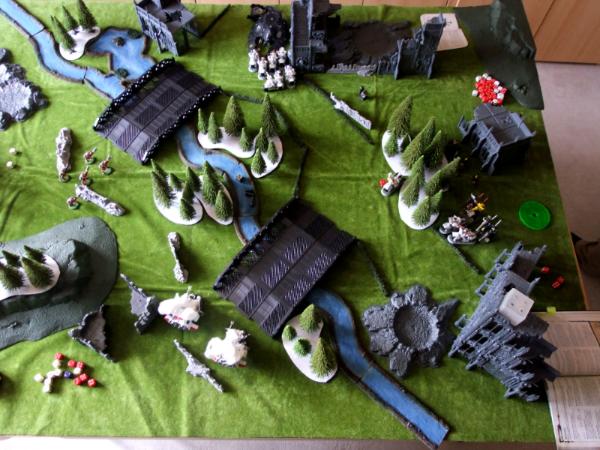 However there was a very juicy target left in the form of my single undamaged bike squad.
First of all, the swooping hawks reappeared and dropped a grenade on them , killing one of the unit.
Next up were the striking scorpions - remember them?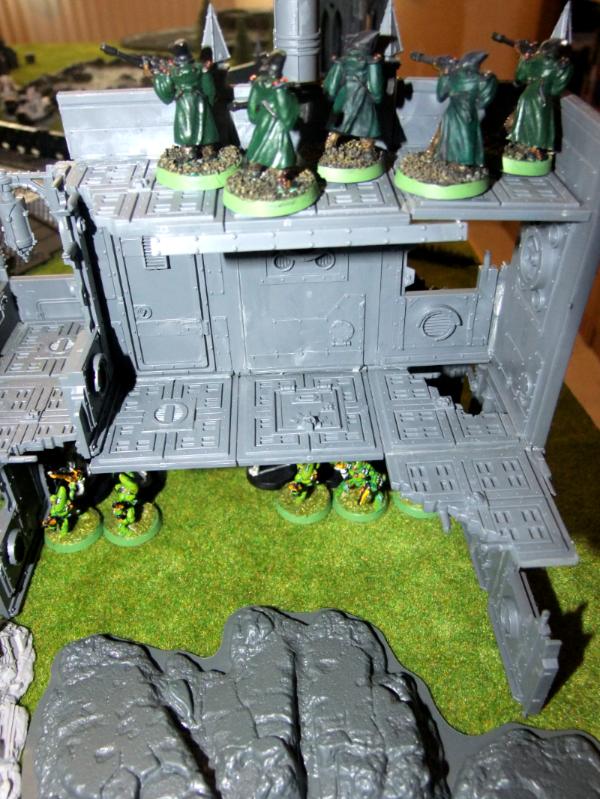 They had been hiding behind the building all game. their pistol fire killed another biker - and Cactus wisely decided
not
to shoot with his warp spiders or swooping hawks. Had he done so and caused another casualty I could have used combat tactics to get out of the scorpions charge range - as it was I didn't take enough casualties! With a scorpions claw in the unit the result was never in doubt, and the unit was wiped out to a man. The scorps then consolidated towards my captain.
Other close combats were not much better. Konchi killed a couple more guardians, and this time they broke, but unfortunately he failed to catch them. The war walkers and two bikers managed to cause a casualty each, leaving one apiece in the combat.
White Scars turn 5
My plan had failed, and I only had two models left. All I could really hope for now was vengeance!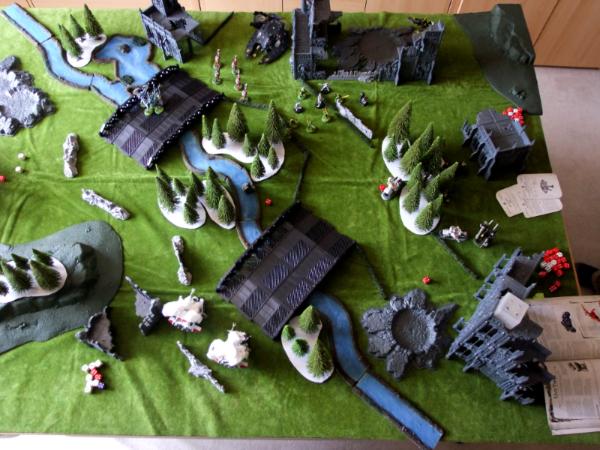 Konchi has the remnants of the broken guardians and the farseer nicely in his sights:
Shooting took out all one of the two remaining guardians. The farseer and his lone bodyguard rallied when charged, but this time I declined to issue a challenge, and Cactus decided to hope that the guardian could protect the farseer. It was not to be - both were swiftly punched to death by Konchi Khan. Slay the Warlord to me!
The war walker combat was once again inconclusive with no damage to either model.
Eldar turn 5
Cactus had pretty much won at this point: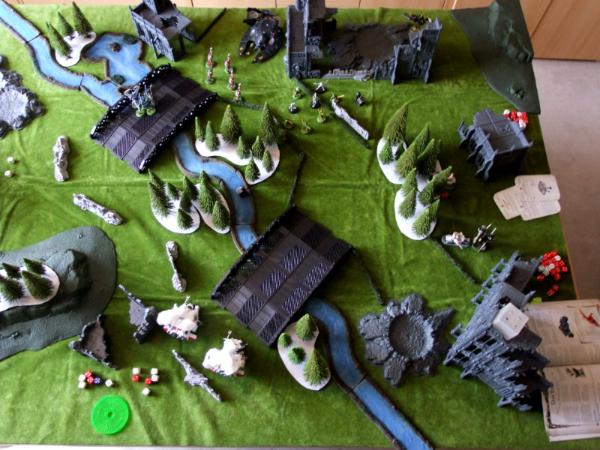 He moved his units onto two off the three objectives - with nothing of mine left I could do nothing to deny those to him.
The war walker and lone biker fought another inconclusive round.
Finally the scorpions charged Konchi Khan, hoping for slay the warlord. By challenging the exarch he took a wound, but was able to avoid damage from the rest of the squad, and in return killed the exarch - the scorps held though.
We rolled for the end of the game - and it was over!
Result
The final scores were:
White Scars
- Linebreaker - 1
- Slay the warlord - 1
- 1 heavy support unit destroyed - 1
Total = 3
Eldar
- 2 objectives - 6
- First Blood - 1
Total = 7
VICTORY FOR THE
WAR
HOST OF ULTHWE!
Aftermath
Phew, that was pretty nasty for me. I had a number of advantages including night-fighting and the first turn - and the Eldar didn't even have any problems causing massive casualties to my bikes. That then pushed me back, preventing me from getting into my optimum range and giving them even more turns of shooting. Combined with the Battle Focus making it more difficult to target or reach the Eldar, I really faced an uphill struggle here.
I think this game really shows one of the key weaknesses of my force as it stands - the inability to trade blows with the enemy until mid-game. I did almost nothing to the Eldar until turn 3, by which point I had already lost half of my bikes and my land speeders to their fire. I may need to look at adding some long-range fire to my force, simply so that I can trade blows in the early game, instead of just taking them!
it's also noticeable that Cactus has chosen his force perfectly to deal with me - knowing he wouldn't have to face anything with a high armour value allowed him to focus on the cheaper weapons with a higher volume of shots which are more effective against bikes - scatter lasers and shuriken cannon being well represented. Heavy armour on my side might change this, but I would need to make sure it fits into my force's overall feel...
All in all it was a very good game and Cactus was an excellent opponent. As much as anything this has made clear some of the weaknesses in my force and how I use them, I will have to figure out how to handle heavy shooting armies like this in the future as what I'm doing at the moment isn't working!