Hey all! Recently got myself kicked back into the hobby after finally finding a gaming group in my town!

We're not many, in fact we are only 4, but each one is an honorary member of the hobby, I myself having the least experience at 11 years, although I only recently started gaming for anything more than than a squad vs. squad game.
Now, I have already befriended them all but one in particular seems to like me.. and my painting. After hanging out for a while we came to the decision of making an Space Wolf army. For some reason, I honestly don't know, he want's me to do most of the painting and only asked to do the vehicles. I was more than okay with that as I don't really enjoy painting space marine vehicles, orks on the other hand..

Now, we haven't done much yet but planning and plotting. We've drawn up and recently started working on a really cool gaming table(I'll post some
WIP
pictures when I get my camera to his place since we're building it there.) and glued together some models. A large number of his Black Templars are also being re-painted in
SW
colors.
Like I said, we haven't done much, but I still have some photos of what has been done - As well as a side project I'm doing as a birthday present.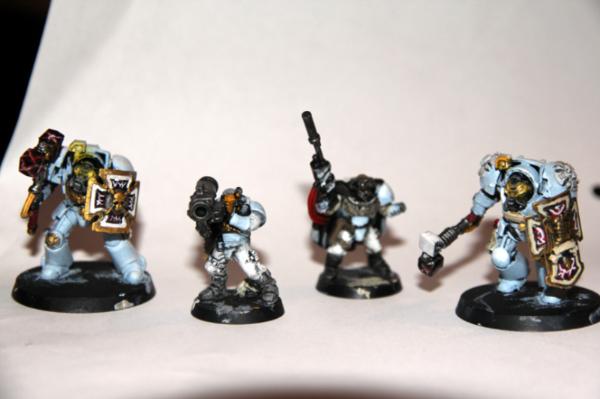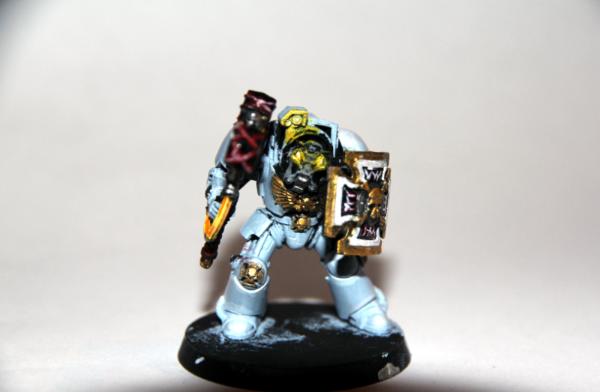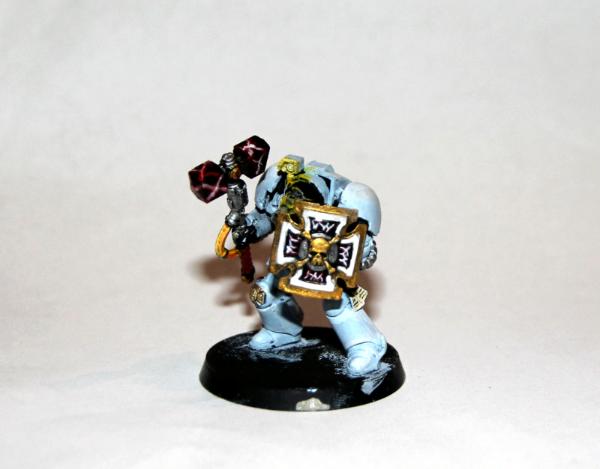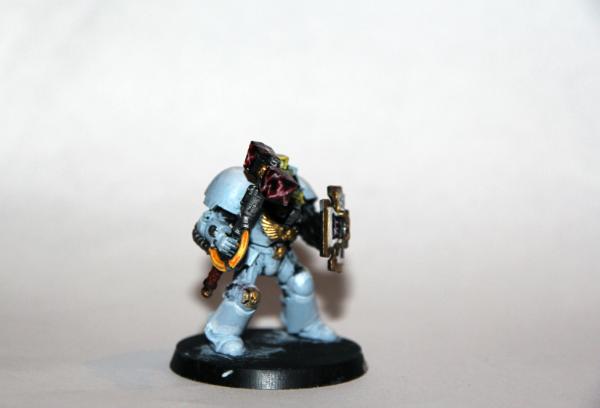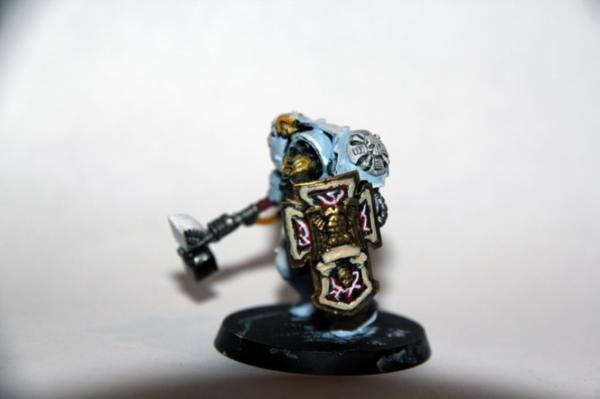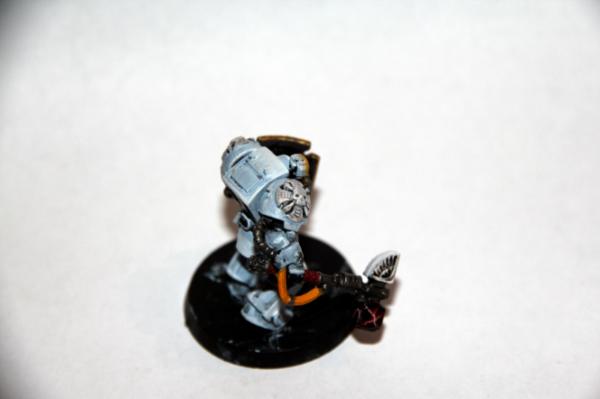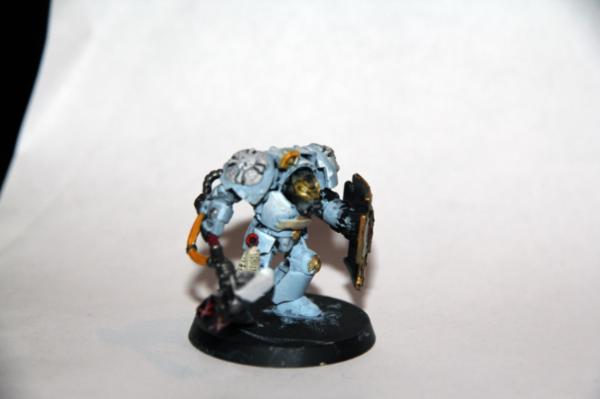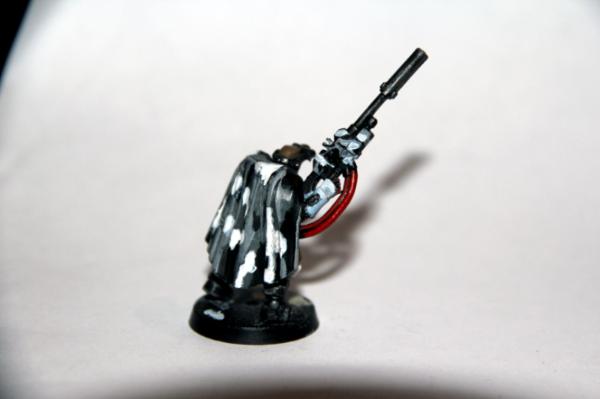 Please note that I know about the mold lines, they are in fact gone already and I will post pictures of the fixed models when I get the chance to!
Along with these I have the start to a fluff concerning the army and its Wolf Lord Thyrnir Wolfslayer(Thyrnir, or Þyrnir as its written in Icelandic, means thorn in chase any one is intrested.)
"My Lord, a message just got through to you from Inquisitor Klaven, off the highest urgency."
Wolf Lord Thyrnir stopped for a moment in his steps. This soon?
"Send it through to me, brother Egill."
"Roger that, sir."
Wolf Lord Thyrnir kept walking towards his seat and strapped back down as the message began sending from the flight deck of the Thunderhawk Odin's Revenge to the comm piece in his ear.
*****STARTING COMMUNICATION SEQUENCE *****
Commander Thyrnir Wolfslayer, I am pleased to have received your message of confirmation on a successful atmosphere penetration on the planet Ortiss. Now, you and the Space Marines you command have already been briefed but then we received the message from you concerning the details of your mission. After a lot of thinking we have decided that it is better for you to know what is coming in great detail or it might be the death of you.
The briefing hologram said that the Ork Mob you are to destroy is in fact a new, mutated breed of Orks, one that we have not encountered before. It was mentioned that the Orks in question are stronger and more dangerous than ever before. Let me explain to you why that is, per your request.
The last we heard from the Imperial Guard regiment stationed in the mining colony of Ortiss was not very encouraging news. They sent an Auspex feed from a security observation tower just outside the walls showing the mayhem these beasts are capable of inflicting.
I realize that by the time you hear this you will be landing or already slaying these green skins in the name of the Emperor so I'll get to the point. The Orks have been infected. And along with it new Tyranid threat has arisen, and this time its not in the form of any gigantic beast, but from a single tiny organism that seems to pray on the Orks making them even more feral and destructive than before. We know this because only recently there had been reports of them wandering alone, unarmed and running like they had their life to lose, in the middle of the canyons. After ridding them from this world the guardsmen who looked over the body's found them to look odd, not to mention the Orks behavior, so they brought it back and our scientists looked it over. What they found was a tiny alien life form that they could immediately identify as a Tyranid organism. It's jaws where lodged in the green skins membrane but instead of teeth they found long tentacles with some sort of mildly erosive fluid leaking out the tip but other than that it resembled a minimized version of a single ripper. Upon its removal the creature was dead, but the discoverers of this new larva where certain this explained the twenty-odd Orks found running around in the middle of nowhere, each one alone, unarmed and seemingly without direction or purpose.
Then the incidents got completely out of control. Within weeks, all the squadrons who had been assigned on patrol outside the mining outposts walls had vanished without trace, and so had the rescue crew's that had been sent out to locate them. When the massive horde of this new enemy finally appeared before the walls, the Imperial Guards didn't stand a chance.
However, the evidence we have from the autopsies made, reports filed and the recording we received, this is what I can tell you for certain. These beasts have turned into completely mindless, feral ravagers. They have even lost their already handicapped ability to use and make weapons; they attack only with their hands, feet and teeth. We can also be certain that they are now faster than ever before, jumping distances as far as half the way up the defensive walls of the mining colony. They have grown even stronger, the larva like Tyranid supposedly injecting them with growth hormones, seeing as they climbed over the rest of the walls and according to reports it took a headshot or multiple rounds, even more than usual, to put them to the ground. Beware, Wolf Lord Thyrnir, for even though your Space Wolf strike force has a long saga of successful and mighty victories this is a new level of threat no man has faced before.
I expect the threat to be eliminated without mercy or doubt. Report to me at every chance you get. Purge them from this world.
*****ENDING COMMUNICATION SEQUENCE*****