HELLO. So, I'm off to NOVA in a few weeks, and I thought I should really get some practice with my army in before going. Panic & I made the three and half hour trip to York to play their summer event - an 1850 tournament (handy) with around 20 players in all. Though it was mostly locals, it was actually a reasonably competitive set of armies, with some notable exceptions. I was one of three Tau players, and there were three Necron players, with a few Deathwing and Grey Knights and a complete absence of Orks or Chaos (!!).
I've been building a list here -
http://www.dakkadakka.com/dakkaforum/posts/list/536803.page
- and I thought I'd try it out - or at least try out as much as I had ready (didn't manage to convert the
HYMP
in time!). The list I ended up taking was as follows..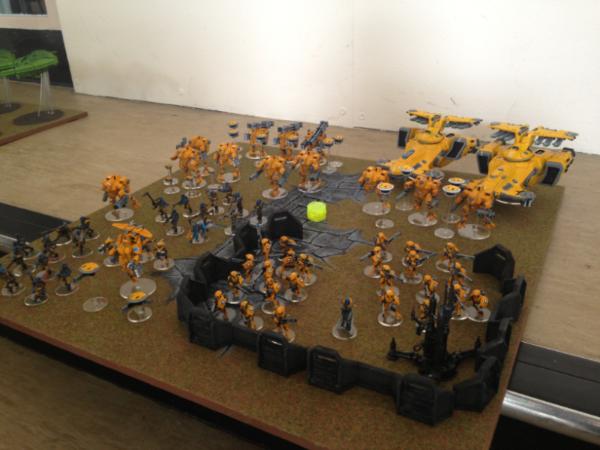 * Commander (2 Missile Pods, Drone Controller, PEN, Target Lock) with 2 Marker Drones [167]
* Ethereal [50]
* 1 Crisis Bodyguard (
TL
Fusion Blaster, Fusion Blaster, Neuroweb System Jammer) [69]
* 2 Crisis Suits (1 with
TL
Fusion Blaster, Fusion Blaster) (1 with 2 Fusion Blasters, Target Lock) [124]
* 3 Crisis Suits (
TL
Plasma Rifles) with 4 Shield Drones [164]
* 3 Crisis Suits (2 with 2 Missile Pods, Target Lock) (1 Shas'vre with CCN &
MSSS
) with 4 Marker Drones [229]
* 12 Fire Warriors (Pulse Rifles) [108]
* 12 Fire Warriors (Pulse Rifles) [108]
* 10 Kroot with 1 Kroot Hound [65]
* 10 Kroot with 1 Kroot Hound [65]
* 4 Pathfinders (EMP Grenades) [52]
* Sky Ray (Disruption Pod, Blacksun Filter,
SMS
) [131]
* Sky Ray (Disruption Pod, Blacksun Filter,
SMS
) [131]
* 3 Broadside Suits (
TL
Heavy Rail Rifle,
SMS
,
EWO
) with 6 Missile Drones [282]
* Aegis Defense Line, Comms Relay [70]
Total - 1850
The planned list calls for
HYMP
on the Broadsides, but I don't have the parts yet. I had a frenzied week of painting to get the army together as it was, having to convert my 20 'Tau Rangers' (Kroot), and Dettol and convert a commander, as well as build the second Skyray turret and the Missile Drones.
The Tau Rangers
And on display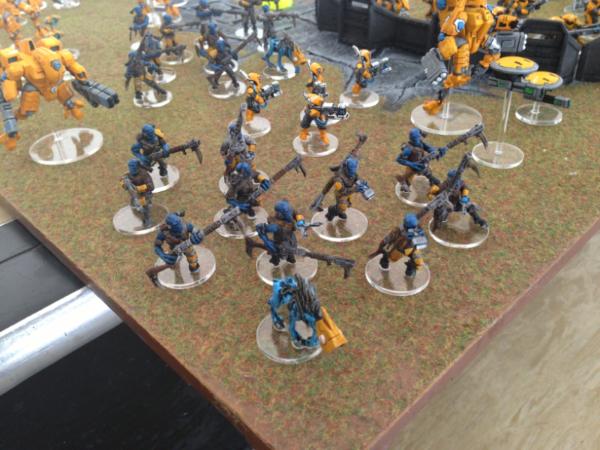 The new Commander (Crisis suit with Hazard parts)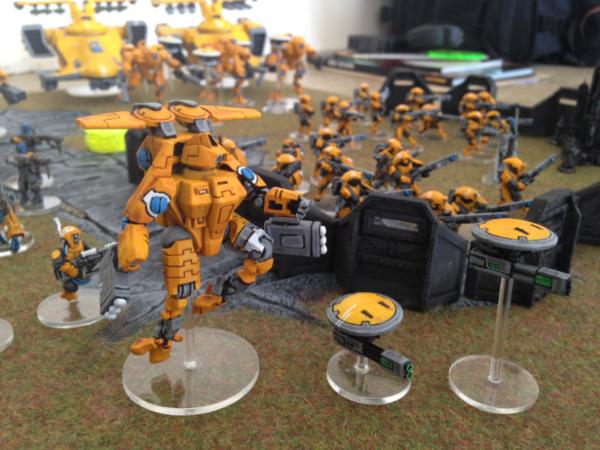 So, with this ready and a shaky grasp of how my combos worked, on to the game...!
Game One
- Sam's Necrons - Crusade (Objectives) - Dawn of War (Normal Deployment)

I played Sam, a big tattooed chap with a shiny silver Necron army - he had an awful lot of AV13, which worried me at first, since I don't have a lot that can pop them. Annihilation Barges, Ghost Arks, a big Wraith unit, a Court featuring an indestructible Overlord and Haywire Crypteks, and some Night Scythes.
The game went well - being quite fresh, I remembered most of the rules (apart from the PEN Tank Hunters). The Crypteks were wasted to a man, I concentrated on the Annihilation Barges in the first turn, good marker discipline was observed, and I held my own, leaving no vehicles standing by the end of the game, and killing the Overlord about four times. I won by about two points. A good start.
Result - WIN
Fun Factor -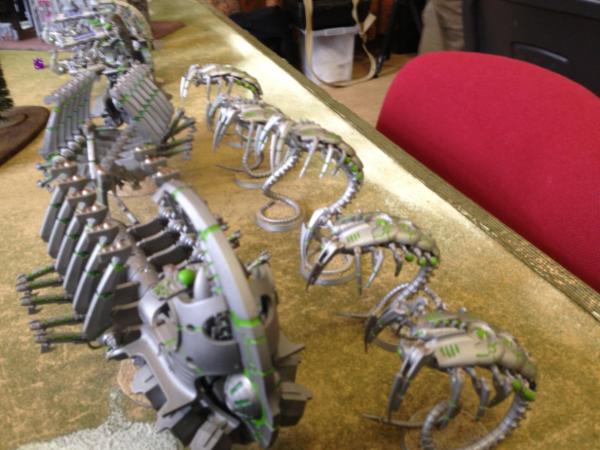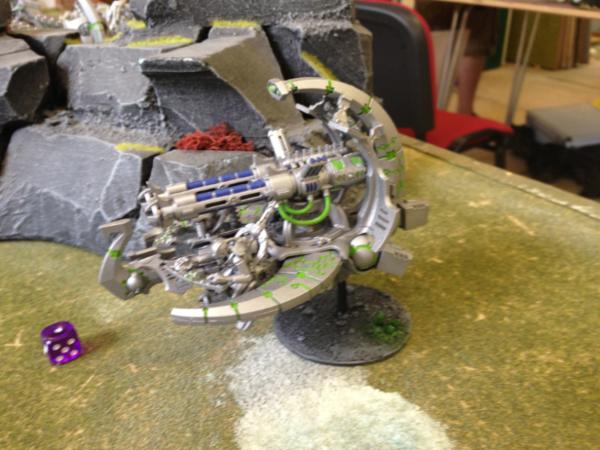 Game Two
- Sid's Necrons - The Relic - Vanguard Strike (Diagonal Deployment)
Necrons again, but this one was scary - a real gamey Scarab Farm list - 9 Spyders, 30 Scarabs on the board at the start, an Aegis Line directly across the middle of the table and a couple of Night Scythes filled with Immortals to make things scary. A really scary list. I had a bit of confidence though, and set up hopefully - even though The Relic is a terrible mission for my list.
I started well, drawing two Scarab units out to the far edges by offering them juicy Kroot targets, and then killing the majority of their attached Spyders in the first turn with good fire discipline. He backed off a little with the remaining big central unit after that. However, he got the Relic, and I had to spend so much firepower killing the Night Scythes that he started moving further and further away. I went on the offensive with lots of units at once, cunningly timed to be in assault range of the central Scarab swarm, but then completely messed up the supporting fire - forgetting about doing Markers first, forgetting about my flamer, and ending up tarpitted with a unit I thought I could take. The Overlord's flyer turned up, and the rest of the army completely failed to hurt it, while the Relic got further and further away.
I conceded the game after turn 3 - Sid, while a really nice guy, was obviously a really competent tournament player, and played very fast and hard - I was a having a really hard time following what was firing at what, scarab bases were being thrown around the board super-quick, and trying to remember my shooting order under pressure was hard. In short, though the opponent was a lovely guy, it felt like a very stressful game, which I wasn't going to win, and wasn't a lot of fun.
I conceded rather than try and rush in another two turns.
Result - LOSS
Fun Factor -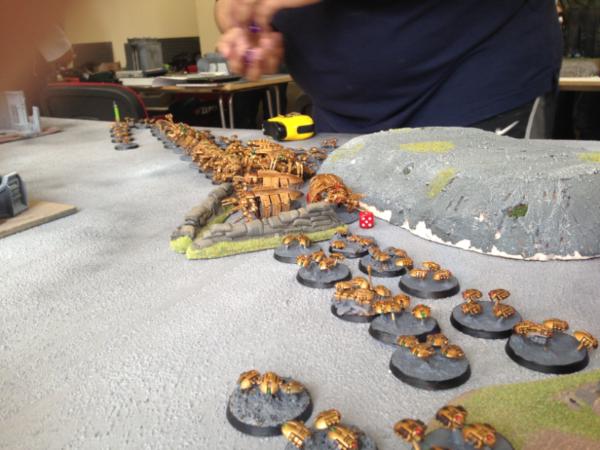 Game Three
- Patrick's Daemons - Big Guns Never Tire - Dawn of War (Normal Deployment)
So, Patrick was a young guy - 17 or so, and hadn't a written list. Not that it mattered - I don't know the new Daemon codex at all, and as far as I was concerned it was basically an army of uber-Psychic powers and random special rules (though I realise some people feel the same about my army!). He had a Bloodthirster, a Daemon Prince, a Soulgrinder, some Broodcrushers with Karanak, a really tricked-out Horrors unit (
4d6
shots Ingoring Cover with psychic powers giving them a 4++ and re-rolls to hit), a cannon, and some plaguebearers who mostly held objectives.
I didn't realise the danger of the Sougrinder early on, and lost the Ethereal in turn one. I couldn't seem to ever kill the Horrors or the Grinder (though concentrated enough to kill the Bloodthirster twice) and was basically reacting for most of the game. However, the Kroot performed well and got me an objective.
There was a bit of dodgy rules going on - the Soulgrinder was firing it's Mawcannon and it's Harvesters at full-
BS
all game (which I didn't realise was illegal), while on the top of a ruin (illegal unless I agree) and there were some claims to the abilities of
FMCs
that weren't true (dive means the firing unit re-roll all hits? I think not...). I'm sure these were honest mistakes, but since every unit had a billion special rules, I have no idea if that was so.
Anyway, by the end, I had managed to scrape a tenuous win of 1 point, only to realise that my linebreaking Kroot were 1" away from the deployment zone! They could have run, I just didn't check! So, the game was a draw because of my own stupidity, and against an army of random magic, I considered it a moral victory!!
Result - DRAW
Fun Factor -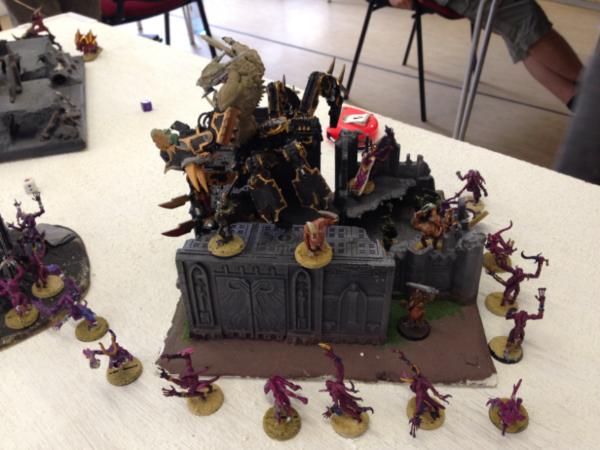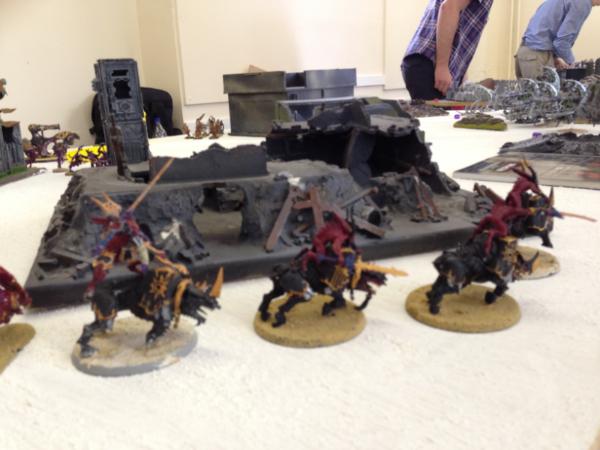 Game Four
- Dodge's Imperial Guard - The Scouring - Hammer & Anvil

The next day, I played Dodge's
IG
. It was a platoon-based mech list - lots of grunts, six Chimeras, three Leman Russ, and we were playing lengthways. His list had been doing well, but I was pretty confident - my list is pretty good against AV12, after all.
I held back at the start, and it turned out that the three objectives in my zone were worth one point more than the three near his (one of which he would have to move forward to get). Plus, it was Night Fighting on the first turn, so another advantage. The game went exactly as expected - I lost the plasma suits early, but the fusion suits performed amazingly. In the end, only one Leman Russ was left standing, and I had a confident three-point lead. Until I realised that, yet again, I had forgotten to check the distance of a Fire Warriors squad to their objective (they didn't move onto it, because I forgot) and it turned into a draw!! Another win thrown away because of my stupidity...!!
Result - DRAW
Fun Factor -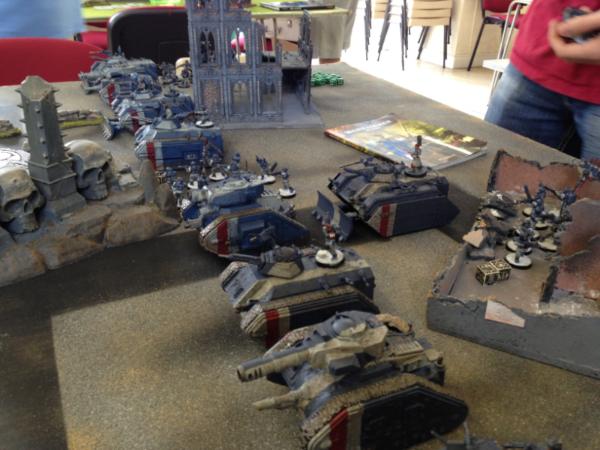 Game Five
- Tim's Blood Angels - Purge the Alien (Kill Points) - Vanguard Strike (Diagonal deployment)

Last game was against Tim's
BA
list of hard-hitters. Dante in a squad of Sanguinary Guard, Death Company with Lemartes, Stormraven, Vindicator & Baal Pred. We both knew how this would go - he knew Tau would outshoot him, and I was pretty confident.
I deployed in a castle, with Kroot spread out to fill all the gaps and prevent Dante from landing inside. My first few turns were spent removing hull points with my wide-ranging Fusion Suits (though not destroying much), but by the time Dante arrived, a fatal gap had opened which he managed to deploy the squad into - I suddenly had a Sanguinary Guard unit inside the castle and a Death Company attacking from outside!
My only AP3 unit, the Plasma Suits, dealt with the Death Company, but the ENTIRE rest of the army combined couldn't kill the Guard - he would roll about 60 2+ saves per turn and fail only one or two of them. The Kroot managed to keep them penned in and unable to jump anywhere to attack, but since my entire army was firing at the Guard, I neglected to take the last hull points from the vehicles. Even the Stormraven seemed incredibly lucky against the Skyrays! In the end, I lost - I think this was mostly luck of the dice, but it did expose a weakness - how do I deal with 2+ saves?
Result - LOSS
Fun Factor -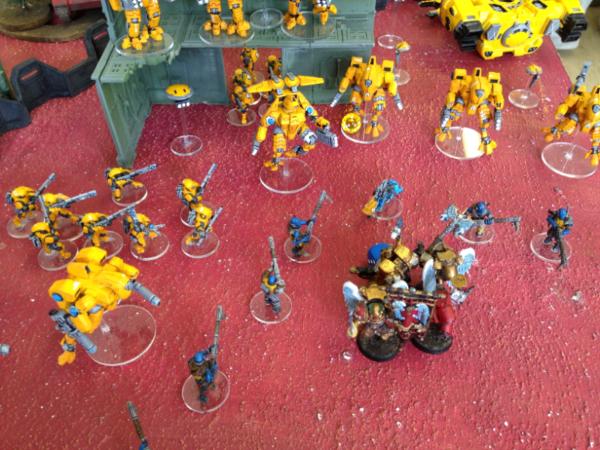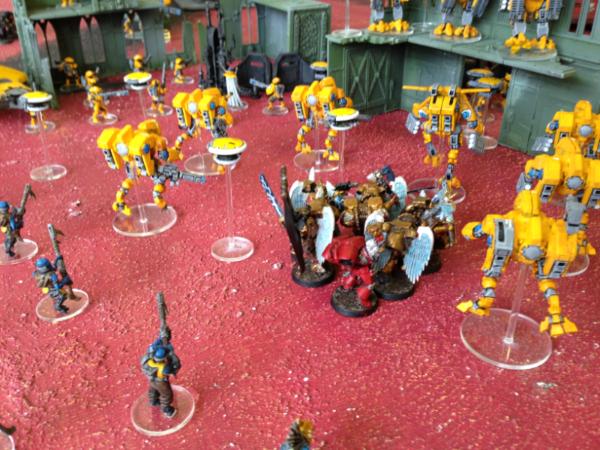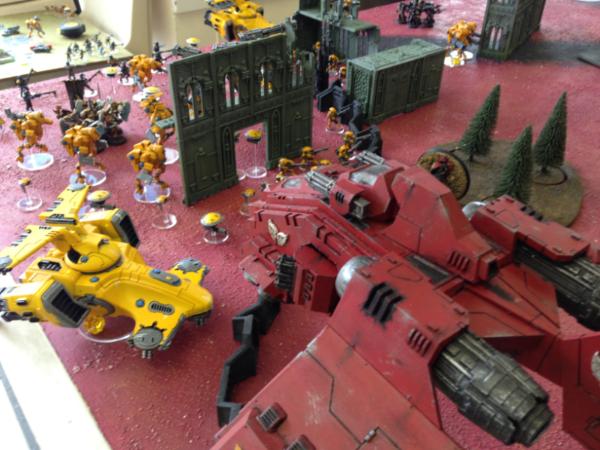 So, in the end I placed in the bottom half, but I must have done something right because I picked up Best Sportsman AND Best Army, winning more in total prizes than the guy who got first place!! So, that was really nice. Evidently, not winning that many games has SOME advantages... :/
Conclusions
So, one win, two draws (but only because of my forgetfulness - they would have been wins otherwise) and two losses (one of which was just REALLY unlucky). What should I do with my list to improve it? General observations across the tournament.
-
HYMP
would give me another anti-flyer solution instead of the Rail Rifles, but there were a couple of times where that AP1 came in REALLY useful for exploding tanks. Overall, I guess the broadsides felt a little underpowered by their lack of Skyfire and reliance on other units' markerlights
- The pathfinders weren't that great, but again, a couple of times I was really thankful for the alternative source of markerlights.
- The super-commander-missile-marker unit worked really well, though I often forget about Tank Hunters. Six marker drones was overkill - nothing really required that much.
- The Skyrays felt a little underpowered - maybe because I faced relatively few flyers (and no flying circusses). Mostly, they felt a little hamstrung by their 36" markerlight range, and being only S8
- The last game threw me. I realise he passed an inordinate number of saves, but only having one unit really useful against marines was a bit scary - I'm glad I never came up against the Terminator armies...