Hi, my name's curtis and this is my Tyranid army: Hive Fleet Oblivion.
I'll be updating this blog with all my Tyranids, as well as updates on some of my more interesting battles, including Throne of Skulls Young Bloods, at Warhammer World, and we'll also be showing what I reckon is a pretty cool way of making Mycetic Spores. I'll also add a summary of the other Mycetic Spores out there as it might be useful for other nid fans.
My dad, Paul, made the spores and does the greenstuff work, while I do all the playing and most of the painting - altho my dad also sometimes helps me out if there's a big game coming up.
Oops, we left an Orc in there from my
LOTR
army. Do you think he'll survive?
The first batch of painting. Lots of termagants. I have another 10 still to paint! The scheme is based on the Blue Crab scheme, with some changes. It's not all finished, there is more highlighting, and some blue shading on some of the genestealrsd to come.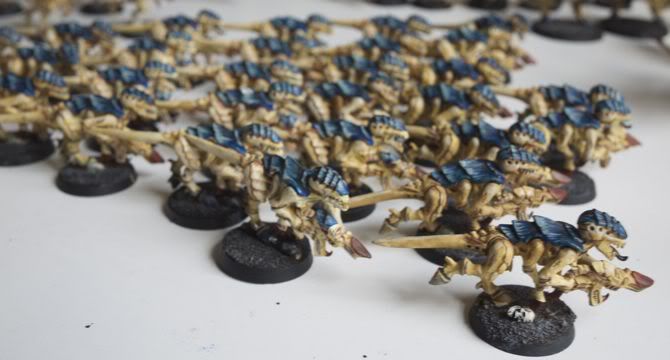 Metal hive tyrant and guard
Prime and warriors. They are all magnetized and we will make another prime if we can find the bits.
Hive guatrd and mycetic spores. The spores are polystyrene eggs, we came up with the design together, with bits from the genestealer sprues for the insides. My dad painted the spores, and did all the conversion. We have a Doom ready for the spore, plus one more zoanthrope.
Broodlord and more genestealers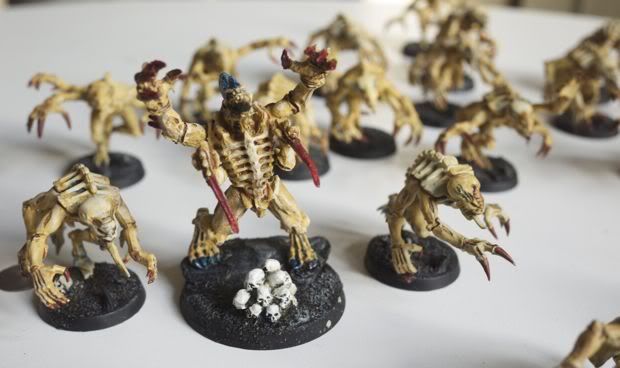 My dad painted most of the ymgarls ready for a game last week. Gary, at the Bluewater store, is a Nid fan and found me the extra heads. But I haven't used them yet. But my friends, who have Imperial Guard and Space Marines, are already scared of them.
Automatically Appended Next Post: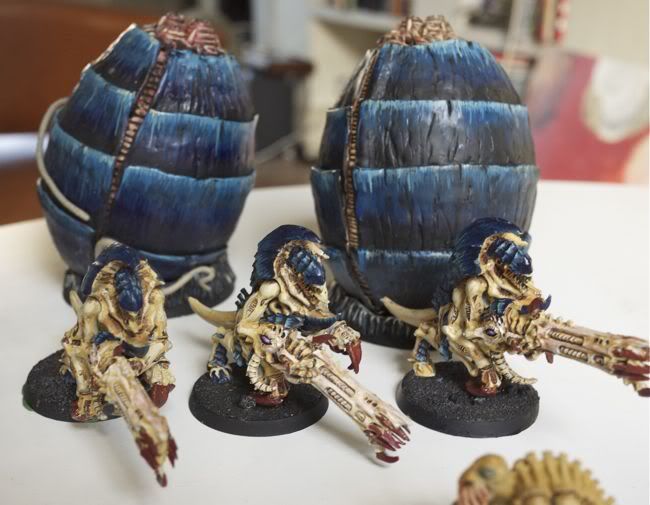 My dad made these pods - he says that if
GW
ever make a pod kit he'll commit suicide!;D . We thought other people might like this method. Here he is to say how they were made.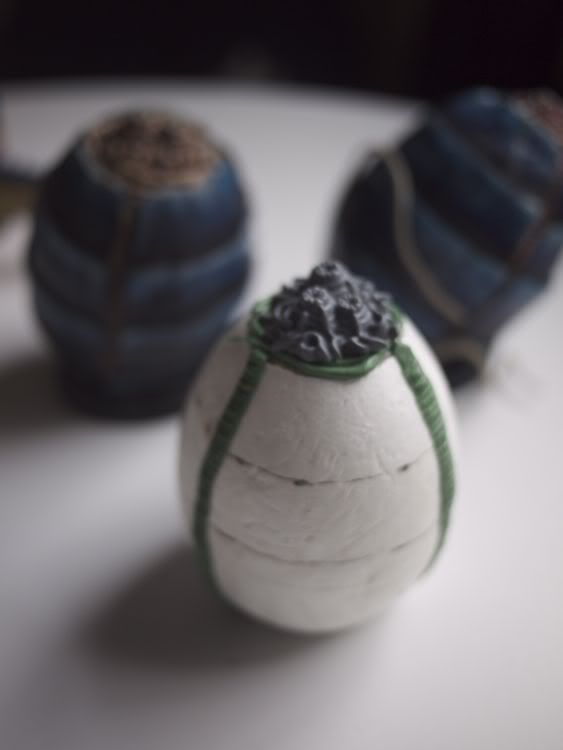 Hi, the "before" pic above should show how simple it is!
Curtis found the polystyrene eggs at a brilliant
UK
shop called Boyes, which sells loads of craft bits cheap. 70p. The eggs you need are 12 cm, 8cm is too small. A Boyes in one town only had the smaller one, so we will get curtis's granny on Egg Patrol.)
I sawed the top off using a knife I'd heated with a candle...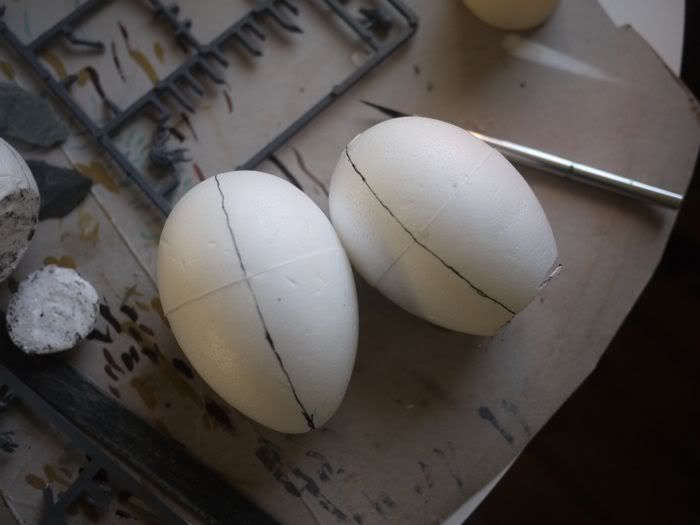 then I glued on the infection-pod thingy from the Genestealers sprue, on top of greenstuff strands. Three lines of green stuff down the sides, as you can see, which I flattened then grooved using a standard greenstuff modelling tool, to look like the tyranid muscles between the carapace plates.
Then I added the carapace plates using greenstuff again, in sections from the top. I made a paper template for each trio of sections; mixed the greenstuff, then rolled it flat with a round scalpel handle, just like making pastry.
Template: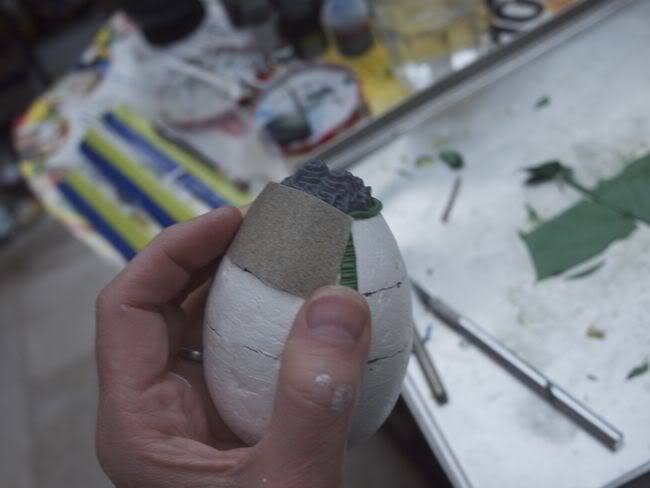 Once I've rolled the greenstuff, I leave it to cure for 45 minutes or so - it's easier to work.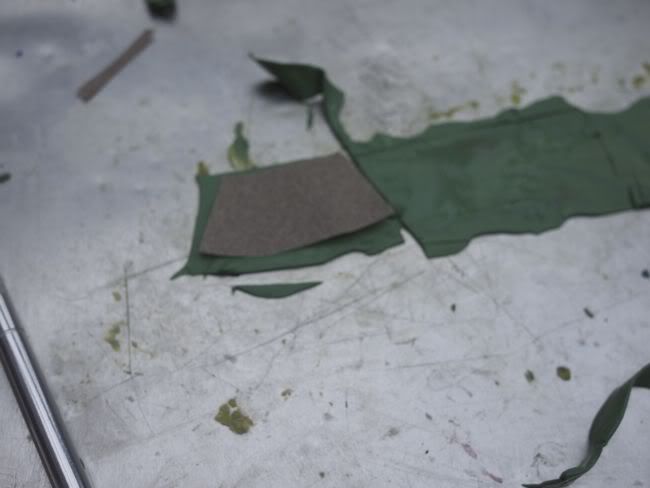 Cutting it with a scalpel often gives a ragged edge - sharp scissors are much better. You can pull the sections gently so they follow the curve of the egg.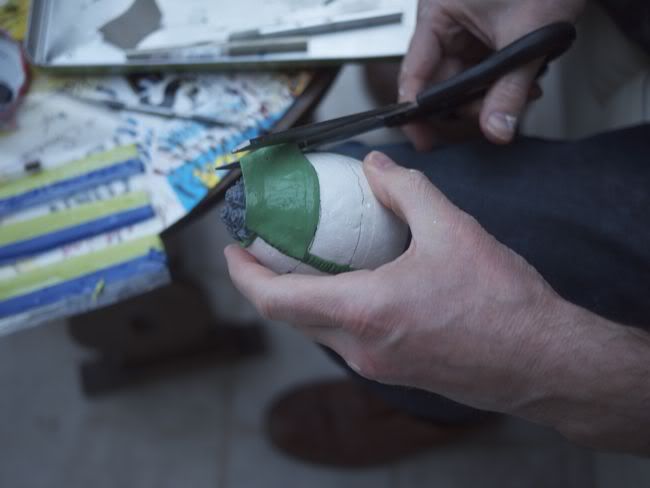 I squash the bottom of each plate, or add odds bit of surplus greenstuff, to smooth the bottom edge so it's doesn't show as a bulge on the next greenstuff section. I add some striations with the sculpting tool now, when it's soft, but not too many as the greenstuff might buckle or distort.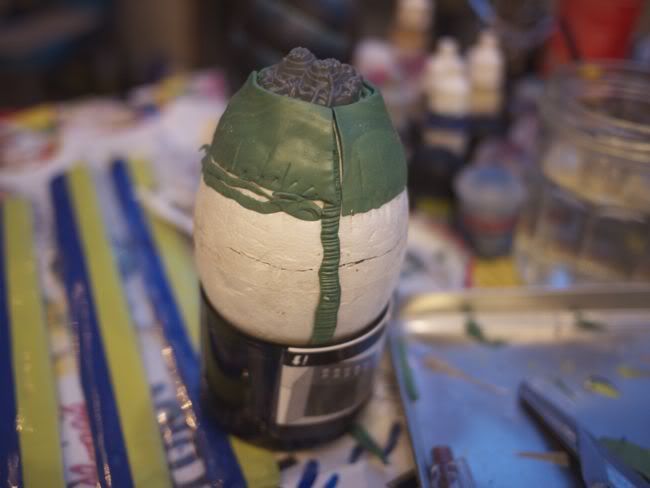 Normally I do just one row at a time, so I don't get fingerprints etc on. But today I had enough left to make just one extra section.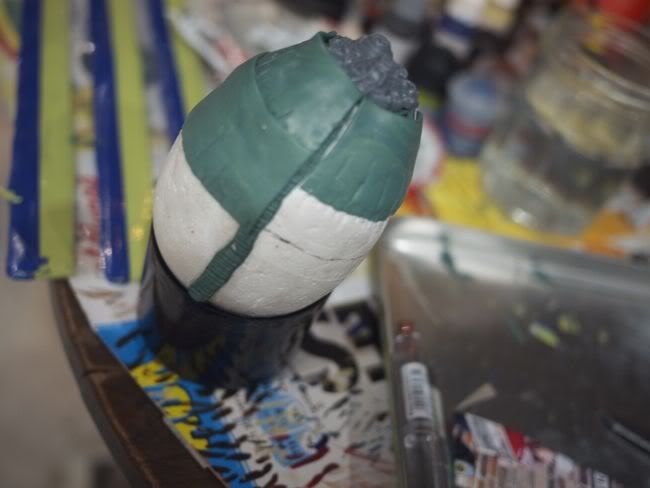 Tomorrow I'll cut off a section at the base, so the spore looks as if it's impacted into the crater.
When all the sections are completed and the green stuff is fully set, I use a scalpel to cut those distinctive nicks/notches in the carapace. That part is oddly satisfying. This is probably the messiest spore we've done as I was in a hurry and trying to use less greenstuff. This one used around 18 inches, so �4 worth, the others have thicker carapace plates and used a lot more.
I've worked out a new method of making tentacles, if it works I'll post details soon...
The one I'm working on is Number 3 - we saw
nib
's dull deployment list on the tyranid hive and are getting more ambitious. In a few days it will look like this!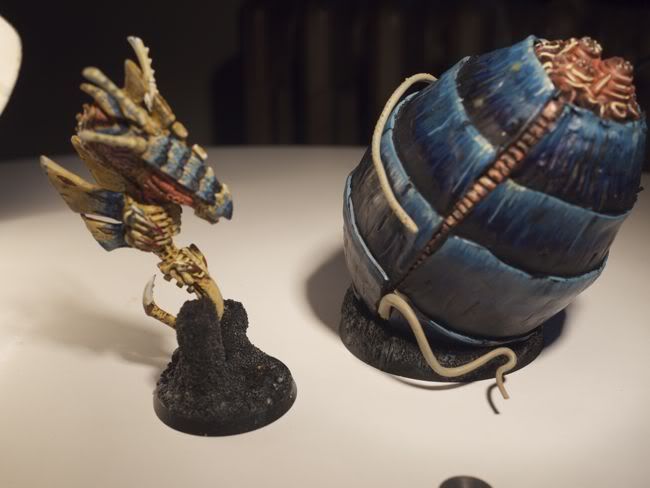 I've since worked on the tentacles and improved them. More details soon.
As he said in an early post, the eggs are easy - and cheap, as long as you don't count the green stuff, I think each one uses about 32 inches! Cheers, Paul.