Thought I'd share a few pictures of my 2012 Warhammer
GT
army, The Beer Waaagh. I've never enjoyed painting or converting an army this much. If anyone is interested in seeing more of my work, I can be found over at
http://www.thebeerwaaagh.blogspot.com/
, and a bit more analysis of the army can be found on
this entry
.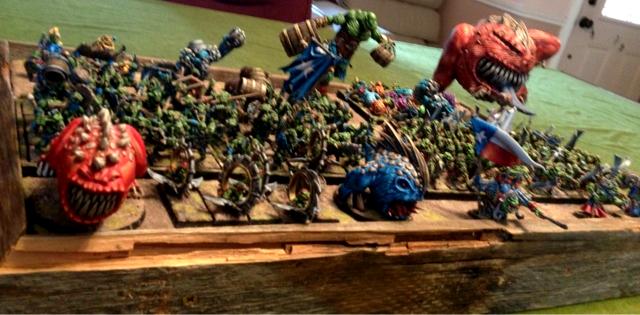 The army runs with a Savage Orc Warboss, Savage Great Shaman, Savage Shaman (sometimes replaced with a Goblin Shaman on a wolf), a Savage
BSB
, a block of 40-50 Savage Orcs, another block of 40-50 Savage Big 'Uns, two doom divers, 5-6 wolf riders, 2 Mangler Squigs, and 2 single trolls. Depending on the venue, I'll sometimes drop my block sizes to add a squad of 20 squigs. Finally, I interchange either a Giant and Rock Lobba, or a Arachnarok Squig.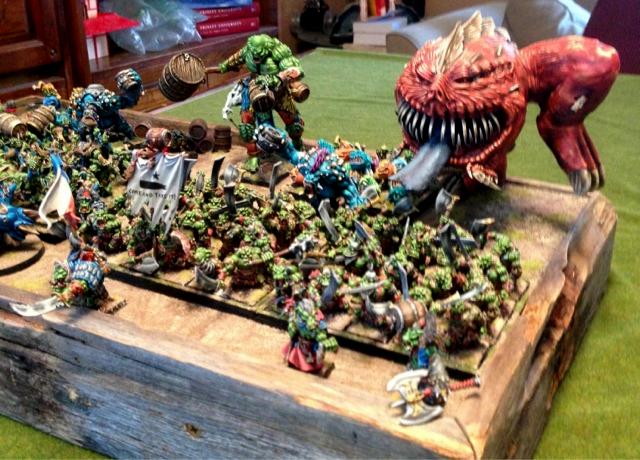 The Arachnarok Squig was a very simple sculpt - a ball of styrofoam, with two styrofoam legs, all coated in milliput and then sculpted. The Big 'Uns' banner is the infamous "Come and Take It" flag from the Texian army; all the banners in this army are historical flags of the State/Nation of Texas.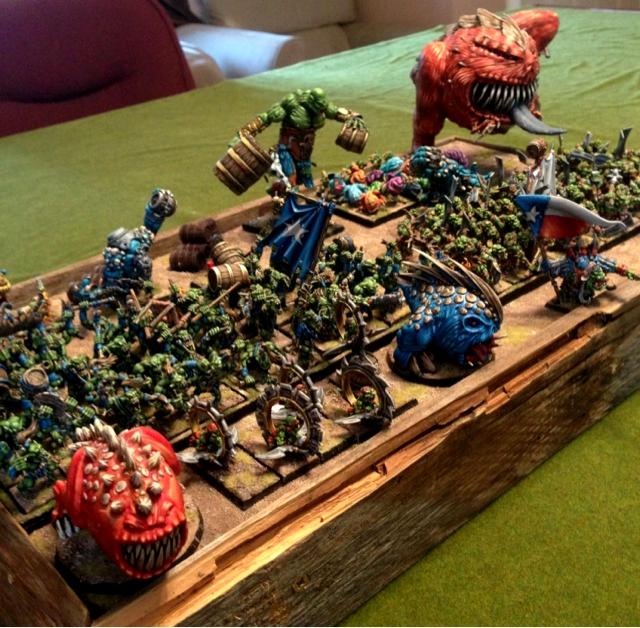 The Wolf Riders are Goblin Mad Wheels from Rackham. The Mangler Squigs are both custom sculpted.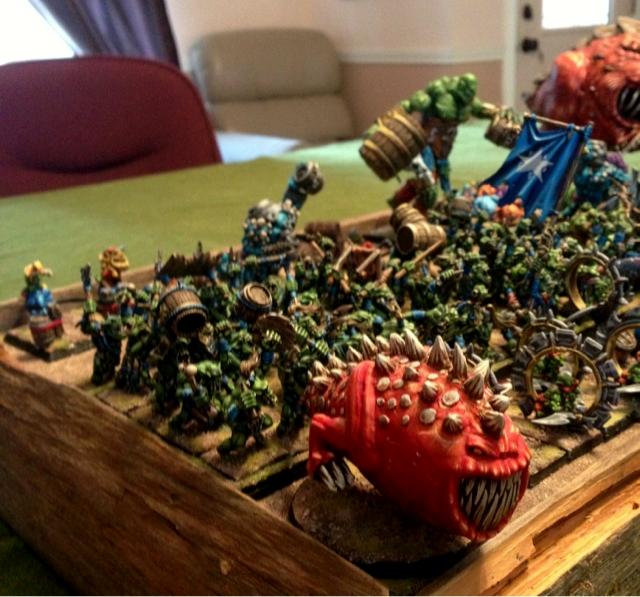 Here's a better shot of Stompy, the red Mangler.The Savage Orcs behind are extensively converted to be drinking beer. Their banner is the Gonzalez Flag, which was once proposed as the national flag of Texas.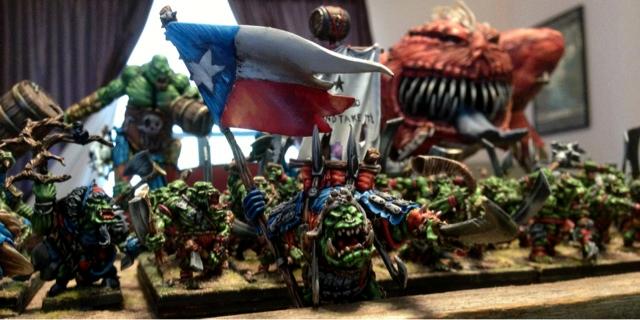 The Savage Orc
BSB
and Shaman, with the Big 'Uns in the background. The battle standard is (obviously) painted as the flag of Texas, because it's the best flag there is.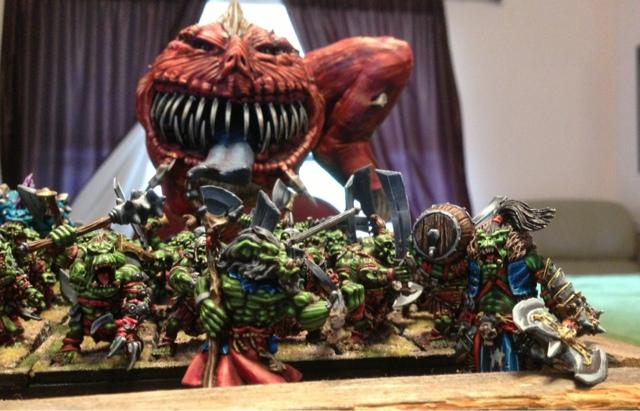 The Savage Orc Great Shaman and Warboss.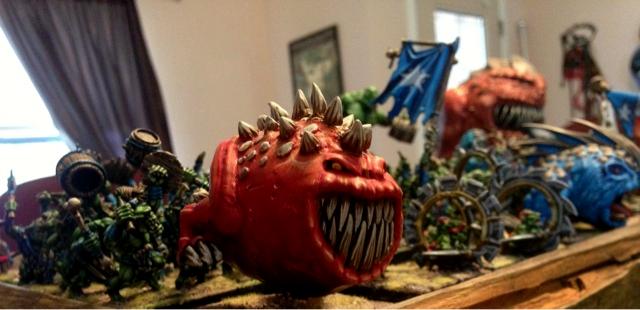 A lower view of the army, showing off the Mangler squigs.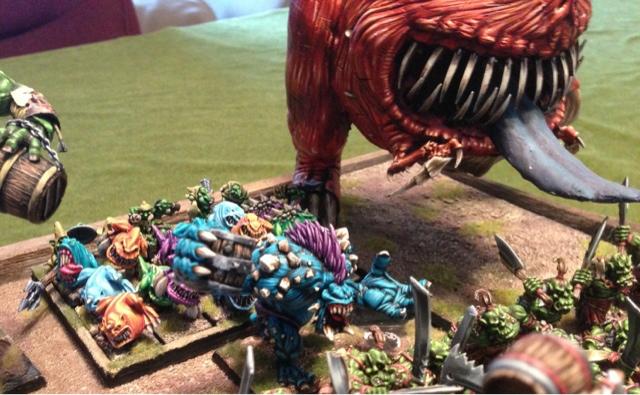 The squig herd and one of the trolls. I went with Privateer Press models for my trolls. Behind him is my pastel squigs.
Davey Stomp-it, a Giant conversion I first posted on Dakka seven years ago. He got a repaint from his initial 2006 paint job, because I learned how to paint in the interim.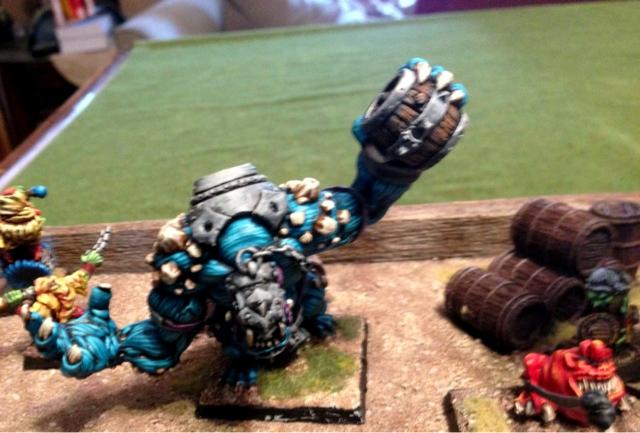 The other single troll, Privater Press's metal Dire Troll Bomber. You can see one of my Doom Divers on the right, modeled as an Angry Squig launcher.