Hi everyone.
Like many of us, I have been a long time lurker of Dakka², watching with amazement and sometimes awe all imperial related plogs. Being a rather early (if not old) hobbyst (1997), I only have beend playing 2nd Ed for 4 years. I must admit I tried 5th Ed but was not very fond of playing anymore.
After having moved home 4 or 5 times, I always wondered what I would do with all that hobby stuff that was collecting dust in various boxes. So I decided to switch from a rather big
IG
army to a smaller scale in the ways of Inq28. What I am about to show is based on the last Inquisition codex though. And is not meant to be played with, only to show a slow pace plog as a way to keep me motivated.
Actually, everything related to the hobby can be found on my blog here :
http://13ecadia.blogspot.fr/
So I will update this plog here accordingly to my blog posts.
Oh, before any questions arise after reading me, please excuse my writing for I am a(nother) French hobbyst :evilgrin:
Now I am highly motived and under fierce adrenaline rush. I bought new stuff and realised that I do need some kind of plan to get things organised. I discovered a small
PC
program that will help me cut my project into smaller pieces. Here it is :
http://www.warhammer-forum.com/index.php?showtopic=139155
It allows for a given amount of points to split the completion of your army into several sessions. Here, and according to the brand new Codex : Inquisition, I roughly have 900 points of pure inquisitorial force.
Here is how I plan the on-going process of assembling and painting my inquisitorial escort.
Steps are :
1. Purchase
2. Conversion
3. Basecoat
4. Paint job
5. Basing
Each session should (hopefully) last 1 month ...
Actual state of my progress :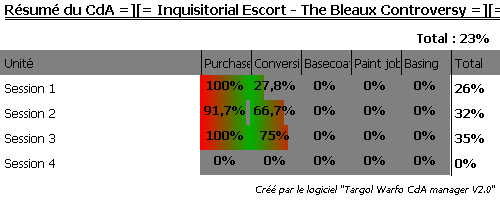 The different steps :
1.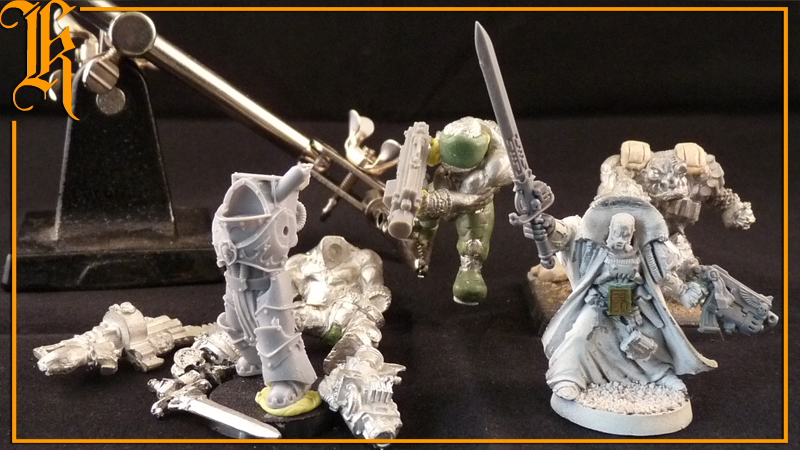 2.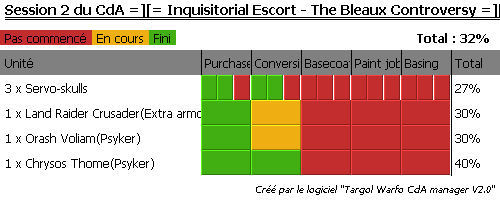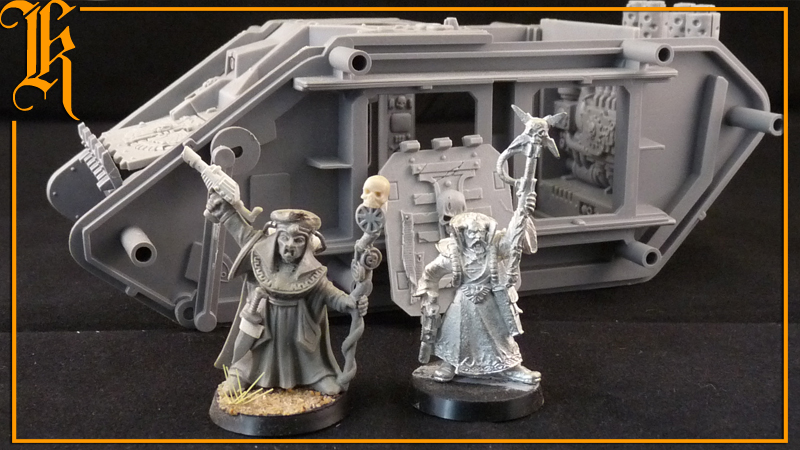 3.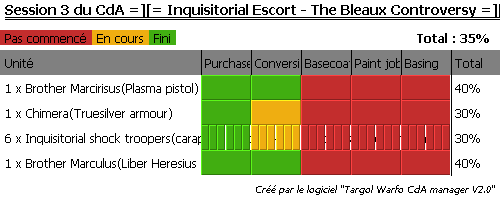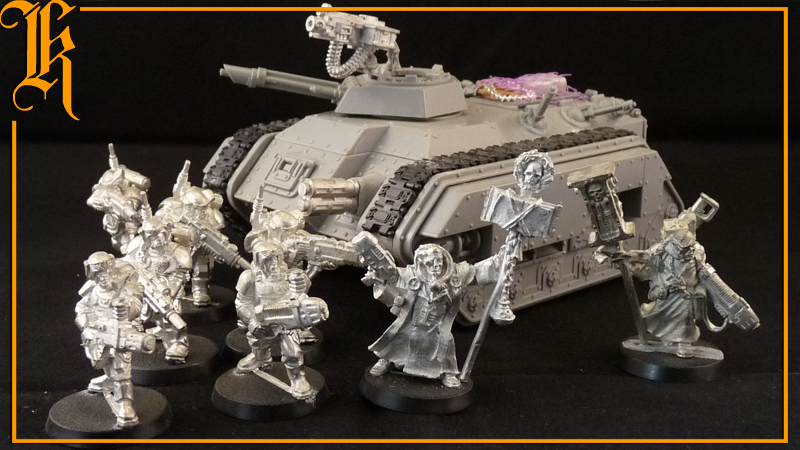 4.

Step 4 is far away from today so I have not really thought things through yet. However, there should be some Dark Elves and Ghouls involved

Sometime in the near future, I will post the fluff around those agents of the Inquisition. I have wrote a few lines that I'd be glad to share with you.

All in all, a lot of work to come so I got to go to work on that !

Automatically Appended Next Post:

Here is what I gathered. Since I don't plan on playing with them, I tried to best match up with a

WYSIWYG

eye.

=][= Inquisitorial Escort - The Bleaux Controversy =][= (921pts) QG (202.0pts)

1 x Inquisitor Vlad Dvorakà 73.0pts = 73.0pts

Psyker + Power armor + force sword + combi-plasma

1 x Inquisitor Jacobus Sprengerà 120.0pts = 120.0pts

Psyker + Terminator armour + powersword + psycanon + brain mines

3 x Servo-skullsà 3.0pts = 9.0pts

Elite (719.0pts) Warband Dvorak (274.0pts)

3 x Weapon servitor

heavy bolter

1 x Brother Marculus

Liber Heresius + plasma gun

1 x Chrysos Thome

Psyker

1 x Orash Voliam

Psyker

6 x Inquisitorial shock troopers

carapace armour + melta bombs + hot-shot lasgun + plasma gun + meltagun

1 x Chimera

Truesilver armour

Warband Sprenger (445.0pts)

5 x Arco-flagellant

5 x Death Cult Assassin

1 x Brother Marcirisus

Plasma pistol

1 x Land Raider Crusader

Extra armour + psybolt ammo

Créé par

le

logiciel "Targol Warfo CdA manager V2.0"

Automatically Appended Next Post:

A little update on this slow pace project.

Inquisitor Dvorak got more than just a plain rejuvenat treat, he simply changed face.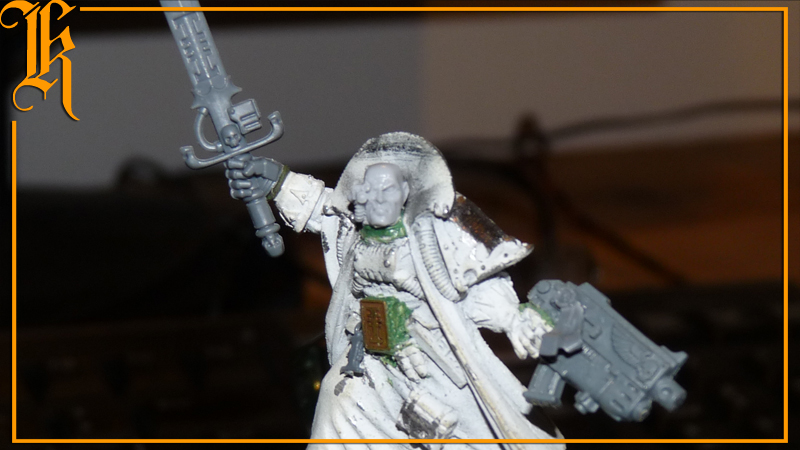 As for inquisitor Sprenger, he got a bit of a facelift too :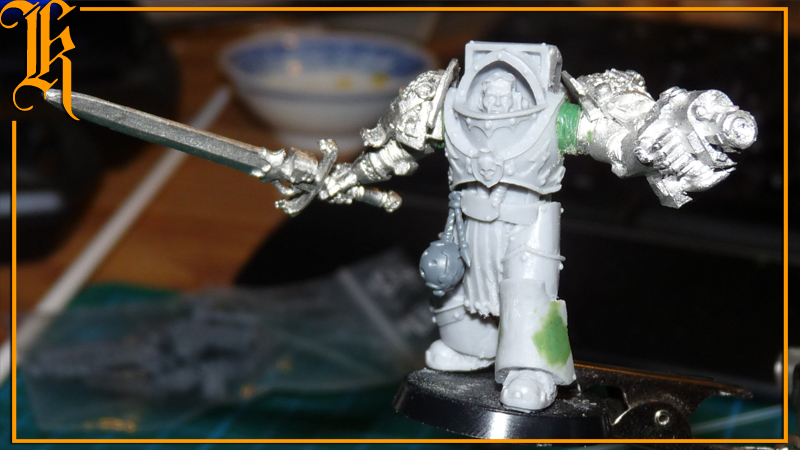 His left arm will not be left as such, I plan on adding a kind of
pelt
to hide the gap of his armpit. And his back will be draped in a cloak. I am really new to
GS
manipulation so I'll follow a few tuts
here
and
there
...
If you stop by this post, I will be glad to read your comments. I know I have a long way to go to achieve what I have in mind and I know I can do it thanks to your thoughts on this