Hello everybody! It's been quite a while since I posted anything semi-meaningful. Been trying to get things painted up for Valhalla 2014 in October. But then, as luck would have it,
GW
decided to release a new product which I was just too excited to pass up on.
This blog is just going to be photos, concepts, and actual
WIP
shots of my titan.
THE IDEA:
So, after much (little) thought, I decided to make a mercenary house - WHY YOU ASK?
Simply, it's the best option in my opinion for anyone interested
int
these kits. Here's some more particular arguments:
1) If you paint them as mercs, you can field them as allies to other armies, not just imperial allies. It doesn't make much sense that you have an imperial alligned house helping out xenos.
2) Gives you a chance to paint the model(s) in schemes that are as far removed from your traditional schemes as you want. I mean, who wants to run a <insert color> army, and add 1-3 giant walkers that just blend in to the rest of the force?
3) Most importantly - running mercs gives you the ability to tell a story. These beasts pre-date the Imperium of Mankind (sort of) - and as we all know, noble heritage is often hard to reign in to be part of the bigger collective..... unless you want to build the borg....
SO, to sum it up in one word: FLEXIBILITY!!!
Now, for those of you that are Star Wars fans, you probably have already seen the title of this and thought Fett. Well you are correct - the entire House Mandalore is inspired by our super-warrior friends, the Mandalorians. WHO KNEW!!!?!?!
The initial idea was to paint them all up in a modified Boba Fett Scheme -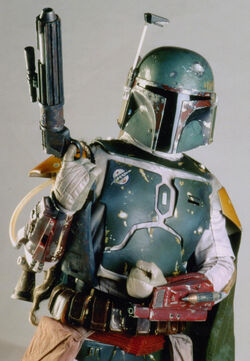 ARMOR: Using a blue-green basecoat up to the proper green highlights for the primary armor plates.
SECONDARY: Reds and Yellow
UNDERCARRIAGE: Washed boltgun, drybrushed and highlighted to simulate the grey undersuit
Then there'd be the obvious liberties, burnished gold trim to help hint at the yellow, battle damage, etc. etc.
After some thought, however, I decided that that would just be too simple - and if everyone looked like the Fett, where's the standoutness? Where's the unique flavor? So back to the drawing board.
After scouring the interwebs (mostly wiki's and wookies), I found some more concept art, reminisced over my Knights of the Old Republic 1 & 2, and decided on another way to proceed.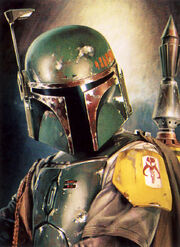 s.jpg[/img]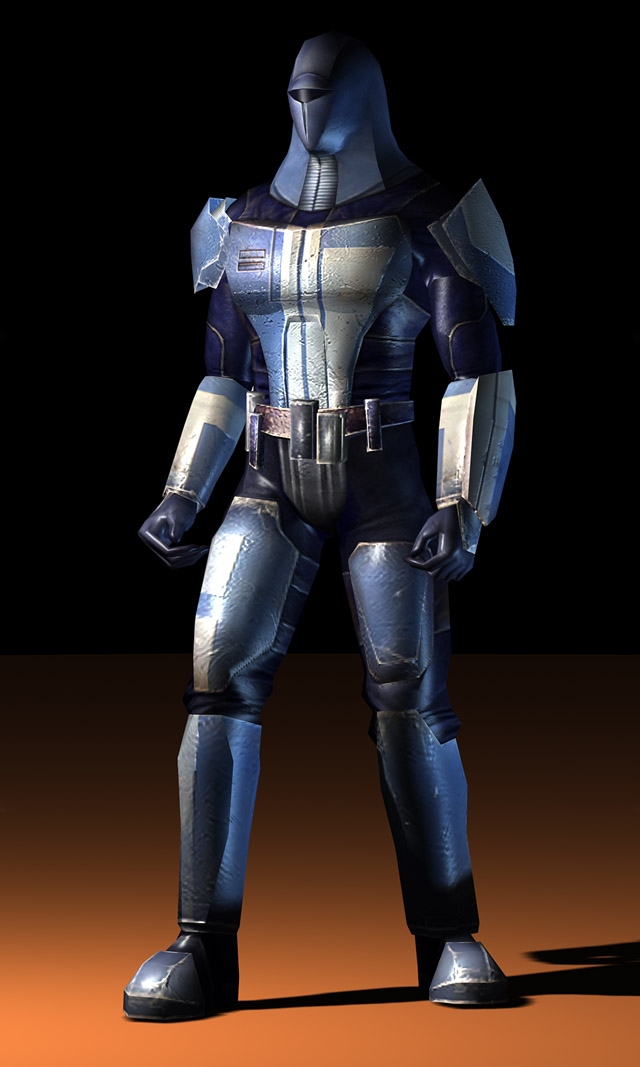 This is the image that made it all clear:
WHY DID I NOT SEE
IT
SOONER? Because I'm thick of course.
Mandalorians (according to the internet) often painted their armor differently. Sometimes without respect to rank and other silly things you don't want to point out to your enemies while fighting.
Wookipedia:
" The appearance of a Mandalorian's armor was largely up to the individual, as the highly independent Mandalorian people customized their armor with different colored paint schemes, clan and unit sigils, personalized glyphs, or other marking patterns in accordance to their own tastes."
Gray= Mourning a Lost Love
Red= Honoring a Father]
Black= Justice
Gold= Vengeance
Green= Duty
Blue= Reliability
Orange= A Lust for Life
With this in mind, it brings a lot of depth to the paint schemes.
Boba Fett - "dad" was killed, very dedicated to his bounties = Green and Red
SO, now each will be painted differently... but I still feel like they need something to tie them together.... you know... since there will be six of them.....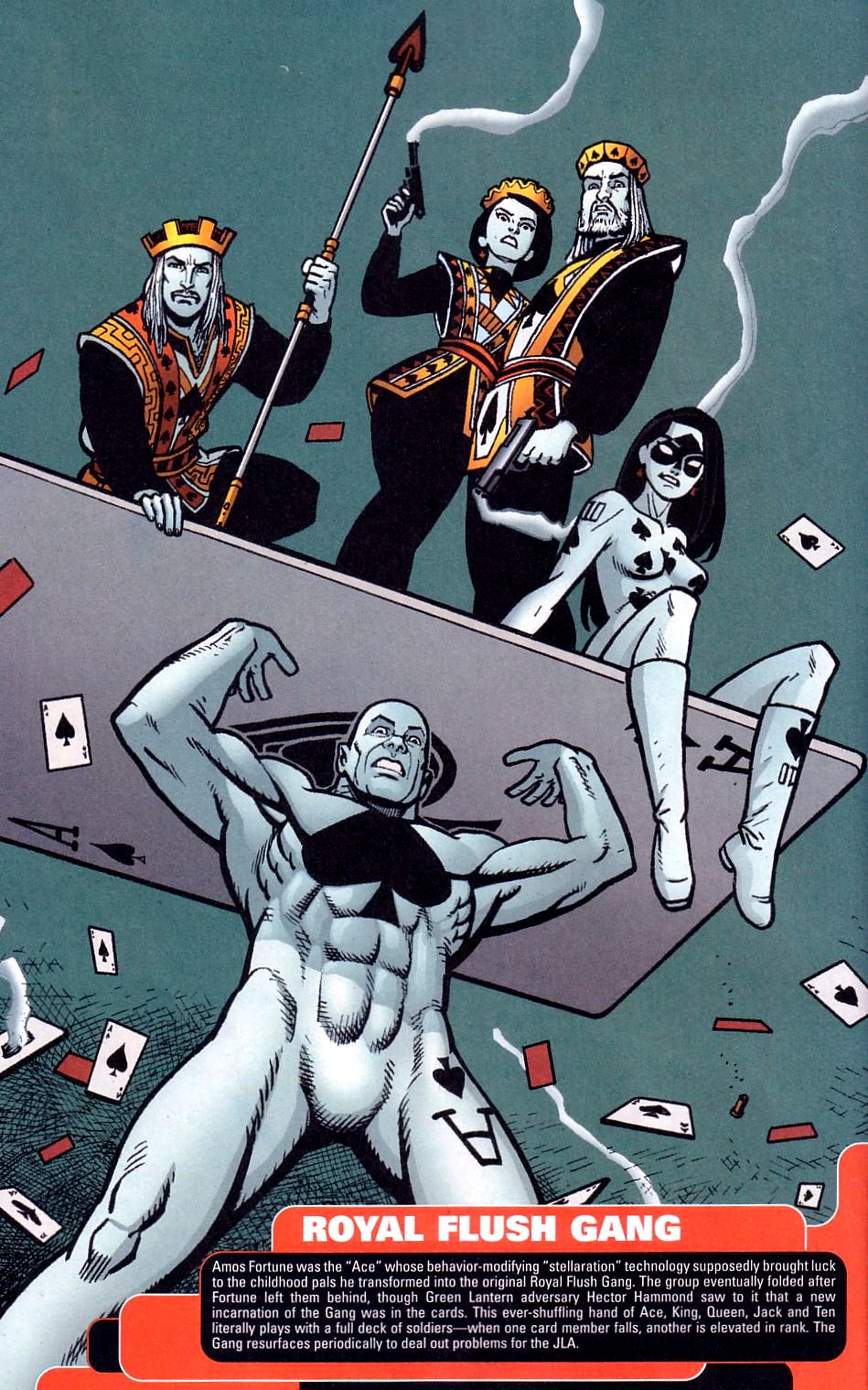 ... that'll do.
GAME PLAN:
King, Queen, Jack, Ace, and two jokers - black and red.
Each will have a different paint scheme, different personal crests, but will each have the playing card symbol with the Mandalorian Skull associated some how - either half and half, or overlayed, idk yet.
SWEET!!! Now that the difficult part is over, lets get to working on that model kit: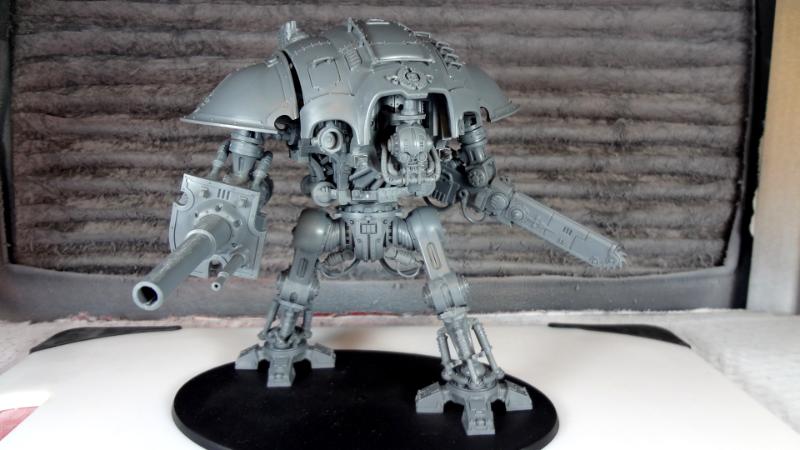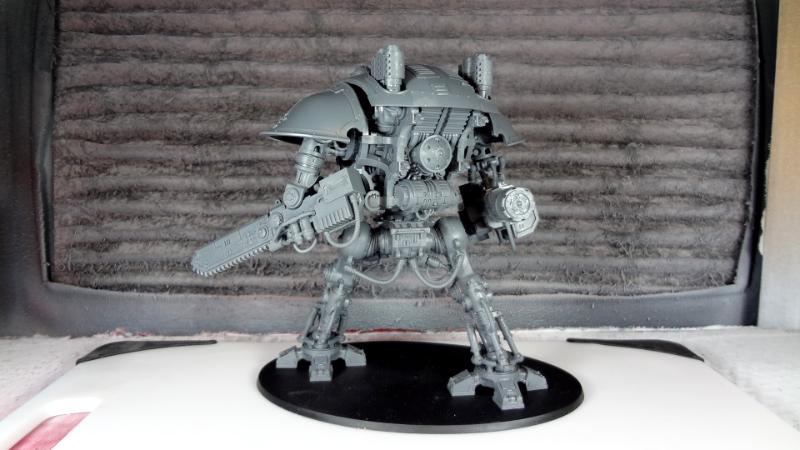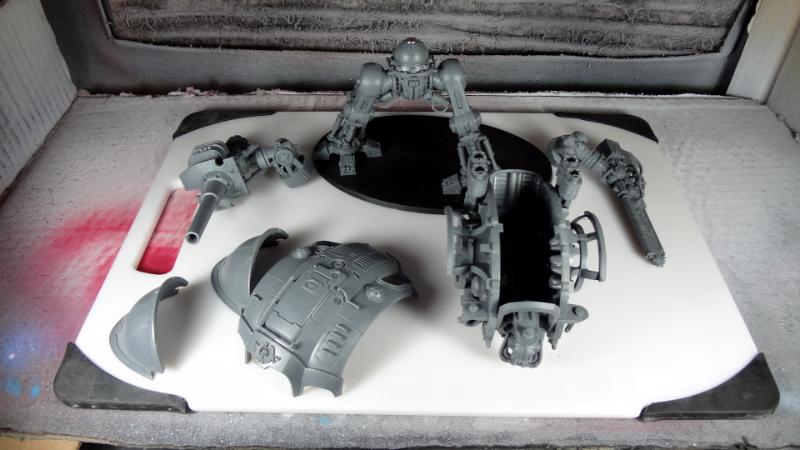 Oh... wait.... that's been done already....
Well how about conversions? Boba Fett has all kinda of outrageous....... well he definitely has stuff attached to his.......
Okay, so Boba Fett lets his demeanor do the talking. So what about more technical problems, such as transport? Surely there's a way to bring in the all mighty magnet to this seemingly simple model. Right?
In the latest White Dwarf - there's a photo showing that the writer used sprue glued to the pivot on the hips to allow the torso to spin. Good idea, but then you can't take the torso off. So this was my solution!
First, you snip off the nub that fits into the torso. Drill in a bit, glue a large magnet almost too big to fit in the torso hole and BAM: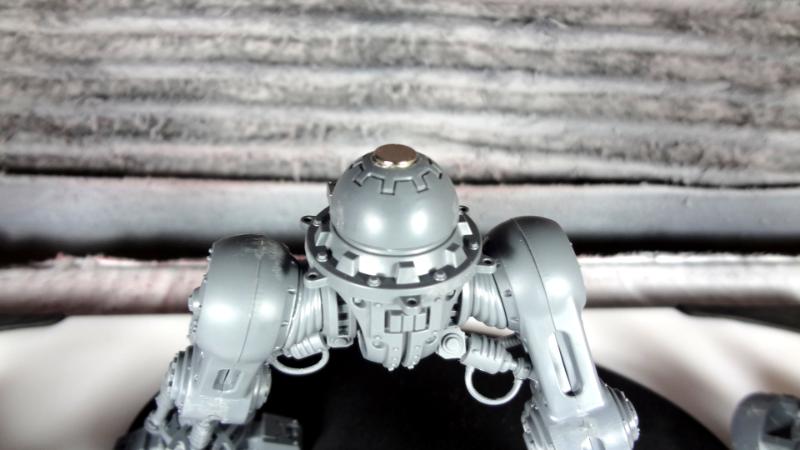 Next you take a large, round magnet and glue it to the interior side of the torso - I added sprue for extra security.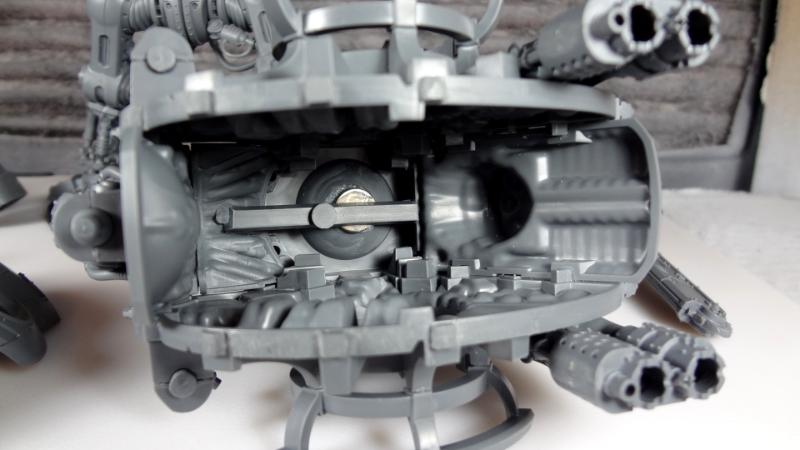 And BAM.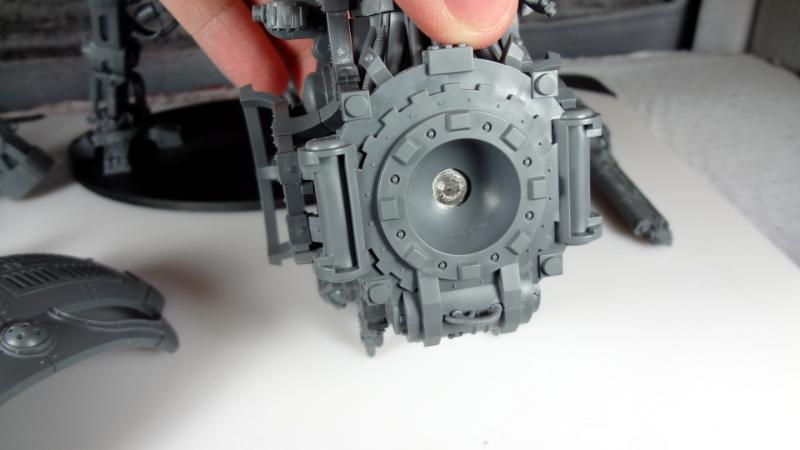 Strong, secure, and makes storage a breeze. Also, allows your to pivot 360 degrees like a top - smooth as a Mandalorian kill shot.
Now to begin the painting - as you may have noticed, there are pieces missing from the body - leg plates, shoulder stubber, etc. - those are kept separate to enable easier painting later. Right now, just focused on the undercarriage.
Going with the
GW
white dwarf suggestion:
PRIME: Black
BASE: Boltgun Metal (leadbelcher)
WASH: Badab Black (nuln oil) - went 1/1 with nuln oil to make it easier to coat again if necessary.
DRYBUSH: Boltgun Metal (leadbelcher)
HIGHLIGHT: Chainmail (ironbreaker) - light drybrush to pick out edges
HIGHLIGHT: Mythril SIlver (Runefang Steel) - spot highlight, will be done after model is assembled so that I know where the the highlights will help draw attention to important details.
AND......
Here is the basecoat: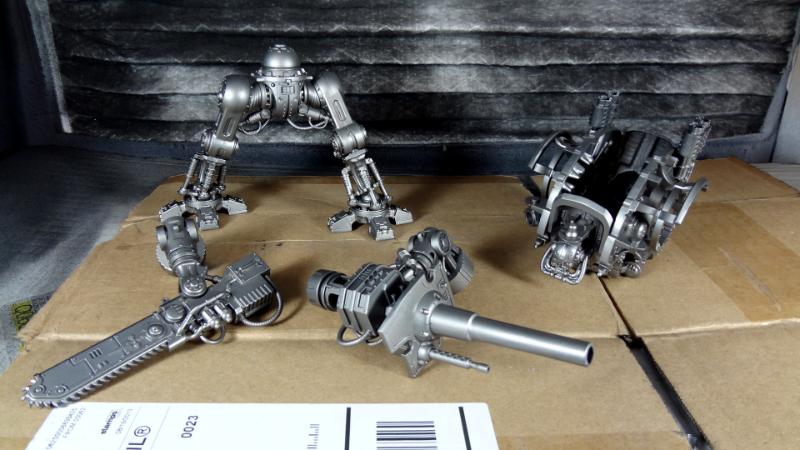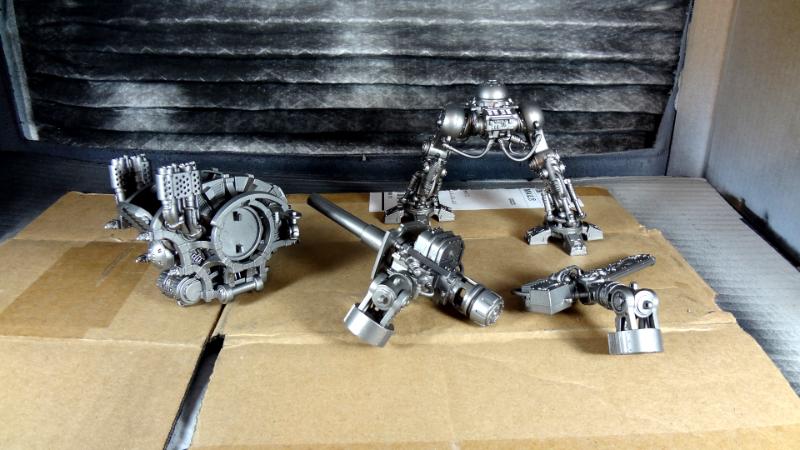 Oh, before I forget, I'd like to point out in the above image how

GW

pretty much copied

DFG

's Leviathan modular arms system: Yes,

DFG

has them in the actual arm while

GW

has theirs in the arm.

Not knocking what

GW

has done - honestly it is a welcomed innovation (sad that I feel this way about

GW

), and when someone finds a better way to do something, there's no point in trying to fight progress.

That's it for now. Hope my random thoughts and comments didn't distract too much.

NEXT POST

:


- More

WIP

for the undercarriage

- Additional Mandalore Musings

- Continued dry humor? I think so.

Keep on Keepin on!