Page 200 summary!
First, I want to thank everyone for sticking with this monstrosity of a blog. I have enjoyed it thoroughly even though it's been a ton of work to keep up. My painting and modeling skills have improved tremendously as a direct result of your participation and the army is looking fantastic for the same reason. You have no idea how much I appreciate that! Thank you.
Without further adeu... let's see what we've accomplished since page 165.
First, we painted up some dozer blades for the Razorbacks.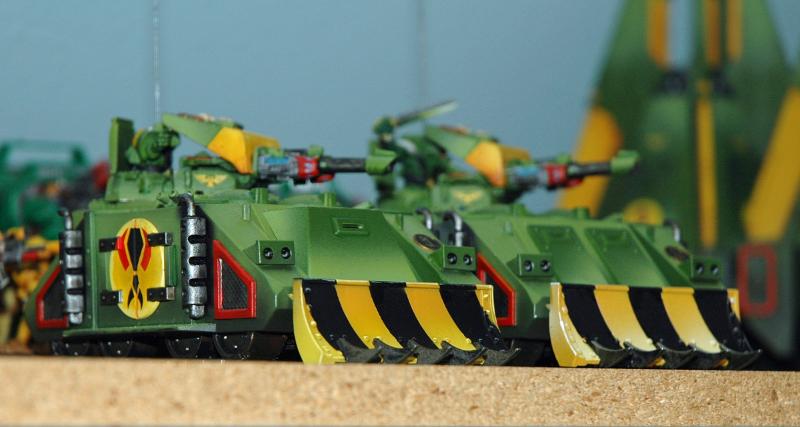 Then, we debuted BLACKHAND's Red Knights which I picked up from him so I could finish them.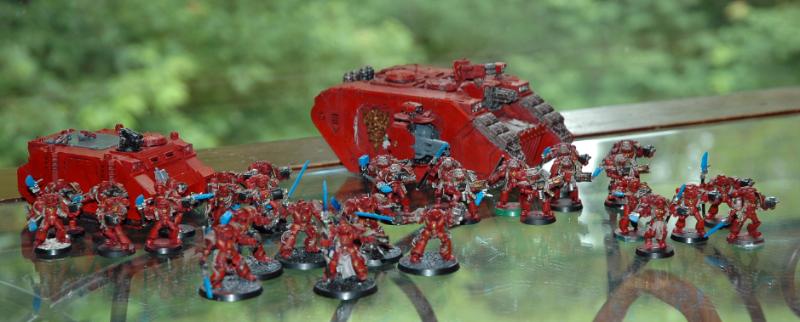 I finished the scout squads for my Land Speeder Storms... (slight re-paint of some really well done minis I picked up second-hand).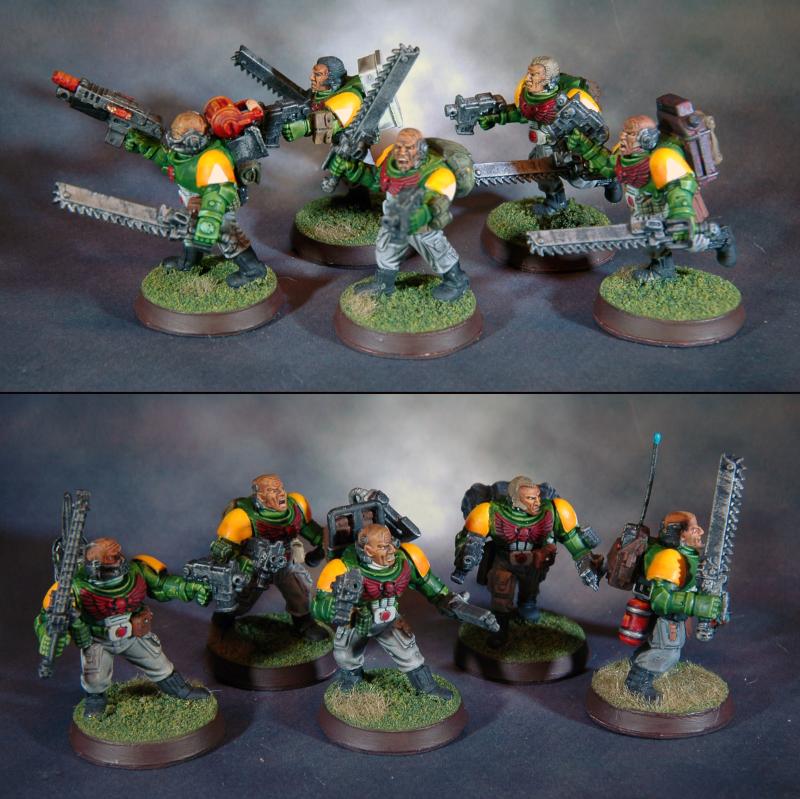 I finished Brother Hiroto, vent's
GMS
marine (which still hasn't been sent
BTW
... sorry vent, will get that done).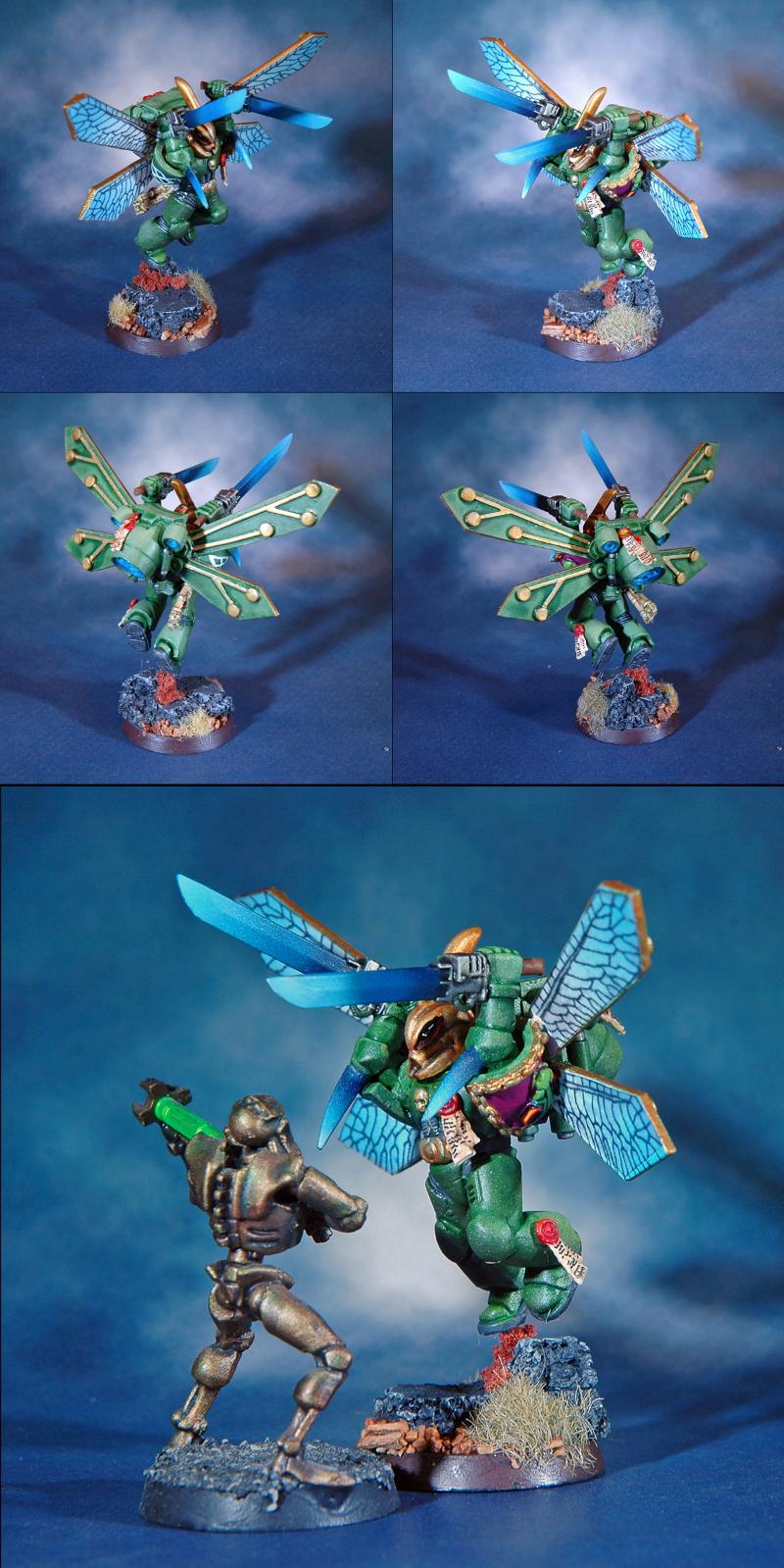 ... and his cool story written by WarOne.
"The Mantis"
They were Necrons, and they were harvesting.
Hiroto clenched his fists, keeping them from stabbing down into his holsters to bring forth his twin swords. Once released, none of the Necron below would survive their fury.
But he held his hiding place, carefully concealed by the darkness and the absolute stillness he executed with great restraint.
From his position high in the bell tower, he observed the hundreds of mindless automatons herding the entire village to their doom. The villagers came out of each house under guard, and carried not one scrap of possessions with them save for children who could not walk on their own. Under the grim guard, none of the people even cried out in fear or wept in sorrow. All their faces were blank, as if their souls no longer inhabited their mortal coil. They casually shuffled into green vortexes of power that Hiroto assumed acted like portals.
This struck Hiroto with great concern, as he had seen before in reports and some firsthand experience the depravations of the Necron host once they started culling. Many would die until their resistance was broken. Their flaying weapons tearing the skin and then flesh from desiccated bones was an unearthly sight that cowed even the mightiest human warrior. The survivors were then taken away, kicking and screaming into eerie green portals that bled with arcane power and high technology.
The entire populace of this condemned community didn't even blink. They simply wanted into the light that appeared in the darkness of the night, and were swallowed whole without complaint. With his enhanced vision, the space marine vanguard made out the individual Necron warriors as they simply ambled along, ensuring the humans trudged along unerringly into the portals. Their green glowing eyes numbered in the hundreds. With this complacent populace, Hiroto didn't even think the Necrons would need more than a single sentinel to oversee the harvest.
But it was that laxity in the Necron guards that allowed Hiroto to stay hidden. None of the Necrons even bothered to break in or enter into any of the homes or shops of the people here. They simply came out of the green portals that winked into existence from nowhere, and the victims obliged them by coming out almost as soon as the metallic invaders appeared. All the Necrons had to do was simply stand there and wait for the cattle to go to the slaughter willingly.
But Hiroto was not too sure the human populace was so readily compliant. There had to be some reason the Necrons were able to execute this whole operation with some sort of trick. Perhaps hypnoindoctrination or a drugged water supply was to blame. Given the advanced technological state of the enemy, it could be a neural control device that projects a blanketing signal that dazes or confuses the human mind, forcing them to be docile.
But it wouldn't account for Hiroto being unaffected. He would at least know there was something attempting to brainwash him. So what could it be he mused.
His answer came almost instantly. One of the humans Hiroto was casually watching suddenly jerked. His head erupted with visible electrical surges as they came out his mouth, nostrils, and ears. He brought his arms to his head, and attempted a stammering scream. He stumbled out of the shuffling line of other humans and dropped to his knees, clutching his enervated skull.
Two of the closer Necron guards swiveled their eyes toward the collapsed human. They began to lurch from their stationary positions and advance on the disturbance.
The Mantis Warrior could not allow this chance to escape him. Hiroto leaped from the belltower, unfurling his jetpack's wings as he glided down, swooping from his high perch to intercept the Necrons. They were barely twenty feet away from their victim, and Hiroto easily 200 or more. But they did not know that death was stalking them.
With one of his swords unsheathed, Hiroto activated it, causing the weapon to scintillate with murderous energy. The glow and hum of his sword alerted the other Necron sentries to his presence as he landed, his feet touching down less than ten paces from the two Necron warriors about to lay their hands on the curled up human.
Dozens of the mechanical constructs raised their weapons, gauss flayers glowing with arcane energy that could kill with ease. Hiroto pounded his legs hard, raising his sword as the two Necrons grabbed the human and began pulling him up into their cold embrace.
Hiroto sliced with his sword, lopping off both of the Necron heads as he shouldered between the pair of headless bodies, and scooped up the shivering body of the man. Green bolts of energy pierced the air.
All of them missed or struck the bodies of their vanquished brethren, burning into mechanical bodies or smacking into the morass of humans surrounding Hiroto and the man tucked under one arm.
Hiroto wasted no time. He activated his jet pack, and leaped into the air, ascending skyward as fast as the rocket would take him.
More of the green bolts of arcane fury lit up the sky, but the Necrons were firing blindly into the night, unable to catch the Mantis Warrior as he quickly escaped the maximum range of their weapons.
I celebrate Independence Day.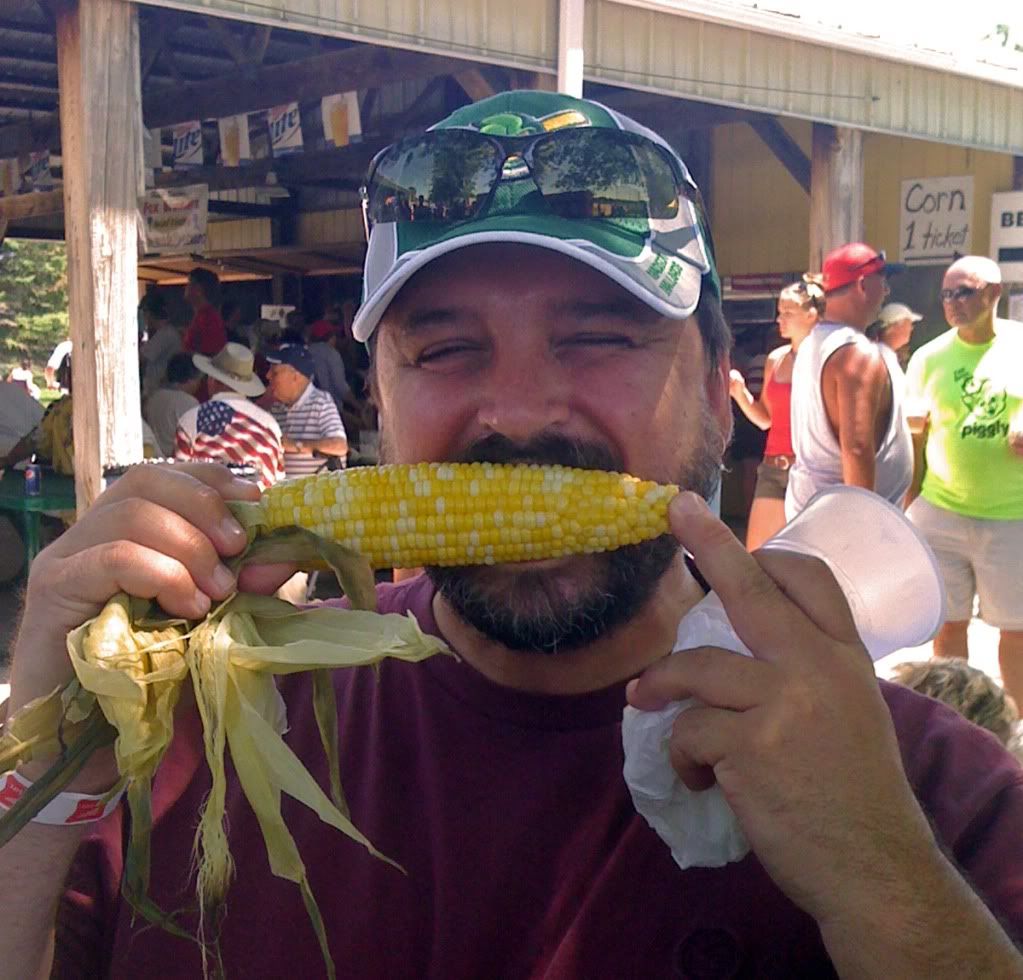 We had a long discussion comparing airbrushing to brush painting.
brush / airbrush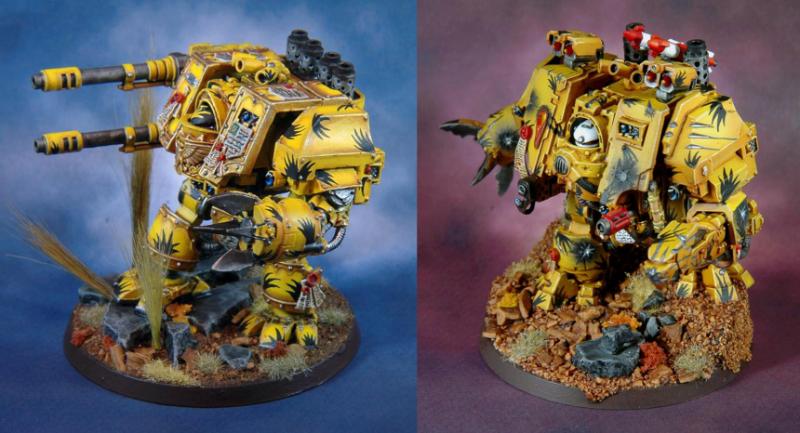 airbrush / brush
... and the merits of various greens.
I finish my kit-bashed terminator librarian.

I use a chaos Mantis Warrior made by Gathering Storm to make a neat objective marker.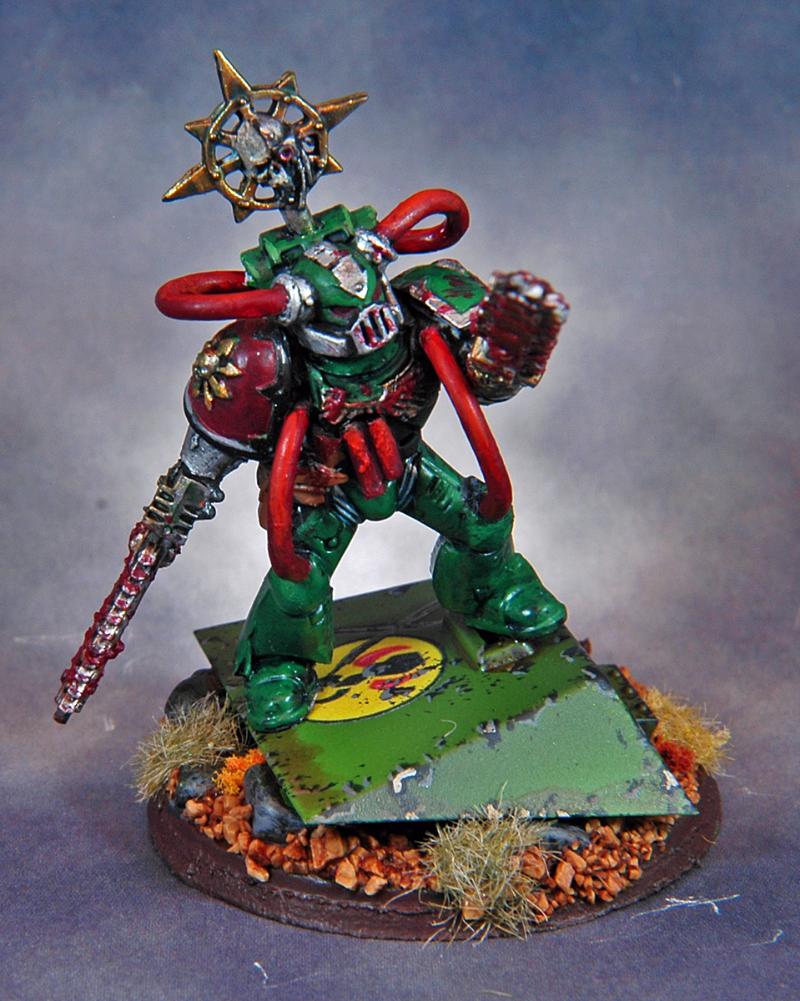 I finish a
GMS
marine for Disjointed Entity.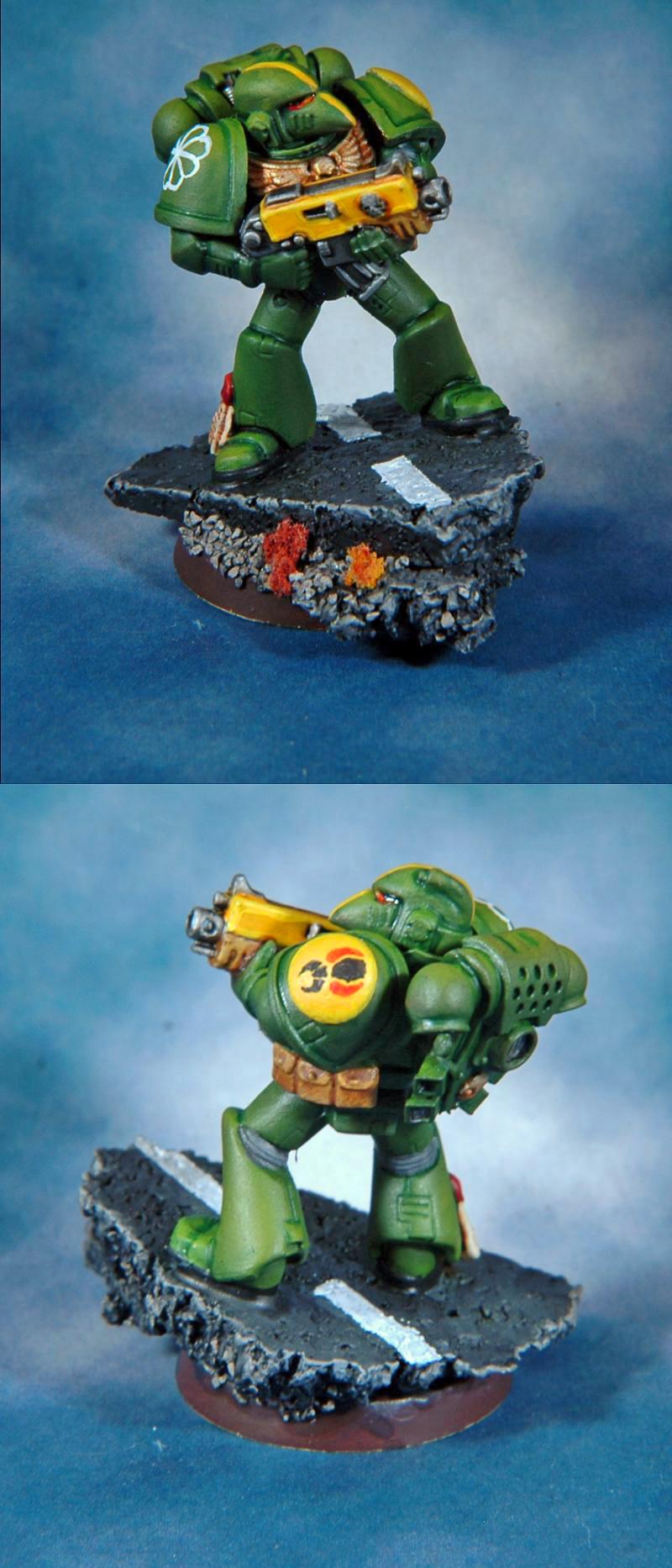 And, I make another objective marker just for fun!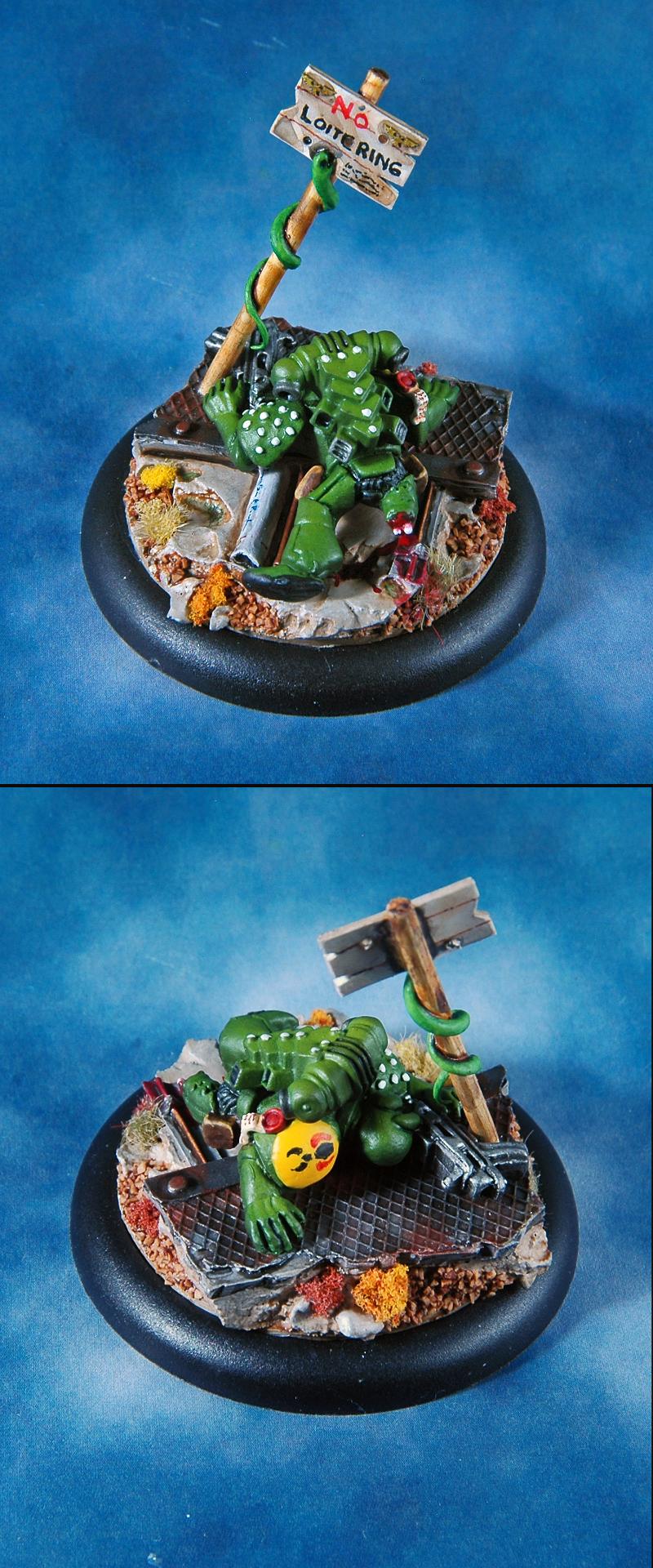 Finally... I *almost* beat the 200 page deadline by getting my scout jet bike sergeant completed.... but not quite.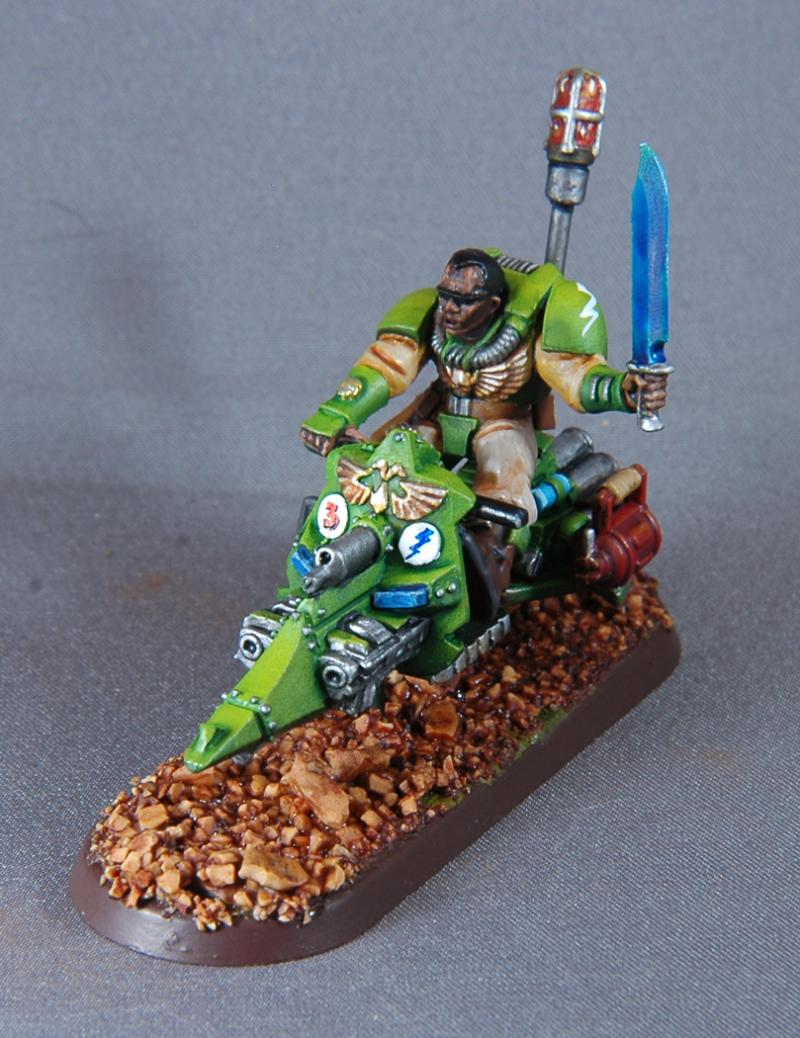 Decent amount of work.
'Till next time!
Gits