Rules (more like guidelines) for a Goblin Spider hunt.
The aim of the game is for the goblins to bag 6 (or however many you decide) spiders.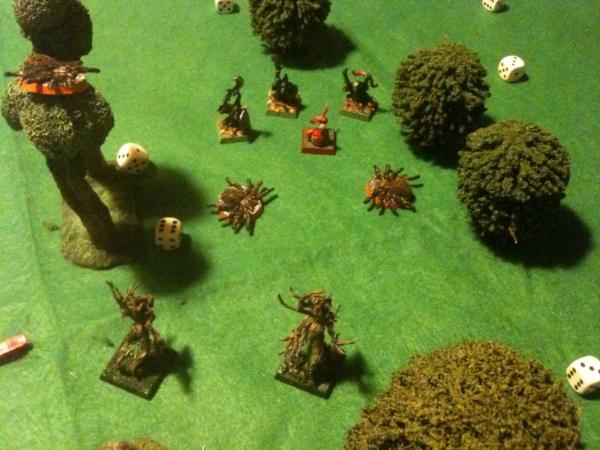 The goblin hunting party consists of (x number of) netters, clubbers and squigs.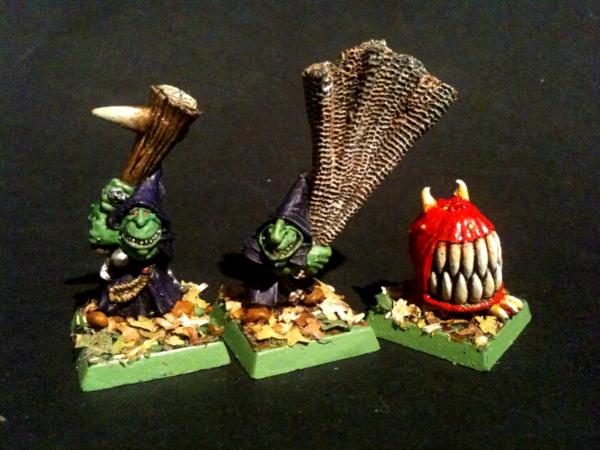 Clubbers- a clubber is needed on these dangerous hunts to fend off nasty dryads and the occasional nippy spider.
- a clubber who defeats a spider does not capture it alive but rather squashes it dead. Dead spiders are no good to you.
- a clubber can release a fellow goblin or squig who is trapped in a web. He cannot release himself.
Squigs- squigs are very handy on a spider hunt for checking trees and chasing down spiders.
A squig can be used to make a "Shake the tree" roll the same way as a goblin can.
-if a spider comes out the squig will chase it. Each player rolls a
D6
. The spider moves
D6
" in the direction of the next nearest tree and the squig pursues
D6
". If the spider is caught they remain in combat until one is defeated or the spider is netted.
- a squig who catches a spider will not attack it in the turn it is caught but will only hold it stationary where caught. In subsequent the turns the spider and squig will fight as normal. A spider beaten by a squig in combat is a dead spider not a captured one.
- if a Dryad emerges from a tree the squig will run scared in the direction of the nearest goblin clubber. The spider/Dryad player may elect to peruse, doing so in the same manner as above.
Netters- a netter can throw one net per turn either in a ranged attack or in support of combat.
-a netter does not carry a weapon and so cannot hurt an enemy only net them.
- if a netter is in contact with a clubber his net will impede the enemy allowing the clubber to more easily bash their bonce. A spider in danger of being squashed may be preserved by the presence of a netter in the combat.
Any netter trying to keep a netted spider alive. (To score one for the team) Must Roll a
D6
. On the roll of a 1 your netter gets bashed on the bonce by the overzealous clubber. (You lose the netter but gain the netted spider)
Nets and webs.
- A goblin netter can throw a net. He may only throw one net per turn in the manner of a ranged attack.
- A spider may throw a web in exactly the same way as a netter throws a net.
-A spider hit by a thrown net is considered captured.
-A goblin, Squig, or dryad hit by a thrown net/web is immobilised until it can escape.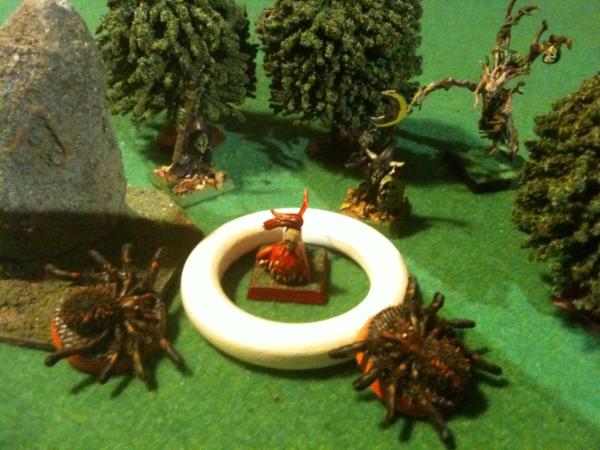 Place a net marker over them to indicate this. It may not move but will fight (with restrictions) if attacked.
-a clubber may release a fellow hunter from a web by moving into contact with them. A dryad can release another dryad from a net in the same way.
- a netted/webbed combatant suffers penalties in combat (you decide how you're doing combat) which are cumulative of more than one net/web is applied.
To find a spider the goblin player must move any of his units into contact with a tree and make a "shake the tree" roll.
Shake the Tree -Roll a
D6
6 two spiders jump down.
4-5- one spider jumps down.
2-3 nothing- the tree is empty.
1- Attacked by a dryad.
Spiders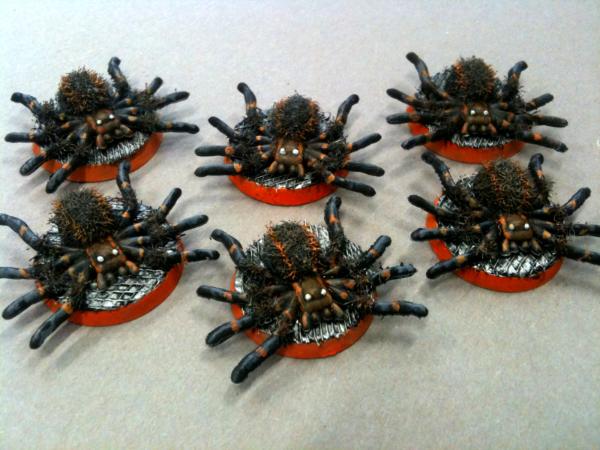 when in play a spider may either...
- Move toward the next closest tree
- target any Goblin or Squig within range with a web attack
- Or bite any enemy already in contact with them.
A spider may not move deliberately into contact with an enemy unless they are already webbed. A spider who contacts a webbed enemy will immediately bite them.
Dryads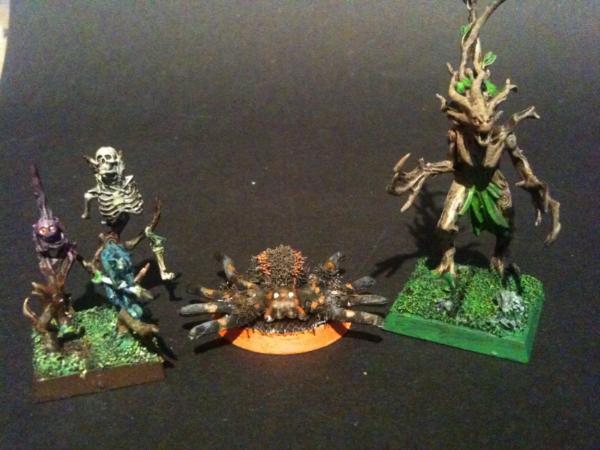 Dryads hate goblins. They don't like the spiders much either but they can at least live alongside them.
-a dryad can be played freely by the Spider player when one enters play. They may move freely and assault enemy units. They have no ranged attacks.
- a dryad may free another dryad from a net. It may not free a netted spider and cannot free itself.
Set up.
The Spider player places 10 trees scattered around the forest. There are no spiders in play at the beginning of the game, the goblins must find them first.
The goblin player can deploy his hunters in any way on his table edge and shall begin the game by taking the first turn, moving his units toward trees he wishes to inspect.
The spider player will take turns following a normal goblin turn sequence as and when he has units in play to act with.
Optional extras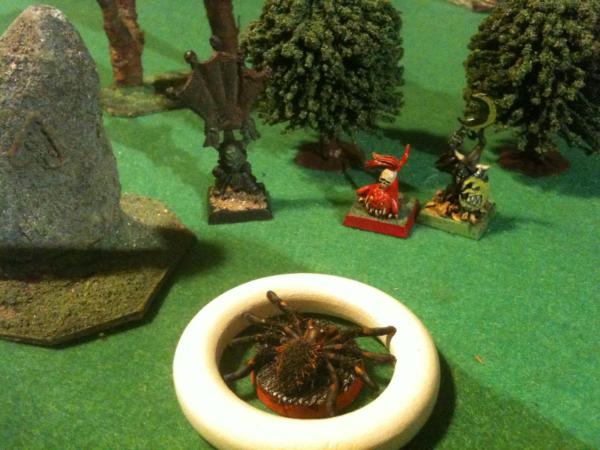 Goblin Boss- the goblin player may take a champion or boss of some kind to lead the hunt. For the purposes of game play the boss may act as both a Clubber and a netter. He has the know-wots to lead a Spider hunt after all.
Forest Magic waystone- place a large standing stone in the centre of the board. At the start of the Spider player's turn he may roll a
D6
1-2 Nothing Happens - the winds of forest magic have blown quiet for the time being.
3-4 Forest spites - place a spites counter next to the nearest goblin or squig to the stone. They will remain cursed until the next roll of "nothing happens" A cursed unit treats all odd numbers rolled by it as 1.
5-6 - Dryad - a dryad emerges and is placed in contact with any part of the stone. It may move or assault an enemy freely that turn and shall continue in play until defeated.
A note on playing styles.
Now I was playing this with my 6 year old son and so we did almost everything via roll-off or a D2 roll. Seriously simplified rules.
- Everyone moved 6 inches.
- All combat regardless of type dryad, squig, goblin, spider whatever combination was done by a straight roll off with Draws continuing until next round.
- Throwing a net or spider web was always 4+ to hit.
- netted/webbed combatants roll at -1
- Multiple combatants got +1 to their rolls
Now if you wanted you could play a more WFB based style using stat lines for each combatant and doing combat based on
WS
and weapon types and all that jazz. Whatever works for you and balances the game.
My version was just knocked together on the fly for a bit play time fun with the kids.
Play with it, make it your own. As long as you're having fun.