Hello Everyone,
I'm coming over to Dakka after a hiatus of about 13 years. In 2011 I started a PLOG on another forum for my themed army, and I have been slowly plugging away at the project ever since. While I love the other forum a fellow modeler recently suggested I come over here to increase my viewing audience so here I am.
A bit of background on me:
I'm a U.S. based fan of
40k
and have been playing and collecting since 1991. The 41st Millennium is the one fantasy/sci fi world I am obsessed with and follow, it's been my personal obsession since I picked up
WD
141 back in the day and literally fell in love. I'm more of a fluff follower, painter, and modeler then I am a gamer and I have mostly lived in areas of the country where there isn't a game scene. My armies are always theme/fluff based as opposed to power gamer.
For a living I am a professional artist, college level art instructor and freelance designer.
A bit of background on the Project:
The Lamenters Reintroduction is an army based off of the time when the 100 year old penitence crusade into the Eastern Fringe after the Badab War has ended. The approximately 300 Lamenter Marines that survived everything have found themselves being granted sovereignty and allowed to operate as a fleet based chapter until they are awarded a new home world.
However, of course, given what has happened with Huron Blackheart and the Astral Claws over the last century, there are many skeptics among the Imperial Hierarchy who do not think the Lamenters are worthy of the Emperor's Forgiveness. The Chapter's Sovereignty was thus granted at a price and it has been mandated that a Flotilla containing the fleet of the Puritan Ordo Hereticus Inquisitor Gahvriel Seth as well as the single Red Hunters cruiser that shadowed the Chapter through the Penitent Crusade was also ordered to continue it's deployment alongside the Chapter until further notice.
Convinced of their guilt Seth has used his Terra sanctioned mandate to constantly test the loyalty of the Lamenters, pushing them to further and further extremes in order to see if they will ever refuse an order from a man "sanctioned" by the High Lords of Terra. This has resulted in the Chapters deployment to several Imperial Worlds for the purpose of putting down minor insurrections and the occasional chaos or genestealer cult.
Their most recent deployment was in response to a distress call that one of Seth's field operatives passed on to him regarding a heretical cult operating on a hive world within the Lucem Sector of the Imperium. Upon translation from the warp the initial scouting ships from The Lamenters alongside the Red Hunters cruiser engaged and destroyed a single Renegade Cruiser identified as belonging to The Word Bearers Chapter. Upon the end of the engagement they have issued an Imperial edict requiring that all Imperial servants of fighting age report to their local Munistorium office for issuance of war gear and that any human upon the time of planet fall not holding the proper papers will be summarily executed for heresy against The Emperor. This heavy handed approach has sent the local Inquisition into a frenzy of activity as they did not anticipate an intervention of such magnitude then non of them foresaw in the tarot.
If you read all of that, you sir/madame are a hero.
Now on to the pictures: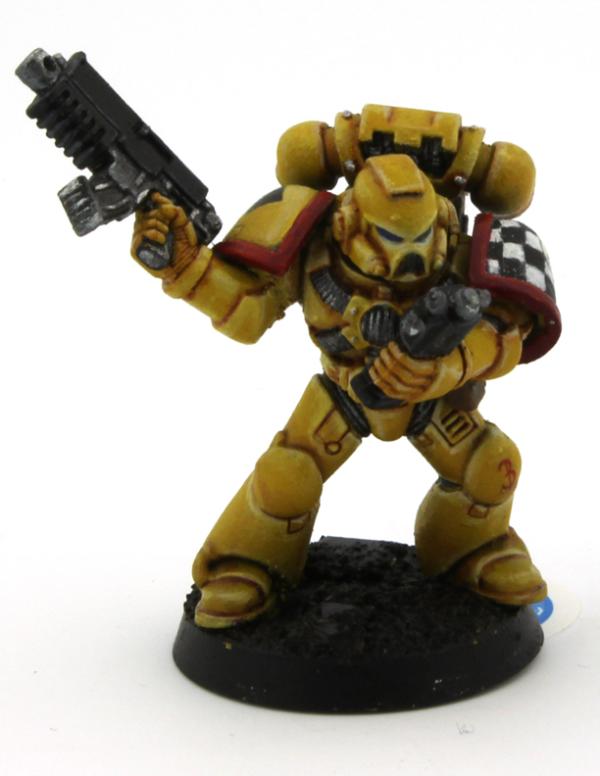 The first 95% finished Lamenter. He still needs the last little bit of detail but he served as my final model for the marine's color scheme. This color scheme is the fifth attempt at the Lamenters, and in my display case three of the surviving earlier attempts sit in shame of not being accepted.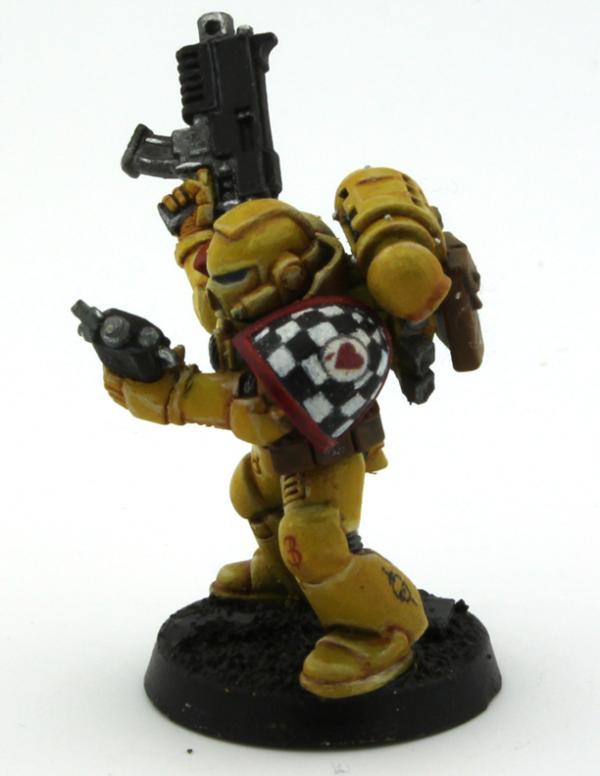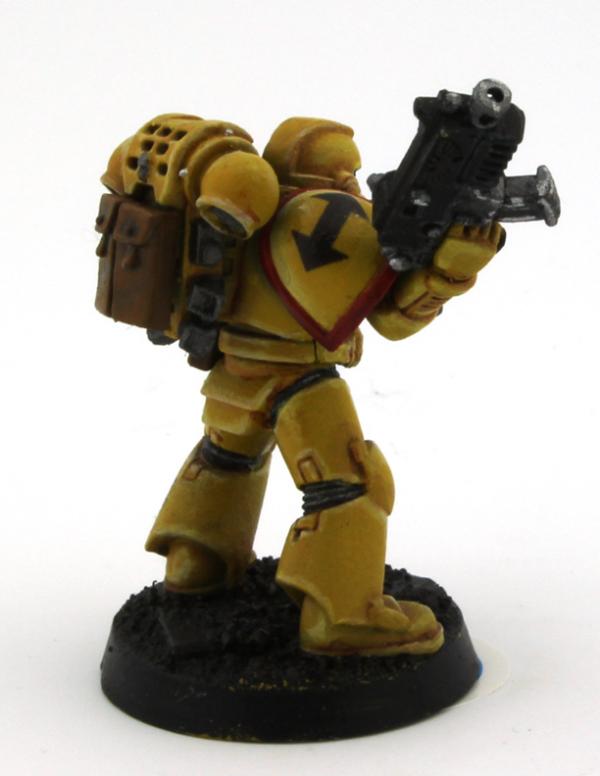 The
WIP
of the first squad. Each non Scout Lamenter will be either a model that is suitably adorned to represent a veteran, or a model that is converted in such a way as to do so. This small squad is currently being played as the honor guard for Chief Librarian/Commander Dilliad the highest ranking living member of the Chapter.
One of the few surviving Landraiders in the Chapter: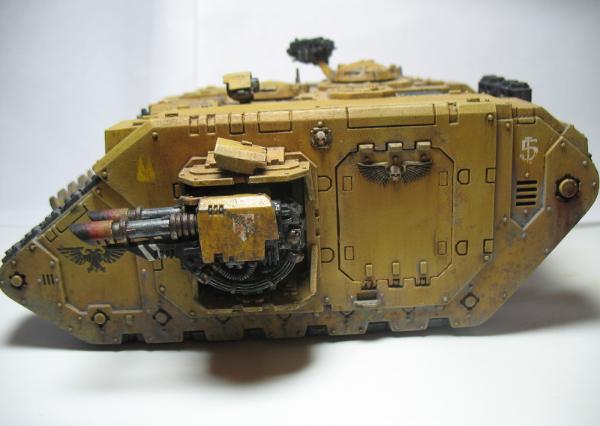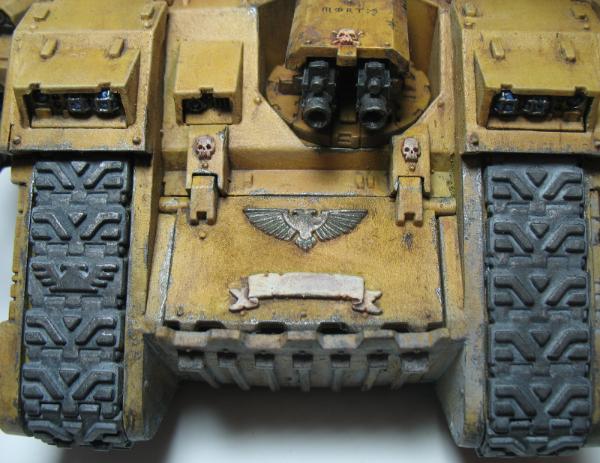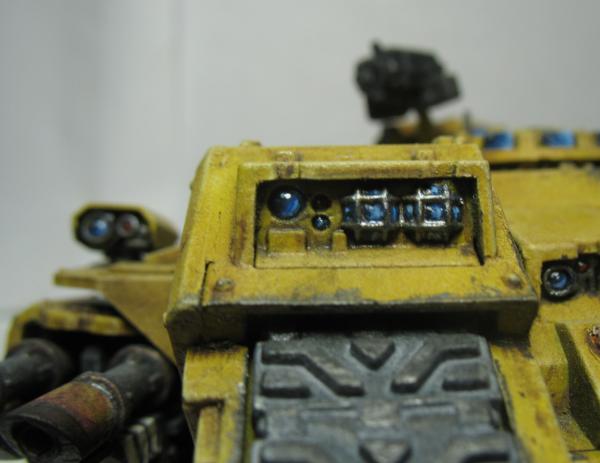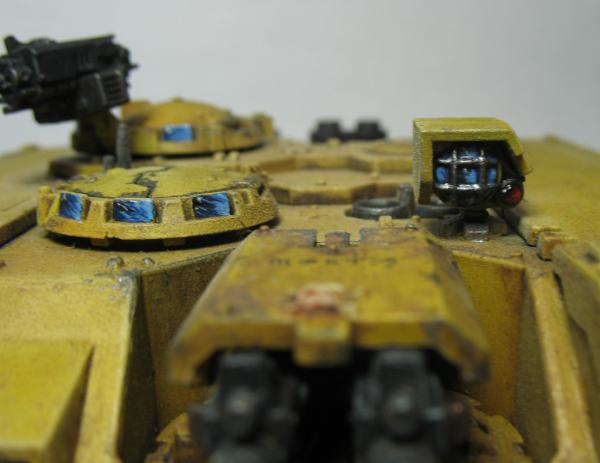 Inquisitor Seth's Retinue: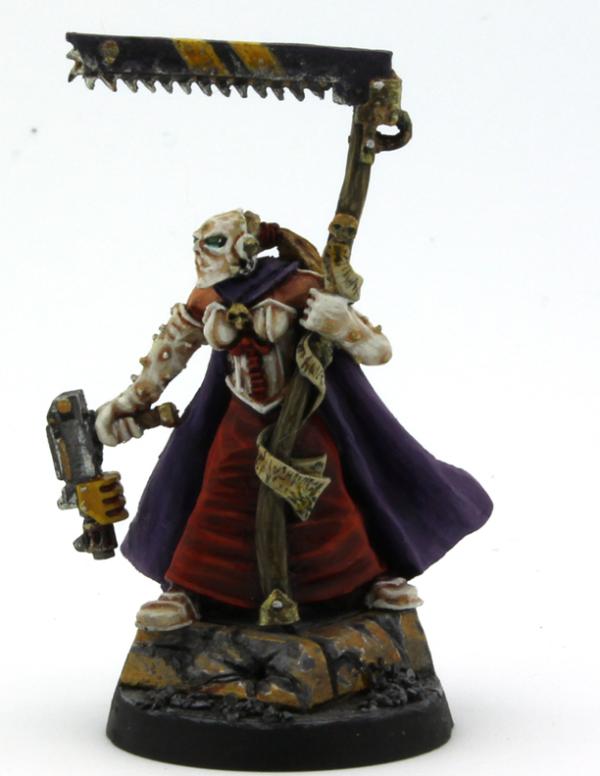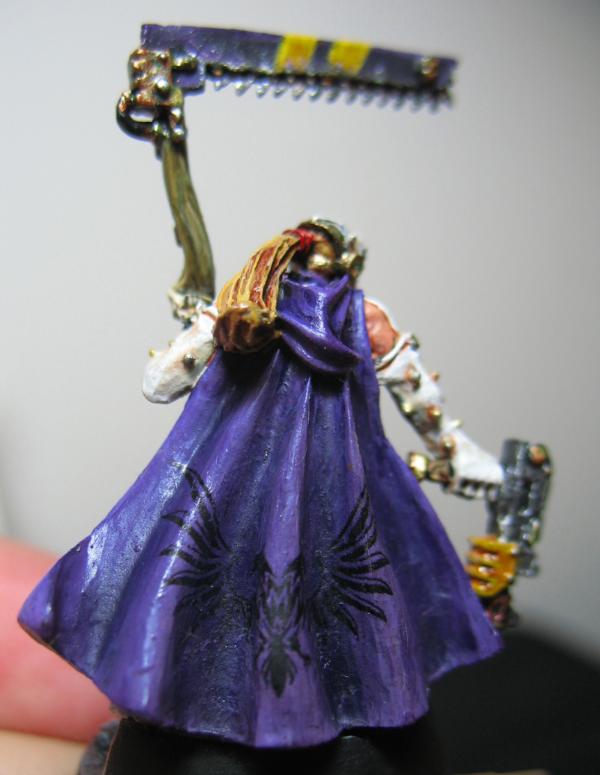 Inquisitor Acolyte Oeneka
She was originally designed as the second Inquisitor for the 3rd Edition Witch Hunters Codex, but when The Grey Knights came around and ruined everything she became a "counts as Eversor" model. Now she is being played as the primary Inquisitor as I finish Seth.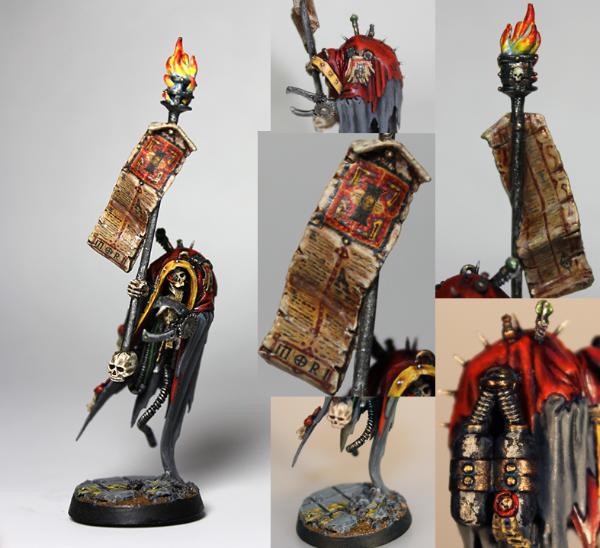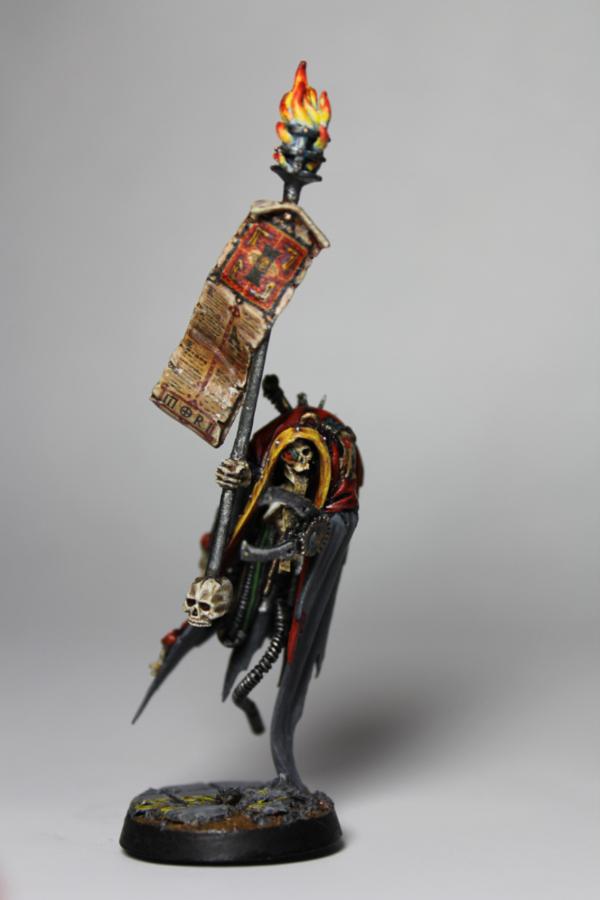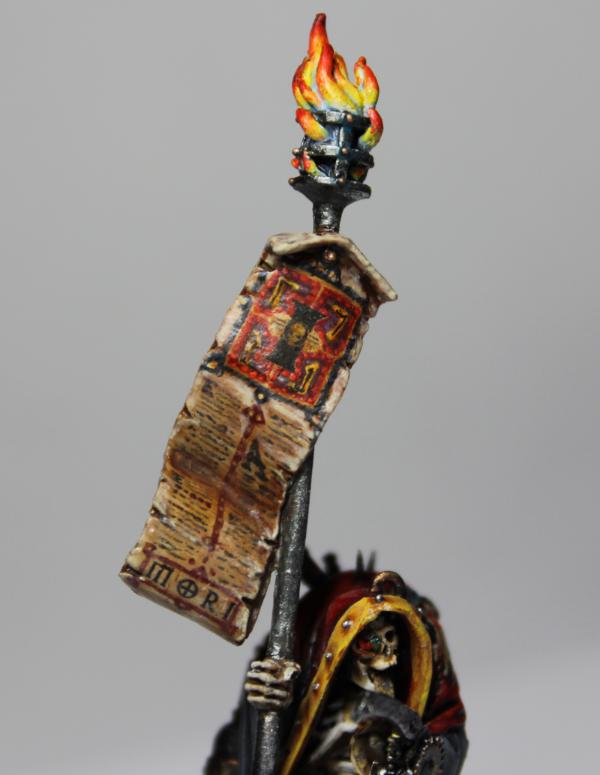 Executioner Servitor 647. This servitor has been tasked with identifying and purging heretics in the Lucem Sector and has been programmed with a list of punishable heresies and let loose alongside others into the hives. He carries a banner with his Inquisitorial sanctioned decree that lists all of the offenses and said punishments in minute detail on an illuminated manuscript illustrated by Seth's very own High Lord of Terra sanctioned scribes and artisans. Once 647 identifies and determines a crime the warrant is published on a a small printer located inside his mouth. Once the scroll is printed and his vox caster announces the heresy the heretic is then executed.
This model was started and finished in 2011 and won me a few online painting competitions. He very well may have been the first Wraith to
40k
Conversion out there, and I like to think he spawned a bit of a movement among the =I= 28mm crowd.
The heretic's head is then transported to one of several "Heretic Dumps" as Seth's staff have been known to call them, that are spread out around the hives: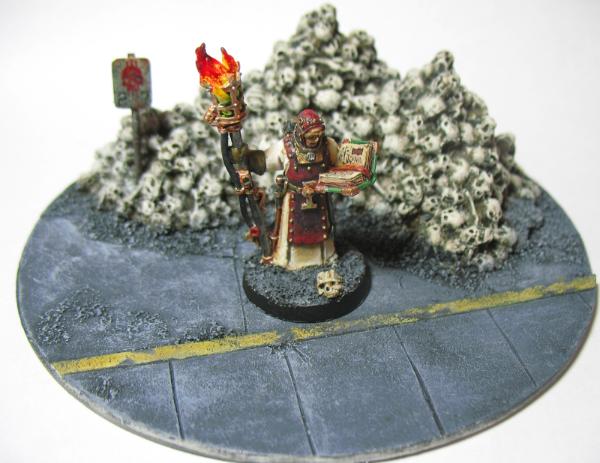 This is dump 27 in Primus Hive where one of Seth's most favored preachers gives a sermon.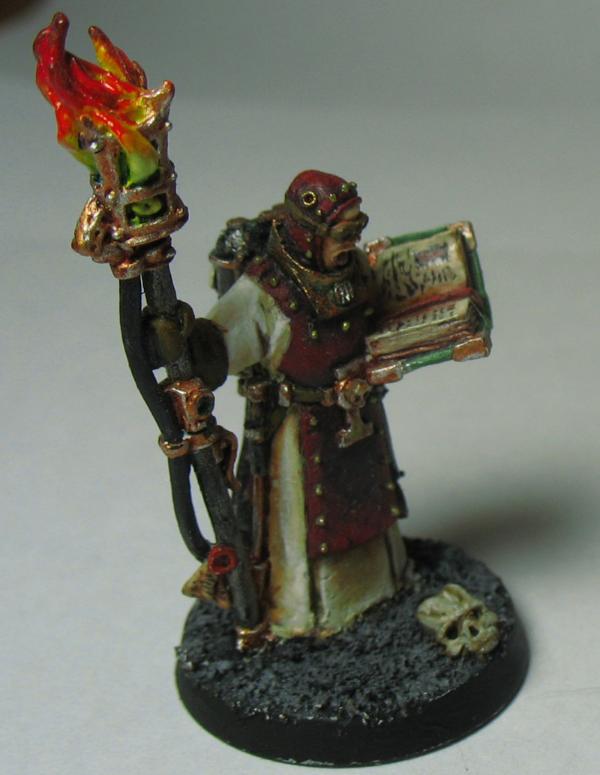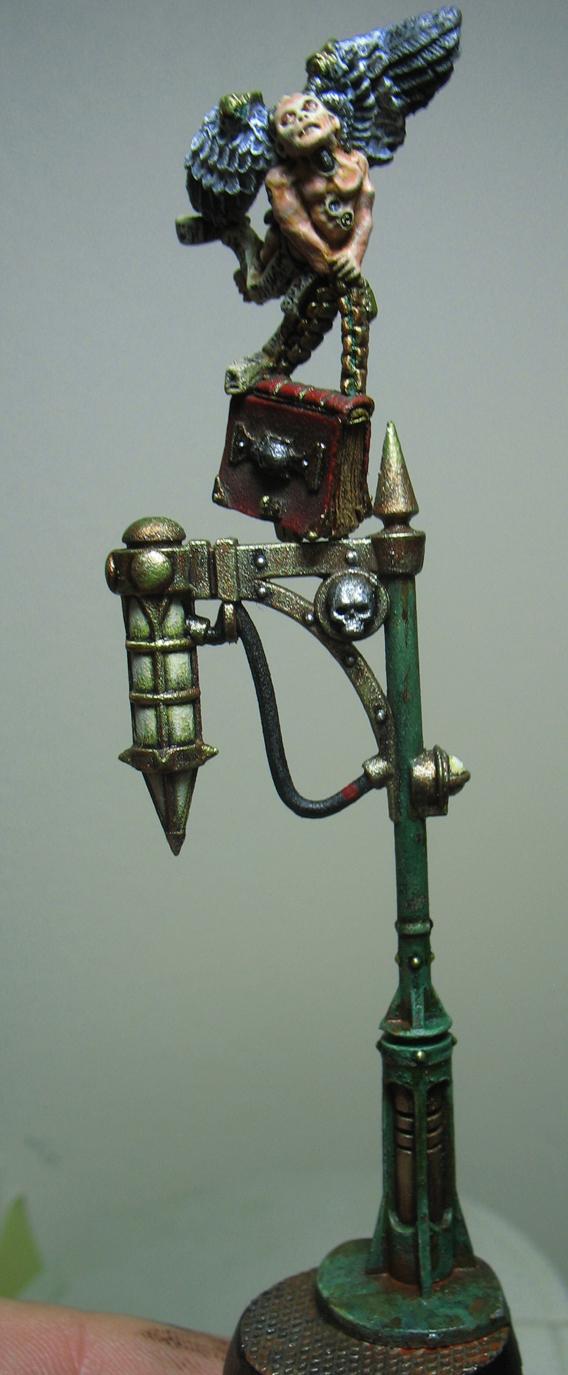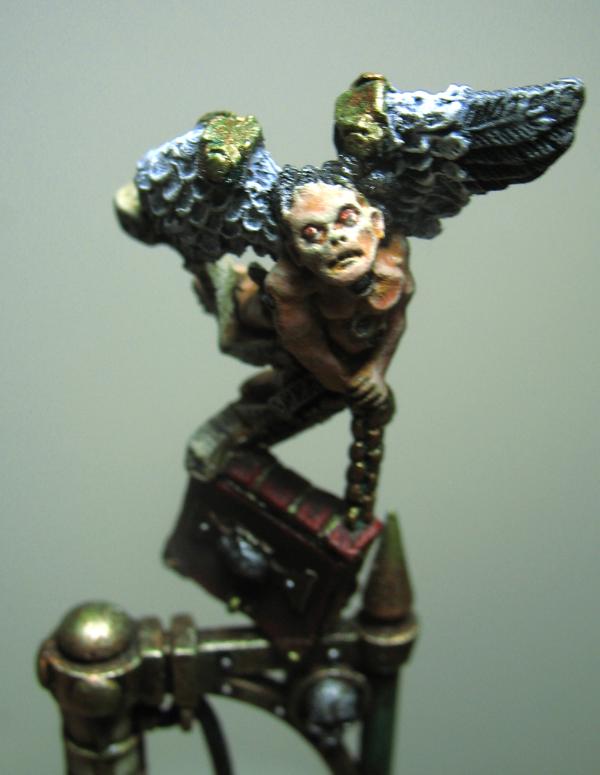 This Cherub's origins come from a pious family on a local agri world that the flotilla visited for resupply. The father was concerned when his toddler ripped up an image of Him on Earth and offered his son up for penance for the families sins. He now carries the decree of forgiveness with all of it's stipulations, including two hundred pages detailing Seth and the Red Hunters authority to destroy the Lamenters at any time with him at all times. After his introduction into the "Emperors Light" this little guy was "gifted" to Dilliad, and constantly watches over the hierarchy of the forgiven chapter for signs of heresy.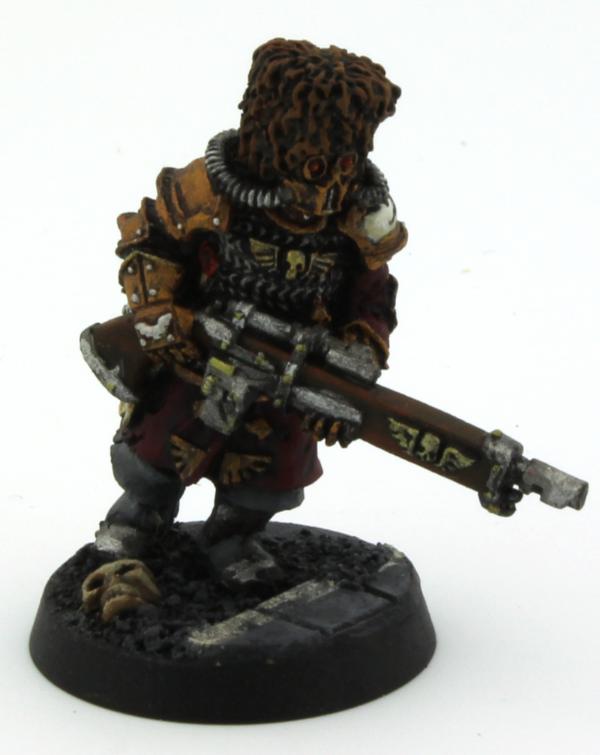 The Vostroyans models are being used as my Inquisitorial Storm Troopers for the army. They are currently being deployed under the new codex as an "acolyte" squad with carapace armor and hotshot lasguns. I have one ten man squad painted up and this is just a quick example.
Here is their transport: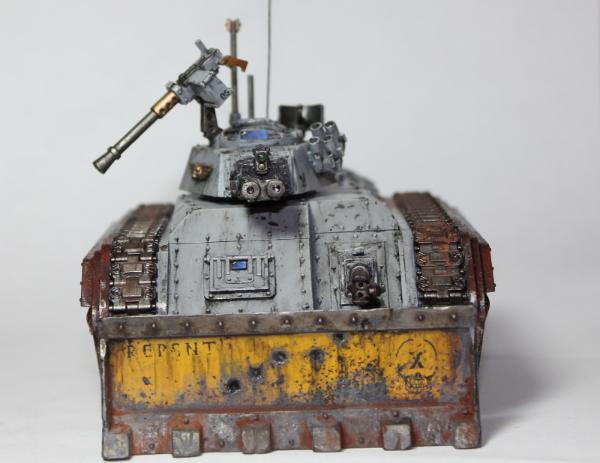 REPENT!!!!!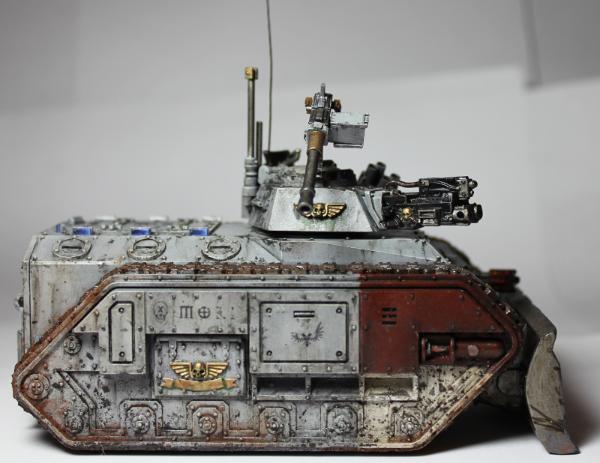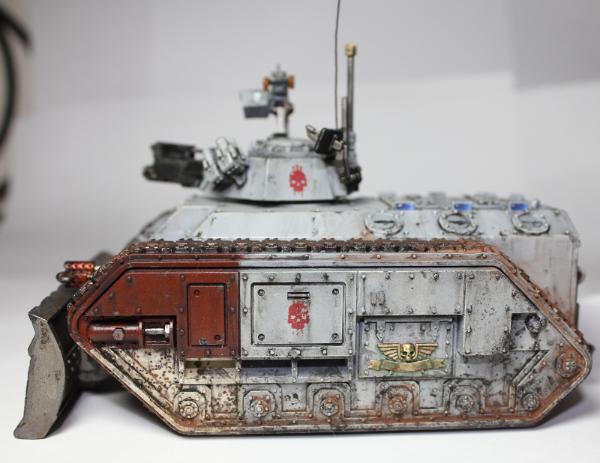 And now some
WIP
(this is all stuff I am currently working on that is in various stages. I don't consider anything completely done until the detail painting has gone on, the base is finished and the model is sprayed with a varnish, but life is fickle and sometimes you bend the rules. But here are my current projects):
Some
WIP
from the Lamenters Squad: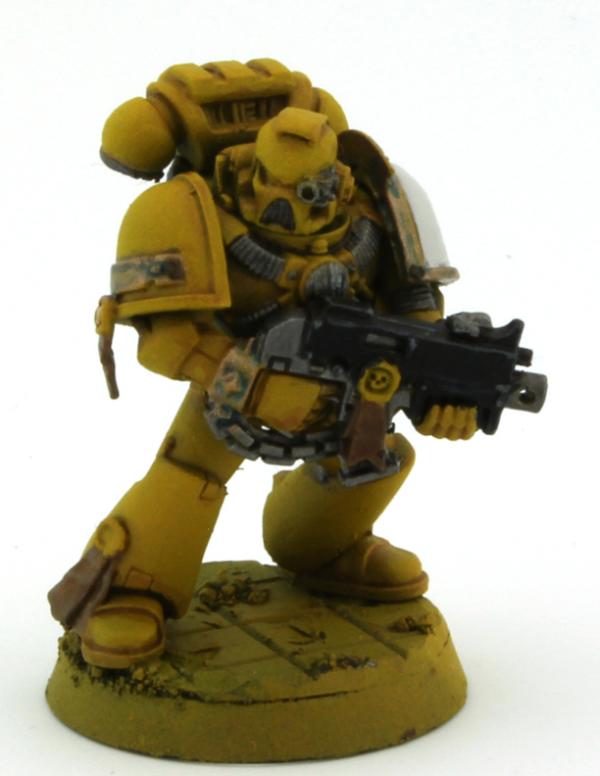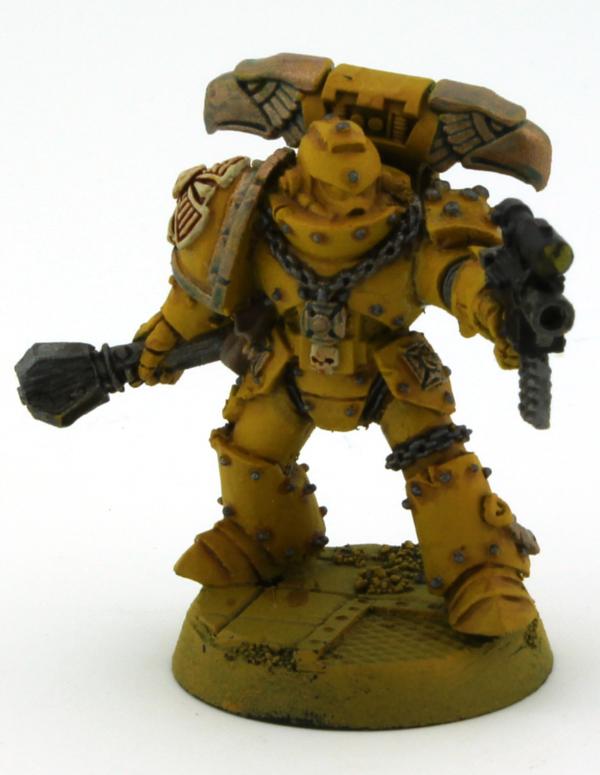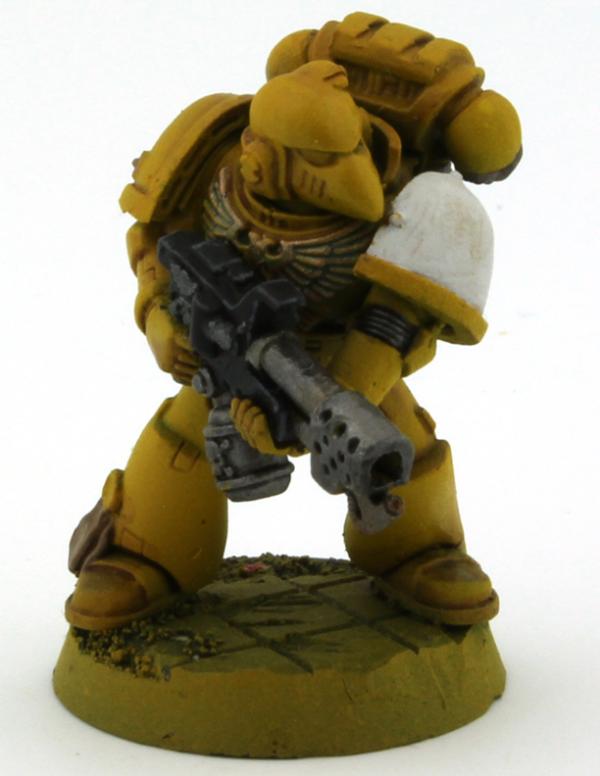 The Red Hunters squad. This squad was actually highly converted and also built as a "marine killing" squad. It's a kit bash between Sanguinary Guard, Grey Knights, and marines. The backpacks were converted from Grey Knight Backpacks and took way too much time:
The test marine. I want to leave the final highlight out because it takes about an hour per marine and for game purposes this is a troops unit meant to take up a slot. Should I scrap the highlight and just finish the squad?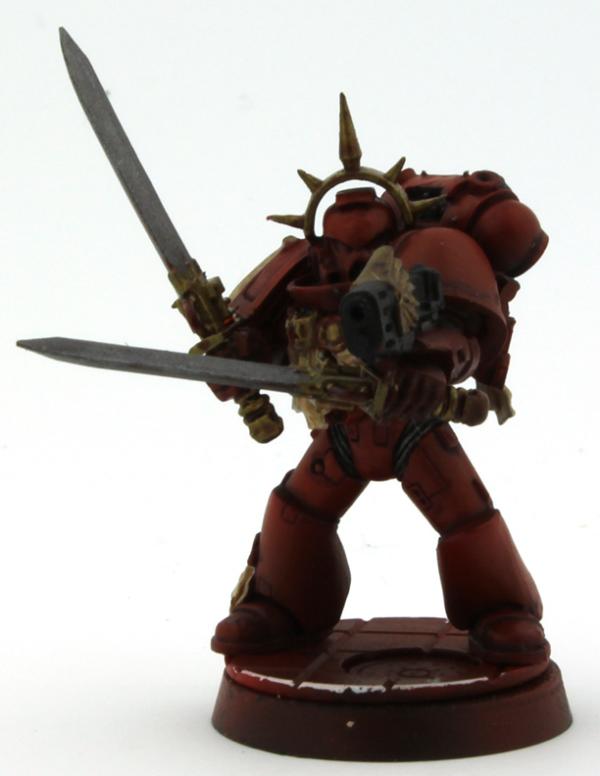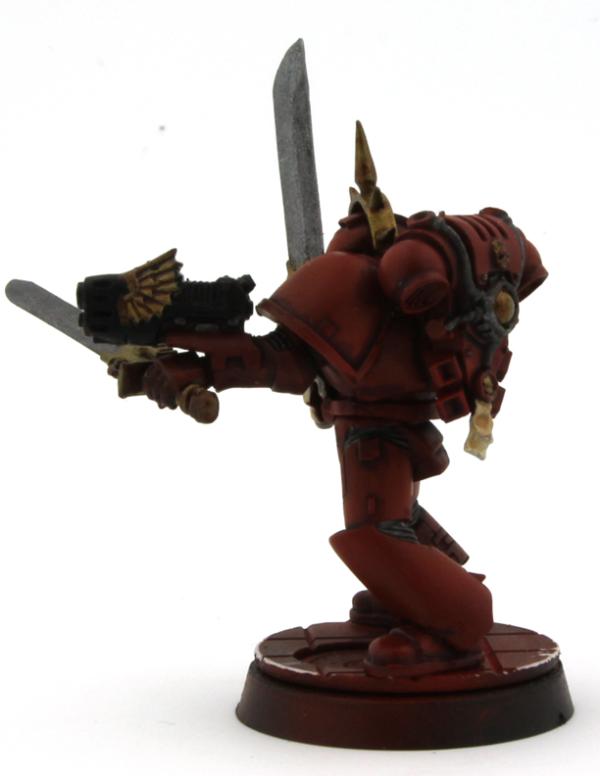 The Sergeant. If you know the fluff of this Chapter the marines get mind scrubbed after every chaos deployment in order to protect their purity, but I fail to see how this could work given need for a fighting force to learn and adapt. So I altered the fluff a bit to say that the Sergeants and everyone higher within the Chapter is treated like Grey Knights and not required to undergo a mind scrub. Thus all the purity seals. The Sergeant is essentially the squad. Note the modified backpack. I picture this packs containing a "kill switch" that the Inquisitor and sergeant have access to that will
de
-power any marine that looses control and goes on a rampage.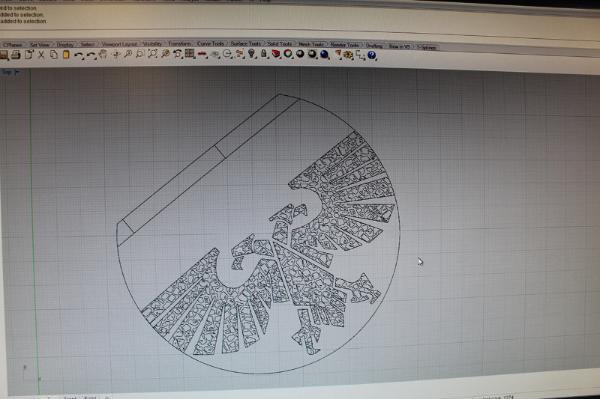 Screenshot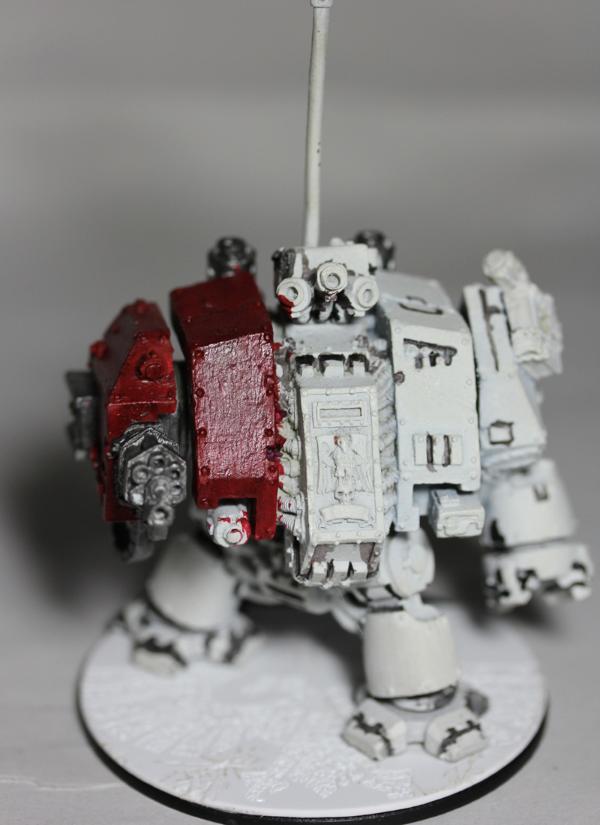 A laser engraved base for a dreadnaught I had laying around that will eventually be airbrushed into the Lamenters Chapter.
These bases are a feature of my current work, and are available to interested modelers…
The =I= Models: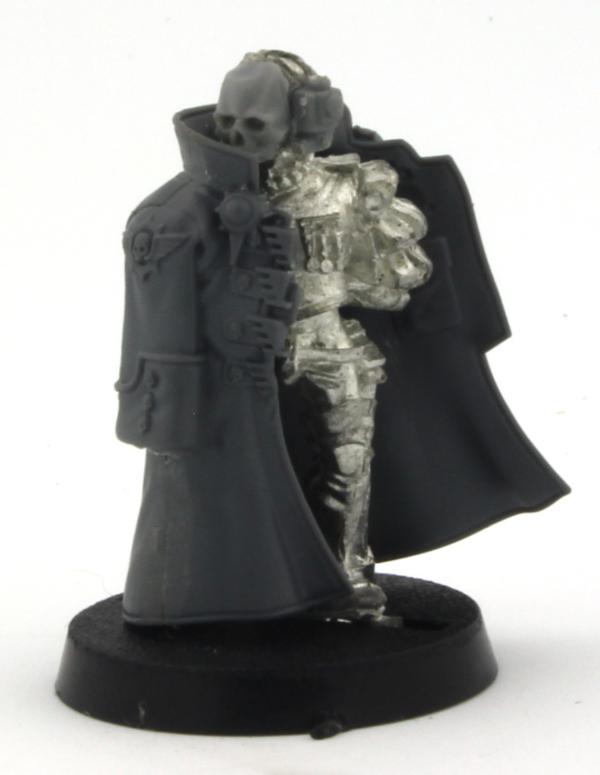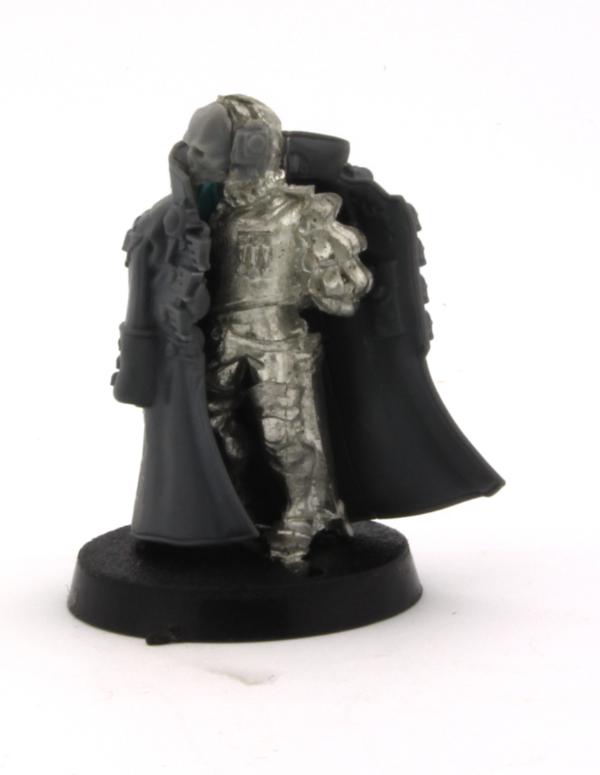 Gahvriel Seth in the very early stages. The coat is not yet glued and he will be seeing either a raven or a two headed eagle on his shoulder (thoughts?). Also I would appreciate any suggestions for what he should have in his right hand…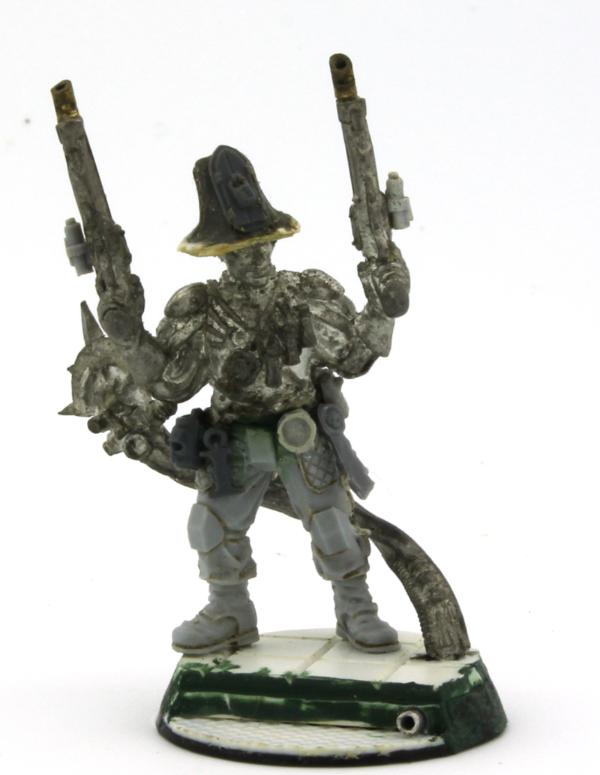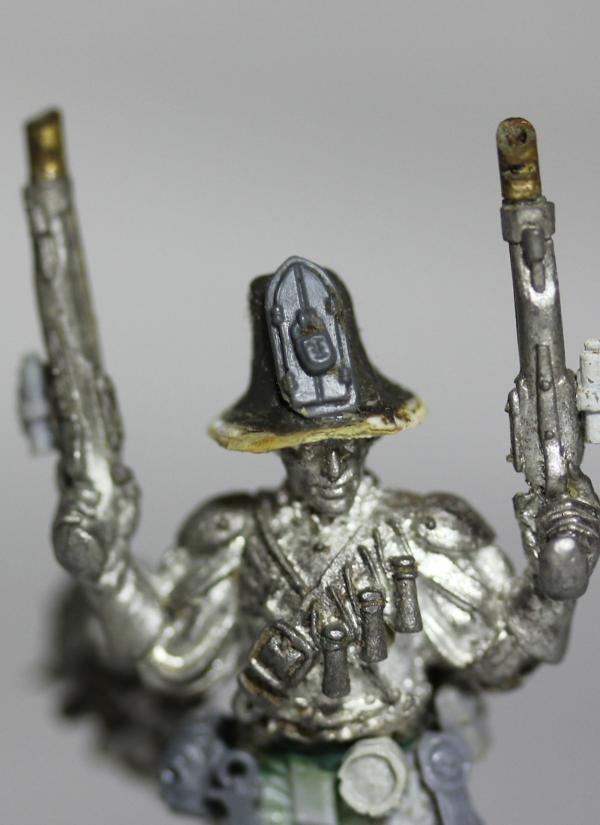 A Gunslinger from an assassins house that can only be described as a "Death Cult" located on a hive world that shall not be named. This conversion was inspired by a John Blanche sketch that I can post if you are interested. I REALLY need to just buckle down and finish this guy so I can stop thinking about him.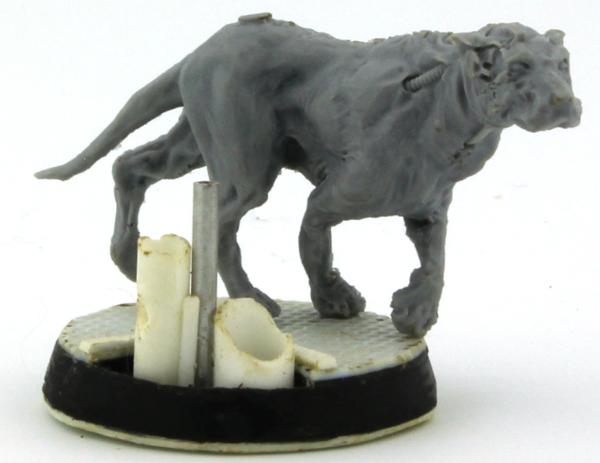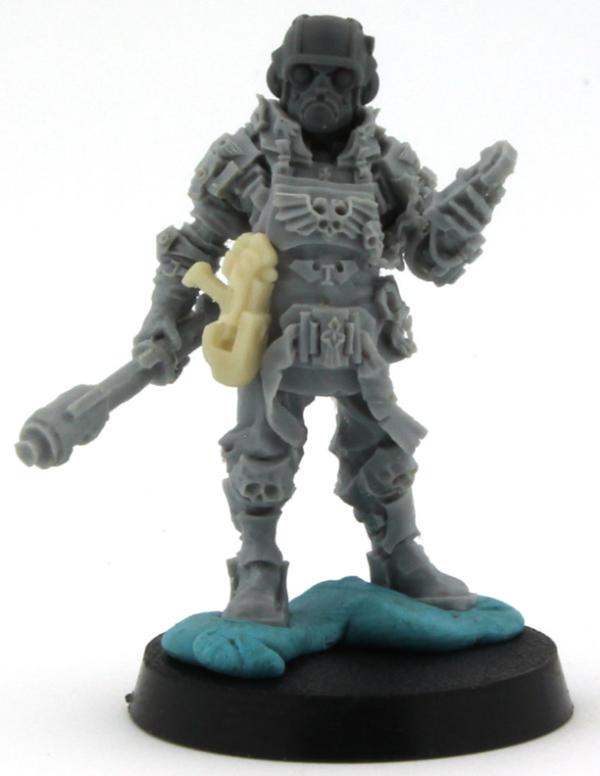 I finally found the perfect head for this guy after years of trying. His side arm is sculpted from the original bolt pistol in hostler from the Rogue Trader marine plastics. After an hour of reductive sculpting I finally got it to look right for the model. What color should I paint this guy???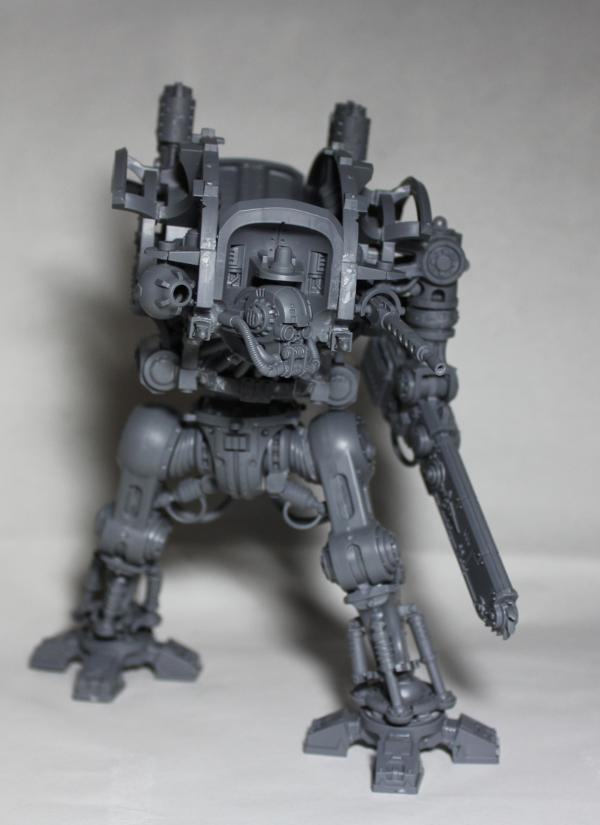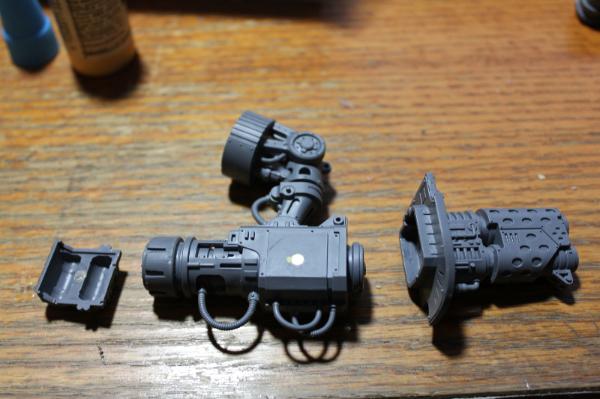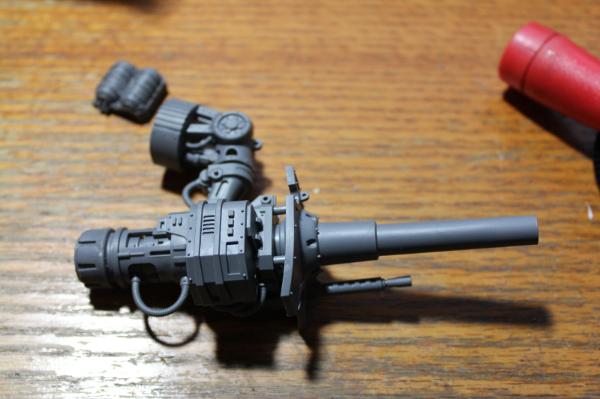 During the initial invasions of the first Hive Fleets The Lamenters helped to fight off an attack on the Knight World of Caneus. The world itself was eventually lost after almost a year of fierce fighting and only two ships from the Knight House Mikaenus were able to evacuate once the Chapter declared the planet Extremus Mortis and thus a target of their Viral weapon capabilities. The Chapter itself fought long and hard, and lost several members to aid in the evacuation of as many civilians, nobles, and Knights suits as possible prior to the planets fall. As a result the remaining nobles of House Mikaenus have all declared themselves in a life debt to the Chapter and also as a united Freeblade unit, one of the first in the Imperium. They see their loss of their planet as a great slight to their House's honor and they have all thus, taken the title of Freeblade on in shame and in mourning of their loss.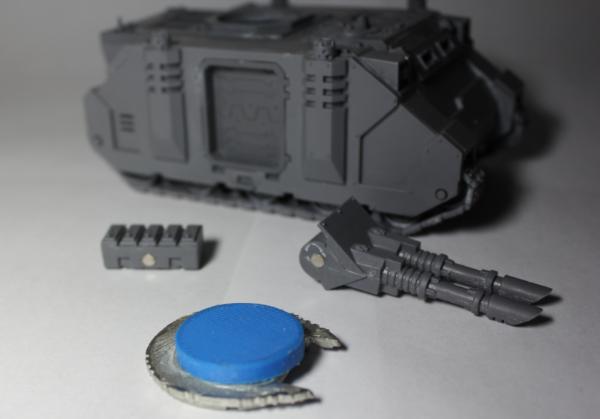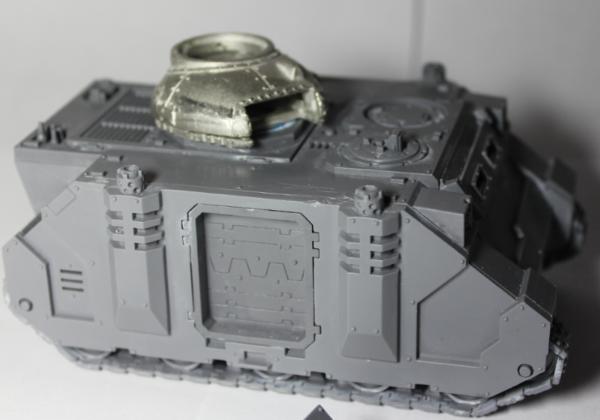 A magnetized Predator that I used a 3D printer to print a spacer so that I could fit an original pewter Baal Predator turret in place of the traditional turret. This guy is awaiting a few parts in trade before I airbrush him up.
Thank you for looking.
Feedback, constructive criticism, thoughts, and comments are really the only reason I am online with this project so please feel free to tell me what you think! I am looking for a new place to share this project in hopes of finding more encouragement to keep it going, and Dakka seems like a good fit.
Let me know what you think, and thank you so much for taking the time to look through and read about my inner ramblings and dabblings into the world of The Emperor of Mankind.