This was asked for over on Lead Aventure, but it'd probably be useful to you folks here too (that and well a dedicated tutorials section means less cluttering up my blog thread). So, here goes.

So, here's what we'll be making today.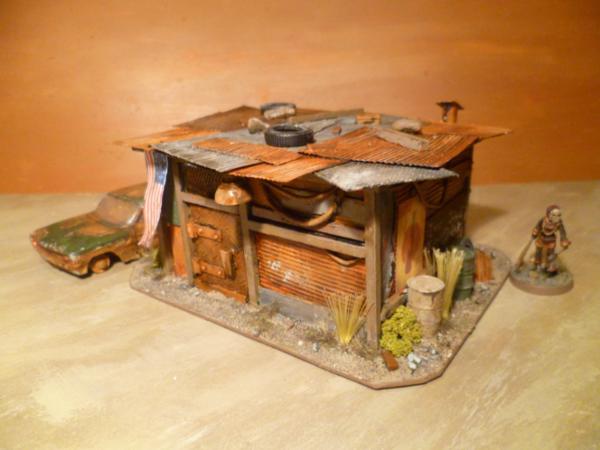 Your atypical shack that crops up in every other post-apocalyptic, crapsack modern, cyber punk or general place to live settings. Tangentially this is based on those shacks that appear in the Fallout series (namely the earlier ones/ New Vegas), similar to the image below:
What you'll need:
* Let's say a half metre's length of balsa wood (give or take, but the more the better. Also I can't do maths)
* Plasticard, with a variety of textures/thickness being preferred.
* Corrugated sheets. These might be tricky to place. Plasticard versions are available, but there's always just plain cardboard and food packaging.
* Round lengths of plasticard (for rivets).
* Bits of crap like tubes (cotton buds are good) and interesting bits and bobs (Ramshackle Games has a decent selection).
1.
Cut six equal lengths of balsa wood. For a 28mm building let's say go for something around 6cm. Tall enough for someone to stand up in. These will serve as the building's four corners and somewhere to mount the door.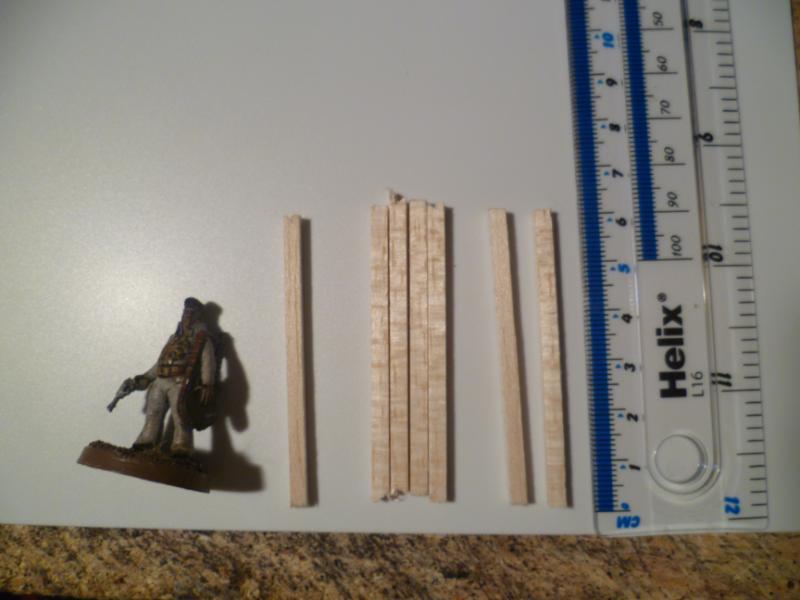 2.
Next up cut four lengths, two of roughly 8cm, and another two at 11cm.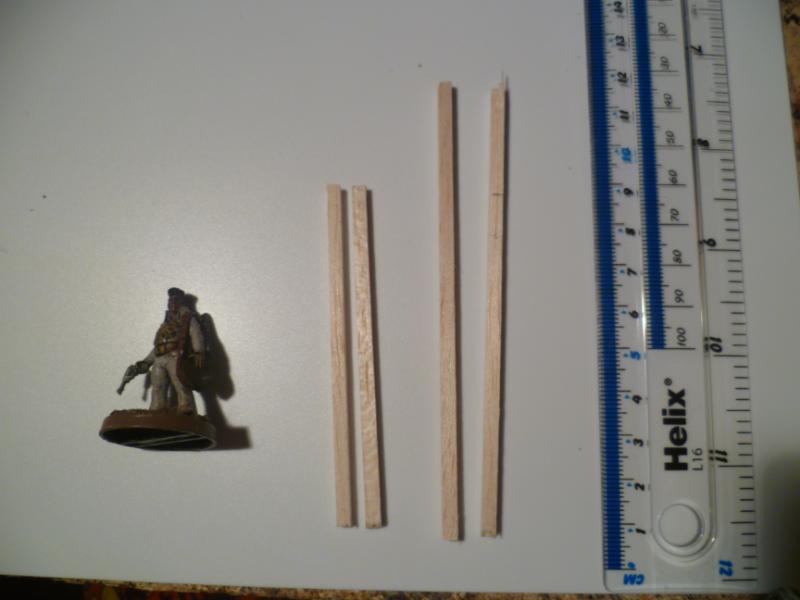 3.
With the four lengths from (
2.
) stick them together to form a rectangle. These will work as somewhere to point the roof.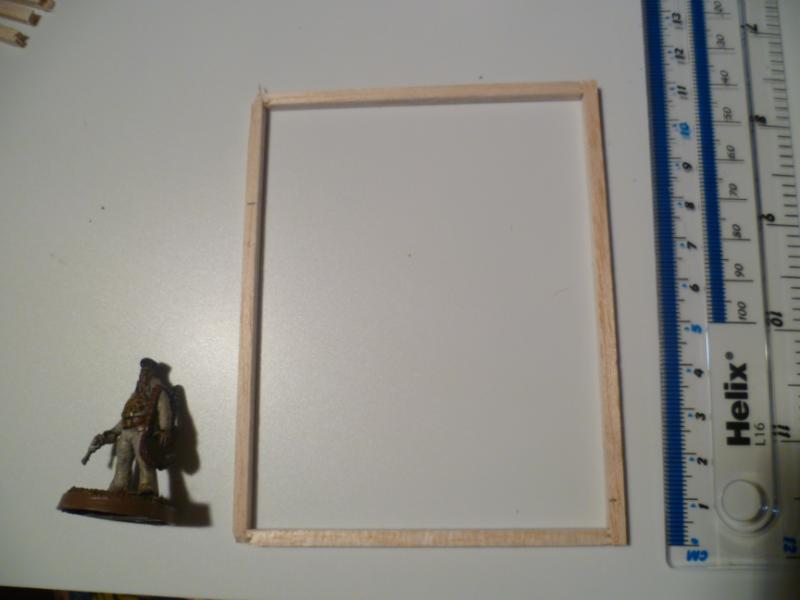 4.
Now stick four of the lengths from (
1.
) into each of the interior corners of the rectangle from (
3.
). Oh look now we have a frame to start mounting the mish mash of plasticard on.
5.
With the other two lengths from (
1.
) stick those to the frame roughly 3cm apart. This will work as a place to insert a door. At this stage you might want to stick another piece of balsa wood horizontally between the two lengths you just placed (5cm high). Its optional, but looks better to me.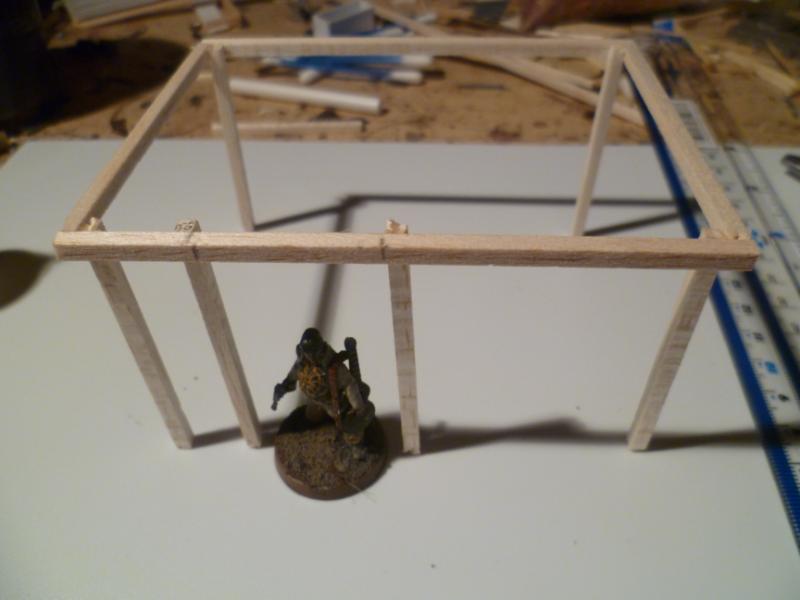 6.
Any extra lengths you have can be stuck wherever between either of the four corner struts. Having these just makes sticking on the plasticard easier, gives a bit more rigidness to the frame, and well adds some more detail.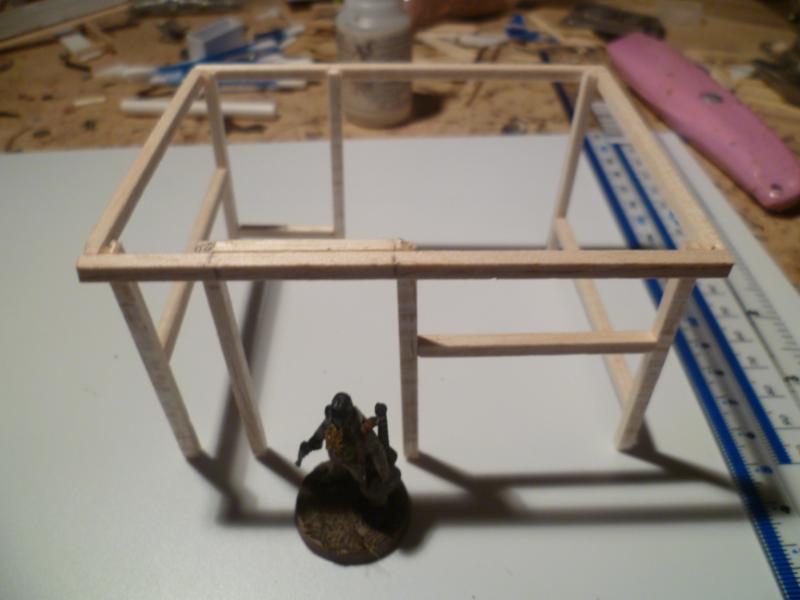 7.
Now with the frame made time to start with the plasticard. This stage isn't so precise. For a start, just as something to start mounting things on, cut some larger pieces that will fit in between the various struts. Place these pieces on the inside of the frame, not the outside (you can add bits there later on, at the moment it about covering up holes).
*** Note, fill the space where the door will go at this point as well (assuming that you don't want this thing to have an interior).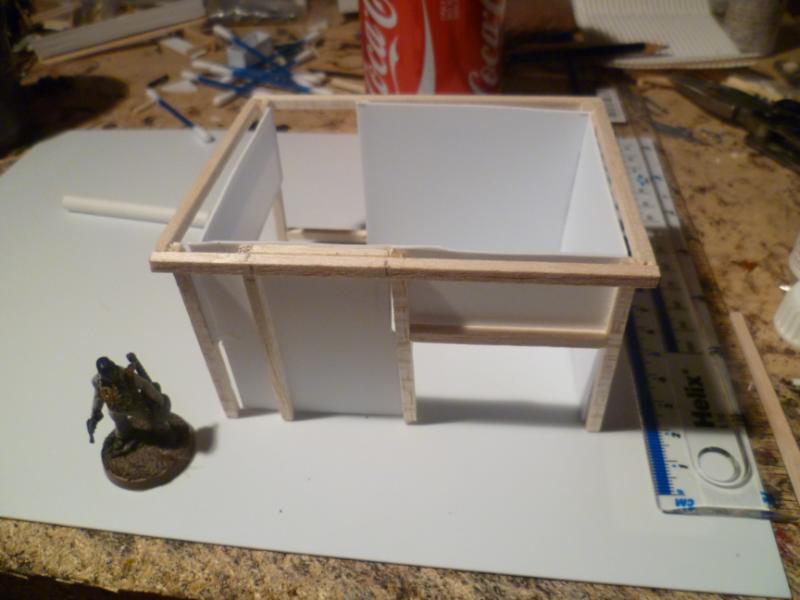 8.
Now with parts of the frame blocked in, time to start the rest of the walls. Try and use smaller more randomly cut pieces at this stage so the walls look like a real mish mash of metal.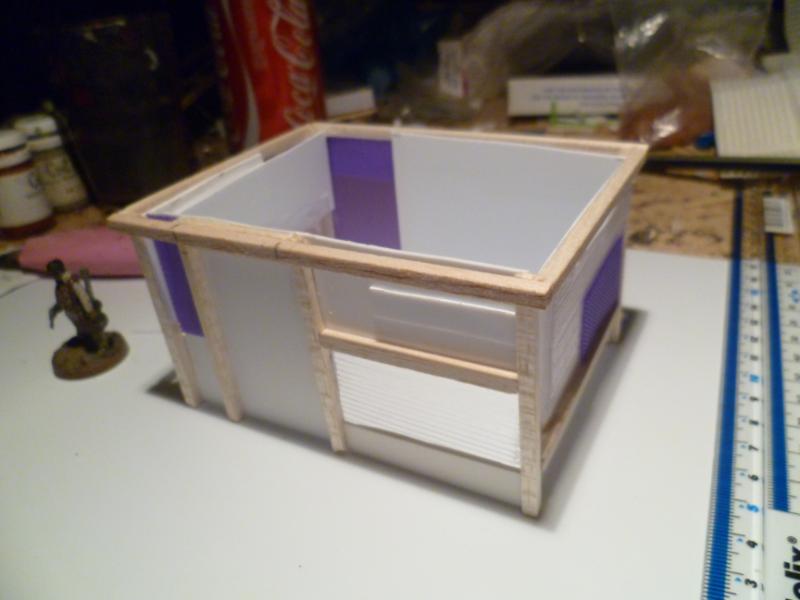 9.
Now you have a basic set of walls time to start with the roof. With this I'd recommend you use corrugated sheets, but regular flat ones can work too. Try and mount them so they overlap one another whilst overhanging the edge of the frame.
* And uh, bugger, I deleted the image for this one accidently. Woops, hopefully you can get the picture from the finished image below. =/
Now we have something which looks like a shack? Right? ...Don't tell me you've made a duck somehow.
10.a.
Now what are we missing? Ah right, a door. Ramshackle Games makes a set which I would recommend, but hey we have plasticard just sitting there ready to be used. First cut a rectangle which will fit inside the space allocated for a door earlier (see
7.
). Mind and make it large enough for a model to actually fit through (this one's 2.8cm wide and 3.5cm tall).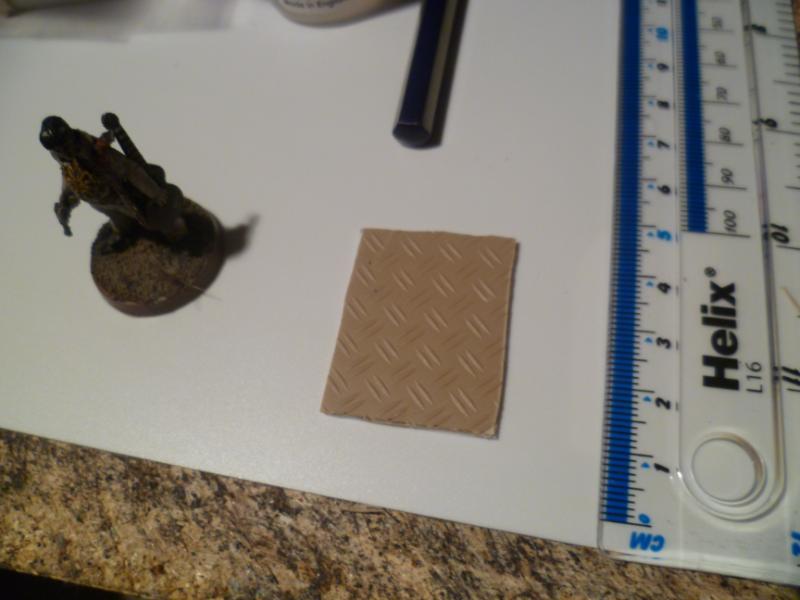 10.b
.I'm being basic here with the design, so nothing too fancy. Cut a pair of rectangles roughly 0.2cm by 0.5cm. Next find a length of rod and cut off a piece which can fit inside one of the rectangles you've just made. Cut this piece in half. Glue one of the halves of rod onto each of the rectangles. These will be the door's hinges. Stick these two hinge pieces onto one side of the rectangle from (
10.a
.).
10.c.
You can make a knob for the door from a length of rod mounted with a piece of plasticard at the end. Other bits you might want to add on are a window (which can be as basic as just an extra piece of rectangular plasticard) and a foot guard (again just a regtangle along the length of the door's bottom).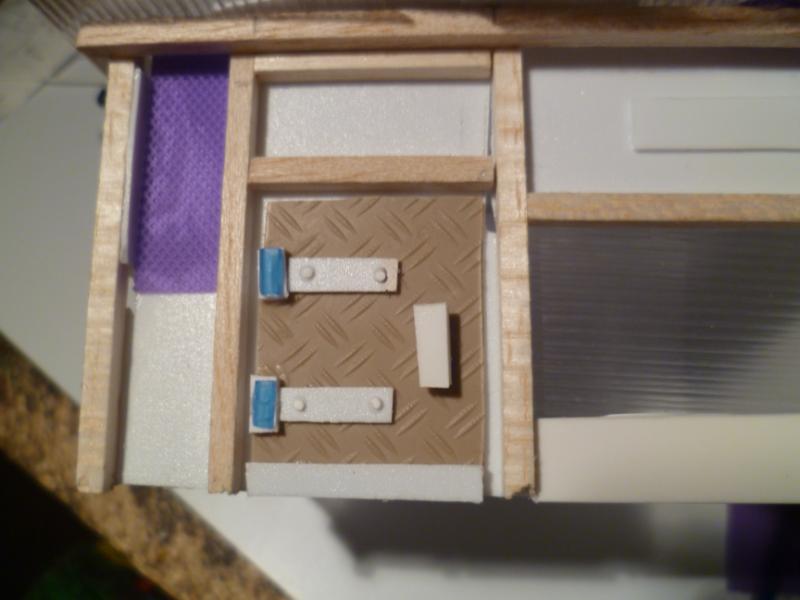 11.
Well there's your basic shack complete. Well not quite. Shall we tart it up a bit with rivets and other bits and bobs? With the roof I'd recommend finding some loose stones, jerry cans, the odd bit of balsa wood or car tires, and sticking those down (don't want all those sheets blowing off in the wind do you?). Mount it on a base, add the odd barrel and glue on some sand and you're set.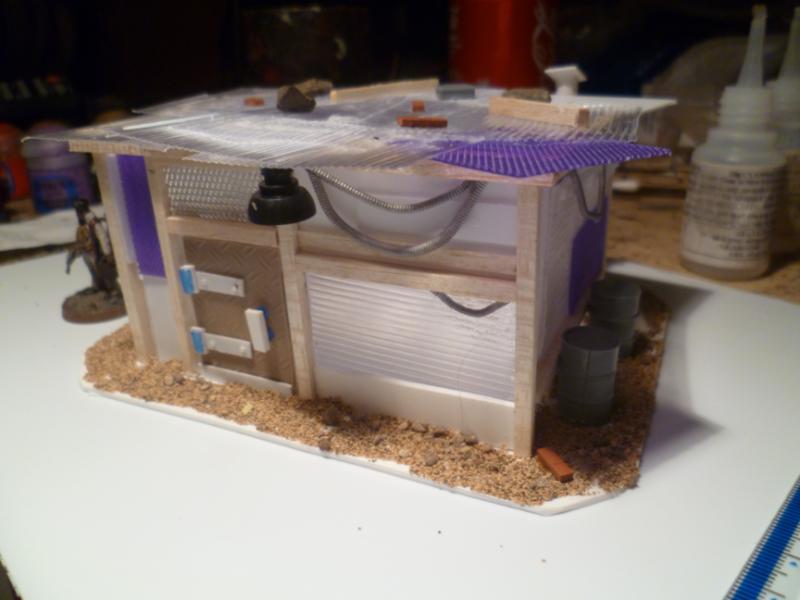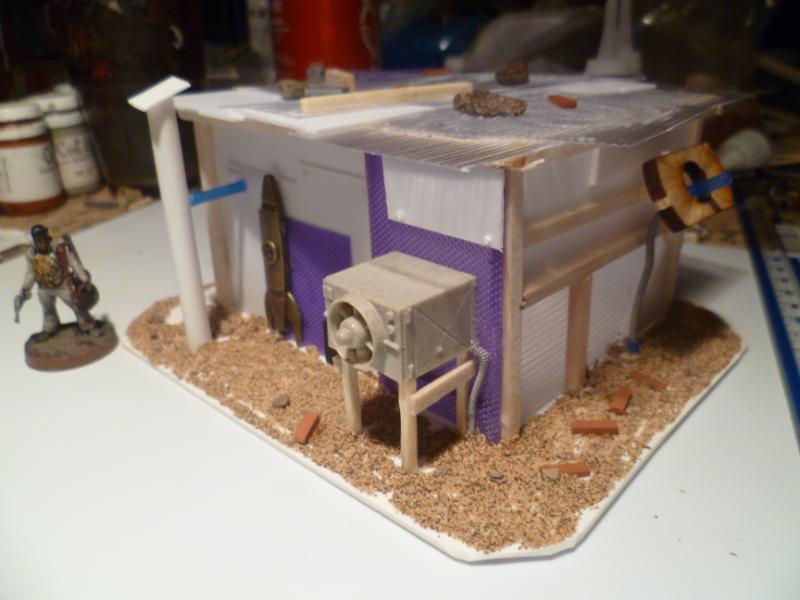 Not too fancy, but its a sweet digs by slum standards. Now that's the basics down with future one you could try out other things. Windows can be as simple as cutting out a section of the wall, sticking a bit of mesh in the hole then adding a frame. As for interiors those aren't too complicated. Rather than glueing the roof directly onto the frame instead cut out a rectangle of plasticard and attach the corrugated sheets to that. Add a bit of balsa wood on the underside so it can slot into the frame and you're done. Well you might want to add some dirt to the building's floor and a bit of furniture to smarten the place up a bit.
So there you go. I was perhaps a little long winded there, but the process is really simple. Just make a frame and then plunk a load of plasticard onto it. Yup, no wonder they're so common in real life. Hopefully I was as clear as I could be with this, but I can go over anything if people want me to. I think these things average out at under £4 each to make (barring the odd bit from an actual kit), so much cheaper than the resin kits available commercially (though I suppose with all things its usually less expensive to make things yourself, till you cut your fingers off with a craft knife).
Oh, and as for the extra parts. The barrels are from the Tamiya 1/48th vehicle stowage set and the air con unit's by Ainsty castings. I'll have a painted version of this shack up in a bit, though there's plenty of other ones in my gallery already. The Elvis model is "Bubba" by Hasslefree Miniatures, he's a large 28mm (well think as tall as a Games Workshop Imperial Guardsman. Tall 28mm, not "Heroic" 28mm).
Anyway, was that good for you as it was for me? No, oh well, here's your five bucks in any case.