A little backstory,
I've been collecting and playing
40k
since the early 2000s. Since then I've dabbled in many different armies and taken extended breaks from the hobby. It seems as though most of my armies only ever get half built and are barely painted. Recently I've been selling off my collection with the goal to own 1-2 fully completed/modelled
40k
armies and a single 30k army.
The Tau have been my favourite faction since the beginning so I thought it would be a great opportunity to get back into the hobby after my last break by building a Farsight enclave army. The timing is perfect as:
- their codex is fairly new
- the models to be used in my army are all new kits (old crisis suits bothered me immensly as they did not look like their depictions in the art)
- I actually managed to put together a list that meets my personal requirements requirements (the army fits into my KR case/backpack, uses only models I like, semi-competitive all comers)
For those curious, this is the 1850 point army that I will be basing my army build on (some equipments/drones may change over time or be dropped for smaller point games):
Dawn Blade Contingent
Retaliation Cadre
commander + 2x gun drone: 2x plasma rifle, shield generator, drone controller, iridium armour, neuroweb jammer
crisis(3) + 6x gun drone: 1x shas'vre /w 1x flamer,
MSS
, CCN, 2x shas'ui /w 2x plasma rifle, bonded
crisis(1): 1x shas'ui /w 2x fusion blaster, bonded
crisis(1): 1x shas'ui /w 2x fusion blaster, bonded
broadside(3) + 6x missile drone: 1x shas'vre /w
HYMP
,
SMS
, 2x shas'ui /w
HYMP
,
SMS
, bonded
riptide: ion accelerator,
TL
fusion blaster, bonded
Rapid Insertion Force
stealth suit(3): 1x shas'vre /w fusion blaster, homing beacon 2x shas'ui /w burst cannon, bonded
crisis(3) + 2x gun drone: 1x shas'vre /w 2x plasma rifle, 2x shas'ui /w 2x plasma rifle, bonded
crisis(1): 1x shas'ui /w 2x fusion blaster, bonded
crisis(1): 1x shas'ui /w 2x fusion blaster, bonded
riptide: ion accelerator,
TL
fusion blaster, bonded
Drone-net xv1-0
4x marker drone
4x marker drone
4x marker drone
4x marker drone

Painting plans:
(subject to change/still undecided)
- prime black
- base dark brown (see based broadside - primary colour for joints on suits)
- dark red/red (suit armour will be probably consist of 2 main layers)
- orange (slight armour highlights)
- brown wash
- heads/symbols/shoulders will have white/cream colouring to denote rank
- heavy use of forgeworld weathering powders
- matte seal
My progress so far... I started assembling the army about a week and a half ago
Here is what I had assembled at the end of last week. The odd crisis suit is a conversion I attempted a few years ago on commander farsight. On the right are the 3 boxes of crisis suit (1 is just sprues) and the final broadside):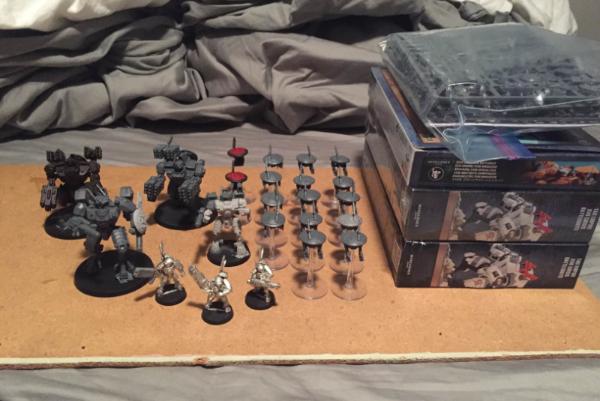 I've had this stealth team for about 13 years now. I stripped the poor paint job off them and sawed off the burst cannon on one of them to add the fusion blaster:
The broadside on the left was complete a few years ago when the new kit had just come out, the guy on the right I finished last week: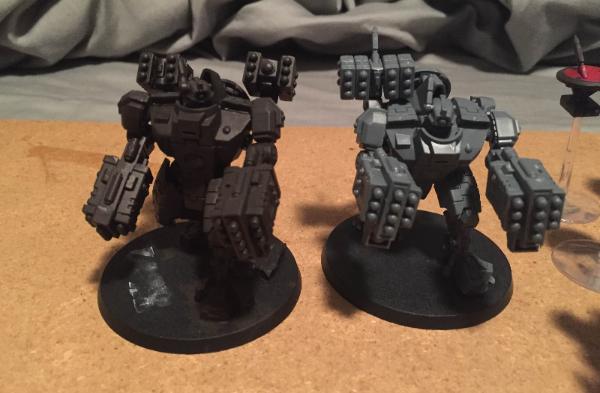 I had a really difficult time trying to decide on a pose for my commander. I ended up with this sort of "come at me bro" stance. The shield is from the commander farsight kit that I converted into a regular crisis suit: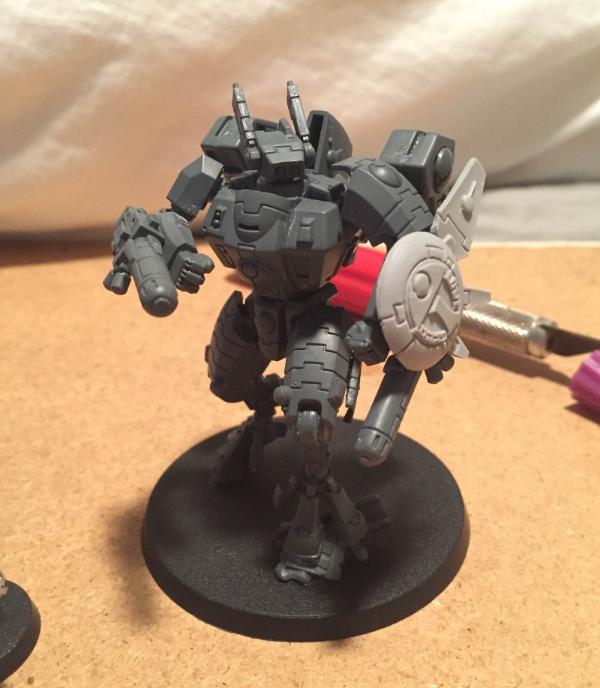 Here is another shot of the commander next to one of my on-hold projects (forgeworld deathguard
CSM
with MK3 legs, arms, and powersupply):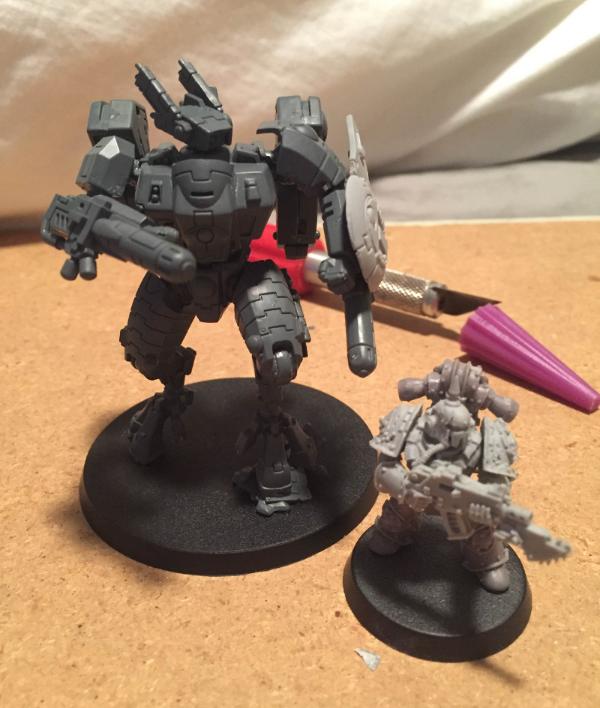 I figured it would be easiest to assemble the new crisis suits by cutting out all the pieces, sanding down the rough parts/mold lines. The new kits are quite impressive compared to the old ones: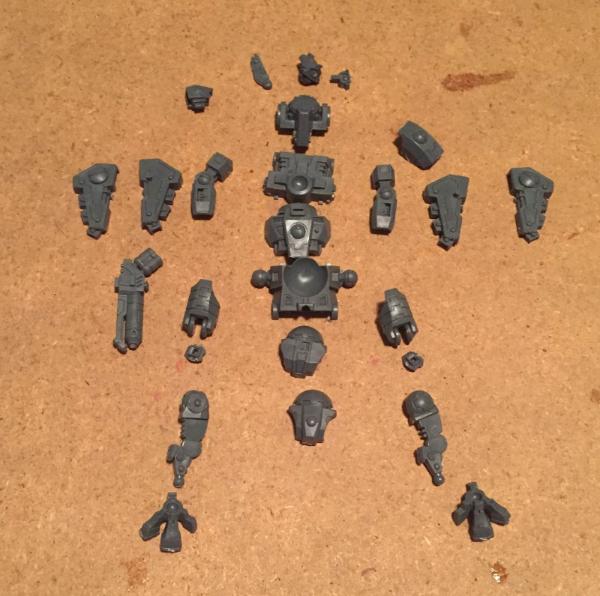 Army shot as of 09/25/2016. Finished one of the duo fusion blaster XV8s and the
MSS
/CCN/flamer XV8: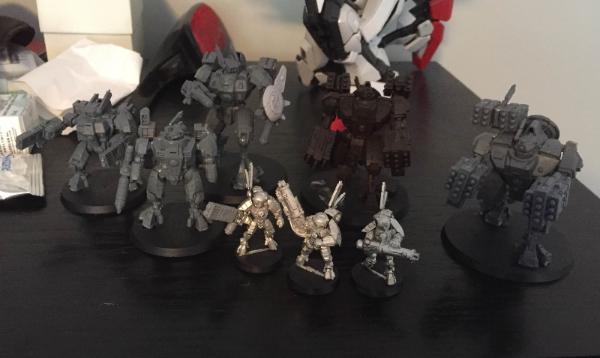 Just finished this suit tonight - decided to try mounting the weapons on the jet pack. Also started adding more marker drones (7/16 so far):