Hello and greetings from Canada! Welcome to a constant Work In Progress ... Total Picture Count so far: 29
This is one of my Imperial Guard armies, and i am proud to display all three production versions of the
Imperial Guard Sentinel Walker: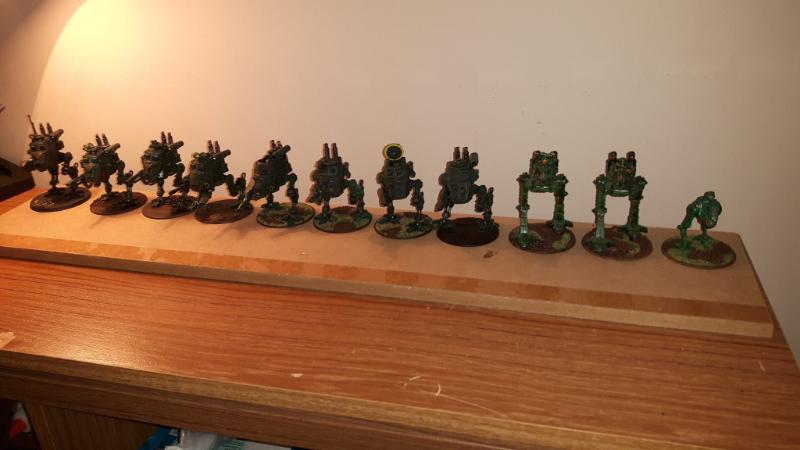 My inspiration was from the epic war movie "Apocalypse Now", where a US Cavalry unit had traded in it's tanks for helicopters.
With my army, i envisioned Troop choices using the Armoured Company rules, taking a Tank Commander (maybe even Pask) and outfitting the three Fast Attack slots with Sentinel Squads!
I only have one of the Mark 1 Sentinel "chicken" walkers; i originally purchased two of these in a hard plastic case, but split it with a friend so we got one each.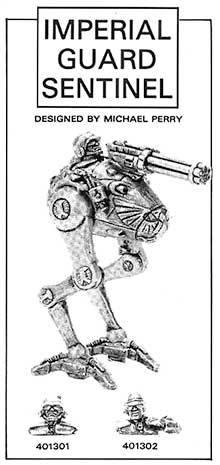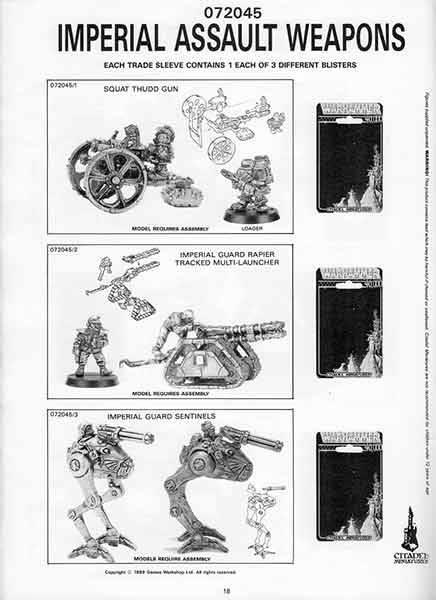 The Mark 2 Sentinel or "girder" walkers were packaged separately; originally as a boxed set with a styrofoam tray, then in a blister pack.
These were a lot of fun to play with as they were first armed with an Assault Cannon that used Sustained Fire Dice!
I swapped out the Cadian Driver for a Mark 1 (Beret) metal Storm Trooper with Backpack (Heavy Weapons Gunner)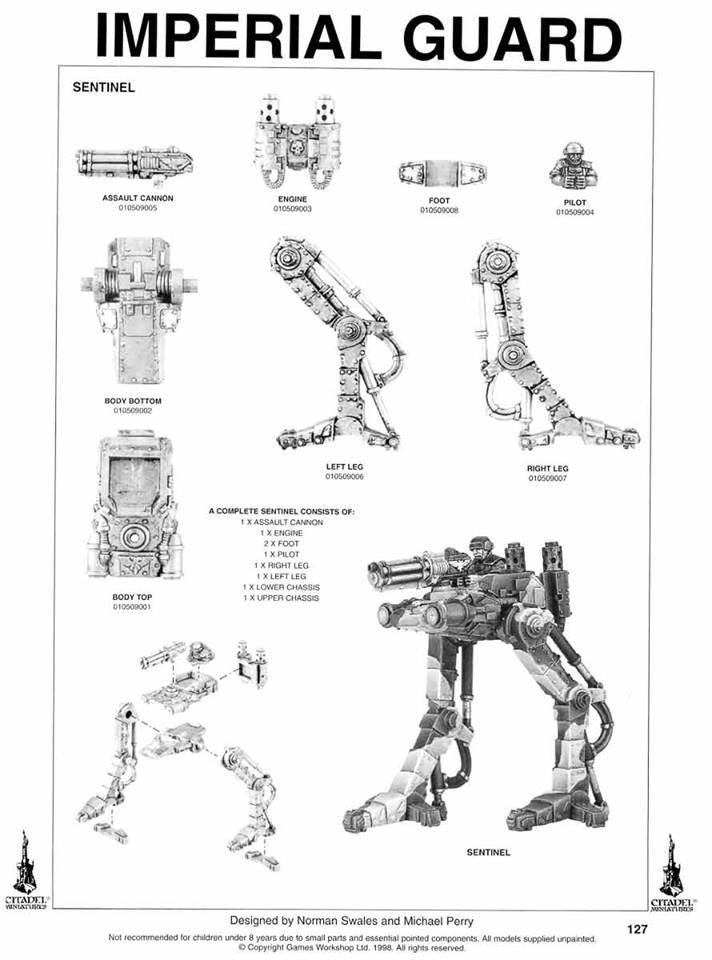 When
GW
came out with a boxed set of three Catachan Sentinels, i bought one box and started a second Sentinel Squad.
This is the Armageddon Steel Legion variant, which builds an Armoured Sentinel with upgraded Lascannon, Powerplant, Enclosed Canopy, and extra parts:
I've never played a game of Apocalypse, but i got a pamphlet about
Apoc
Formations at my local hobby store and was intrigued so i looked it up and was thrilled to discover that i could field a Formation of Sentinels!
The Apocalypse Formation had three squads plus one more Sentinel as a Company Commander, for a grand total of ten ( 10 ) Sentinels.
From the Warhammer
40k
wiki:
http://warhammer40k.wikia.com/wiki/Sentinel
Known Formations:
Emperor's Shield Infantry Platoon
- An Emperor's Shield Infantry Platoon is a formation used by the Imperial Guard that consists of an Infantry Platoon on foot with the support of between one to three squadrons of Scout or Armoured Sentinels.
Three Emperor's Shield Infantry Platoons can be combined to form an Emperor's Shield Infantry Company
Emperor's Talons Recon Company
- An Emperor's Talons Recon Company is a Sentinel formation that consists of three squadrons of Sentinels, of any type, and a single formation leader, also of any type.
The Sentinel formation leader is often a combat-hardened veteran, and he and his reconnaissance company are usually tasked with hunting down a specific enemy unit and destroying it.
These Sentinels stalk their prey relentlessly, carefully crossing the battlefield and emerging from the shadows to strike down their target with the utmost efficiency.
Armageddon Stompa Hunters
- Traditionally, the Sentinel is considered ill-suited to deal with enemy super-heavy, Titan-class war engines, being completely outgunned and out-classed in almost every regard.
However, when Armoured Sentinels are organised into large hunting packs, usually consisting of up to five Armoured Sentinels, they are capable of producing a torrent of firepower that can topple giants.
The Armoured Sentinel formations that roam the Ash Wastes of Armageddon are the most illustrious of this breed. These Sentinels are armed with powerful anti-armour weapons, such as Lascannons and Plasma Cannons.