Theo - It has to start neat before it gets corrupted

And thanks!
Kernel - Cheers! Oh, there are at least 4 or 5 things that the ratty gasmask has been briefly attached to. The landslides Herald is definitely going to be plague-bearer based, so it fits better having the mount all 'organic' - I know that doesn't necessarily hold with the things I build, but it's how I'm dealing with the various heralds

And steal away please...
tinfoil - There was a spurt of activity! Fly-head and mount both making slow progress at present, but progress.
DQH - Pretty much my tagline

Syro_ - Thank you!
Viterbi - The flesh-vats of the dark mechanicus are ever boiling.....
Doc - Cheers bud!
CB
- Thank you sir!
graven - Glad you approve

I'm just here as a humble conduit of the ruinous powers, if you are filled with the building urge that cannot be laid at my door..

Theo - Well, I have a feeling the next time they appear they may not be a sentinel and a warp-jet thing

(although to be fair, warp-jet thing is probably accurate for 50% of my stuff

)
Spent a few days reading, watching, playing, so progress on things has been slow.
The old-school school sentinels have barely moved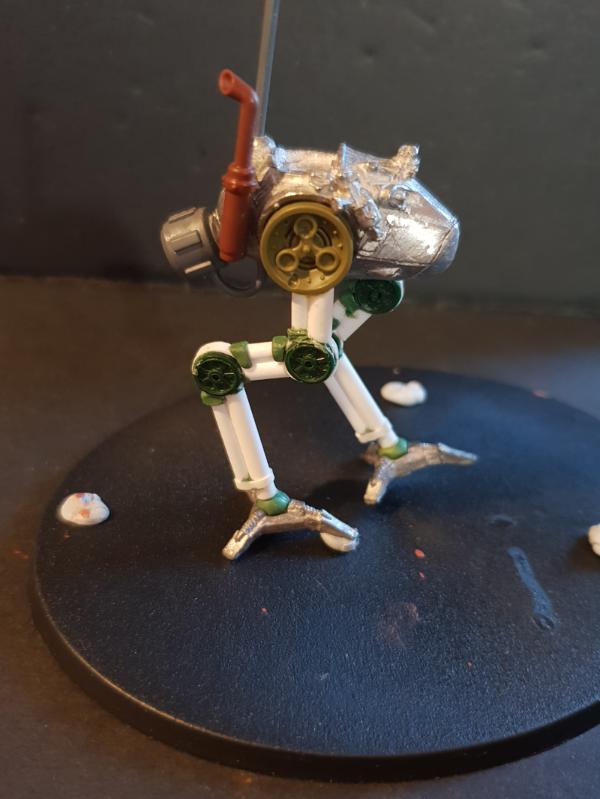 Still needs weapon and pilot - possibly thinking multi-laser coming out the nose. May also extend the greenstuff on the lower leg parts, to make it look more like it contains a piston, and possibly add some cables.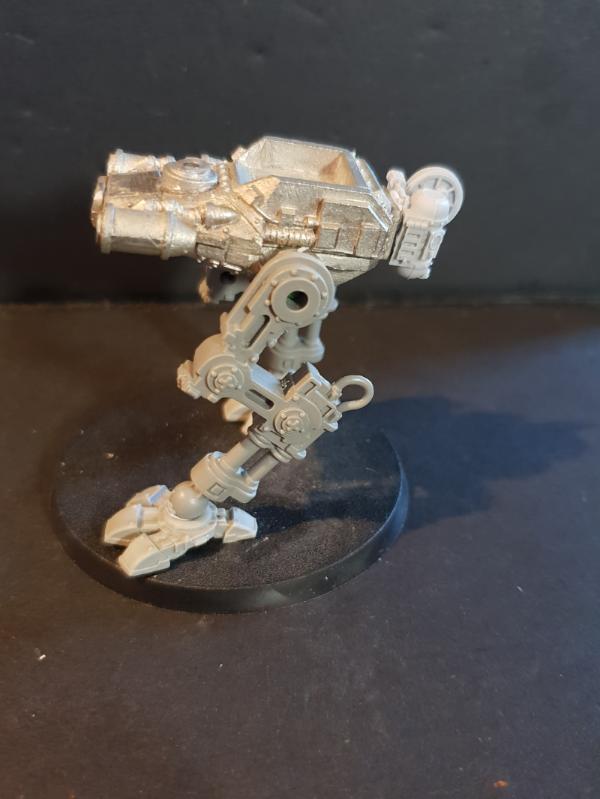 Again, pilot and weapon needed - there are 2 of this body, one will get a pilot based on the original, other will get one based on the forge world renegades. I'm toying with the idea of an auto-cannon protuding from what is currently a head-light. Also need to bulk up the ankle joint.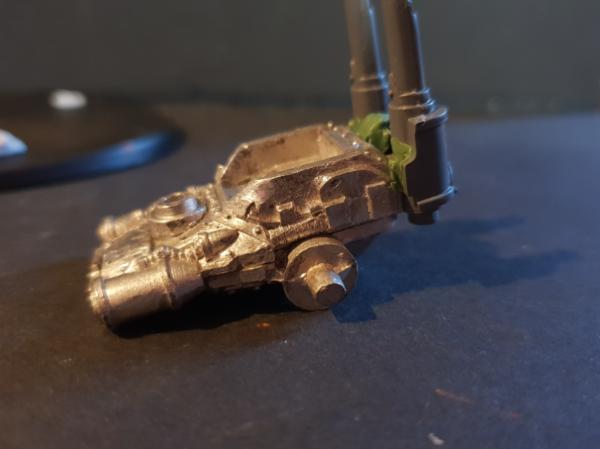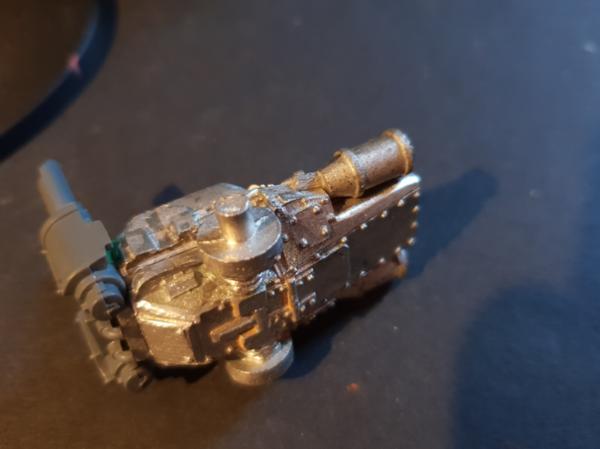 This one has a lot of filing done, not sure how apparent that will be. This one gets the iron-strider legs as seen in previous update. Those legs feel quite curvy in relation to the very squared off body, so been rounding off a lot of corners on this one - also why this gets a slightly curvier power pack, and the previous body gets a blockish motor.
Still playing with the feet on this too, haven't got those right yet, first attempt utilised the extra foot pads from the onager dunecrawler, might still be based on them, we'll see.
The three of these will be fun by the filth columnists, the rag-tag humans/muties/cultists that are first down in extended campaigns, spreading early poisons and poxes and recruiting traitors. They don't have the best equipment, hence why they use these old model walkers that have been salvaged and 're-built many times over the centuries, explaining the non-standard builds.
Now, one (or more at the outside) of these was going to be my entry into this month's dakka painting challenge (
https://www.dakkadakka.com/dakkaforum/posts/list/787921.page#10785811
), but as they are still all being built I felt it wise to switch in a substitute at this point.
Initially thought about this guy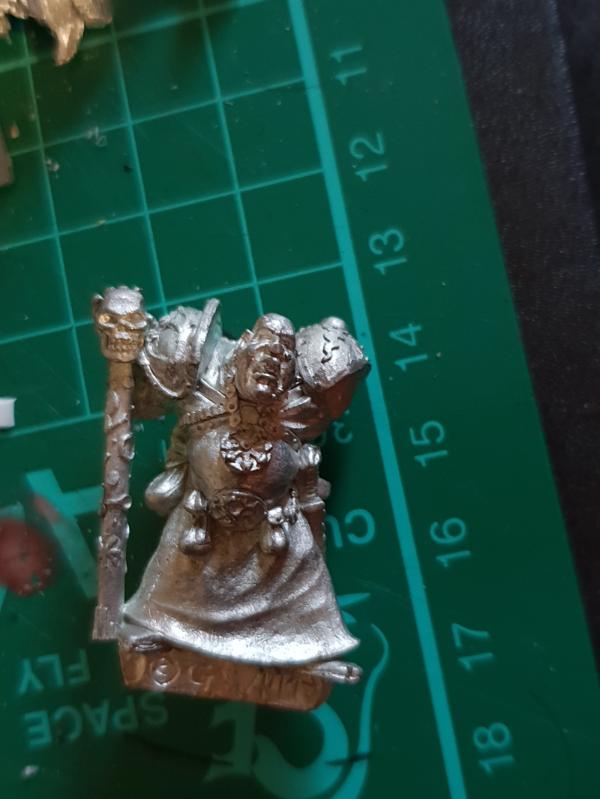 Lovely old chaos sorceror that would work well for Nurgle based fun, but rethought I might want to play with him a bit more before putting him to work.
So this guy stepped up to the plate.
Had to rebuild his finger and a bit of his glove, and swapped out his old plain dagger for something with a bit more pox-panache.
Don't want to go the same way as the J'aq and D'aq, so going pale with the robes - three or four layers to go, bringing the highlights up to screaming skull. The bone style armour will be red - as seen, thinking of will get a black wash now, then highlight back up to reddish-orange for high contrast. Contemplating a leopard style pattern on the fur - but possibly in tiger colours. Not sure how well I can pull that off, and not sure on the colour combo either.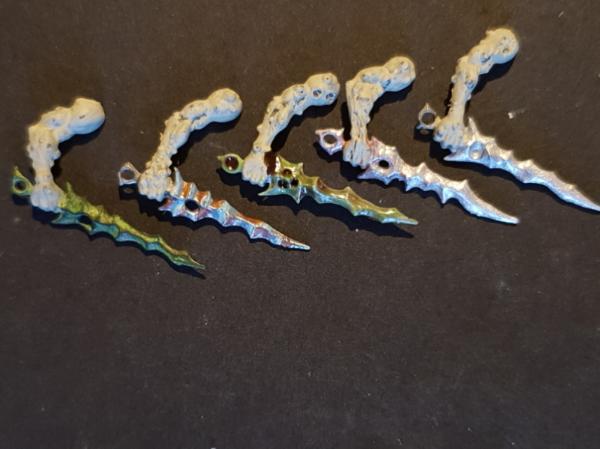 Did some tests for possible blades,not convinced by any of them - or indeed that the photo shows them well

Inverse highlighting from light green to black. (Maybe, but a bit bland)
Rust to verdigris type pattern in alternating 'pockets'. (Loved the idea,think it could only be pulled off on a bigger area - by me anyway)
Next three were all variations using crackle paint mixed with colours.
Crackle mixed with flesh and black wash, over green
Crackle mixed with silver over rust.
Crackle mixed with silver over leadbelcher.
Mixing the crackle seems to have degraded the effect. That shot was taken maybe 5 hours after application - no sign of cracking. There seems to be a bit of roughness appeared now - a few hours later, but it didn't crack. I wasn't convinced the wash mix would, but I did think the silver mix would, think the ratio was about 10:1 in favour of crackle. I applied that one on a few other models too, some with bigger surface areas, and no different results.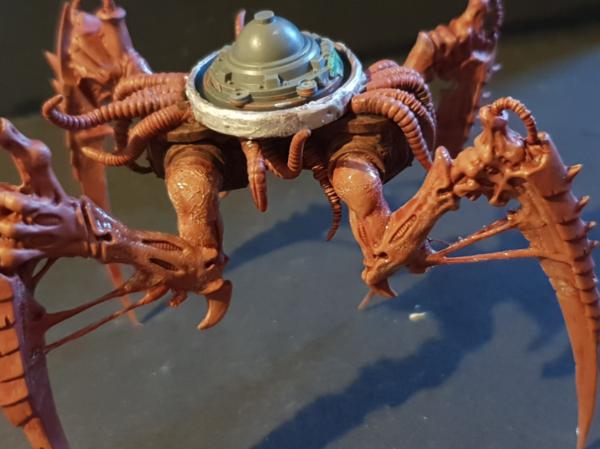 Clear crackle applied to fly-head's legs, about an hour after application.
So scratch that idea for now.
Also toying with having one of the old familiars with the sorceror.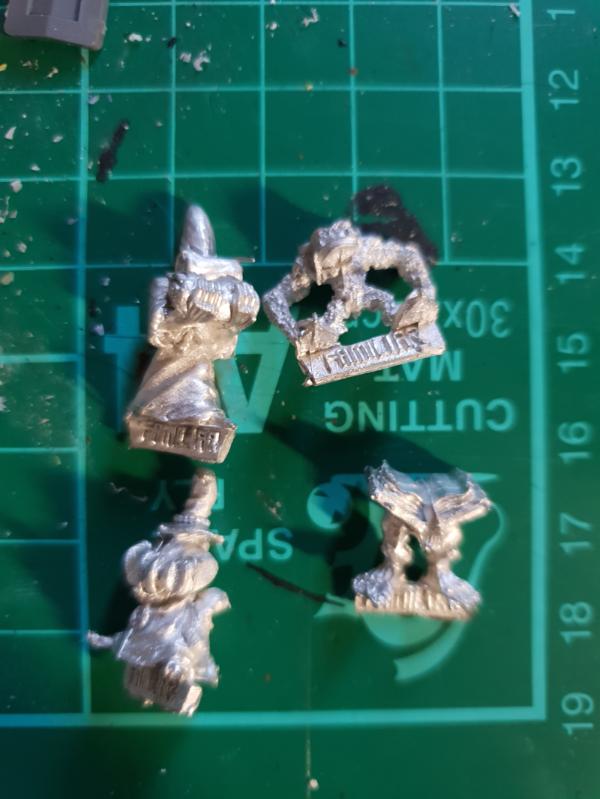 These are the ones that would work best I feel. Two robes ones are fairly obvious, although they would need to be tattered up. The book could be on a plinth or rock in front, so actually being read. Furry guy would work if I did him in the same pattern as I end housing on the sorceror's furs...
And as a bonus, just been messing around with a bit of corrupting...
Initially just for fun, but now I'm thinking that it might fit well with the upright drone/turbined body from the previous post, to form the basis of some sort of daemon prince.