Snrub wrote:Hobbits!! Even if not for

LotRs

, HOBBITS!!

They look great. The contrasts have done their job really well. They are quite useful for fabrics and the like.

As others have said, the Zoat and the Harlie are fantastic! Good choice of colour on the zoat. Makes it look like a giant teched-up lizardman.

And thanks for shots of your collection and backlog. Quite impressive!
Thanks Snrub! I'm already eyeing the other Hobbits from
GW
to built a complete Halfling Mordheim warband. They are weak, but they should be fun to play.
Syro_ wrote:Nice, I hope you have a good time gaming. Let us know how the combat patrol goes.
Thanks Syro_! Small batrep under my replies.
youwashock wrote:Looking cool. I like the more washed out look so far on the Penitent Engine.
Thanks youwashock! Tried some Gryph-Charger Grey for the metal after seeing the
GW
painting tip video using this over Leadbelcher. You need two coats, but it's a nice and simple finish.
gobert wrote:Great job finishing off the Ancient, certainly grimdark! As for those murder-buckets, they look a little impure to me
Thanks gobert! And don't you worry about the murder buckets, the purity seals and reprograming will definitely hold back their urges to kill all humans. Nearly 100% sure

ListenToMeWarriors wrote:One of the joys of doing a blog is feeling great about completing a miniature and then the resulting pictures draw your eye to mistakes that you never noticed in person. Why are our eyes so useless???

The Judiaciar head looks best on that Ancient, like many I am not a fan of that head but it really works in this context. The robes and armour look great, excellent stuff.

Let us know how the Combat Patrol game went.

Thanks ListenToMeWarriors! Yeah, after seeing the first pic of the ancient I was like "His normal head is way to jolly in contrast to his banner"

amazingturtles wrote:He looks great, and don't worry about mistakes. If any miniature were painted perfectly, the universe would explode. Or something.

What i particularly like about him is the leather for his gun holster, it looks really worn and well used!
Thanks amazingturtles! Universe exploding sounds about right

And I can't take too much credit for the holster, just Grey Seer base paint, some Gore Grunta Fur Contrast paint and that's it. Love that stuff for all the holster and puches, makes painting them so much easier and faster.
Yorkright wrote: Make sure you post up some pics of your game! That Ancient is a good conversion, the judiciar head looks fine.
Thanks Yorkright!
And as requested some pics of the game. As said, we did Combat Patrol. My friend has very recently (sometime last year) rejoined our gaming group after a longer hiatus, but had only played Mordheim, Kill Team and some WarCry. So this was his first game of
40k
in over 15 years and my first that was not a narrative mission, but with objectives.
We each had a 25
PL
force and had real fun. Me a little more, because he didn't reinforce the flank where his Scarabs and Spider were holding the objective. My inquisitor slowly advanced over the course of the game and held the objective after round 4. My squad in the ruins held the objective after turn 1 and raised the banner to generate even more victory points.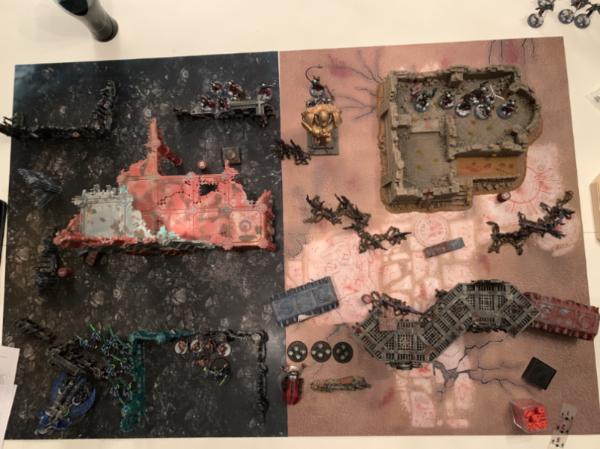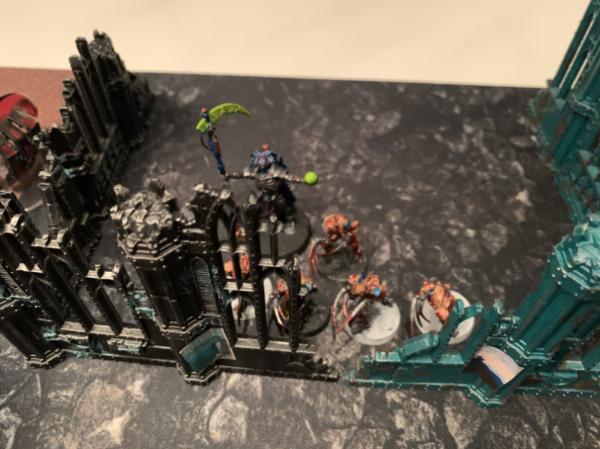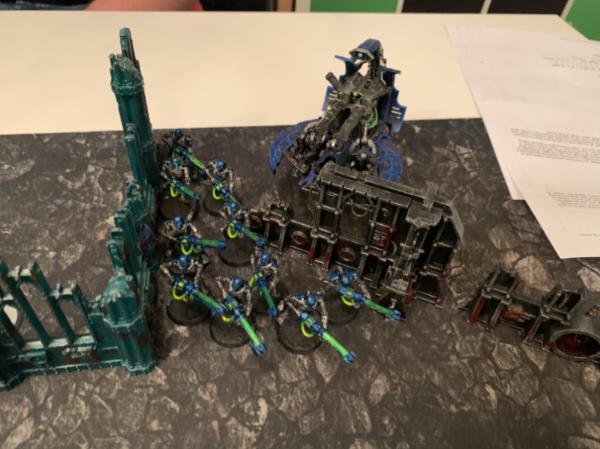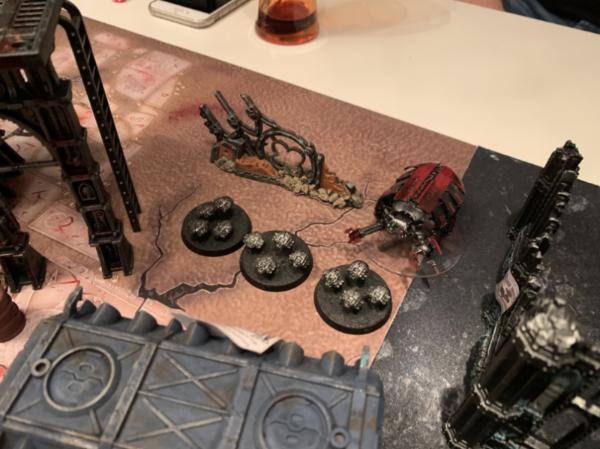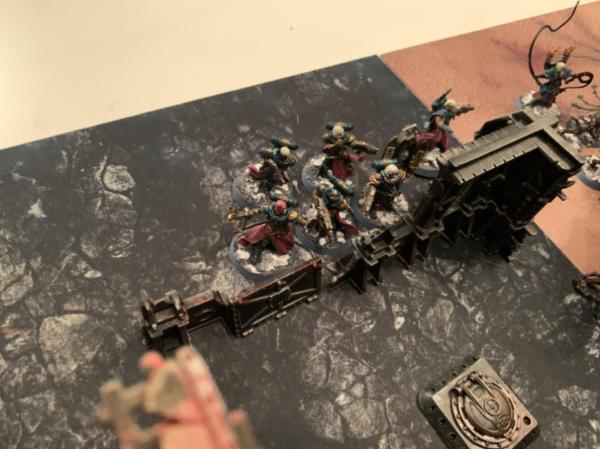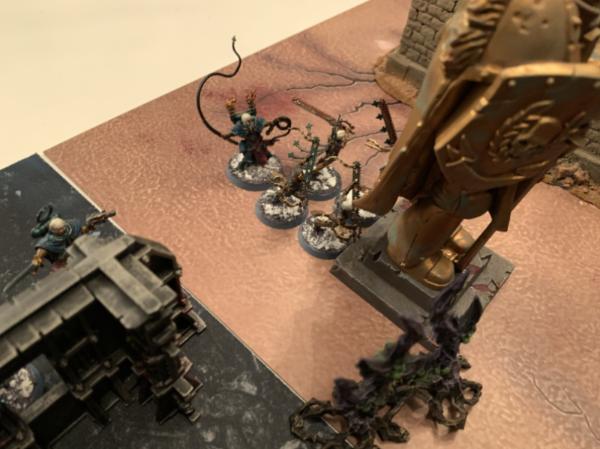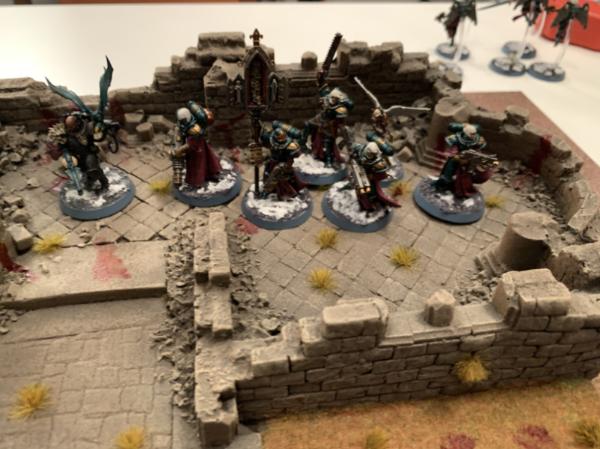 Both our Warlords came back from the grave, his Overlord died the first time in quite a fun way. I can use a stratagem that let's me roll a
D6
, when a Repentia dies. If I manage to get a 4+, she deals a Mortal Wound to her opponent. So the Overlord basically killed himself first time round

Stratagem brought him back with one wound, but at this time my Canoness with her relic blessed blade arrived and with 4 attacks hitting on 2, wounding on 3s and flat 3 damage he soon was scrap metal.
The first fight, Repentia Superior was a little disappointing, but the Repentias themselves were quite formidable.
After her killing his Warlord (and netting me 6
VP
) it's quite understandable that my friend was quite joyful, when his Flayed Ones tore my Canoness to shreds. But I too had a stratagem with which to revive my character models once and give them as many wounds back as I can with 1-3 miracle dice. So suddenly the Canoness stood there again, fresh, shiny and with her normal 5 wounds. Next turn she shot the spider, charged and slaughtered the Flayed Ones and last turn killed the remaining Warriors. Those were a little pesky, because they wouldn't stop returning

Must've killed that squad one and a half times over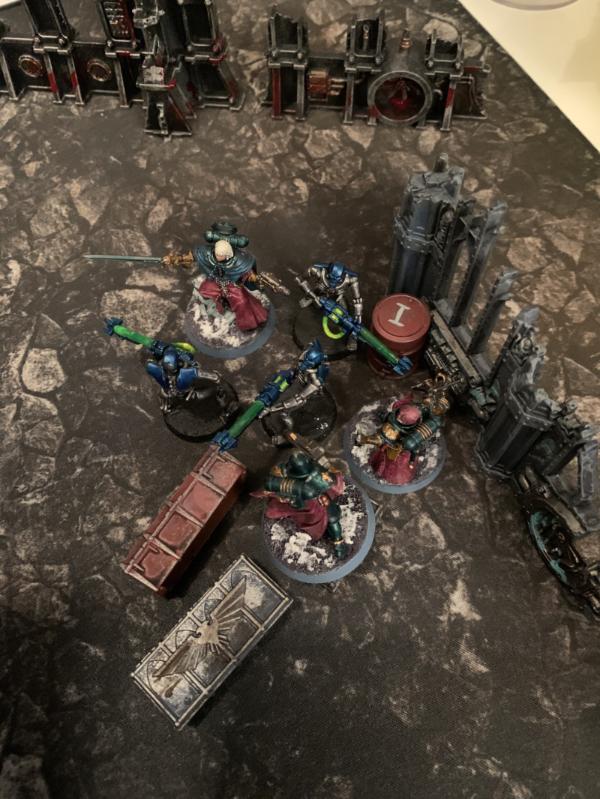 I was also up on victory points at the end, but that was because of me playing the mission. Had my friend made some slightly different choices it would have been much closer.
But looking at the pics makes me so happy, because that's what I'm painting for. Not to have them standing in my cabinet, but out on the battlefield, writing their own history. We are thinking about starting a Crusade campaign shortly and I'm already excited.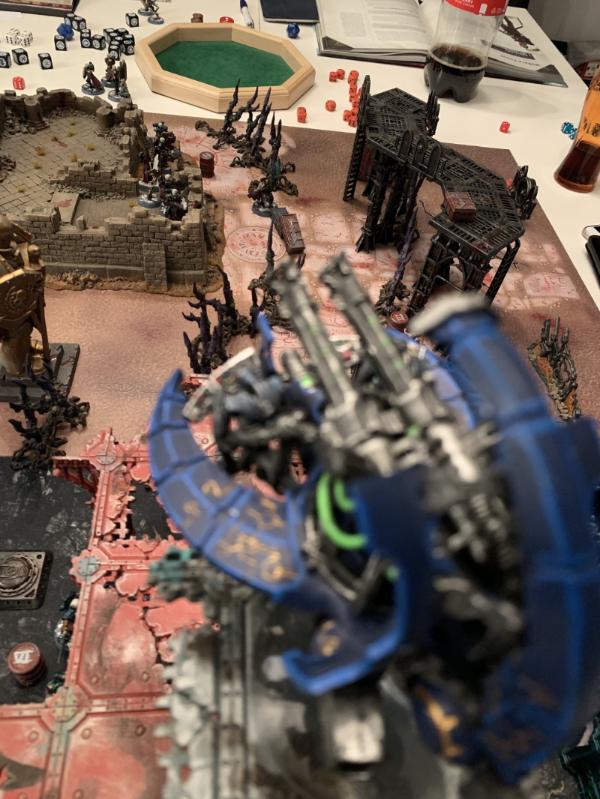 And because of his loss, my friend asked, if we could do a rematch this evening

So there will be another game and I'm tweaking my list a bit to test some units. Repentia and their Superior are out and Thaddaeus plus 3 Arcos in. Also built the special edition sister, but converted her to have a bolt pistol (to have the Wrath of the Emperor relic pistol), put a Kromlech silencer on top and changed her other arm to a power sword. Backpack is from the Canoness set, just had to clip of the sheathed chainsword on the side.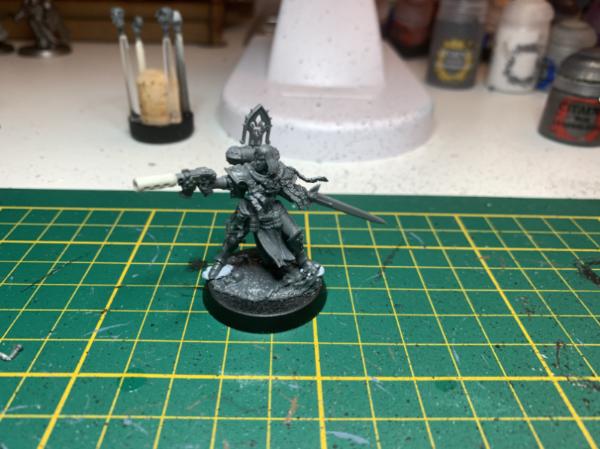 This morning I changed hand and sword, because the first try wasn't cut well at the glove and the second fitted better. Then I thought "well, you could prime her". After that, I was like "well, you could put one or two colors on". Three hours later she is ready for her first battle this evening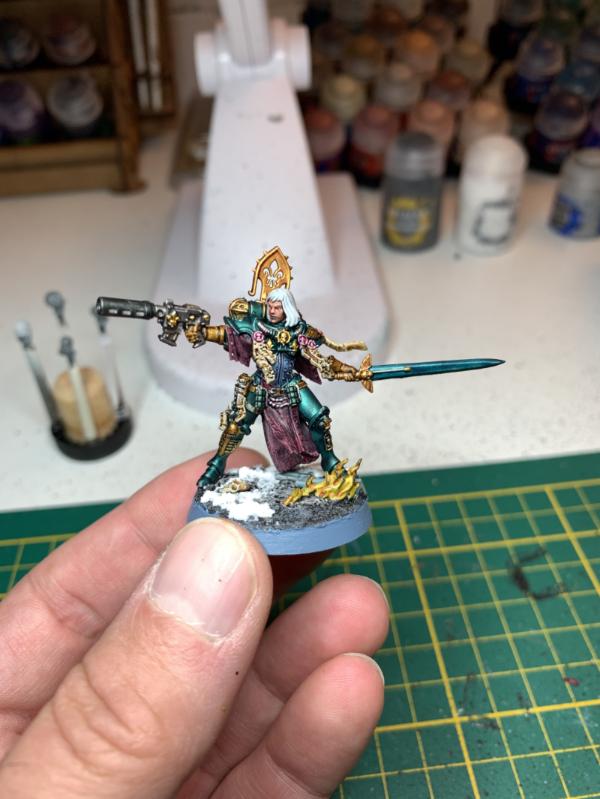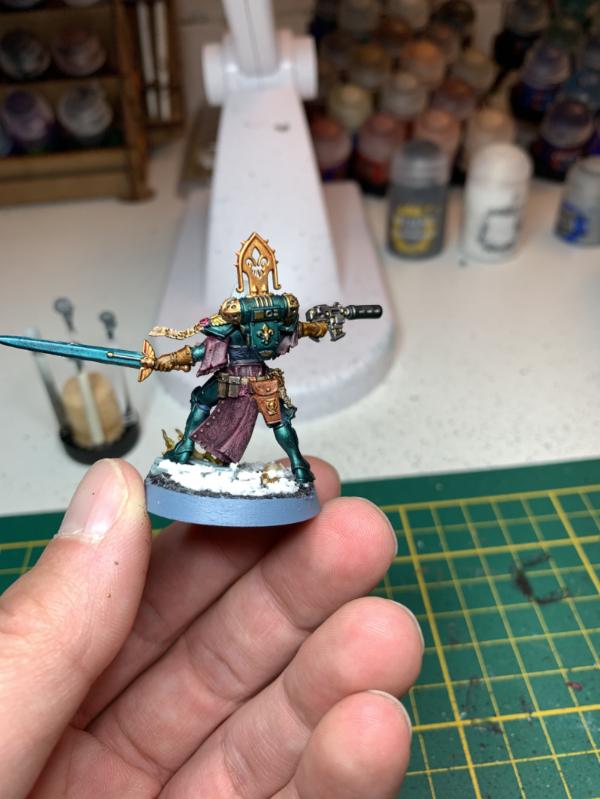 Very happy with her, although I had forgotten to cut off the pistol grip on her holster before painting so had to do it on the finished model. Because she has her pistol in hand, we couldn't have one sticking out the holster now, could we?