Thanks very much for the comments all. I will look into
BFG
: Leviathan if it's a useful tool for learning the rules.
I've added to the fleet and can now sit at 1500 comfortably with a second Hive Ship (more pictures below), but for starters I've amended the 1000 point list slightly to get a 5th Kraken. I'll try and get some games in with it and see how we do!
Tyranid Hive Fleet 1000 pts
Tyranid Hive Ship (440)
Leadership 9, 2x Pyro-acid battery, 6x Launch bay, 4 Reinforced carapace, 2x Extra Spore Cysts, Mucous Membrane
Tyranid Cruiser (135)
2x Massive claws, 3x Reinforced carapace, Solar vanes
Tyranid Cruiser (110)
Pyro-acid battery, Torpedoes
5x Kraken (200)
Pyro-acid battery
6x Escort Drone (90)
Bio-plasma discharge
Vanguard Drone (25)
Feeder tentacles
Full fleet (2 Hive Ships, 2 Pyro-acid Cruisers, 1 Massive Claws Cruiser, 5 Pyro-acid Kraken, 4 Vanguard Drones with Tentacles, 6 Bio-plasma Escort Drones)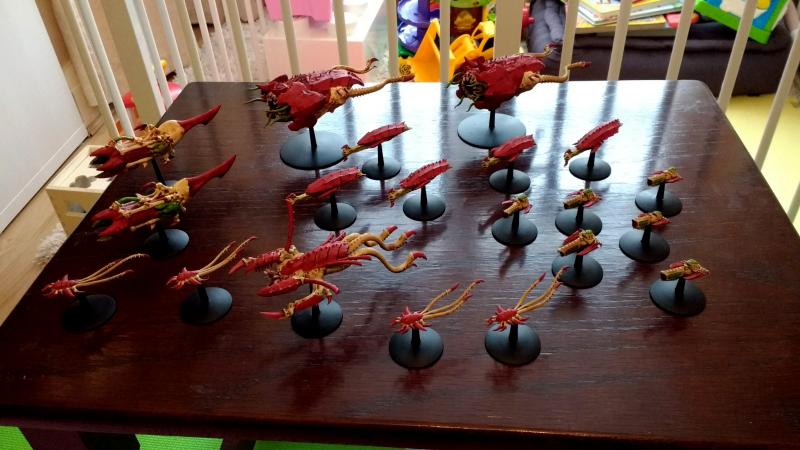 Bio-plasma Escort Drones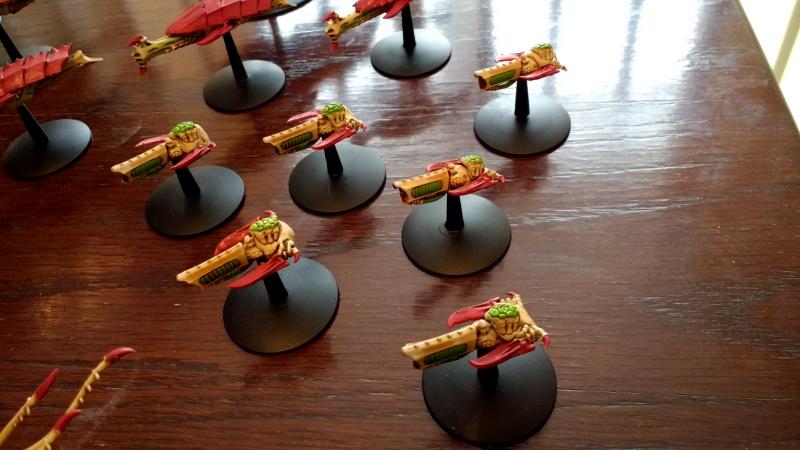 I'm quite happy with the way the Escort Drones turned out. They are still just flying guns, but they look a little more feasible than my first few attempts with Devourers and Tyranid Warrior crests. I think I will try something different when I get around to doing some Pyro-acid ones though.
Did anyone ever try Feeder Tentacle Escort Drones? It seems like a terrible idea because they are so slow... but then again they are so cheap, and could follow in with a Hive Ship and pull all the guns off of a capital ship, removing it from a brawl... Probably easier to just go with guns though.