Hi all,
I've been inspired to get into
BFG
. Always keen to add new things to my Tyranids, and Hive Fleets are so central to their fluff that actually having a Hive Fleet of my own really appeals.
I've cooked up what I think is a reasonable list based on some googling, but would welcome any direct comments from people with experience (with or against Tyranids in
BFG
).
I've also got some pictures (below) of the fleet as it is now. Missing are my six Escort Drones. I did model some up using Devourers, but I wasn't really happy with the look or size so I'm going to be looking at alternatives there (saw something cool using Genestealer bodies a while back, so maybe that is the answer...).
Tyranid Hive Fleet 1000 pts
Tyranid Hive Ship (440)
Leadership 9, 2x Pyro-acid battery, 6x Launch bay, 4 Reinforced carapace, 2x Extra Spore Cysts, Mucous Membrane
(Huge, tough carrier ship with surprisingly strong batteries, membrane sounds good because I gather enemy ordnance is one of the Tyranids main weaknesses?)
Tyranid Cruiser (135)
2x Massive claws, 3x Reinforced carapace, Solar vanes
(Raaaargh! Big, quite fast with a 30cm move, very in-your-face, and such a cool concept)
Tyranid Cruiser (110)
Pyro-acid battery, Torpedoes
(Simple Cruiser to provide a bit of extra firepower and throw down torpedoes)
4x Kraken (160)
Pyro-acid battery
(Ridiculous firepower on something so small and tough... I think keeping then in a squadron is sensible for easy control?)
3x Escort Drone (60)
Pyro-acid battery
(Little extra firepower to ping away at enemy escorts)
3x Escort Drone (45)
Bio-plasma discharge
(The nasty surprise, these should hide around the Hive Ship and lend a hand when big ships get close?)
Vanguard Drone (25)
Feeder tentacles
Vanguard Drone (25)
Feeder tentacles
(I've got a lot of Pyro-acid, so these seemed sensible... and they destroy enemy escorts really nicely when they close in)
Hive Ship, Cruisers, Kraken and Vanguard Drones
Cruiser with Claws, Vanguard Drones with Tentacles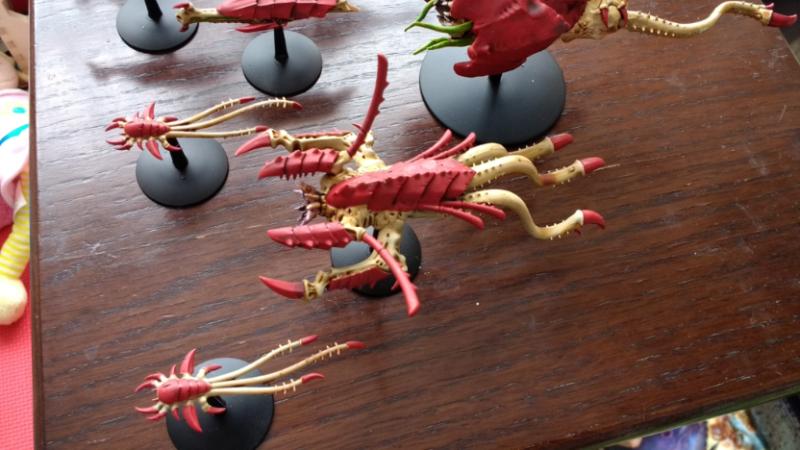 Cruiser with Pyro-acid and Torpedoes, Kraken with Pyro-acid, Hive Ship in the background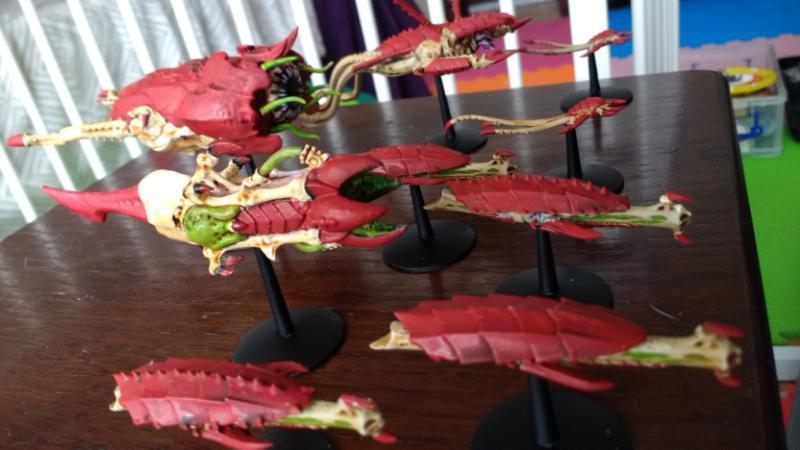 Frontal view of the Hive Ship (omnomnomnom)