precinctomega wrote:

This is really interesting reading. Thanks for posting. I look forward to reading more about it.
Thanks for the comment. Here is the second video in the series:
For part 2, I continue the concept art phase, but this time, I created the front and side views of the miniature.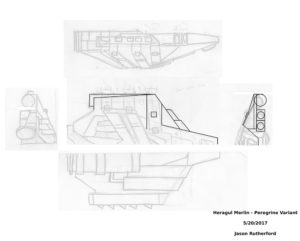 These two views were created by lining up the top view art work in such a way that the basic dimensions were approximately carried over to the other views. At this point, the exact dimensions between the different views are not critical. That gets figured out in part 3, which I have started in the above image.
By creating the other views as concept art, I am solving two problems in a format that is much faster to change than either a detailed ship plan or a 3D Model.
First, I am making sure the warship will look as I imagine it will. With only a top down view, it is very easy to imagine a 3D object which is either impossible to exist or one that is not actually represented by the top down view.
Second, these pieces of concept art give me a good idea as to how the mold for the miniature will be created. For the Peregrine, I wanted to make sure that it could be cast as a single piece. Thanks to these concept art pieces, I can be fairly certain that it will be able to be cast as a single piece before the miniature design gets into a more permanent form.
Thanks for reading. The third part will be live streamed tomorrow, 5/25/2017 at 8PM EDT.