Recently, I started down the process of creating the next miniature for my tabletop game Legends of Kalidasia and I wanted to document the entire process.
Last week, I started with the top down view concept art. This summary video goes through the basic thought process for this phase.
The recording of the complete one hour live show, which contains a detailed rationale for my various choices, can be found on that youtube channel as well.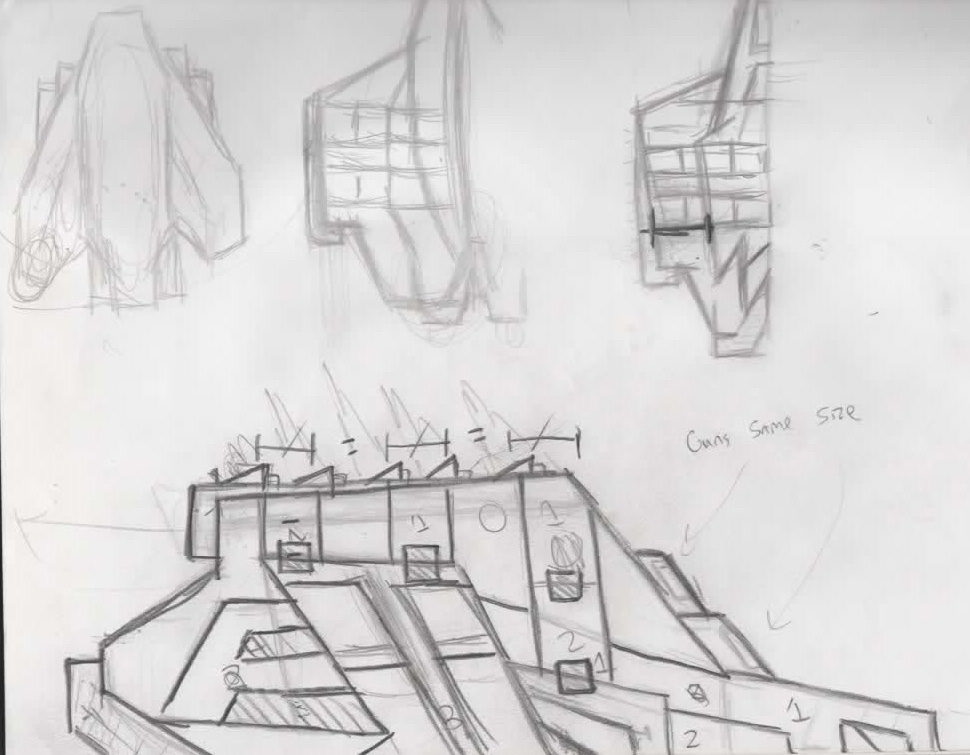 Over several iterations, I went from a very basic shape to lots of details and other notes. Throughout the sketching process, I referenced several other warship miniatures from the same faction as well as following the rules for how the various pieces technology work in the Kalidasia universe. This was to ensure a consistent feel across the faction's miniature line. I also had to take in consideration as to how the miniature was going to be created and the placement of the engines was heavily influenced by the requirements of resin casting. Each of the engines will serve as a resin fill or air vent in the final model and they were placed in locations where air bubbles were likely to get trapped. Even the vectored thrusters along the side were slanted in way to reduce the chance of air bubbles collecting. Finally, I labeled each of the sections with a number to indicate the relative height of the various armor panels. These numbers will be useful as I put together the concept art pieces for the other views of the Peregrine.
Tomorrow, 5/18/2017 at 8PM Eastern Time(GMT-4) is the next episode of the design process on my Twitch channel:
https://www.twitch.tv/rockorobotics
Sometime next week I will update this thread with a running total of my progress.