So I've got some work done on Azrael.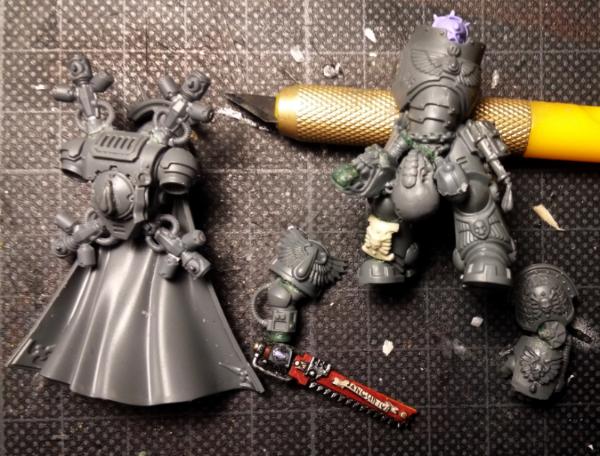 The main problem was the size of the arms. Since he's a primaris i had to add quite a lot of green stuff to the sword arm even though it's a deathwatch arm which are already bigger then the vanilla marine ones.Luckily I already have a chainsword I painted for my previous deathwatch captain and I decided to keep it but added a little droplet on the hand. And while I originally wanted to use a blood angels power fist i found it to look just plain silly on a primaris model. So I had a fun time of cutting of the winged skull + the droplet of blood and glueing it to the power fist that the captain already had on him even though it's actually a boltstorm gauntlet. Shaving down the shoulder in order to put the deathwatch one in was a tough cookie. But I love how it turned out in the end especially with the little sun thing they all have on their elbow. Also notice the old power fist cable on the lower side =)
The relic bone and scroll on his crotch I hated so much. Now they have been replaced with more apropriate trophies. A geenstealer skull a necron head and a recently severed ork head with greenstuff tongue. Had a lot of fun making that x)
I don't really like how the deathwatch icon on the foot played out, it's a little big there. I might take it off later on.
You might be asking (probably not but I'll pretend that you did) what the hell are those heretical xenos particle casters from the triarch praetorian box are doing on the backpack. Well they are modeling out a camo gear upgrade from the shadow war which I represent as a sort of a field generator. Currently I'm thinking whether i should add something else to it, like a piece of string going through all of them and forming a circle or something. Oh and the tiny droplets are also from a blood angels powerfist.
Automatically Appended Next Post:
Just found out that there's a dark angels hero called Azrael and the whole bible name thing is that chapter's thing. Guess my guy will need a new name =)