Did you like the Armored Munitorum Containers Block from your Warhammer 40,000 First Strike starter box ?
Did you wish you get more, but didn't want to spend another $40 ?
Here's how you can make your own.
Start by downloading one of these
Now you are going to want to print that bad boy out. I recomend 110lb cardstock. You use what you can get get your hands on.
Now walk into your kitchen, or loot your gubinz pile, for one of these bad boyz.
Cut out your parts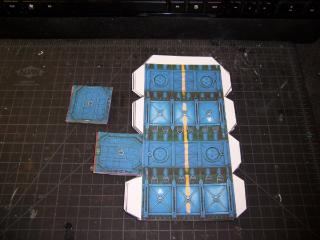 Glue your parts to the cardboard. If your box is one of the bigger variety, you can probably get two containers to fit per side of the box. I was able to.
Once the glue dries you are going to cut those parts out again.
While the glue dries, you can cut out the next one. Next one you say ? Who just makes one Armored Munitorum Cargo container ?
Glue dry yet ? Cut them out, again. It should look familiar.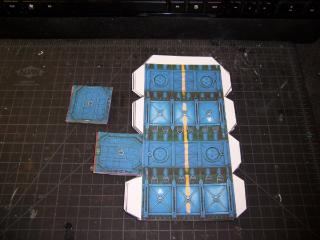 Some people would glue the design covering the cereal box art. Not this guy.
Bare cardboard would probably be easier to mark than the printed side. I glued all mine togerther while watching Enterprise on Netflix, and didn't think of that until I got until this step.
Using the printed side as a guide, I used a pair of scissors to notch where the fold lines ended.
Then I flippped it over and used a steel ruler and a cheap pen to score the fold lines on the back side.
Now that you have the fold lines scored, it's time to fold it into a box shape.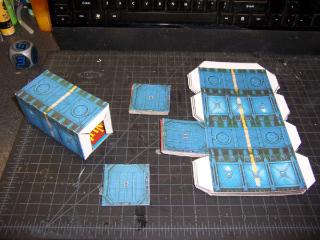 Glue the long side first and then the door that swings shut. This will ensure the box is in the right shape.
I put a sheet a plasticard and 4 bottles of paint of it to hold the door shut while it dried. If your industrious you can score the fold lines on your next container while that dries.
Once that is reasonabely dry, you just flip it over and glue the free door in place.