From time to time we, dabbling with greenstuff in our free hobby time, are facing the tantalizing subject of
tentacle
-making. This also touches
rats tails
,
spikes
,
whips
and what not. It is all good and easy when You can set a rigid wire frame to sculpt on, but this is generally difficult and not always even possible. How do I ensure both smooth cross-section and curvature? How to avoid dreaded stretching? Well, I do not have all the answers, but this is my way of doing them, nasty, nasty tentacles.
I'd like to start with moulding materials rather than with prototypes. Due to their nature (smooth, round in cross-section) mould for tentacles are very hard to make without undercuts. There are ways around it (put intended), but easiest way is to use two-part silicone moulds. I prefer silicone rubber, unlike liquid compound that You pour into some volume, rubber can be to some extent sculpted like a a greenstuff, letting You to choose where it goes and where it does not. For that reason I also like pressing silicon onto model with something hard but transparent - You can see what is happening with the stuff all the time.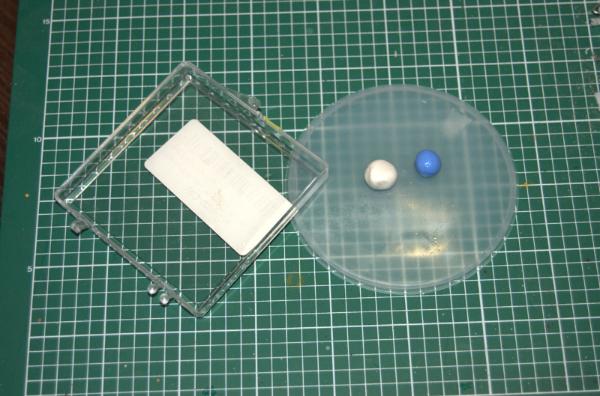 Inspiration is endless. Anything can be a model or a prototype. Branches, twigs, ready made objects, bits and pieces of everything. I'll stop, however, before actually cloning a piece of a miniature, and not because of the copyright reasons. These bits usually are posed and sculpted in such way that it is not easy to repurpose them using tech described here.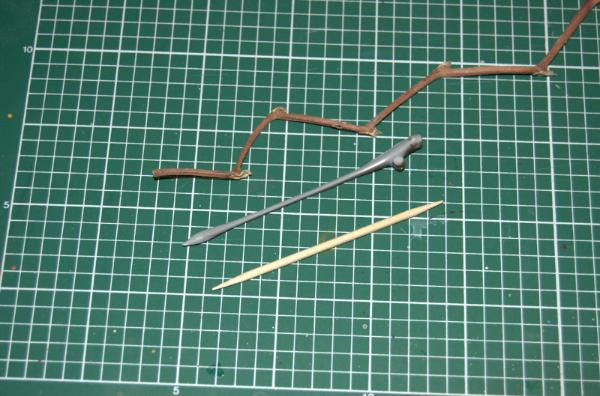 In addition to the mould-making material and the prototype You will also need a good working surface and this is why. Not every object can be pressed flat. If it cannot be pressed flat, some silicon will go around it somewhere and this part will have to be cut open to allow easy demoulding of an almost ready object. See that twig.
Fortunately (for me!) I am interested with a more conventional tentacle with a bulb on the end. I've made a prototype myself by stretching leftover plastic sprue over the candle flame and then shaping it with a small file. I've put it flat on the non-sticking surface, covered it by a long bar of quickly mixed silicon rubber and pressed it down with a piece of a clear plastic to force the silicon around the object.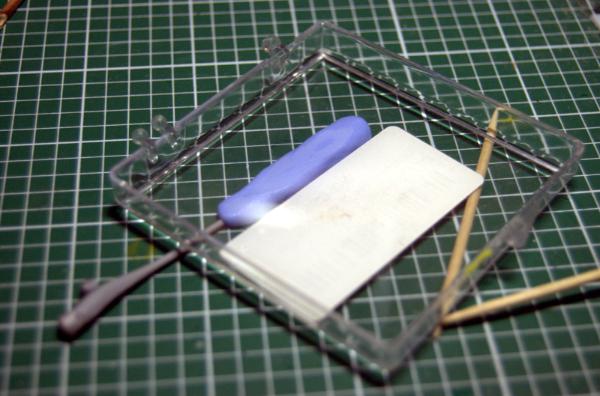 Five minutes later mould is ready. Some undercuts, but the model is visible for almost all of its length so demoulding will be easy, no further tweaking of the mould is necessary. If You use liquid silicon You most likely will have to cut it open and maybe do other things to produce a usable mould. This is not to scare You off the experiment, just a little warning to expect at least a few difficulties.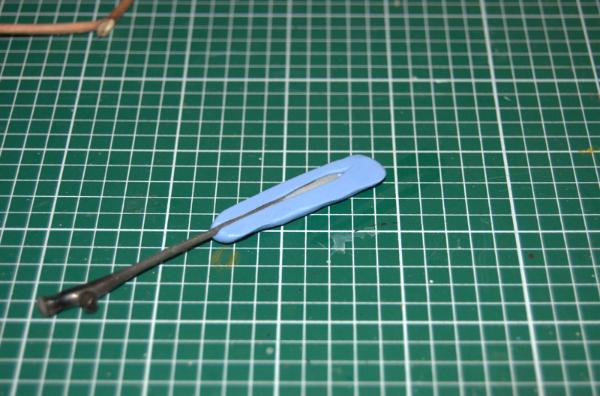 Now the fun part begins. For this example i use the most generic greenstuff of all things and a 0.1 lacquered copper wire, not specially prepared by any means. You can choose to burn isolating layer with open flame or rough it up with a sand paper - I've experimentally proved that these materials work together well enough as they are, but this is not to discourage experimentation. Any sufficiently flexible wire can do, even a coarse thread - the prime reason for it is not to provide armature but to allow extracting of still soft and sticky greenstuff from the mould without stretching or tearing it.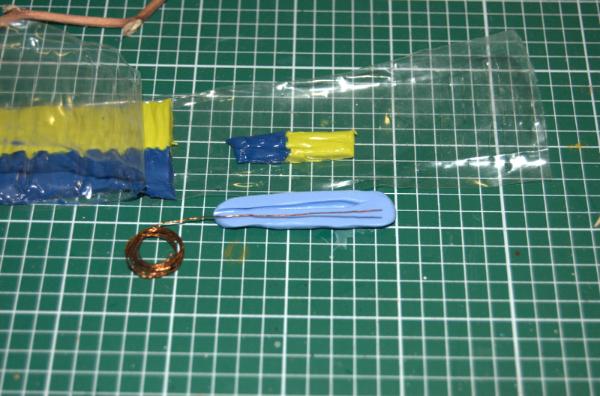 I start by mixing a small ball of greenstuff and spreading it over the vire. The plastic prototype is here to easily check the required amount of greenstuff and the thickness of its layer.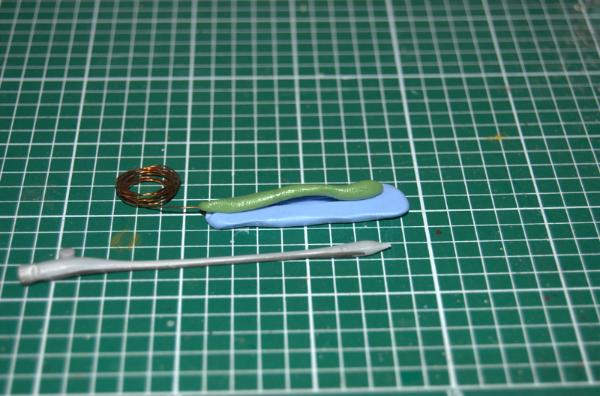 I press it down into the mould with wet fingers and sculpting tools. A bit of silicon from another mould is also useful as it is smooth and non-sticky, especially if You use demoulding spray. Make sure that the wire or a thread is safely deep within the greenstuff, or at least it does not surface and ruin Your work later on.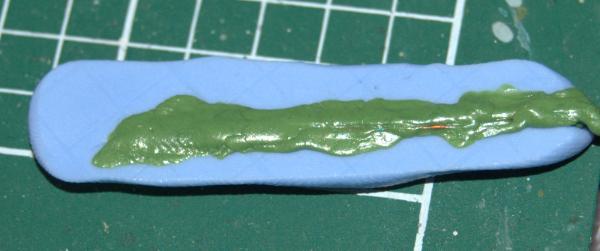 The "Thing" is then left to cure for an hour or more. You still need it to stick a little to be able to shape it freely. So, bend Your mould away and gently pull on the thread...
UP and away from the mould!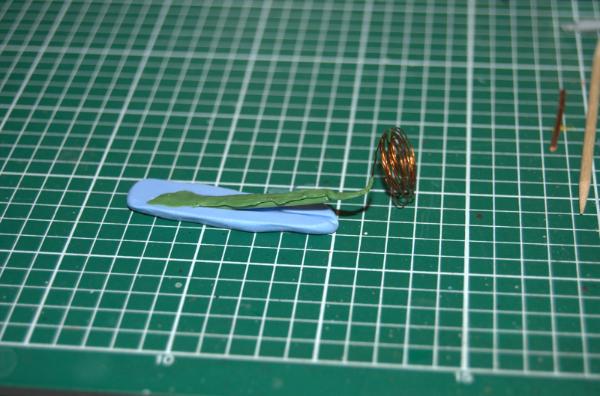 If everything went well and smoothly, You are now holding a new-born tentacle, congratulations! It can be bent and twisted to any desired shape, even tied into the knot or another figure, but be careful and do not start removing greenstuff excess before it finally hardens!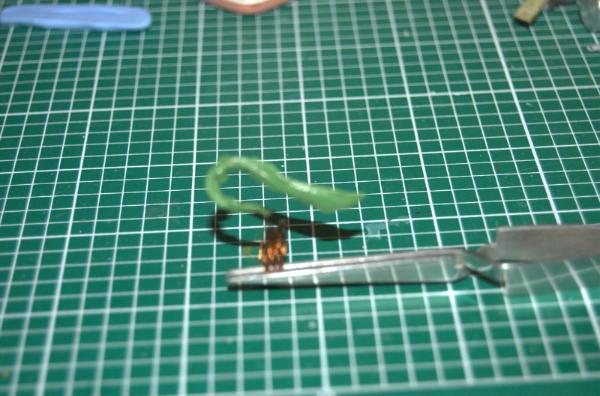 Now it is time to make some more! After leaving greenstuff to cure for about six hours (overnight is safer bet) You can cut off excess bits (mould flash) add some more details and generally play with the thing...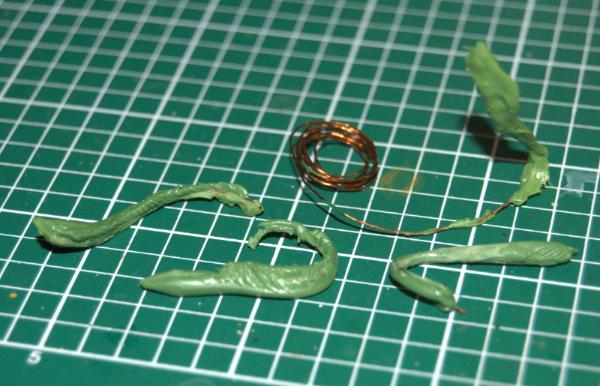 Before attaching it to the model Isn't it great? And easy, if not super fast...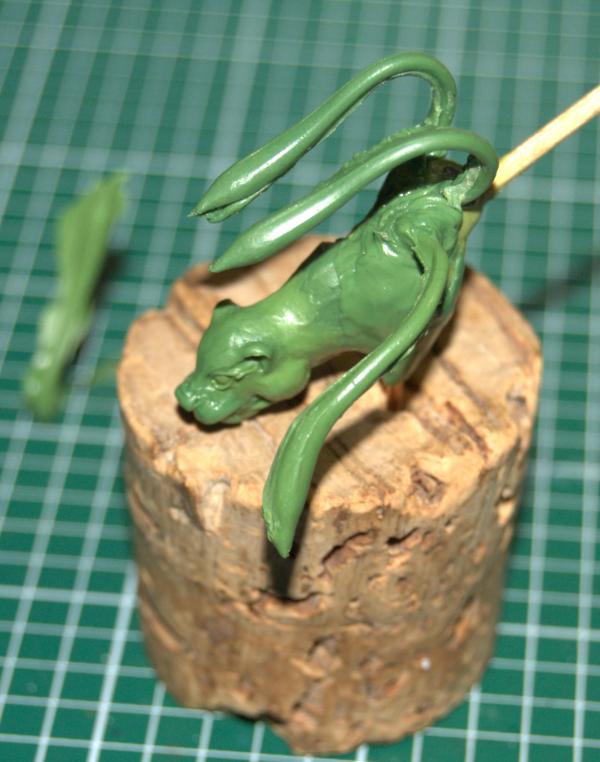 In hopes of being useful and entertaining, Yours sencirely, Wirecat
(now with extra tentacles to qualify for the magical beast class!)