Thanks, guys! Mordheim is the game that originally got me into the hobby, so it still holds a special place in my heart.
@facelyss Yeah, I hope so, too. Like I said, everyone in our group has kind of switched gears to other games at the moment, but I think I'm starting to generate a bit of excitement for Mordheim. Time to turn up the pressure, I guess...
So in that spirit, here's the leader of my little band of Skaven ninja: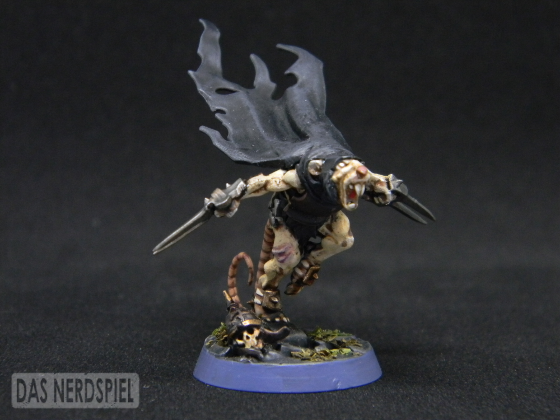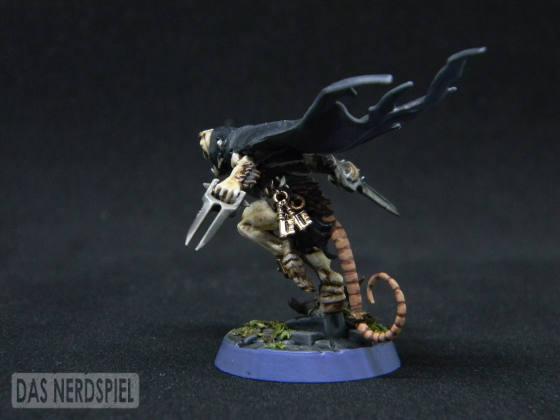 Clan Eshin has always been a bit lacking in models, and since I was never a huge fan of the old metal Gutter Runners, I was pretty much stuck with just the Night Runner sprues that came in the Mordheim box for building all the characters in the warband (though to be fair, they were probably the most versatile models in the range at the time). Although I like the new Skaven plastics much better than the old, huge-fisted 90s models, none of the Eshin models have been updated, so they look even more out of place now. Fortunately, a couple of the models that were released with Spiteclaw's Swarm look very Eshiny with a few tweaks.
I know some people who do a lot of converting aren't a fan of the new snap-fit easy-to-build models, but I actually really like them for conversion work. It's true that you end up with a lot of weird pieces, like a head and an arm, or a partial torso, so simple head swaps are usually out of the question, but since I usually end up having to chop things apart and pin them to make them fit anyway, it's not a big deal to me. Plus, even with pieces sawed off, the models do still usually fit together so tightly that I probably could get away with not gluing them.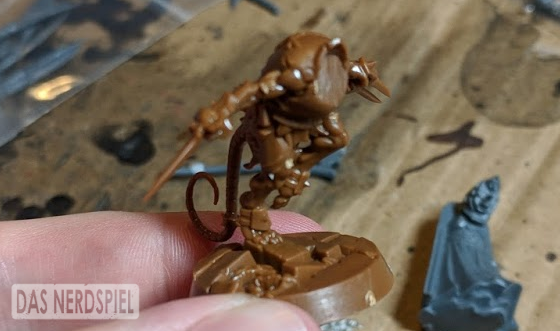 As you probably guessed, I used the Lurking Skaven as the base for my Adept. I had a pair of old 90s fighting claws that I've been saving for this conversion, but since he already came armed with a pair, I didn't have to do anything to his weapons.
I often used the capes from the Night Runners sprue to differentiate characters or Gutter Runners from the rank-and-file Night Runners, though they never really looked that great. They were a bit square and tended to stick straight out like someone had used too much starch on them. I experimented a lot with green stuff capes, but even using some wires for support, they were always a bit too flexible when they weren't draped over the hard plastic body and I could never quite get the sort of flowy shapes that I wanted for a character that's leaping forward like this. I needed to use something that was rigid and had plenty of detail.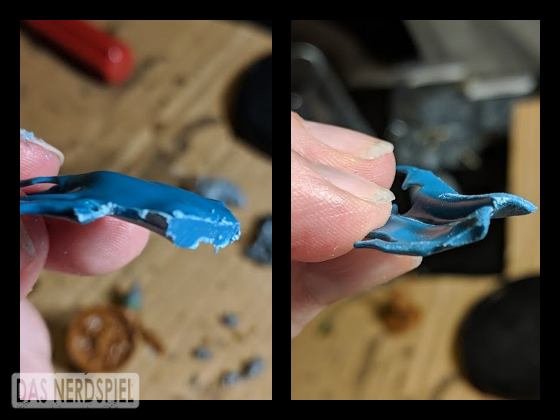 In the end, I went with the lower half of a Myrmourn Banshee, another excellent snap-fit kit. The only downside is that the part that attaches to the torso is pretty thick, so I had to file it down until it was a shape that would fit over my Adept's shoulders. I also bent the cape a bit using a heat gun so that it didn't stick straight up and make the model like five inches tall.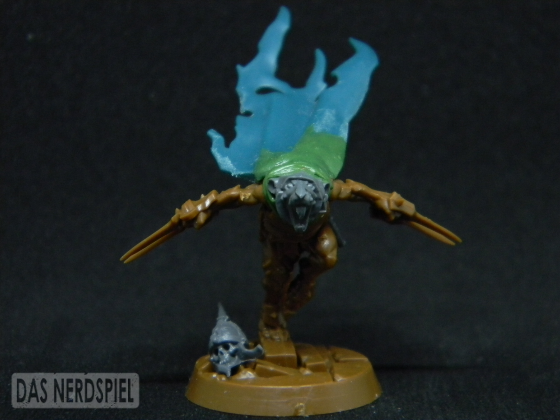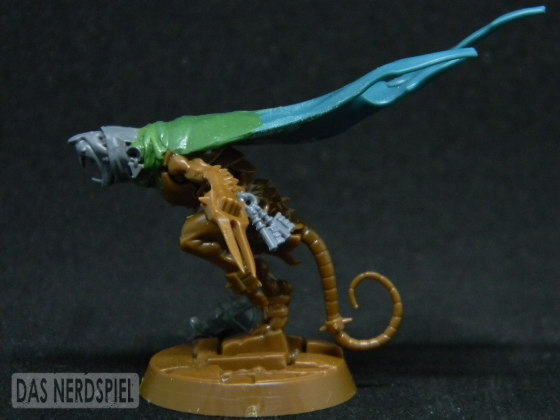 I found a plastic clanrat sporting a cowl and sawed off his head to replace the more armored one from the Lurking Skaven. I then connected the cape to the hood with some green stuff. I also added some keys to his belt, because everyone in Mordheim carries keys. I probably should have also had him carrying a fish, some candles, and a marionette or two, but I guess I'll have to save those for some other models.
I tried to give him a more pale, sickly skin tone than my other Skaven, as well as kind of a grimy look to show that he'd been lurking around the ruins of Mordheim for quite a bit longer than most of the members of the warband. In general I think it worked pretty well, though the contrast between the pale highlights and the dark grime that settled more in the recesses might make the shadows look a bit stark. Still, he turned out pretty well, and much better than anything that I could have managed a few years ago before the Warhammer Underworlds and Nighthaunt models came out. Now Games-Workshop just needs to release some actual Eshin models and we'll see what I can really do.