i started on the shoulder pieces today, i wanted to see how my take on the steel confessor colours would go.
im happy with it although now i think about it it may end up looking too close to that one knight house because of the green.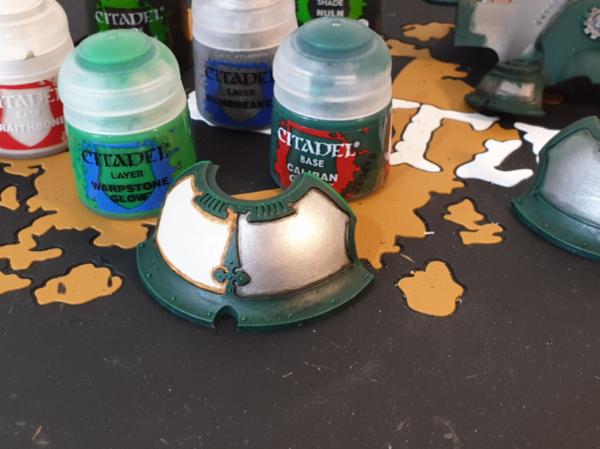 Automatically Appended Next Post:
Maybe switch out for a darker bone colour, dunno yet.
Automatically Appended Next Post:
Also i used all
GW
paints.
Undercoated in Leadbelcher
Trim in Caliban Green, then washed in Nuln Oil and dry brushed in Warpstone Glow.
'Silver' side is Ironbreaker with Nuln Oil shade.
the not bone looking side >> Wraithbone, then shaded with seraphim sepia.
And then some Warpstone Glow edge highlights where it will join the Canopy.
Automatically Appended Next Post:
Did a little bit more this afternoon, was a bit faster doing this bigger area now that im sure what im doing with the colours etc
Automatically Appended Next Post:
not sure im sold on the warpstone as a highlight for the caliban, but either way i'll try tidying it up a bit later without making more issues haha not the steadiest of hands. I will get rid of the layer of warpstone at the bottom edge of the canopy as i don't think its supposed to be there or at least it does'nt seem right