I really suck at these, but what else is new eh?
Due to a plethora of things, including work, excessively hot weather and things behind the scenes in my personal life, my hobby life has been pretty nonexistent for some time now. I tried my hand at an Imperial Knight plog a few months ago, but due to the aforementioned things, nothing really came of that. It will be continued at a later point, just not right now.
After a period of inactivity it was high time to get things started again! So, in an attempt to get things done, I've decided to try and force myself into picking up the brush for an hour a day, be it before work or after, just so long as I managed to get something done. It doesn't have to be a complete model, but some washes here and some detailing there would go a long way towards getting things done. What also helped immensely in getting me started again was the decision to finally picking up some Contrast paints to play around with. I started out small, with just Wraithbone primer, Apothecary white, Ork flesh and Wyldwood, just to see how it all would work out for me. Aside from the Apothecary white, which may either be a faulty batch or required even more shaking than my wanka's cramp would permit, I'm impressed with the results thus far, digging out a spare Ork model and trying both the green and brown on it: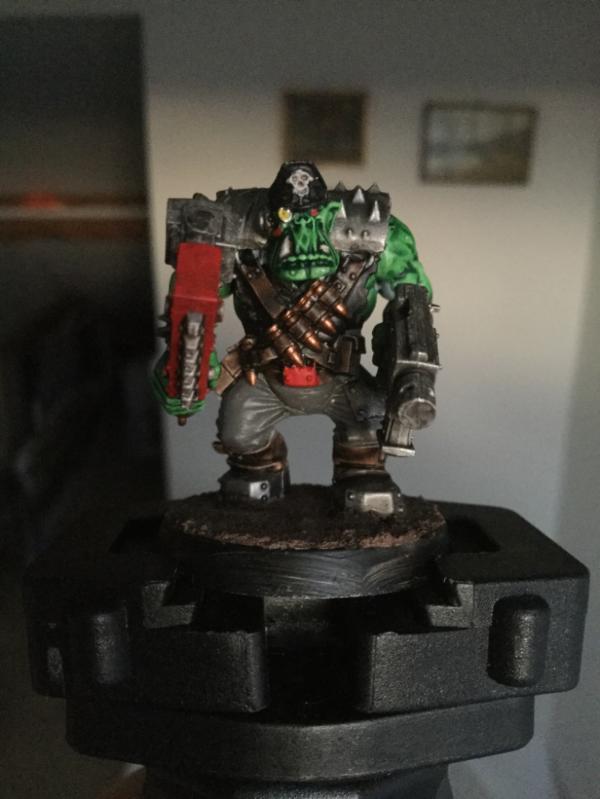 Unnamed Ork pilot, equipped with fast choppa, because you never know when you need to bail and bash
I liked the result enough that I wound up batch priming thirty more orks, an entire troops choice and whatever Poxwalker I hadn't primed yet as well, as Wraithbone has become the perfect replacement for Corax white, as no matter how much I shook those cans, there was still a big chance that it came out rough and coarse. Being able to do ork skin with just one colour has been a blessing to me, as I need to paint up hordes of orks for my brother one of these days..

It is a bit on the light side over a Wraithbone primer, but it contrasts (no pun intended) rather nicely with the darker Goff colours. I've decided to add Blood Angels red, Black Templar and Skeleton Horde to the Contrast collection, as they'll come in handy for batch painting orks later down the road.
Anyway, currently there's two light projects I'm working with, on and off, to ease myself back into things.
First one, Aeronautica Imperialis! I don't have any of the actual models in hand yet, but with it on the horizon, I've been doing some fun prep work when it was announced earlier this year, in form of collecting various pilot models. With the news dropping that it will be out soon (end of the month or bust!), it was high time to get some painting done. These models have no real ingame purpose, other than I felt like painting up pilots for the tiny aircraft I'll soon be owning. Maybe some will see use in special scenarios where shot down pilots need to be rescued / captured by small patrol detachments.
With special thanks to a dear friend who finally, after years of nagging, begging and other missives, finally gave up on the Forge World Thunderbolt pilot, a holy grail mini of mine. Sadly it is now forever ruined by my attempt at painting it, but it is miiiiiiiiiine at long last!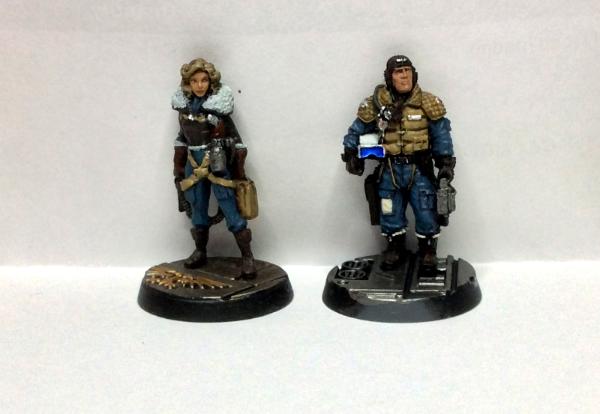 Flight Marshal Olivia Marion and Viktor "Duke" Kreuz
And a shot of the current Imperial Navy pilot group, in various states of readiness..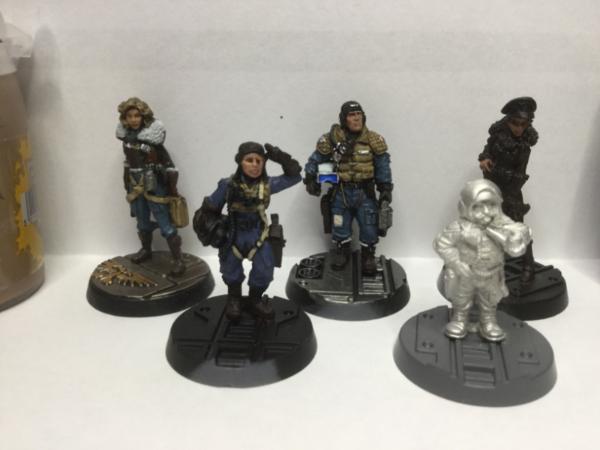 Back row: Flight Marshal Olivia Marion, Viktor "Duke" Kreuz and Wing Sergeant Pandora "Dagger" Gibson
Front: Emma "Chibi" Morelli and Grendl Thuddsen
For those curious, the two ladies in the back row are by
Bombshell Miniatures
, Tillie and Betty respectively. In the front row we've got
Victoria Lamb's
Adepticon exclusive pilot and
Hasslefree
's Grymn pilot. Due to the camera angle the two models in the front row look a whole lot bigger than they actually are. Grendly really is a dwarf compared to the others and Chibi herself has that nickname for a reason.

Plan with these guys and gals is to have the squadron members done before the actual game itself drops, but as always, that way lies hubris with me, so we'll see how that all turns out..

The second project is one for that most magical time of the year..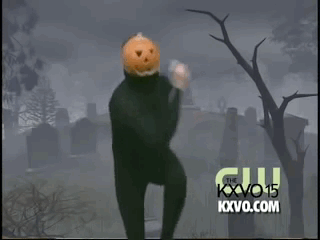 All I can say right now is that it's going to involve a lot of these guys..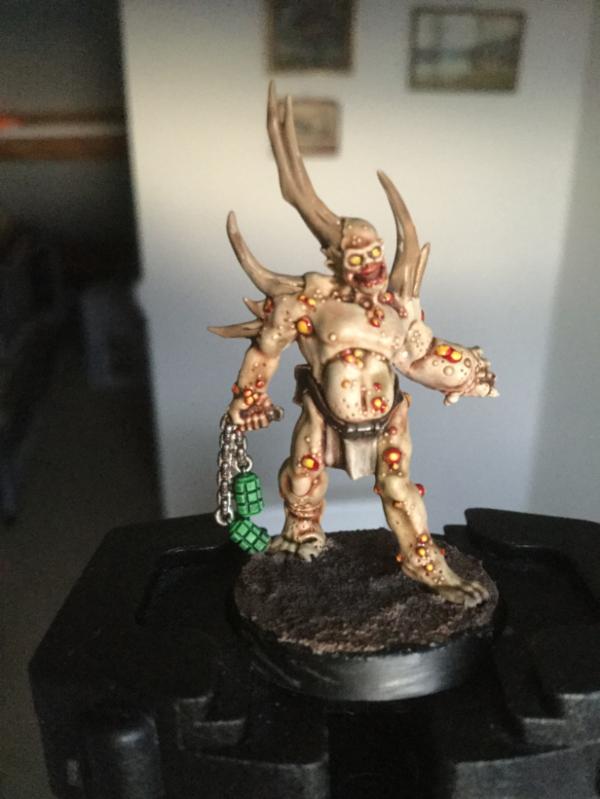 The awesomeness of the grenade flail never ceases to amaze or amuse me.
More on that later.
Thanks for reading!