@Malika2 I used OnShape, its a free online version of what is effectively Solidworks. Really decent program, I'm still not really using its full functionality but I'm getting good mileage out of it.
Automatically Appended Next Post:
3D print is done, this thing is very big on a standard marine! I may have a play later on at scaling it down a bit for use with early great crusade troops. Currently this would probably work well with a primaris marine instead of the bolt carbine.
Also, my photo-cure resin is translucent. This means my camera has a hell of a time trying to focus on it and its all around a bit of a sod to get a good picture of:
Scale pic next to Anvil industy notabolter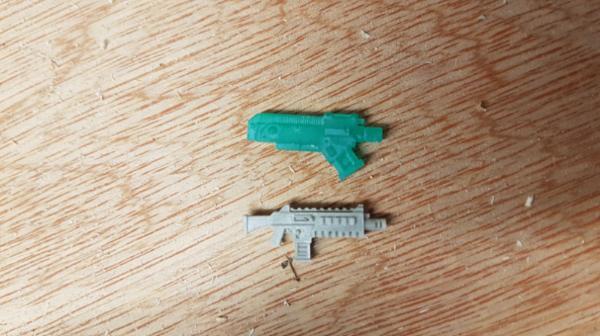 And on a set of Mk III armour, this thing really dwarfs a standard bolter, which is what I wanted. Should look good on a larger model.