Back at the turn of the century I was living in my own apartment and had a half decent looking home made 6ft x 4ft gaming table for
40k
, made from 3mm plyboard, with 25mm bead foam sheet on top, with a river carved out across the middle, some bridges across it, polystyrene tiles on top to denote the difference between roads and building plots and some foamcore ruined buildings.
It was inspired by
GW
's cityscape they did around the same time and showed off in White Dwarf.
Unfortunately I had to move out of my apartment back to my parents, then I moved into another apartment, moved out again and then finally (so far) moved back to my parents house. So for at leat 15 years myself and my regular gaming buddy have had no proper gaming board. We've been gaming on his 5ft x 3ft table, on a blank boring grey surface.
Until yesterday that is. He moved to his own apartment last Orktober and the other week I put together a 4ft x 4ft gaming board, using 2 4ft x 2ft (the metric equivalent of anyway) 6mm
MDF
sheets, and two of the "game mats" that come with the Know No Fear
40k
starter set. We have plans to expand to a 6ft x 4ft if we need/want to but need to work out how to fit a 3rd of those Know No Fear gaming mats to the existing two without permanently joining the
MDF
sheets.
As you can see below there is a gap around the edge of the
MDF
sheet, but the plan is to either paint that gap black or cover it with black duct tape...
Combined with my original "ruins" and my single Oldcromunda terrain set, it made for a much better looking board during yesterday's Oldcromunda game. Can't say it improved the quality of the game, it was a massacre, but at least it looked half decent.
It needs more terrain, preferably better looking, but it's better than playing on a boring grey, not wide enough surface.
Some quick photos I took (you can see my gaming buddy's table under the
MDF
sheets) -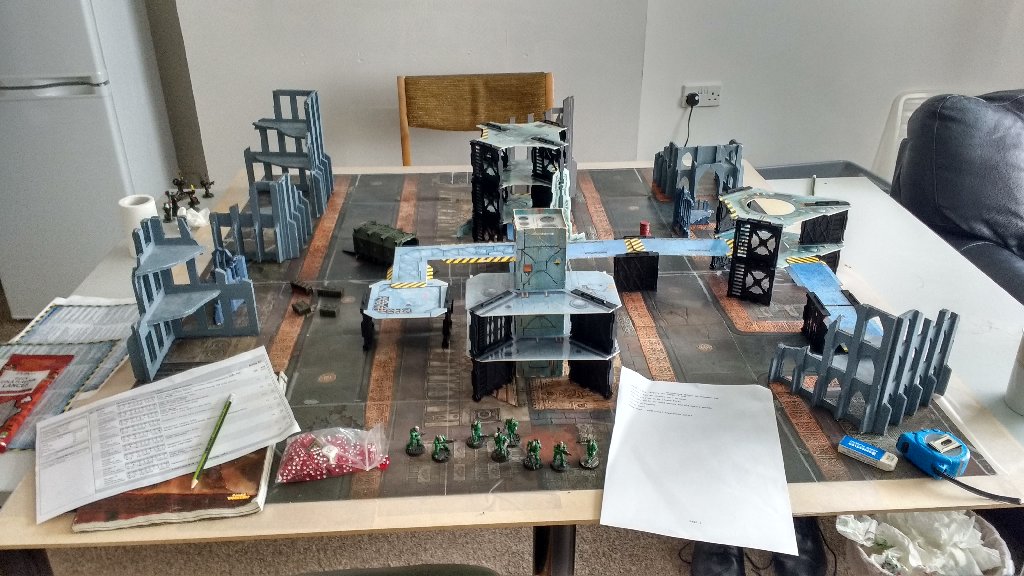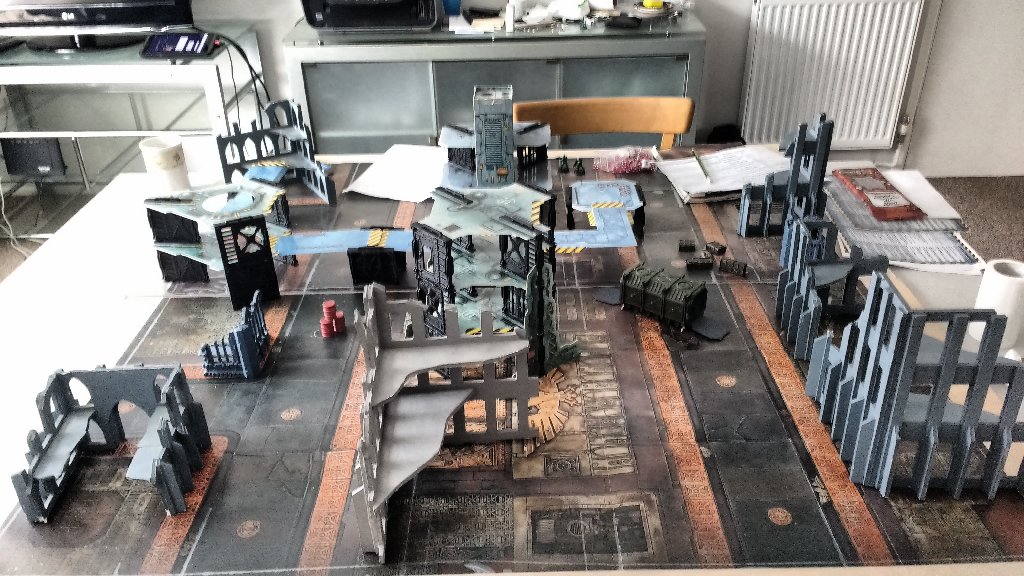 My Van Saar gang -