Hey everyone. My local games store does something pretty cool in that they buy used models and resell them. You can sell your models for 25% of their value and the stores resell them for 75% of the price. For months now there have been these two boxes full of old fantasy minis just laying around because nobody wanted them. I don't think anyone even knew they were for sale. I didn't play the old fantasy editions but a 9th age community has started up near me, and the rank and file stuff has always appealed to me. So 2 weeks ago, I wanted an adventure and so I took a risk and asked the owner if he would take $180 for both boxes. The owner was shocked that anyone would even want the models and so he accepted the deal. I also saw he had some empire stuff just laying around, and I had $200 in trade credit from a magic deck that I sold, so I just bought his Empire stuff with that credit. I got home and got to sorting. Here is what I got.....
(Chaos stuff)
1x Chaos Lord on horse
1x Chaos Lord on foot
1x Nurgle Chaos Sorceror
1x Tzeetch Chaos Sorceror
60x Chaos Warriors (The old ones)
45x Chaos Marauders
5x Chaos Marauder horseman
12x Chaos Knights (The old ones)
3x Juggernauts
7x Flesh Hounds
(Ork Stuff)
1x Warboss
1x Ork shaman
1x Banner ork
1xOrk Warboss with banner
1x Ork Warboss with sword
7x Ork Boar Boyz
40x Ork Boyz
15x Goblin Archers
40x Goblin spearmen
2x Trolls
2x Ork bolt throwers (Artillery)
1x Bizarre model where 2 goblins are throwing a goblin with a wrecking ball
(Elf stuff)
1x High Elf Wizard
35x Elf Spearmen
1x White lion chariot
7x Swordmasters of Hoeth
(And the Empire Stuff)
2x Warrior Priests (On foot) One was being stripped when I took the photo
1x Warrior Priest mounted
1x Prince mounted (not pictured)
15x Reiksguard Knights
5x Pistoleers
10x Halberdiers
10x Spearmen
10x State troopers
10x Crossbowman
10x Greatswordsman
10x Handgunners
2x Big Banners
1x Cannon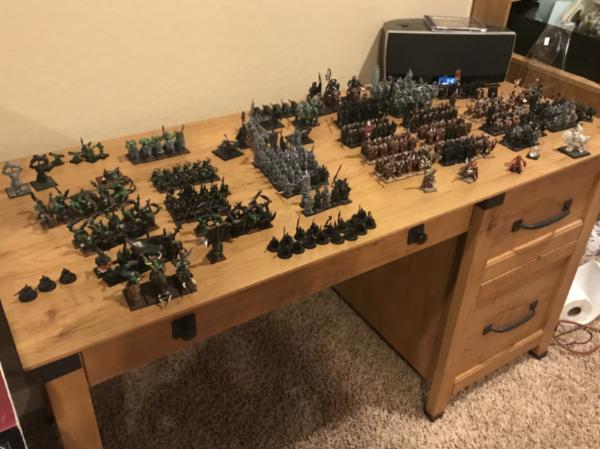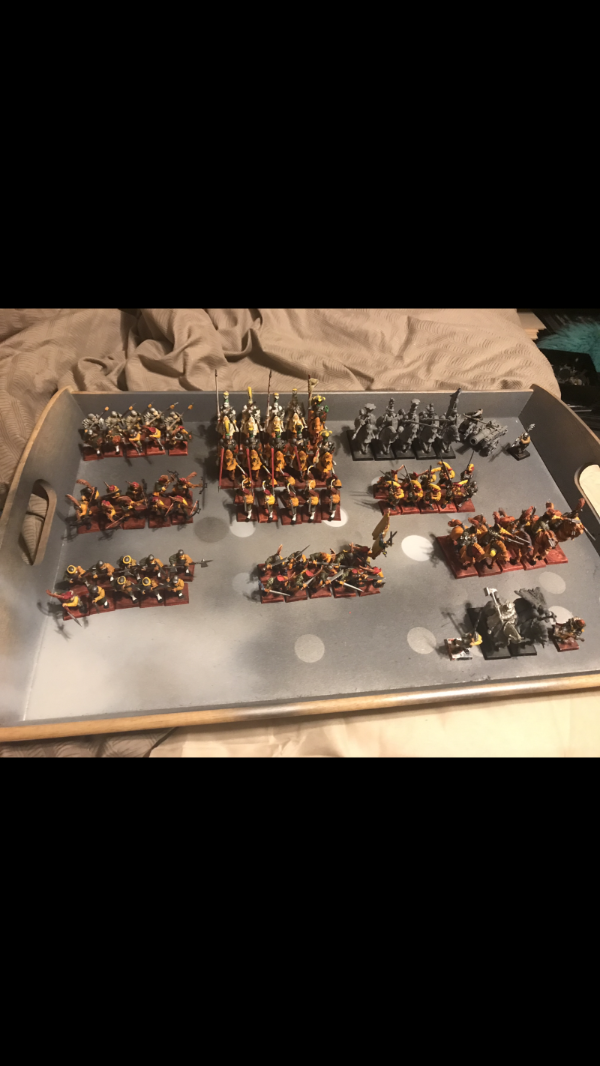 _____________________________________________________________
Sorting through the models was honestly like Christmas day. I think I got a good deal on the stuff, but I still am unsure.
This is a big project to take on and is further complicated by the unfortunate fact that the Empire models are not painted all too well. They have this green and yellow color to them that comes off quickly when I strip them. I think whoever painted these used some proto-Contrast paint method by priming the models white and then using inks or washes over the areas they painted. Strangely, on some of the models, the simple green removed the primer, and so I primed them white again. As for the other models, the chaos models are very well painted in a Khorne color scheme. But only about 30 of the warriors are painted along with 15 marauders. The Orks are a bit of a mess, but they can be fixed just like the Empire models. I'll post pictures of both of those armies more close up when I get to work on them.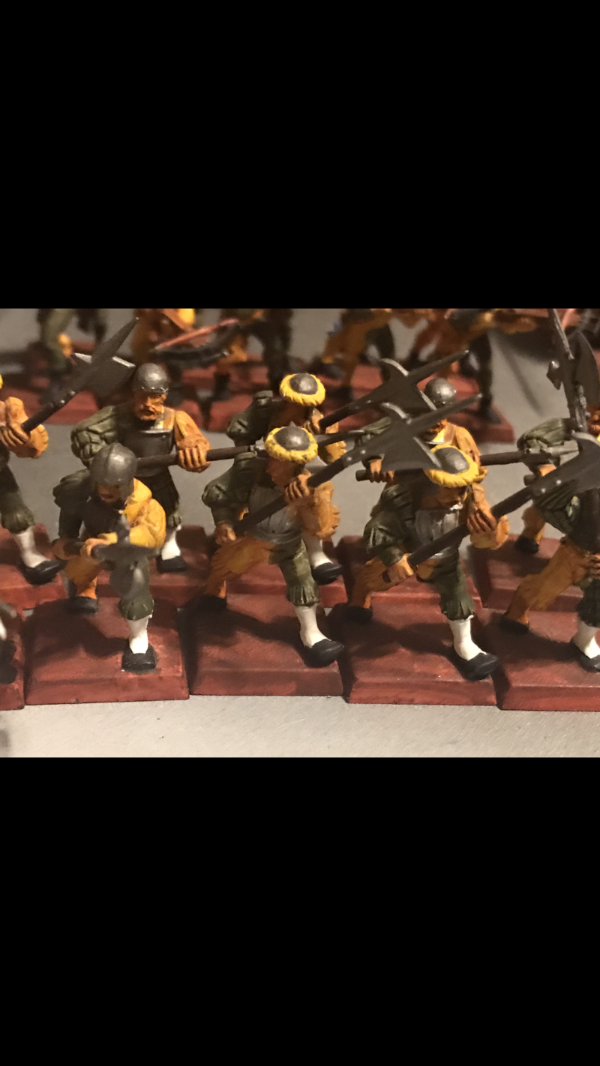 I started off working on the Empire models, as there isn't that many of them. I started with the halberdiers. I stripped them using my ultrasonic cleaner and reprimed them white because as previously mentioned, much of the primer stripped off. I wanted to go with a different color scheme as the green and yellow really wasn't doing it for me. So I found this book about the heraldry of the Empire and the Altdorf scheme just looked awesome. It's also simple to paint, I have painted Ultramarine-like stuff, Blood Angels and Grey Knights, it's really just painting all three of those schemes on one model. Some types of models are split between red and blue right down the middle, others have this diagonal pattern going on, and so I used the right one for the halberdiers. I'm not the type of guy to paint all the different markings from the Codex Astartes and ultra lore details on my models, but this gives variety to each of the units.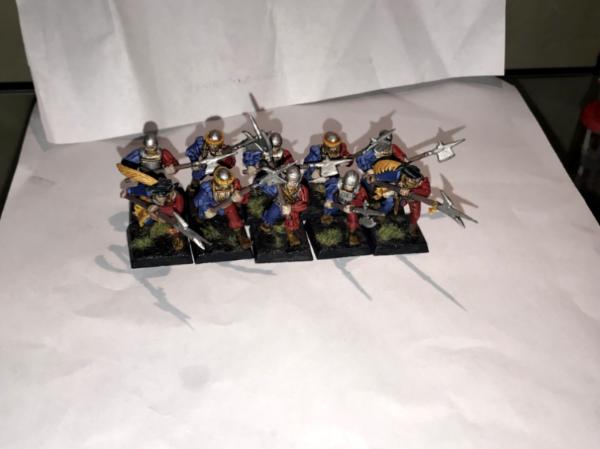 I'm not the best painter, but I think the Halbediers look better than they did before. I think my edge highlights may be too thick and I still have to work on how I paint skin, but for my standards, I think they came out fine. I just got that new Army Painter wet pallete so that might help a bit.