Hey there!

I'm back with some more new stuff!

Today, I want to show you some more detailed images of all the minis I have painted for this game so far. Let's start out with the North. First, we have the Combat Group Leader (CGL), a Headhunter: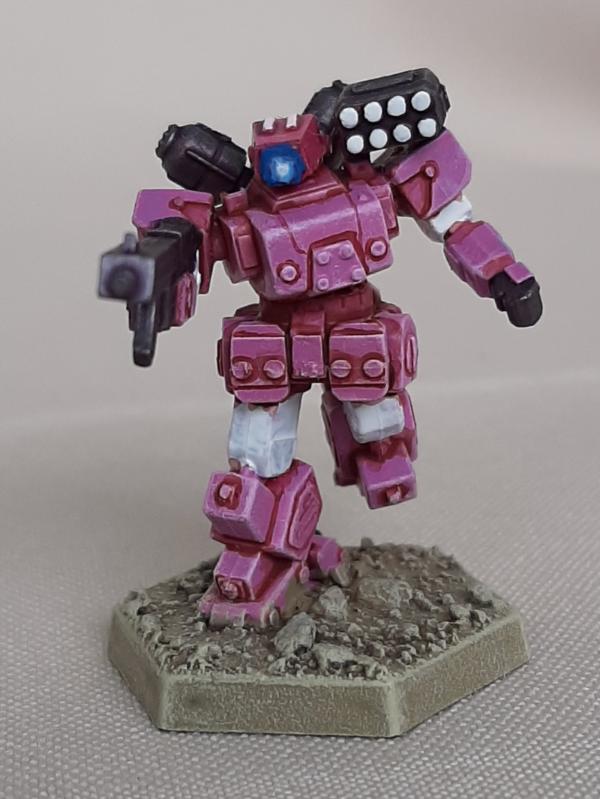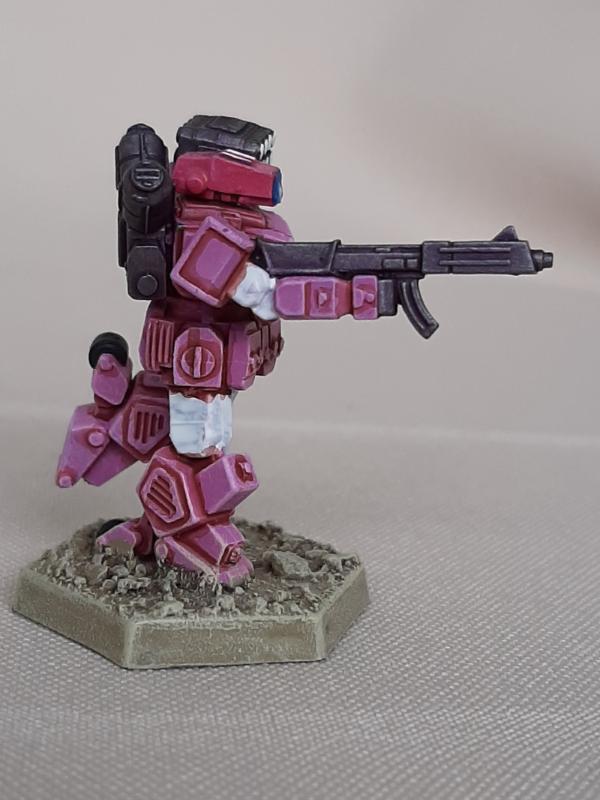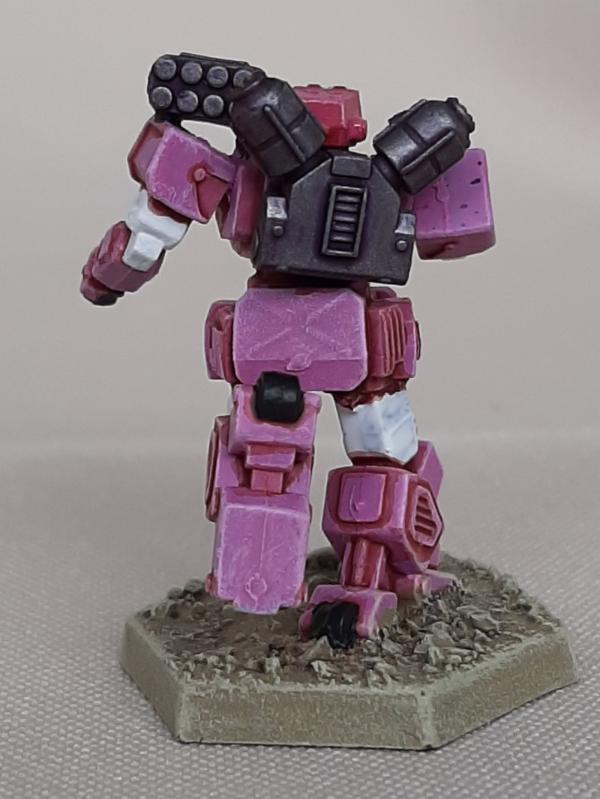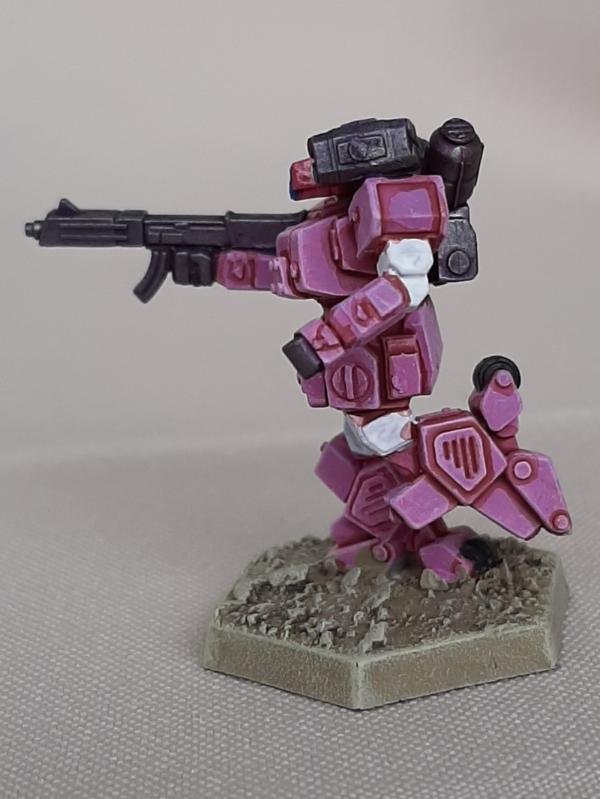 Next, an Assault Hunter armed with a Light Snub Cannon. The LSC is a high powered but short ranged weapon which is especially useful for damaging fortifications, but it is also quite dangerous for other gears: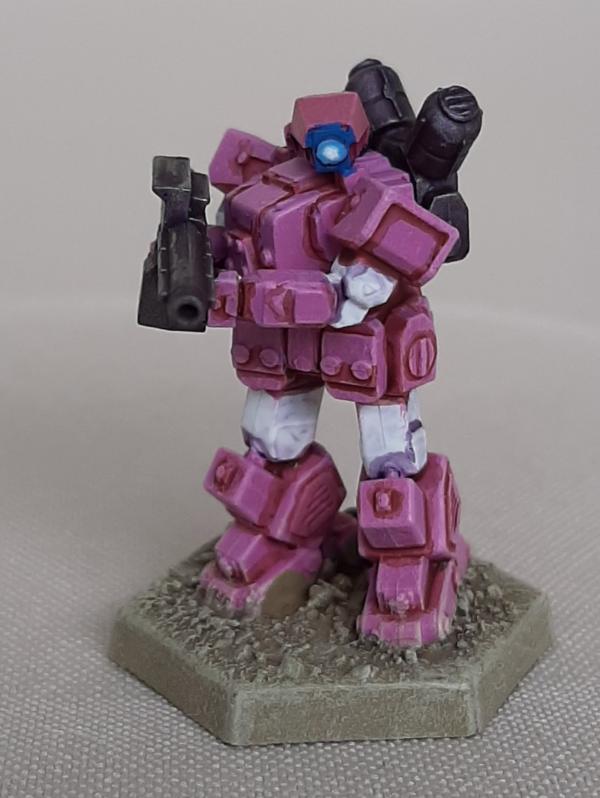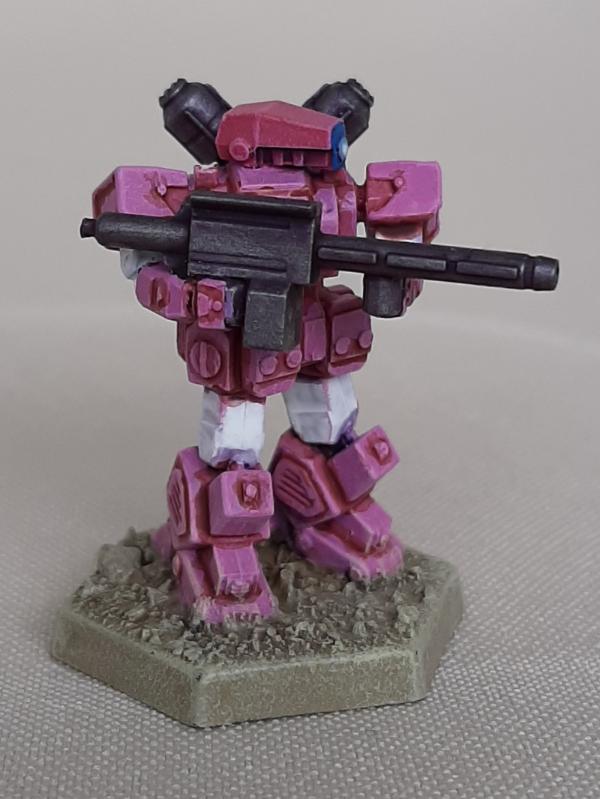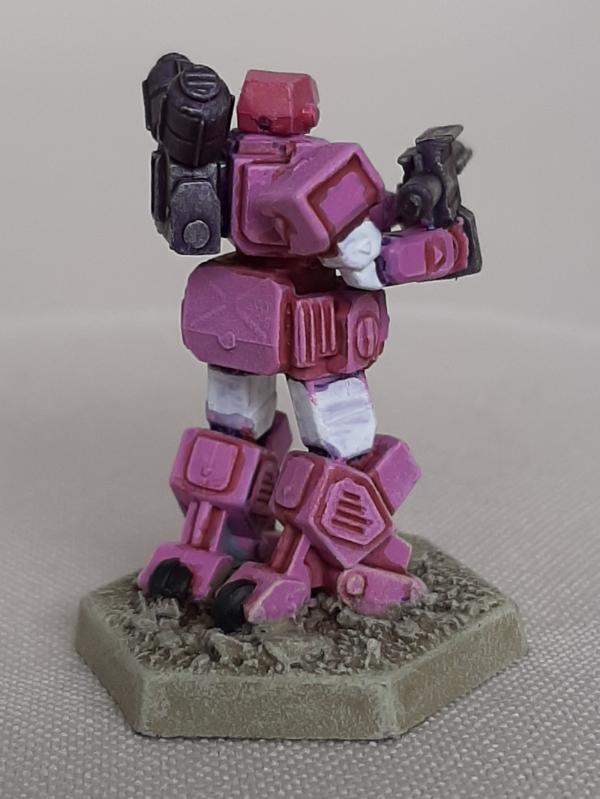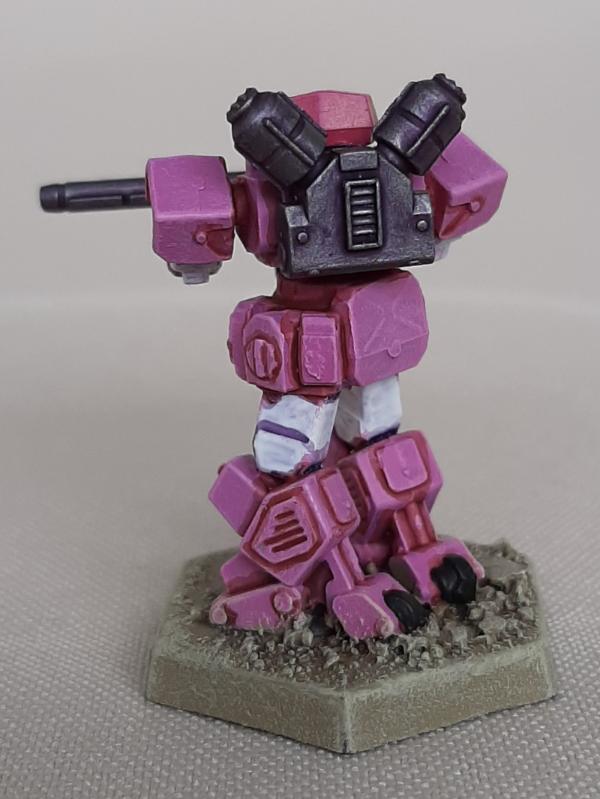 Next on the list, we have a Hunter UC, a gear armed with a Medium Frag Cannon. The MFC is pretty much a gear-sized Shotgun capable of firing either a solid, armor-piercing slug, or a Frag shot that grants a bonus to hit and is devastating versus squads of infantry.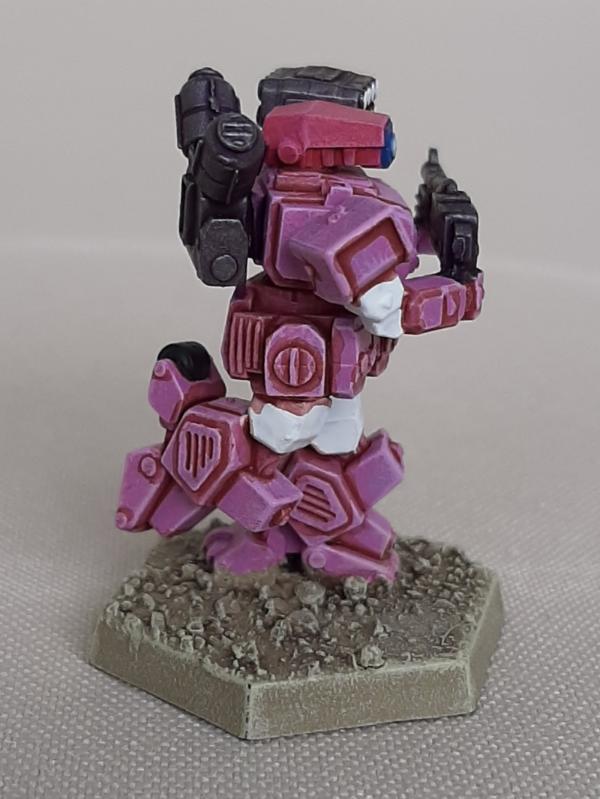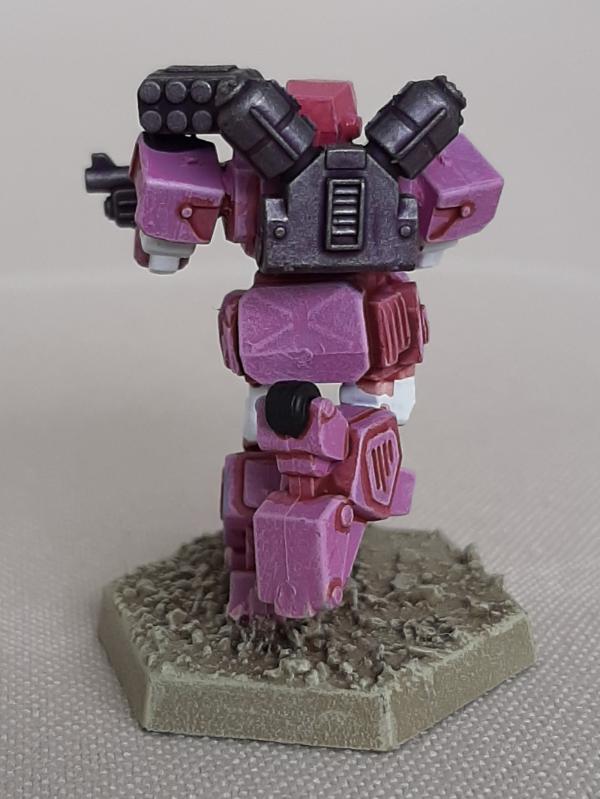 Finally, a regular stock Hunter equipped with a light autocannon and the usual light rocket pack: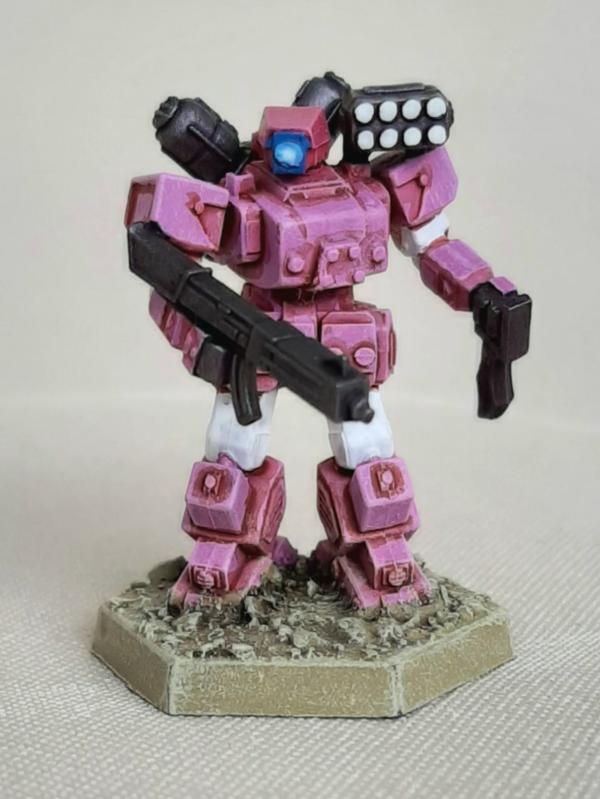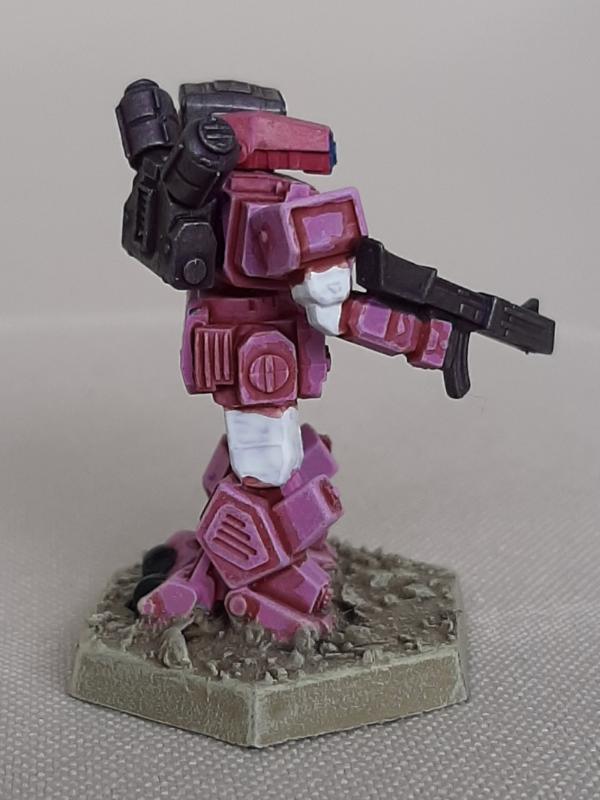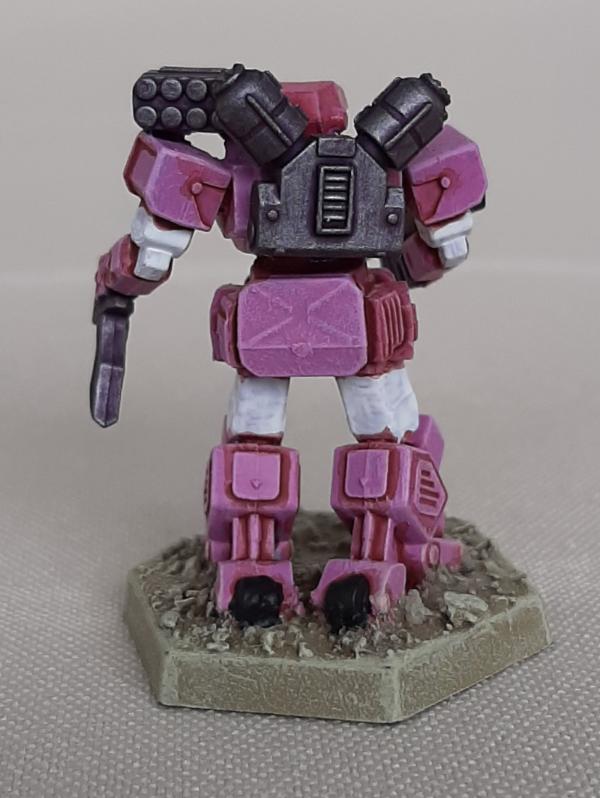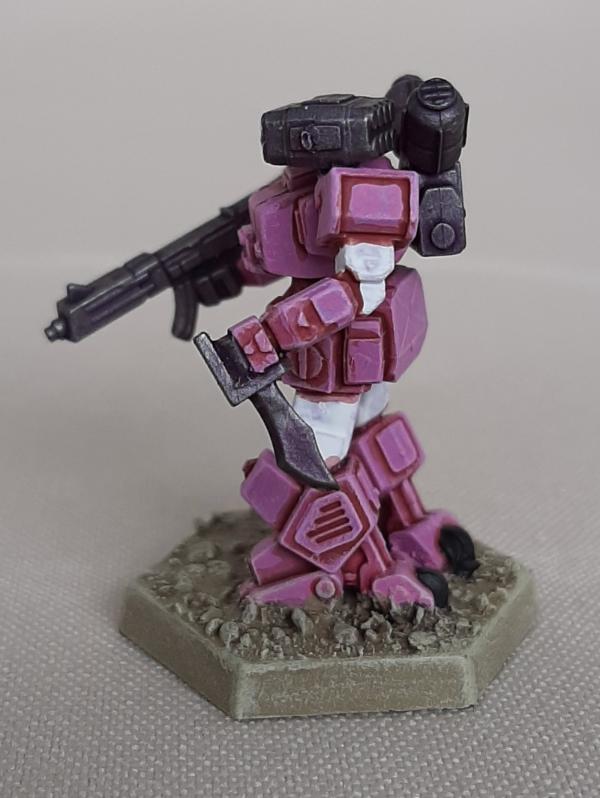 Finally, a group shot:
And that's it for the North. Now, let's move on to my force of Southerners. First, lets take a look at the CGL, a Command Jäger equipped with a light rocket pack and a light assault cannon: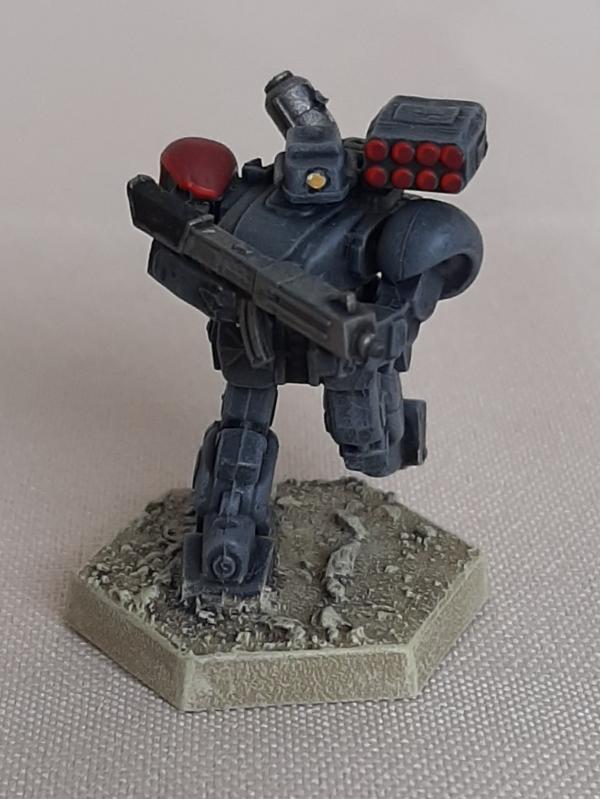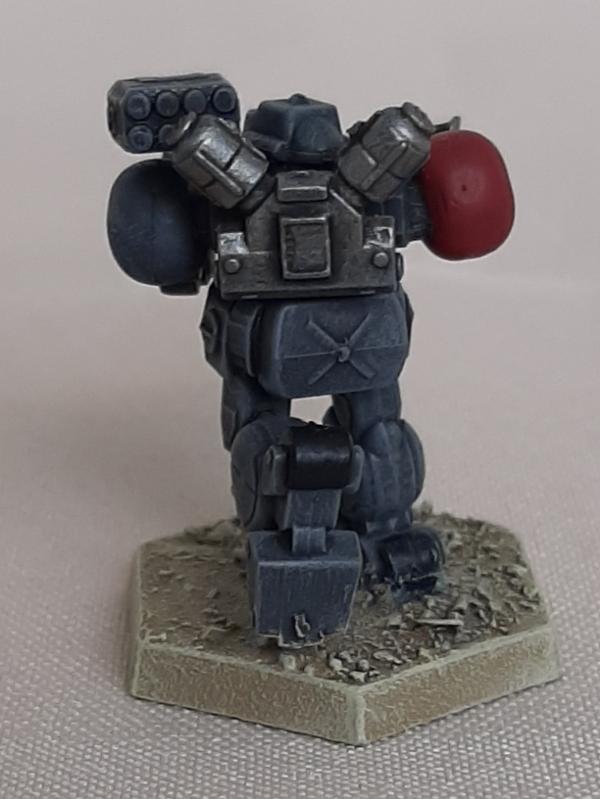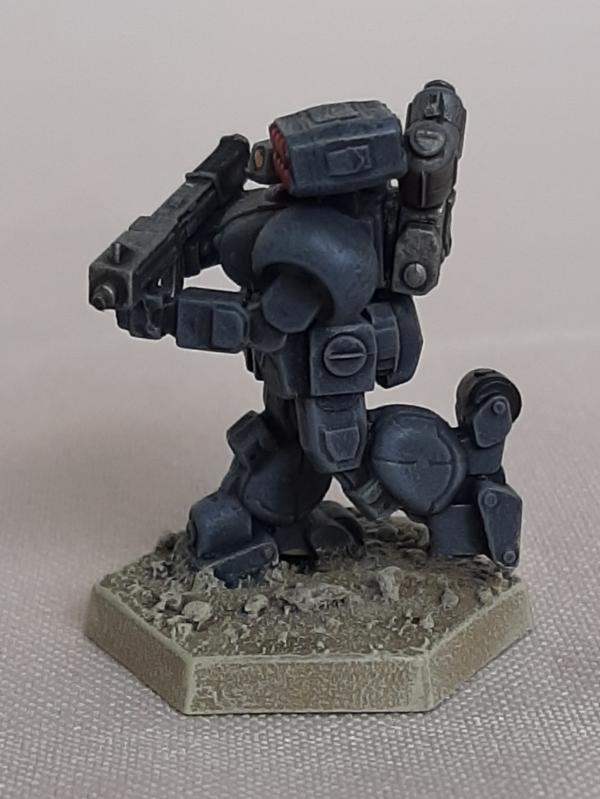 Next, a Striking Jäger who replaces the LAC with a light Bazooka for a little extra punch: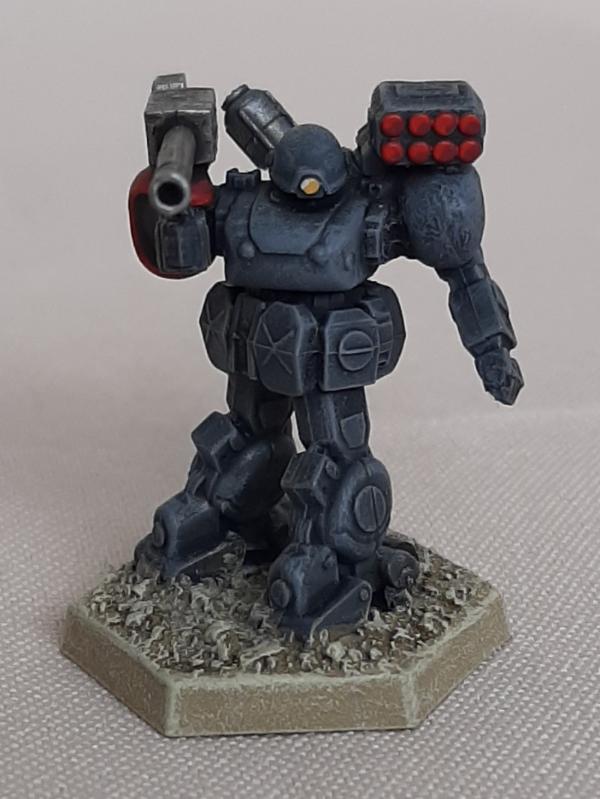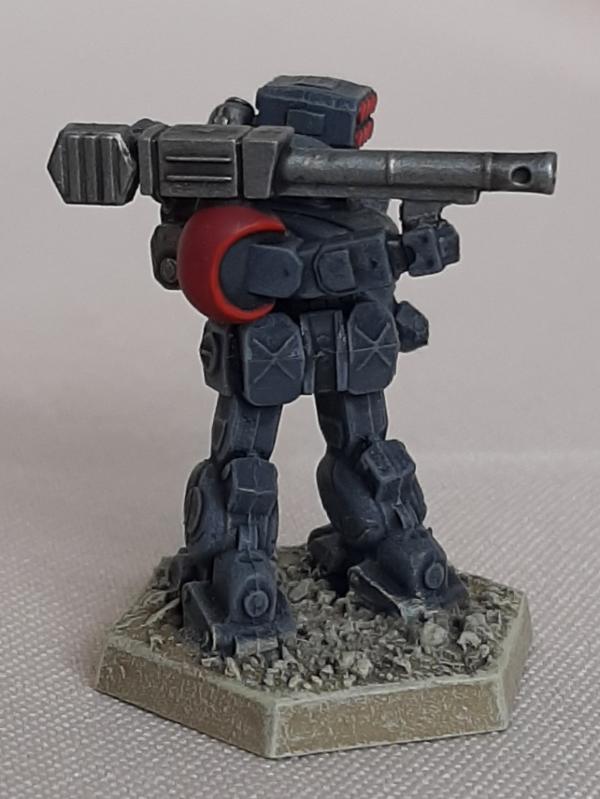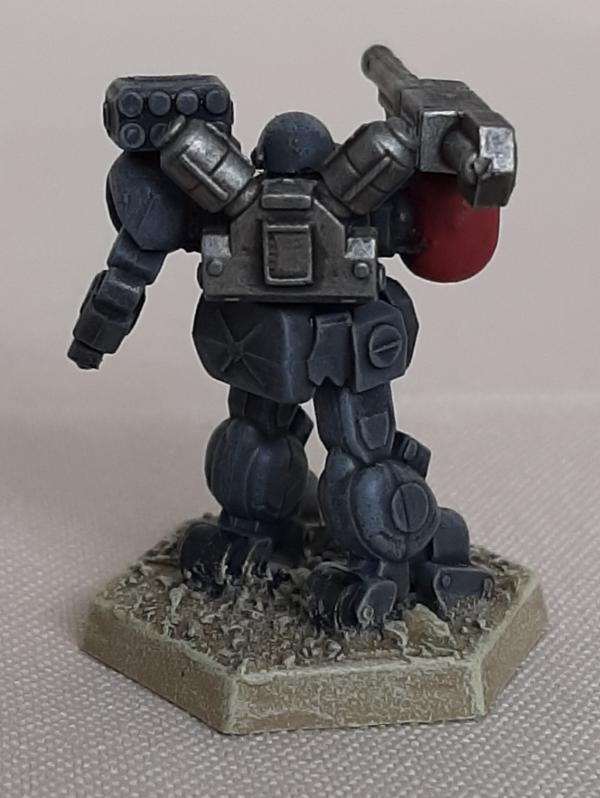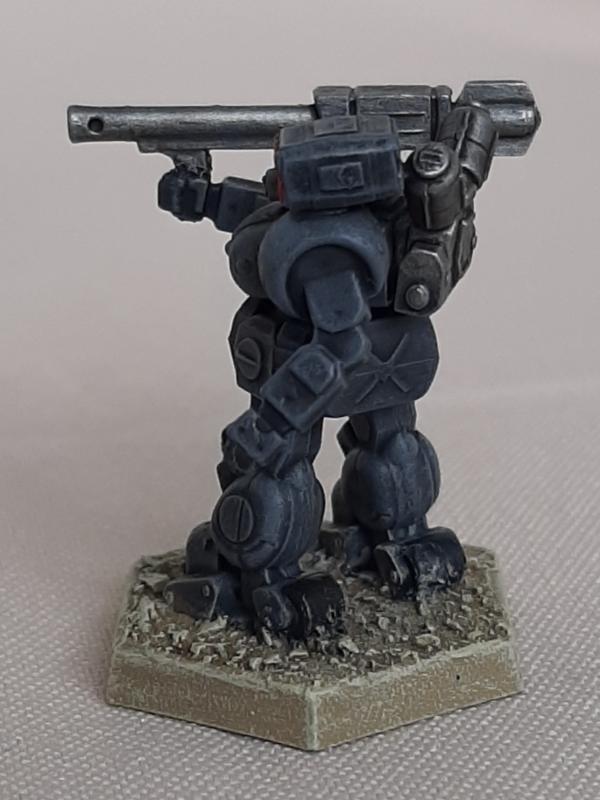 Next up are two stock Jägers with LACs and LRPs: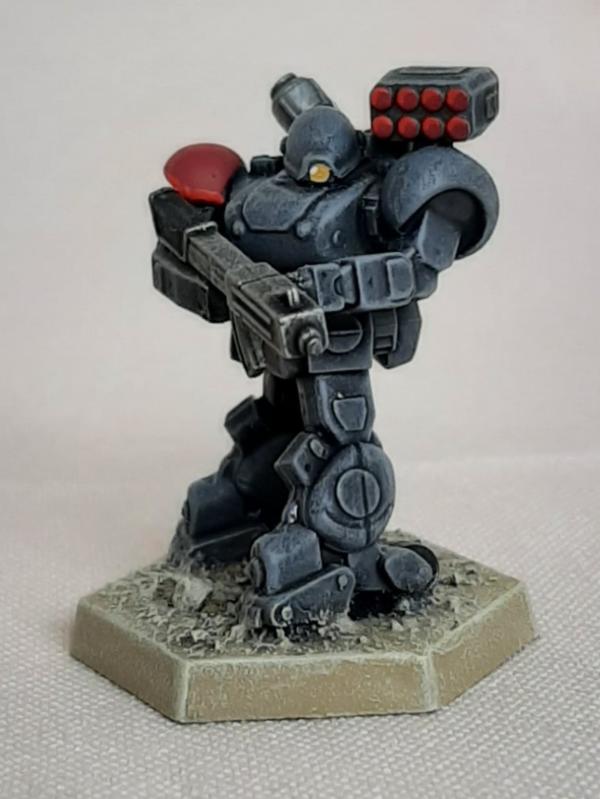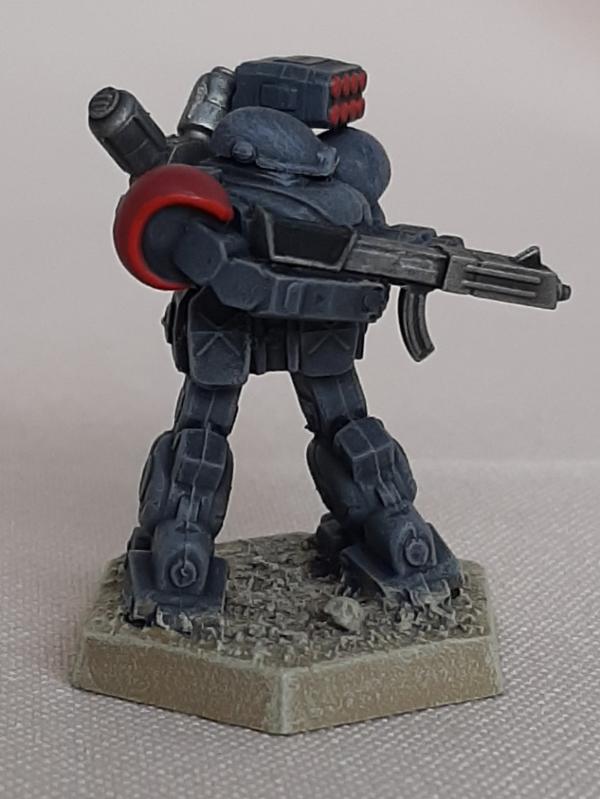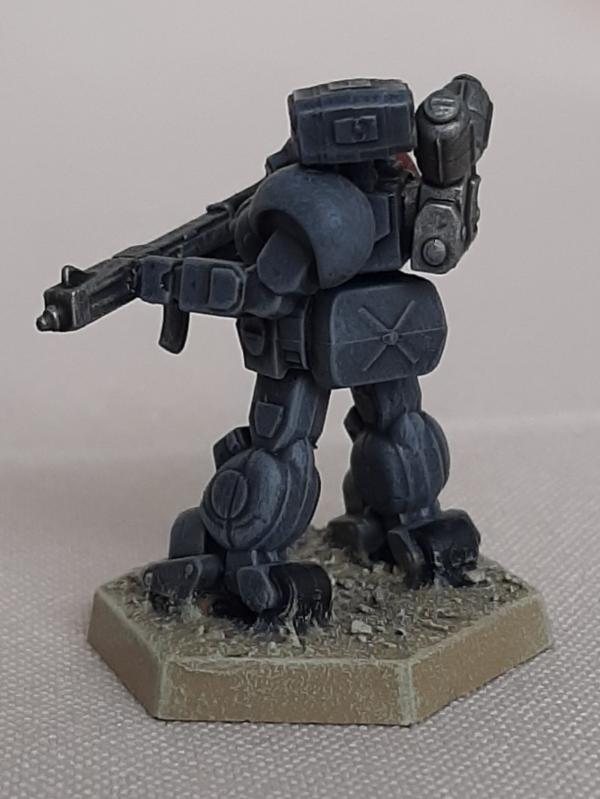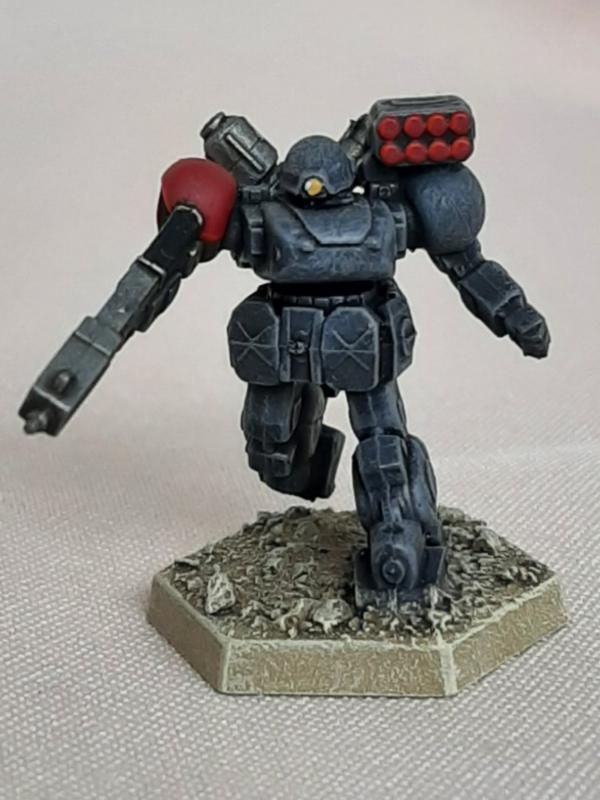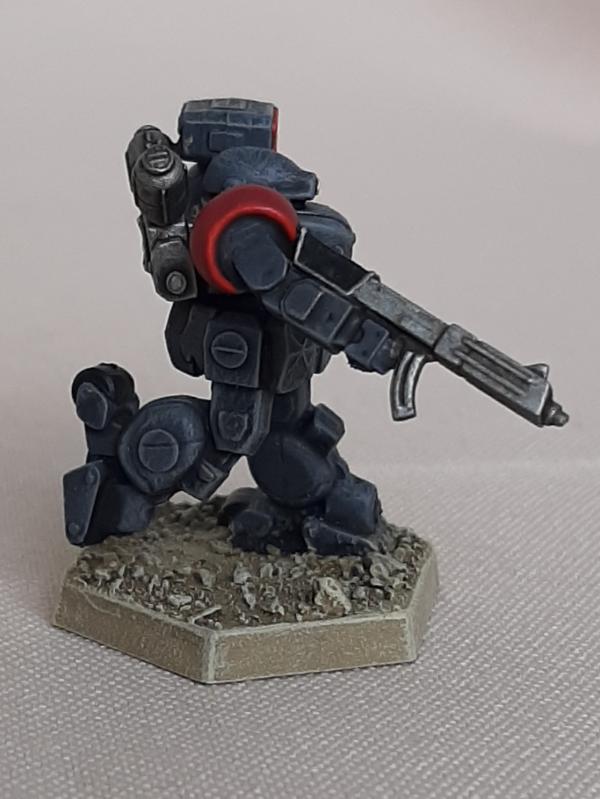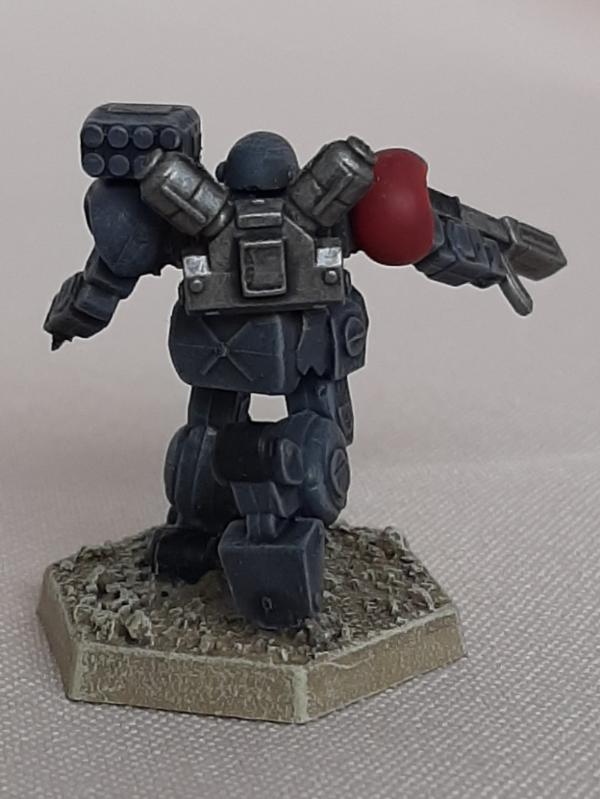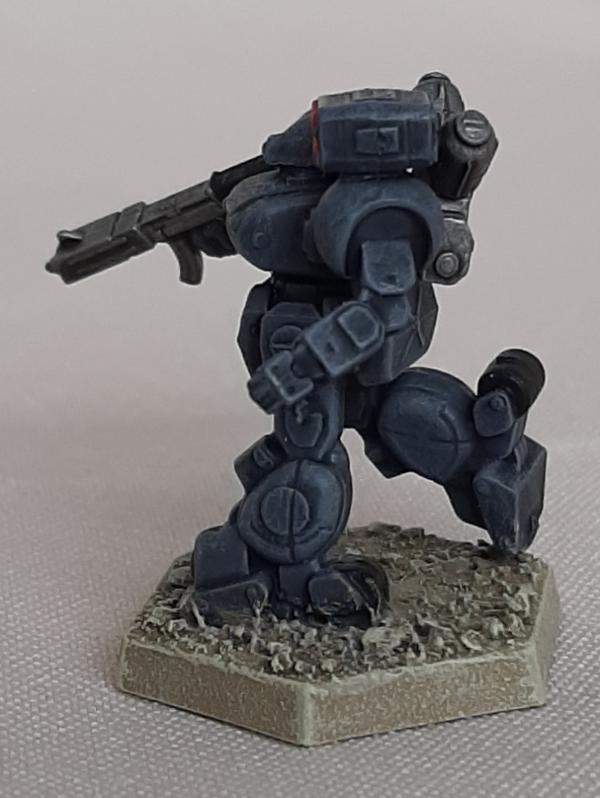 And finally, another group shot: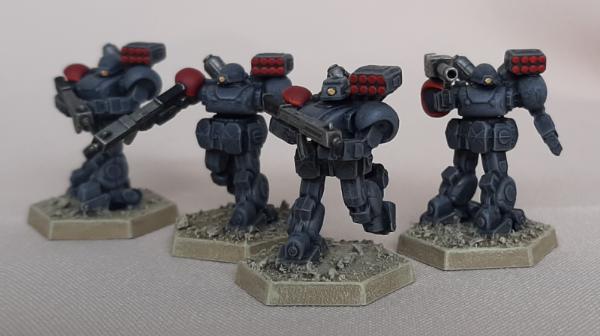 And that's all of the minis for the GP squads so far. However, since my last post, I've assembled some more gears to expand our squads for the next game. I decided to use the more accurate rules from the 3rd edition rulebook to build two 50 TV lists this time. When creating the list, I made sure to incorporate the finished models so we could keep using those, while pushing the army lists to 50 TV just with the new models. Now, unfortunately, I'm by no means experienced in list building, much less so for the game HGB, so if any of you can spot any mistakes I made, I would highly appreciate if you could let me know

To round out Anna's group of Northerners, I let her pick the loadouts she wanted to get to 50 TV. She picked a stock Jaguar and an Assault Jaguar. She really seems to like these Snub Cannons the North can have

These are the models I built for her:
Stock Jaguar: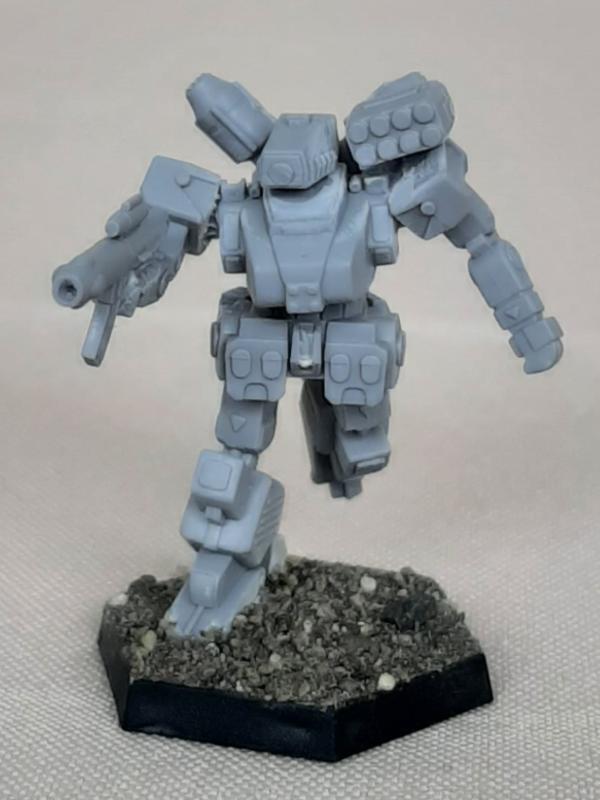 Assault Jaguar with Medium Snub Cannon:
Now, concerning the Army list, here's Anna's Northern Force:
Combat Squad (Primary role: GP, Secondary Role: Strike)
- Headhunter (CGL) 7 TV
- Assault Hunter + MHG 7 TV
- Hunter UC 6 TV
- Hunter 6 TV
- Assault Jaguar + MHG 11 TV
- Jaguar 11 TV
As you can see, I bought a standard upgrade of two medium hand grenades for 2 TV to bring the force to 50 TV exactly.
Next, let's take a look at my expanded list of Southerners. I picked these two models:
Black Mamba: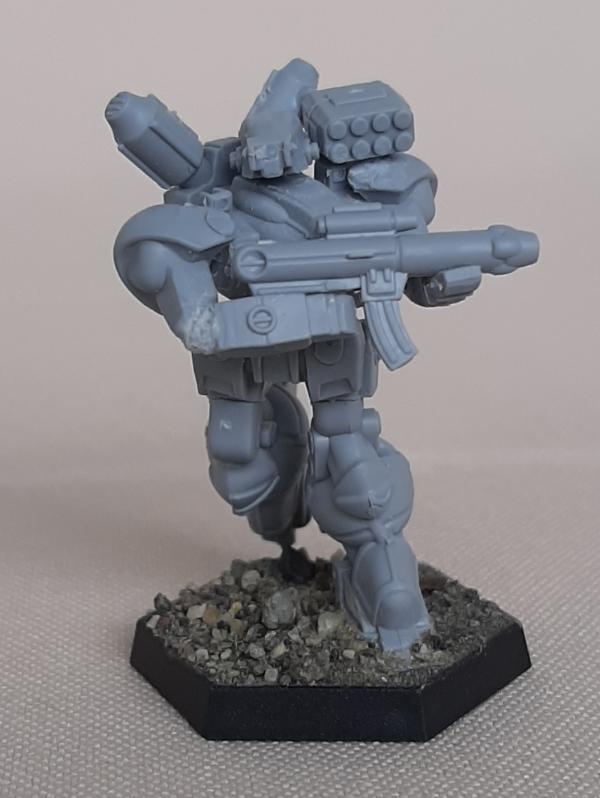 Long Fang Black Mamba with two linked Medium Rocket Packs: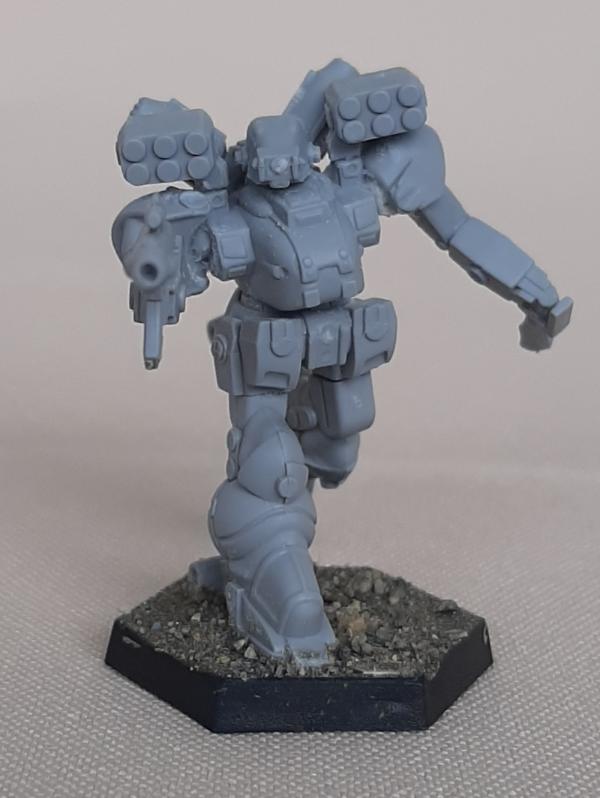 And here's my army list:
Combat Squad (Primary role: GP, Secondary Role: Strike)
- Command Jäger (CGL) + Smoke 7 TV
- Striking Jäger 6 TV
- Jäger + LSMG 6 TV
- Jäger + LSMG 6 TV
- Black Mamba 11 TV
- Long Fang Black Mamba 12 TV
For this list, I bought a set of two Light Submachine Gun Sidearms for 1 TV, which I gave to my two stock Jägers. I also bought the "Smoke" upgrade for my CGL for another 1 TV to bring the force to 50 TV, once again.
And that's all I have to show you for now. I hope you enjoyed this update and I'd love to hear your thought and opinions on what I have done so far. Any input on the list building would also be highly appreciated, as I mentioned before. Thanks for checking this out, stay tuned for more! Until next time