Ok, let's see if we cannot bring this thread back from the grave.
First up, I'm not dead or out of the hobby. I just started painting again here a few months back after 6 months out, due to various circumstances. But to go back to the start; Why did I stop posting here on Heresy-Online and why am I suddenly posting here again.
The short version is that I reached a point in my hobby life, where I didn't enjoy painting. I felt like I didn't get the results I wanted, that I spent way too long on techniques with a sub-optimal result and in general that I felt a bit... lost. I was looking at my miniatures but I didn't "feel" them anymore. I sat with the feelint that I was painting more to the standards that I was seeing everywhere, but not a style or a standard that catered to me and my own artistic flare.
Simply put, I didn't like what I was doing.
So I took a step back for a month or so, and started thinking about what I wanted to do. Not what was expected of the miniatures that I painted, but what really appealed to me. I have always been drawn to the darkness in terms of style, be it movies, music or art - In particular that of the author Clive Barker (Hellraiser, Candyman, etc.). So I decided to completely reboot my painting style and my entire collection. From scratch.
I did a lot of research and talked to a lot of artists to get inspiration. I got to learn some amazing talents and even made some friends along the way, that I am now sharing tips and tricks with; people like ThirdEyeNuke, Zatcaskagoon and Egregoure. After spending months on
de
-learning my old techniques and taking on new techniques, I went to work on my entire collection (roughly 11.000 points of Chaos Marines and 10.000 points of Daemons) with a new style, new bases and a new flare for painting.
I loved it. I was feeling the creativity flow. It was faster, it was way more fun and the results I got was completely up my alley. The Erebous a few posts up was one of the first I did in the new style and he took me 1/3 of the time that my old techniques did.
After a while, I created a
Facebookpage
and an
Instagrampage
. I didn't wish to make any sort of commission work, but I used it to find a audience similar to this forum; A group of people to share my progress with and to build a small community around. It's going decently well (around 500 likes on Facebook and 530'ish on Instagram), so I thought about returning here - My place of origin, where I posted tutorials and participated in painting competitions, when I was learning the ropes.
So here I am, back from a longer personal journey and happier in my hobby life than ever. I have some really fun projects to show you all in the coming weeks and months, but I can start off with this little bad boy: A Word Bearer Renegade Knight, that has been my biggest custom job to date: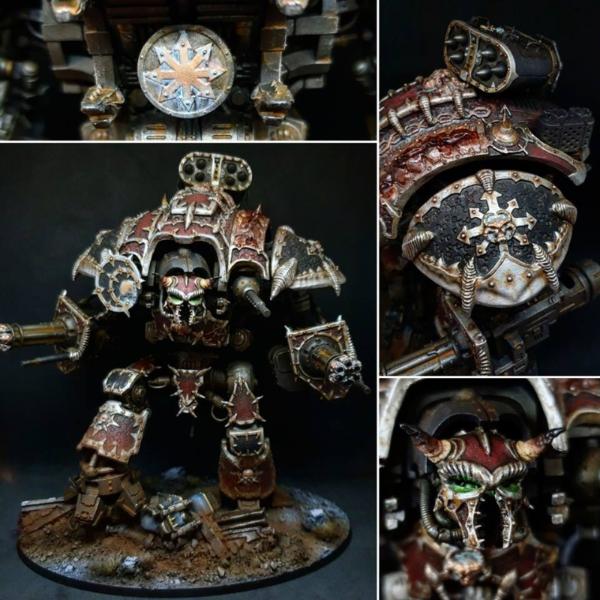 And with that, I bid you adieu for tonight. I will do my best to write a hell of a lot more often than I have, and be active again. Now that I have the passion back and some new models to show you (and new tutorials if you want them) it's time to get back to the old forums.
I'll see you all soon!