Meer_Cat wrote:This last picture is from a catalog, right? Nobody's painting area is this neat, clean and devoid of bits, right?

More seriously, well done all around. I may look into some nail polish storage trays myself- stillhaven't found a good way to fit everything I'd lie ready access to on my work space.
Haha, I cleaned it just for the picture

The trays are surprisingly useful. They fit Citadel and Vallejo sized paints well. The downside is, that they are not very customizable.
Syro_ wrote:Nice stuff all around Ezki, both the progress on the models and the new set-up is nice to see.
Thank you Syro!
youwashock wrote:Great stuff all around. Tentacly rides will look very cool. Release the Kraken and all that. Incubi kit bashes also look sweet.
Thank you youwashock!
gobert wrote:The tentacles on the boat are have a freakish vibe to them, kinda creeped me out! The kitbashed succubi turned out great, looking forward to seeing them join the army. The objective markers are simple and effective, the different runes ought to help identify which is which too.
Thank you gobert! They are creeping me out as well, so success?
Viterbi wrote:Great new hobby area, enjoy it, while it still looks like this

Love the idea of using the leftover bits as markers, they look great that way. And the tentacles coming out of the barge look ace!
Thanks Viterbi! Cheap objective markers are the best.
Also:
The hobby area does not look that clean anymore

Been jumping from one project to another once more.
It's been around 30 degrees celsius (or 86 fahrenheit) for the last two weeks. It's hard to focus on painting. Even the small
AC
unit is really struggling.
And it's saying something in country where midsummer snow / sleet is not totally unheard of.
I did finish painting the rocky terrain pieces and the Incubi though. I would have not finished the Incubi in a while, but I wanted to submit them to the painting competition.
Nothing too fancy. A ton of edge highlights though.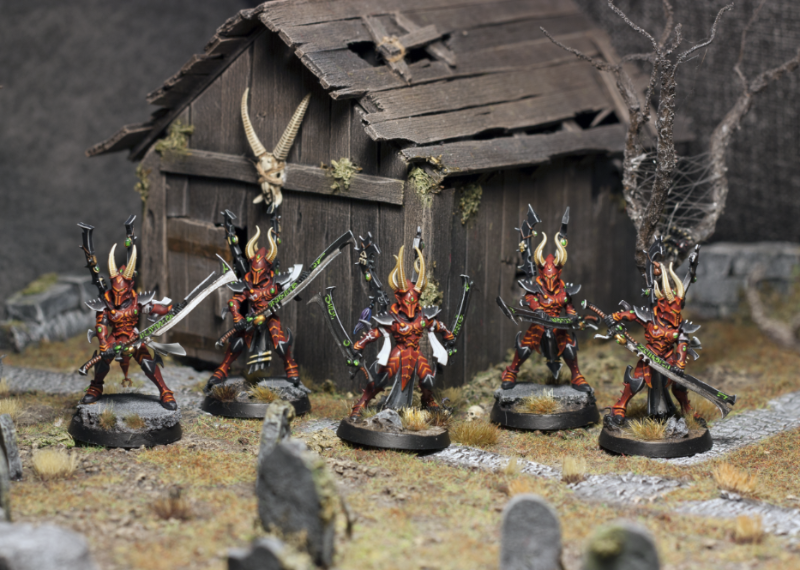 The rocky terrain pieces. I added some grass and tea leaf moss to make them look a bit overgrown.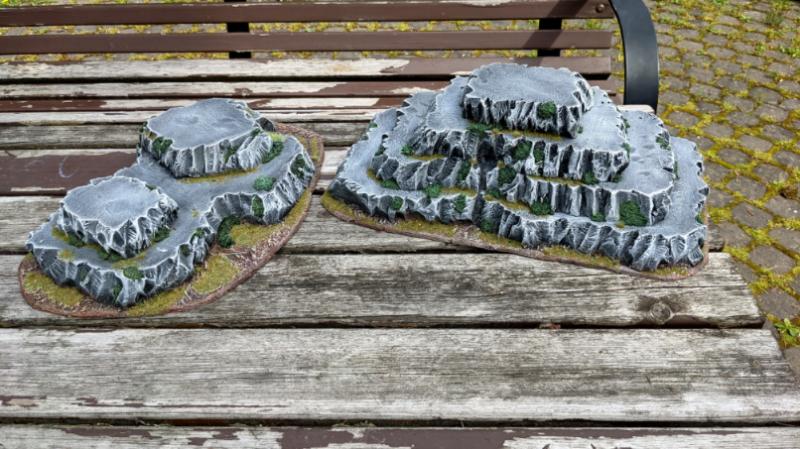 I also played around with the Greenstuff World UV resin water effects. I did not dye it for this experiment, so it's not very visible. The volume is also too high: I should have used a lot less of the stuff.
Need to experiment a lot more.

I think I'm going to jump into making terrain / build some conversions over the summer. Maybe paint a model or two, but during the summer time I'm more into building and creating new stuff rather than trying to get models done into the tabletop. My inspiration might shift though.
I finally got around ordering an airbrush!
...But it did not go quite as planned. I wanted to go with the Badger 105 for terrain priming, but the ones with lower prices will not ship to Finland.
I also looked at the Iwata
HP
-
CS
, but decided against it for now. I'm quite sure I'm going to buy that one later, but currently the only place where I can paint with an airbrush is at the garage.
That is no place to do detail work, but it's suitable enough to paint terrain. So for that purpose, I think that would be a bit too delicate model.
For now, I went with a dirt cheap airbrush that comes with the compressor. It might be really bad, but at least I get to practice a bit while I'm trying to decide which one to actually buy.
It should arrive in a week or so.
Thanks for reading!