I played the second mission of Frostgrave's Dark Alchemy today.
Here is the initial setup, my wizard was able to successfully summon an animal companion between boards (I think this is allowed, I gave her a single chance to cast it). Except for the demon, all the members of the party not in the first mission are taking part in this one. The wizard's apprentice the well dressed pig, a treasure hunter, and the new bear.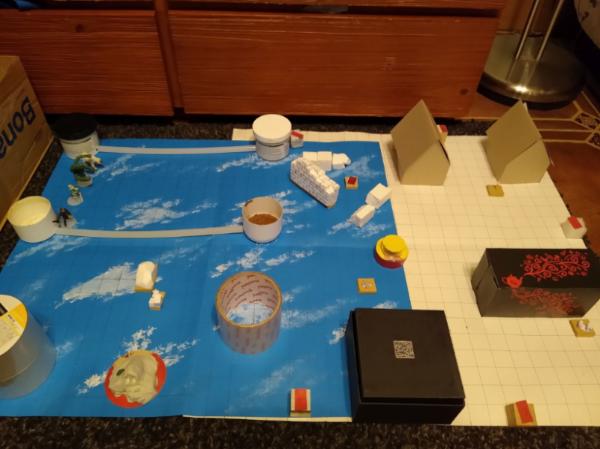 The burning skeletons spawned, one ran right toward the party to fight. The rest could not see the group and patrolled according to the special rules.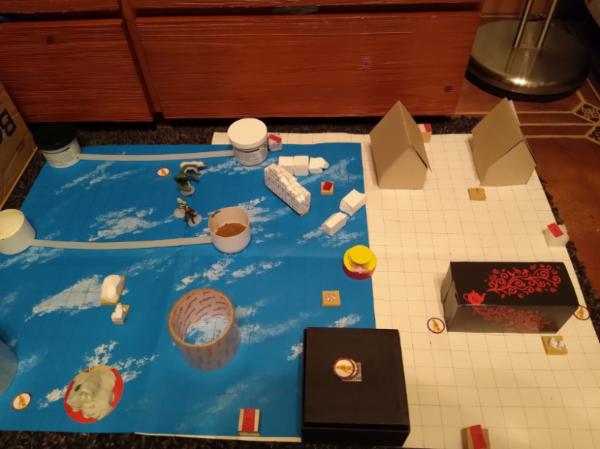 I really like using the assist action to give a +2 two the other team member's attack. So this double team gave the demon a +5 to attack against the burning skeleton. The apprentice and treasure hunter continued to move forward toward the exit.
Each turn an additional burning skeleton would spawn, and they were mostly all spawning in the same location making a swarm near the exit.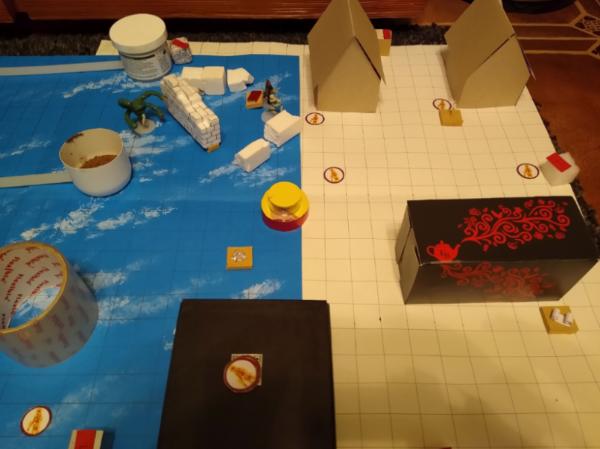 The treasure hunter grabbed a treasure and ran along the back edge of the board while the rest engaged the enemies.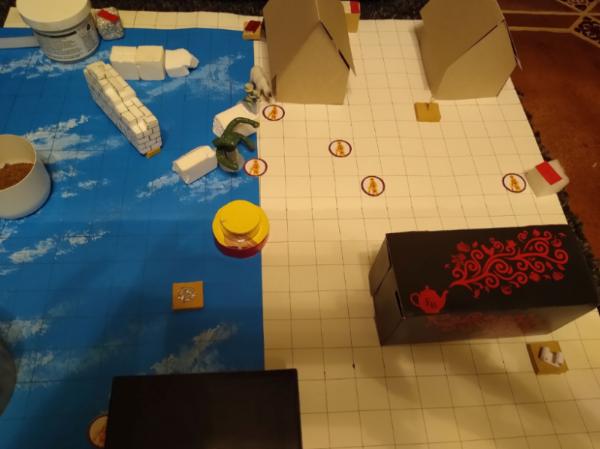 The apprentice and bear won the fight but not enough to hurt the skeleton, so they knocked it back and ran for it after the treasure hunter.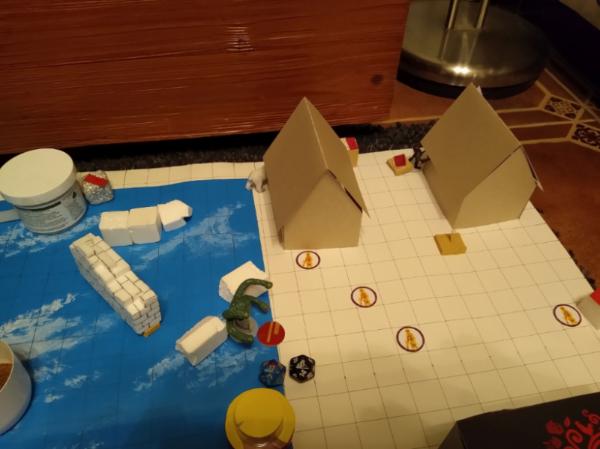 The demon began to be surrounded and took major damage (especially from the skeleton's +2 damage rule) but fought on.
The skeletons won the initiative for the first time this game and attacked the bear and continued their attack on the demon. On my turn, both the bear and demon defeated the skeletons they were fighting. My treasure hunter made it off the board with treasure.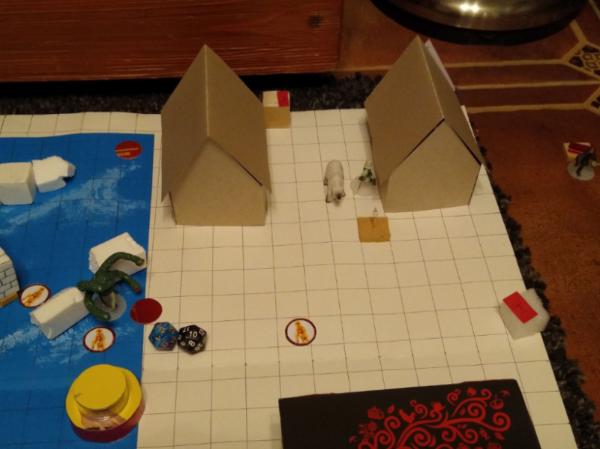 I was very lucky that the bear has a +2 attack to the skeleton's +1. They both rolled 20s for their attacks. That would have been major damage if I lost.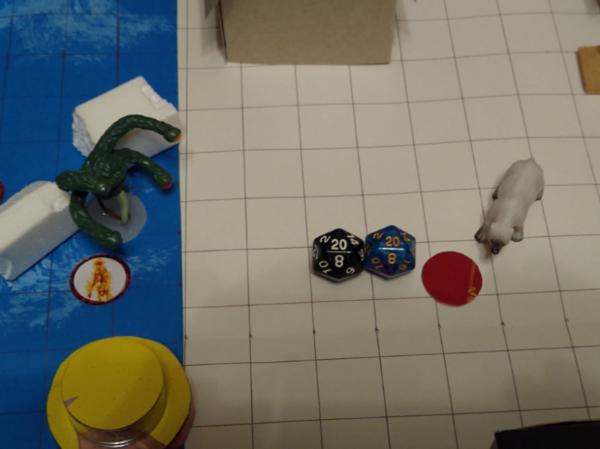 The demon defeated the last burning skeleton that reached it and moved to catch up with the bear. They continued to be chased by skeletons, but many of the new spawns couldn't see them yet.
The apprentice makes it off the board with another treasure. As the demon and bear swing around to grab one more treasure before leaving.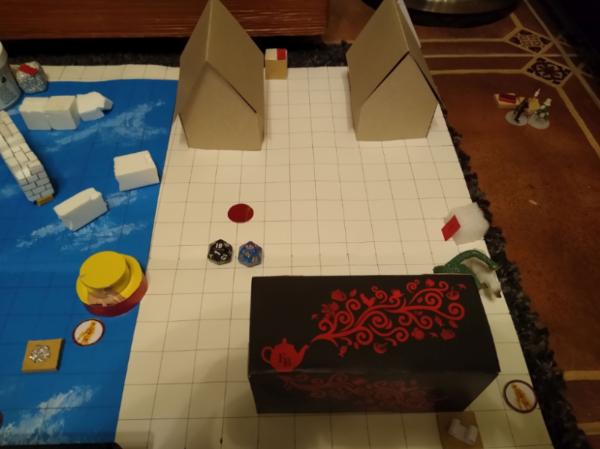 They defeat two more burning skeletons and escape with the treasure before the rest catch up to them.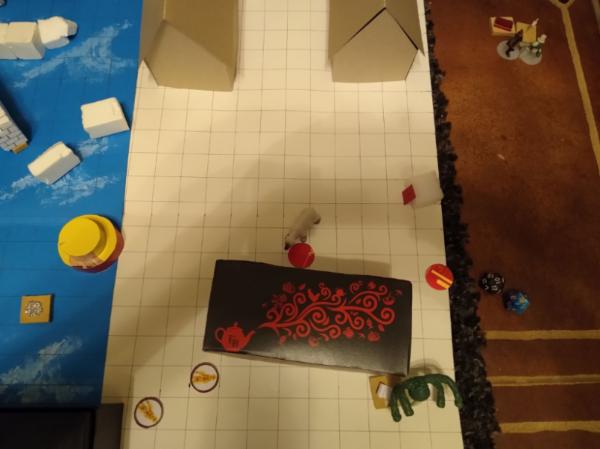 I was playing greedy, but still trying to escape with reasonable speed as that's what the game says they are trying to do. In meta hindsight, I could have left the bear and demon there to keep thrashing the burning skeletons and get me more XP. The wizard earned 80 XP just from defeating skeletons. However, I don't actually know what XP is useful for yet in Frostgrave. The treasures were a scroll of "Time Store", a potion of Invisibility, a potion of strength, and 55 gold.