So, you guys all know that my P&M blogs are more than just P&M... they're kind of the whole enchilada as it relates to my various armies. Plus I'm not quite up to haveing the best generals on dakka tear my military competence a new one by posting a separate thread in the battle reports section. So, for your entertainment... a battle report featuring the "Mantis Warriors Penitent" (which is what I've decided just now to call them since their return to the Imperium).
Had a great game last night with a friend from my
FLGS
who has a very nicely painted Chaos Demon army. He's a dakkaite too, "Nerf". He was coming out to pick up an old TV of mine for his video gaming "master plan" and suggested that since he made the trip we might get a game in. We're both preparing for the finals of a tournament in October that we both qualified for earlier this year, so I jumped at the opportunity. I hadn't played an adult for 2 months or so... so I was a bit nervous. OH, and before you get too excited we both qualified for our painting skills... NOT our playing skills! (kind of a neat tournament idea... we can talk about that later if you're curious).
I'd hoped to work with him on this batrep, but since I have "momentum" and everything is fresh in my mind... I'm running with it. I will however, update this post as I get feedback from my friend and will let you know when it's been fully completed. I hope to be able to include his input on his army design and strategy before it's over... I'll certainly include mine.
So, lets start with the visitors...
Nerf's Chaos Demons:
First Wave:
Bloodthirster
Skarbrand
2 x Demon Prince of Khorne
Second Wave:
5 x 8 bloodletters
Wings with 4 wounds each and a million power weapons with 4 million attacks. Woof!
The home team...
Gitsplitta's Mantis Warriors Penitent:
HQ
:
Libby - Null Zone and some shooty power (not the flamer)
MoTF
+ flunkie
Elite:
Sternguard (5) - forgot to give them ANY wargear... so just the bolters
Ven Dread - 2 x
TL
Autocannons
Troops:
Scouts (10) - sniper rifles, heavy bolter, srg w/
PF
Scouts (10) - sniper rifles, missile launcher, Telion (Darius Stone in my chapter)
Tac
Squad - plasma, missile launcher, rhino, srg w/
plas
pist & p-sword
Fast:
Assault Squad (5) - 1
PP
, Srg w/
plas
pist & p-sword
Hvy:
Dreadnought:
TL
-
LC
,
CCW
, Hvy Flamer
Dreadnought: Assault Cannon,
CCW
, Hvy Flamer
Mantis Warriors:
In general, this is fundamentally the configuration of my Mantis Warriors that I've been working around for some time now. Scouts, vets, dreads.
MoTF
has become mandatory in order to get the dreads in the heavy slots. Sniper scouts because, well... that's all I have painted at the moment. I chose the librarian strictly for Null Zone and to beef up my assault squad a bit. The
Tac
squad in the rhino is a luxury I usually don't allow myself for fluff reasons, but as a result of the "Great Marine Swap" I'm going to end up with an inquisitional
tac
squad with rhino, I thought it would be a good idea to practice with them a bit. Interestingly enough, this is the very last time any of these assault marines will fight with my army. They're packed up in a box as I type this and will be shipped off to Lennysmash as part of our trade, so this was their last opportunity to fight alongside their brothers-in-arms. Given the opponent and the fact that I deny myself the use of tanks, it was about as good a mix of troops as I could get (lots of rending and "poisoned" weapons, lots of rapid fire & dreads who were basically bloodletter-proof).
Demons:
Will update this when I get input from the demon-master himself,- but in essence I believe Nerf's idea was to overwhelm his opponent with a zillion power sword attacks while using the wee-beasties to soak up fire and take out vehicles. No shooting, but absolute carnage when they get into H-t-H. Worried the heck outta me, that's for certain. Unfortunately he'd accidentally left his tray with most of his bloodletters at home, so we had to proxy them with my orks.
The Game:
We consulted the
BRB
and rolled up Annihilation and Dawn of War deployment. I lost the roll and was compelled to go first.
Once again we were fighting over the abandoned ork Stompa factory. Once you have really nice terrain it's really had to play on anything else. Demons got to arrange the terrain to their liking (power of the warp and all) while I franticly put together my army. Even though my table is 4x8 we confined the field of play to a standard 4x6 surface. Having real buildings is fun but it's also a challenge in that the standard rules don't really suffice. So every game I play on this table I tweak and change the rules a bit... I like this version... with a little tweaking it might be the one I stick with. In short, buildings are difficult terrain for infantry, impassible to vehicles. Being on a building is the same as being in it & confers a 5+ save (ramshackle ork construction you know...). Committing two movements (move and run) will get you from anywhere on the outside of the building to anywhere on the inside (or top), and there is NO unit coherency in the buildings. i.e. all figures in the building are considered to be in coherency, no matter the relation to one another. So a regular unit could get from the base of a building to anywhere they wanted to within it, but could not act. A fleet unit could actually get into the building *and* assault in one turn (or visa-versa). Lastly movement within a building is infinite... i.e. during a movement "chance" you can move any figure in the building to any other place within the building, normal restrictions like being in H-t-H or the 1" need-to-assault-to-get-closer-than-this apply. These rules represent the fact that orky construction is filled with exposed beams, girders, wires and pipes... things a trained soldier would have no problem scrambling up with or without a stairwell or ladder.
Piles of rubble were just difficult terrain but conferred the same 5+ saving throw.
Deployment:
I decided to "hole up in a corner", at least I wouldn't have to worry about the demons raining down from the skies until the rest of my troops came on to cover my back. I took Telion's squad and put them in one of the ork buildings, then the scout squad (with the
PF
) out in front. I added my librarian for good measure as a lookout atop the building.
Turn 1-A: (Mantis Warriors)
My half of turn 1 saw the Mantis Warriors foot slogging in around the scouts in order to prevent any unfortunate deep-striking incidents and set up a gun line. As per usual the Tranquility Detachment ran the sternguard as a screen for the venerable dreadnought. These two units are formidable when run in tandem, especially when I remember to give the sternguard a little war gear. The assault squad moved forward aggressively on the left flank as the librarian dropped down to join their ranks. The Dreadnoughts and
MoTF
filled in the center, providing heavy support for the vulnerable scouts. The tactical squad drove up the flank to provide support for the assault squad and a solid anchor for the left.
Turn 1-B: (Demons)
The powers of the warp waxed and waned and what materialized on the battlefield were 4 mucking huge demons of Khorne! Yowza!! This is apparently what the Master of Demons (Nerf) was hoping for and he smiled slyly as he dropped them down one by one. Luckily none of the scattered in my direction and I figured I'd get at least one decent turn of shooting before things got ugly.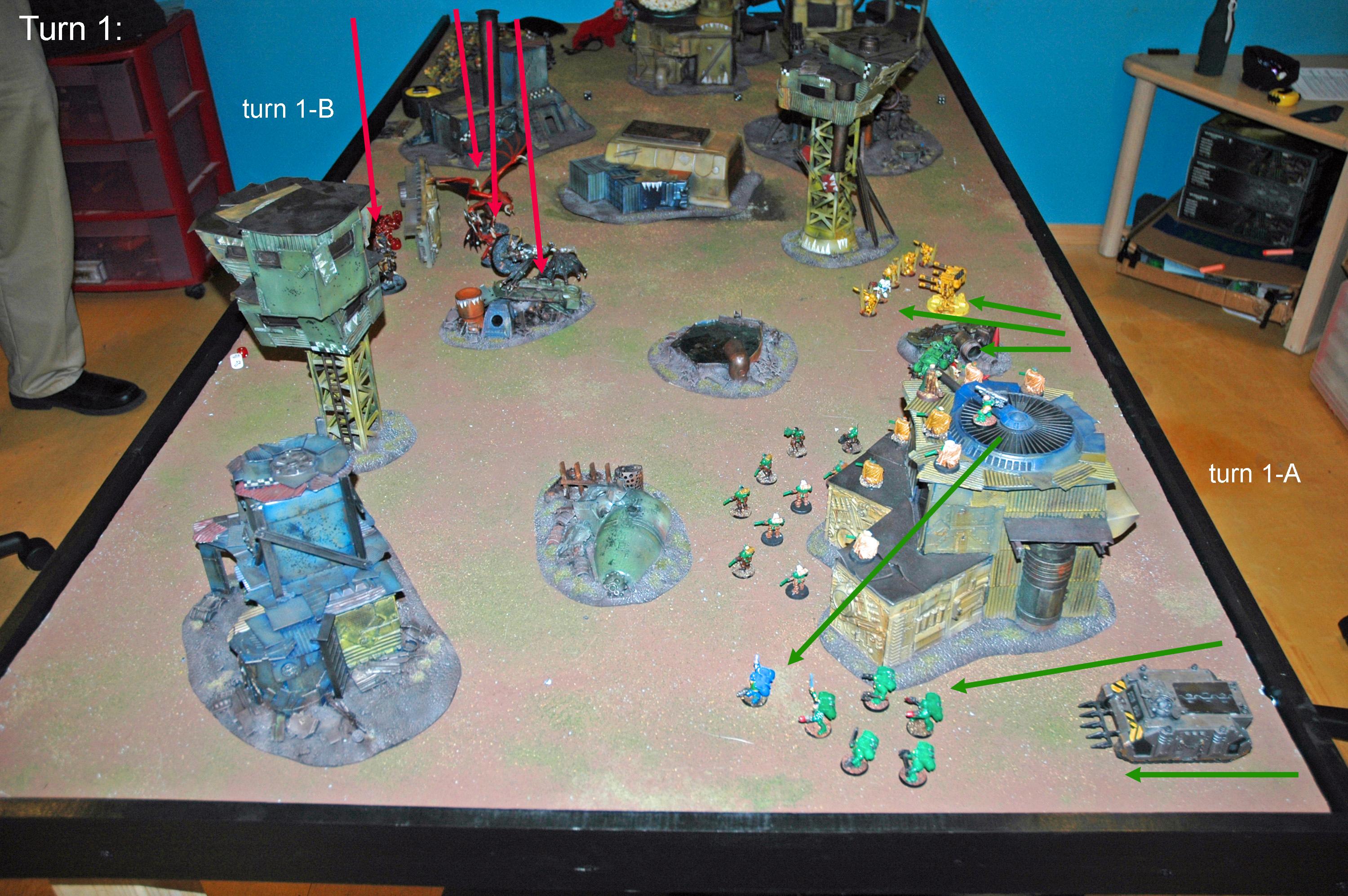 Score: Demons - 0,

MW

- 0 Turn 2-A: (Mantis Warriors)

The assault troops, libby and

tac

squads advance quickly on the left, with the libby running into the rubble to help improve his chances vs. a demon assault. He fires up his Null Zone power, which only affects the nearest demon (but I'll take it). On the right, everyone save the dreads sits tight so they can fire at long range. The scouts of course... take aim. Two full squads of snipers, the sternguard using poison amo and the dreads open up on the demons. When it's all over, the nearest demon (Bloodthirster) is dead, and Skarbrand has 3 wounds!
Turn 2-B: (Demons)
Two squads of bloodletters materialize, one in the center and one to the far right. The large demons move at frightening speed toward the Imperial lines. With no shooting attacks however, the forces of chaos are still trying the close the gap.
Score: Demons - 0,

MW

- 1 Turn 3-A: (Mantis Warriors) Across the broken, fetid, industrial wasteland that was the remnants of the ork compound, Sgt. Buzka could see two large groups of gibbering demons materialize out of the warp... while giant behemoths of violence and death lept through the air behind them on shredded, impossible wings. In a matter of moments the beasts would be amongst their vulnerable scouts... their *first* scouts in over a century... the future of the chapter snuffed out to feed the vile powers of chaos. "Men." stated the sergeant in a tone as flat as death... "you know what must be done." After 200 years of ceaseless campaigning with his brothers... no answer was necessary, and none was given. "FOR THE EMPEROR!!" they cried as one as they charged the center of the demon horde.

On the left flank, the rhino continues its outflanking course, while the assault squad moves to give assault cover to the lower unit of scouts. The librarian, now unattached finds a spot in the rubble in relative safety from which to fail a psychic test and suffer a wound. Meanwhile the snipers take aim...

In the only truly heroic moment of the battle for my army, the five sternguard with no special weapons advance to the center of the board, within easy charge range of two demon princes, a greater demon and 16 bloodletters, determined to slow the demonic advance enough to buy one extra turn of fire for the rest of the army. Knowing what must be done, the venerable dreadnought eases back and trains his wepons on a demon prince, staying out of charge range should his shots fail to fell the beast. A hail of fire opens up again from the Mantis Warrior lines, hoping to provide enough covering fire to allow the sternguard to emerge alive. Skarbrand and one of the demon princes are destroyed, as are most of the bloodletters, however in order to make certain the center stays muddied up, the tranquility snipers (sternguard) charge the 3 remaining bloodletters, killing 1 while losing 2 of their own.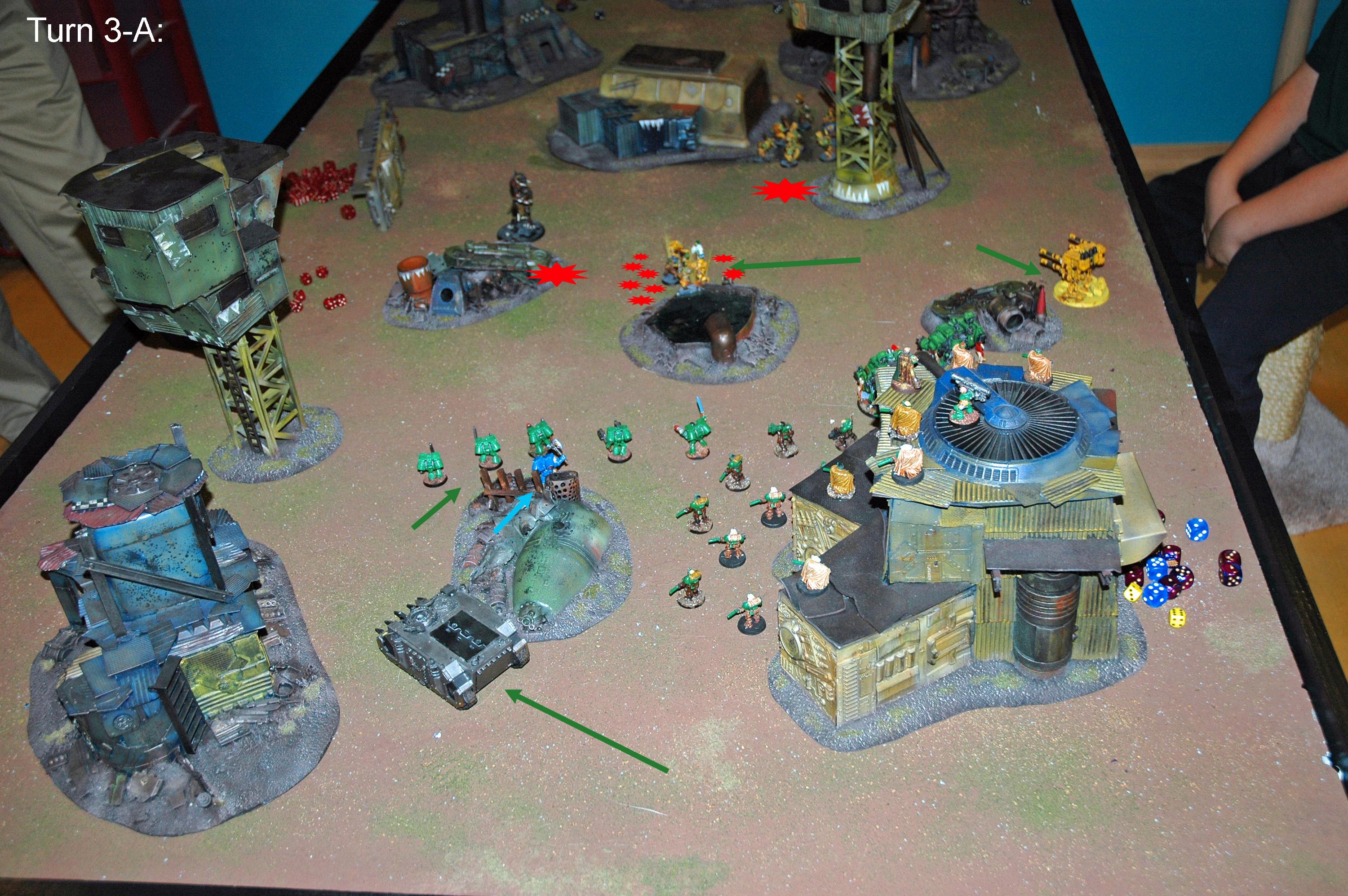 Turn 3-B: (Demons)
Two more squads of bloodletters materialize out of the warp, one dangerously close the to Mantis Warrior lines. The greater demon and untouched bloodletters assault the valiant sternguard. With one sweep of his great axe, there is nothing left of the Veterans of Tranquility... their limbs sheared, and bodies split asunder.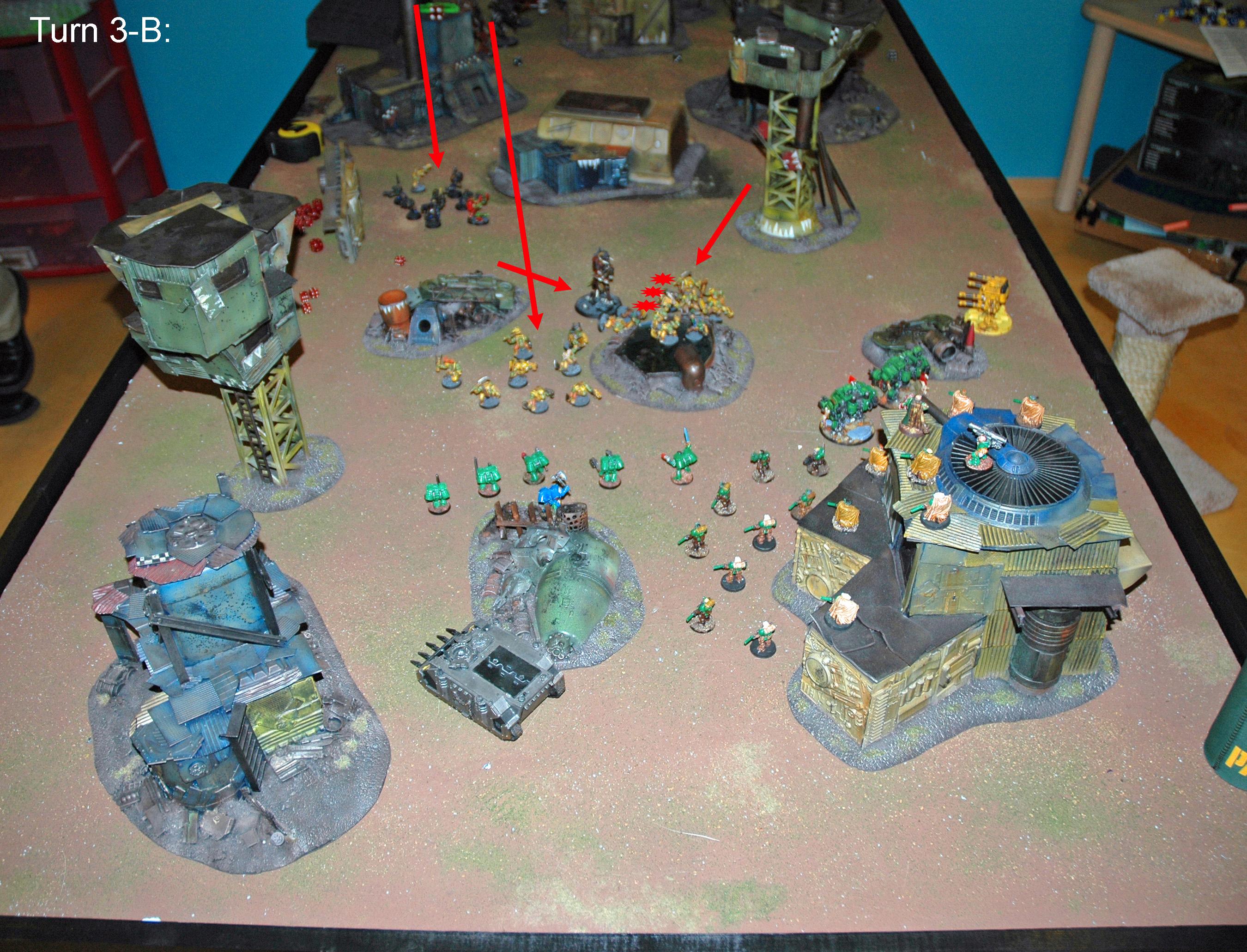 Score: Demons - 0,

MW

- 3 Turn 4-Aa: (Mantis Warriors, movement)

Things get a little dicey here so I split out my half of the turn. The rhino finally finishes it's outflanking move and deposits the tactical squad withing rapid fire range. The assault squad gambles that it is better to leave the scouts unprotected than to be an impediment to their firing, and jumps to the far side of the bloodletters. Librarian casts Null Zone (successfully this time). On the right the dreadnoughts, incensed and inspired by the selfless sacrifice of their brethren surge forward towards the demons, while the veteran dreadnought... in silent suffering over the loss of his fellow Tranquility Campaign veterans, vows vengeance with every round. Meanwhile, the snipers take aim...
Turn 4-

Ab

: (Mantis Warriors, shooting)

The two dreadnoughts unload their heavy flamers and main weapons on the bloodletters killing most in the near squad on 1 of the 2 remaining from the squad that was charged by the sternguard. On the left flank, Brother Ignus forgets to set the safety on his plasma and fries himself... but not before taking out a bloodletter. His brothers take out two more. Here my friends is where the assault squad really shines, I believe the five assault marines shot and killed the 5 remaining bloodletters (thanks to the Null Zone). Though I think I would have had an advantage in assault strictly due to numbers, those bloodletters would have killed a lot of marines before going down. Good job boys, beer is on me! (There it is... in the corner, go get it!) The venerable dread and scouts open up on the greater demon, and he goes down in a hail of sniper and autocannon fire.

One of the dreads charges through the retaining pond and into the 3 remaining bloodletters on the right center. Their attacks ping off his heavy armor. He kills two outright and the last succumbs to a "fearless" wound.
Revenge is sweet... and HOT.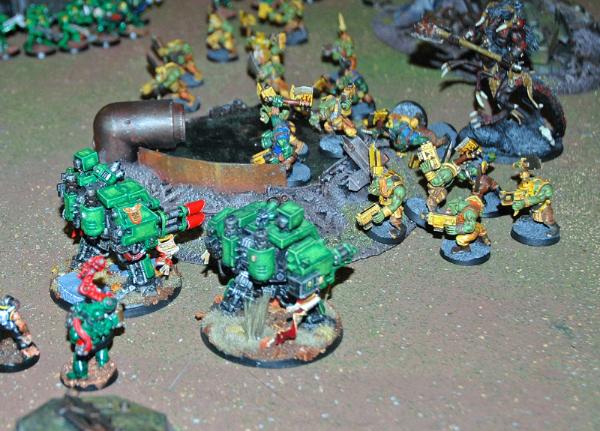 Turn 4-B: (Demons)
The final squad of bloodletters arrives (scatters) to the rear. The demon horde, knowing no fear, charges towards the marine assault squad... determined to reap vengeance and blood for their blood god. The lone bloodletter is an unbelieveable 1/16" short of being able to complete his charge! Woah... that was close.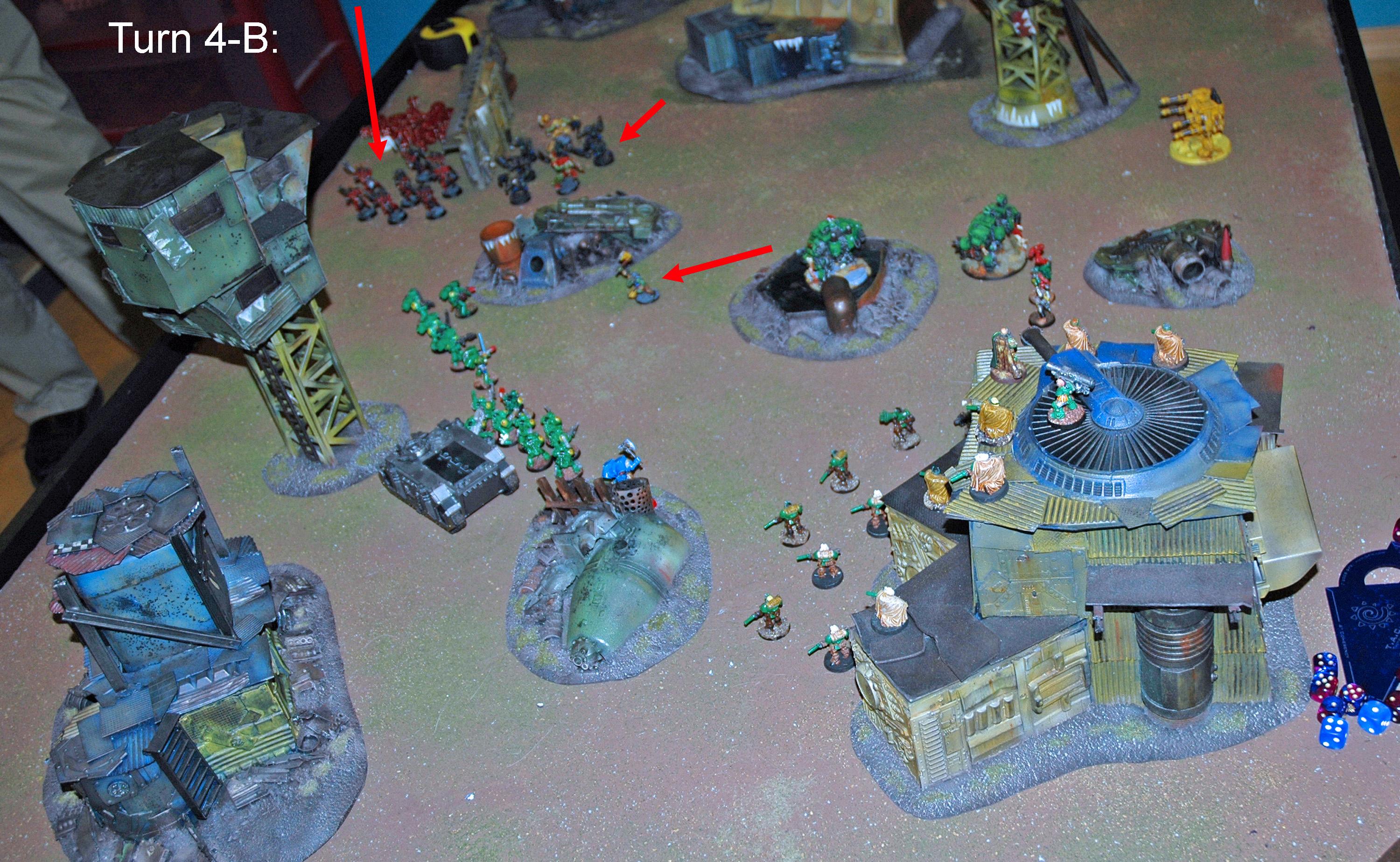 Score: Demons - 1,

MW

- 6 Turn 5-A: (Mantis Warriors)

I play "keep away" yet again, and my assault squad gets the heck outta Dodge (towards their beer). Lots of shooting, more demons die.

Turn 5-B: (Demons)

With no more reserves there is little hope, but demons follow their nature... and charge forward undaunted.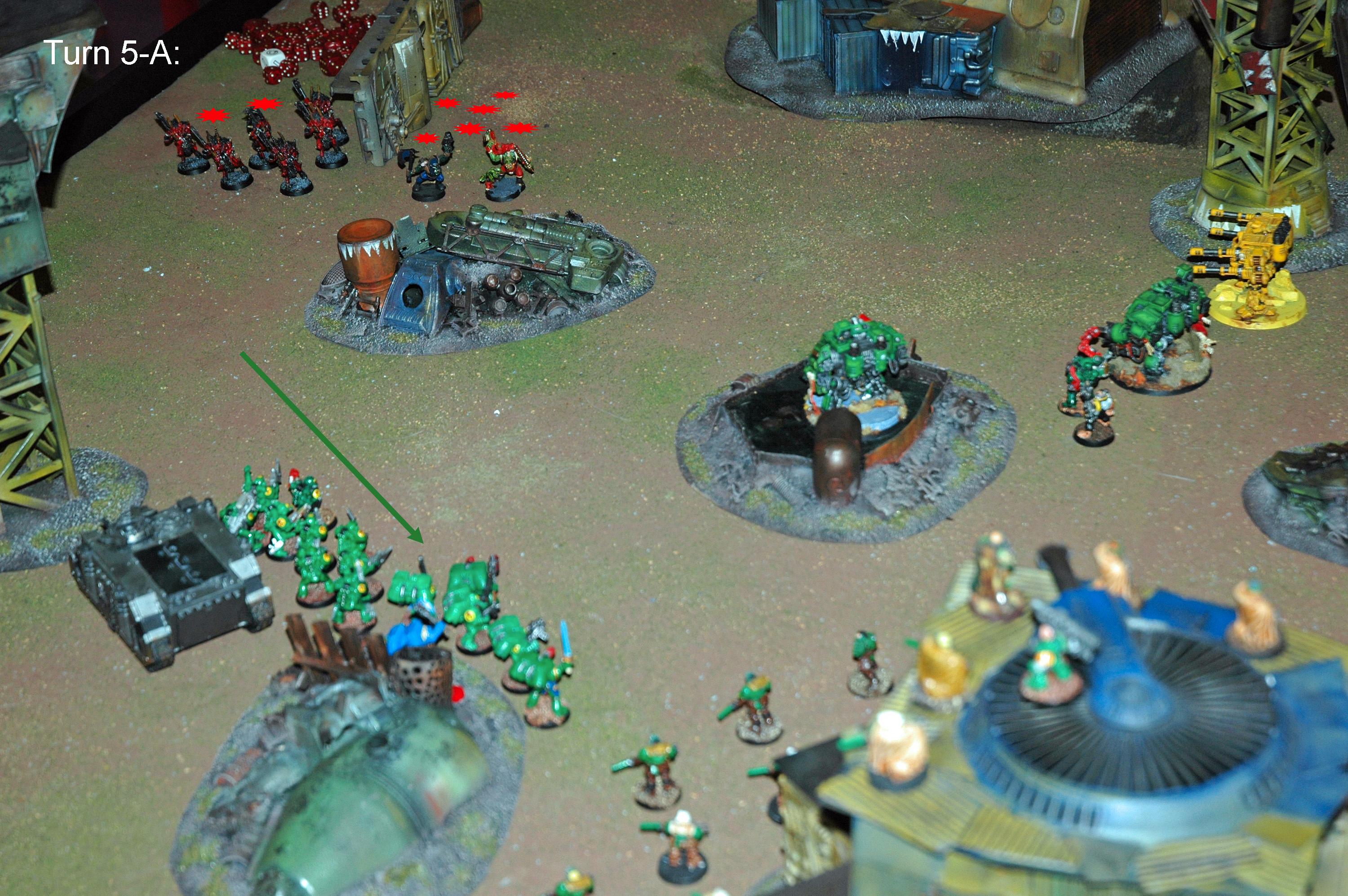 We roll, game ends.
Final score: Demons - 1,
MW
- 6
I want to mention that Nerf was an outstanding opponent. I have been on the receiving end of one sided battles like this and it is not fun or easy. Throughout Nerf was honorable, a gentleman and would even remind me of things that I had forgotten to do that were to my benefit and his detriment. That is good sportsmanship above and beyond the call, and I would be honored to play him any time, anywhere.
Hope it was worth the read, and I hope to include some of his comments in a later edit.
Gits