| | |
| --- | --- |
| YT-1300 Imperial Patrol | Created by Zopyrion |
| Paintjob Rating: Need 5 more votes | Number of Views: 128 |
| Coolness Rating: Need 5 more votes | Number of Votes: 0 |
This image needs more votes. Please use the vote box on the left to rate this image.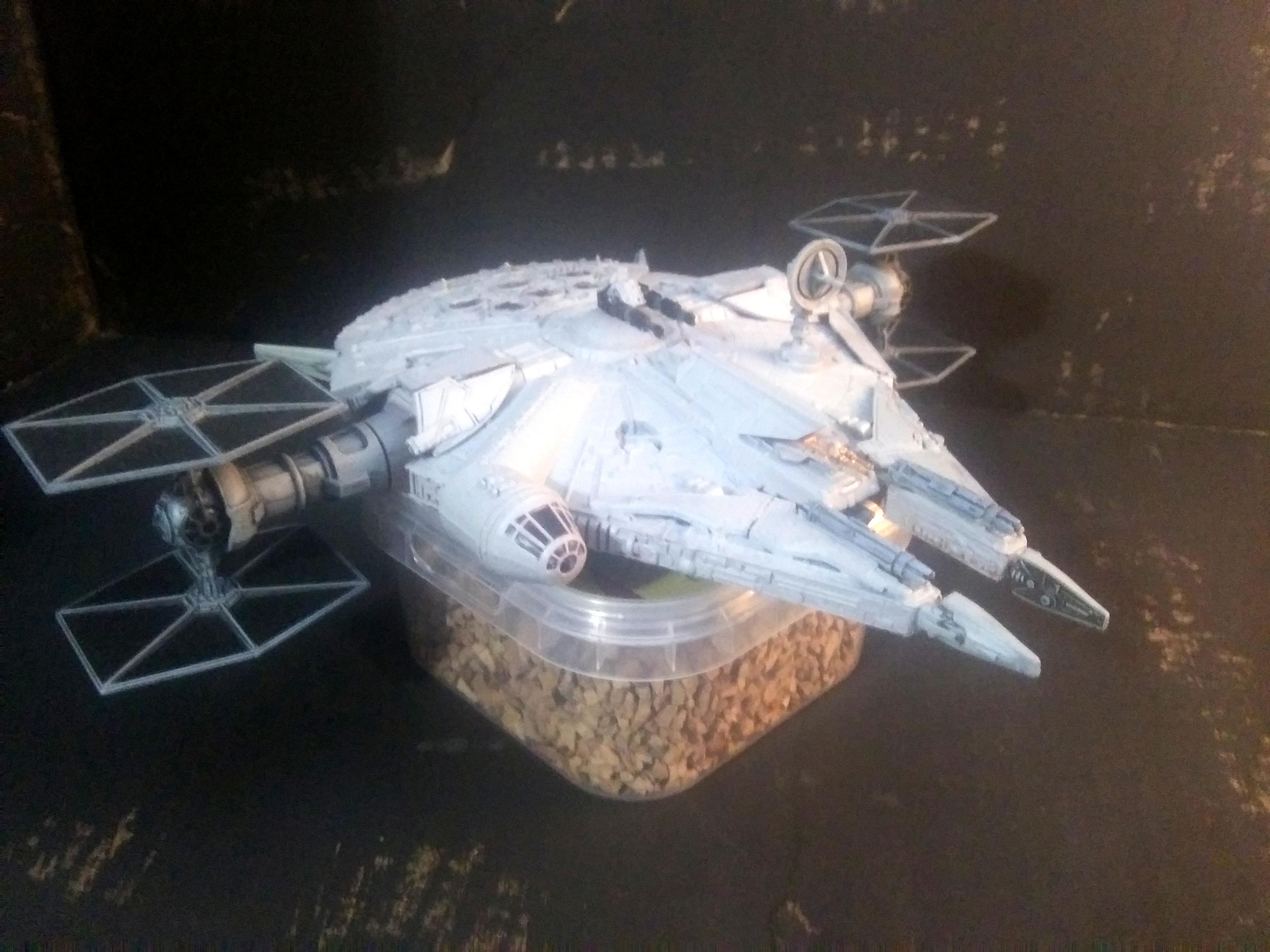 Image Description:
I'll repost the relevant "lore" I made up for this here now that I've given it an Imperial Grey paintjob. I had an X-Wing Mini Yv-1300 Falcon sitting around with the Dish and guns broken off for quite a while. I also had some other random bits from other broken ships laying around as well so I figured I'd try my hand at Kit Bashing/Conversion. End goal is to convert it into an Imperial Remnant deep patrol ship. The idea being that Remnant Warlords are trying to get their hands on whatever they can to fill the gaps in their forces. Due to lack of access to proper ship yards they have to rely on converting and cannibalizing what they have. Equipment: The most obvious upgrade is the docking tubes, designed to accommodate a single TIE fighter of any variant with the ball cockpit (Defenders not included). This ship has a Military grade communications dish for long range messages. It also has upgraded tractor beams on the front forks for interception and seizure missions. Extra armour plating was added across the ship to cover extra power cells and equipment that was installed. The engines were also given stabilizers to account for the extra weight and add maneuverability. Armament: The original dual laser canon turret on the top was replaced with a laser turret that can stand toe to toe with ships larger than itself. The old turrets were moved into forward positions and were under the direct control of the co-pilot. Twin torpedo pods were installed to compliment the added armament of the turret. Originally I had given it a custom paint job and renamed it the "Wolfpunch" for a small Scenario/Campaign I did that was a mix of X-wing and Legion. It was doing nothing but gathering dust, so here it is!

Comments:
No comments have been added yet. Be the first! People love to hear what others think about their projects so please let them know.

You must be logged in to post comments.

Image Details:
Resolution:
3264x2448
Uploaded:
2021-01-17 19:23:37