Full Army Photo
Collecting RPG Miniatures
I have been collecting Super Deformed Fantasy RPG models for use in various board games and RPG settings. As I collect models and paint them I want to share them in this article. I will also try to share anything I custom sculpt or convert. I hope you enjoy them!
Miniature Lines
Here is a list of Mini manufacturers who make Super Deformed or Chibi Dungeon miniatures which you may find interesting when trying to build a Chibi Bestiary or Hero pool. I will try to note which manufacturer makes each model as I post pictures.
Super Dungeon Explore - Sodapop Miniatures (SDE)
Site Link: http://sodapopminiatures.com/

The original Chibi Dungeon Crawl game. It is a fun boardgame for 2-5 players and you get a good number of plastic models per box set. Lots of opportunity for repaints (Fire Gel to Water Gel) and they have a bunch of expansion packs.
Super Dungeon Explore - Has a bunch of heroes and a Dungeon Dragon theme
SDE Carverns of Roxor - Fire theme with Turtles and fire elementals
SDE Von Drakk Manor - Undead Vampire Castle
SDE The Forgotten King (unreleased) - The future expansion with a Nature/forest theme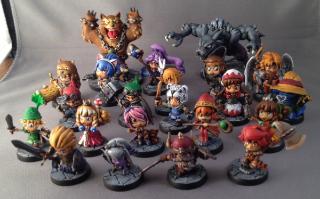 Chibi DungeonAdventures - Impact! Miniatures (Imp)
Site Link: http://impactminiatures.com/

This is a company who makes a lot of 'Fantasy Football' Miniatures, but recently had a successful kickstarter for a line of Chibi RPG characters from western themes. A Great source of chibi monsters and heroes.
Chibi Dungeon Adventures - Kickstarter with lots of classic western RPG staples.
Chibi Asian Adventures - Kickstarter 2 with a lot of asian mythology and themed models
Anthropomorphic Animals - Dark Sword Miniatures (Dark)
Site Link: http://www.darkswordminiatures.com/shop/index.php/miniatures/visions-in-fantasy-critters.html

Darksword makes a lot of 28mm dungeon models, but they also have a line of RPG animals, (very heavy on the frogs) which have a more cartoony or SD proportion to them. The models are a little on the expensive side, but great quality and can expand your Hero Pool to have some animalmen or just making more mosnter packs.
Warheads: Medieval tales - Urban Mammoth (UM)
Site Link: http://www.urbanwarthegame.com/store-ecwid.php#!/~/category/id=3801698&inview=category3801704&offset=0&sort=normal

This is an interesting line which has a SD design to a bunch of 'old english' themed models. Not quite the CHIBI eyes and such, more like a large head on a small body. Lots of very nice models, especially the dark knights and bandits. The Innkeeper is my favorite.
Reaper Miniatures (Reap)
Site Link: http://www.reapermini.com/

Reaper is great for regular dungeon miniatures and BONES is huge for cost savings. Reaper has a few models which are oversized proportions which can fit in a CHIBI bestiary, especially elementals and mini guys like imps and tiki mask guys. Also, Reaper has a line called 'Mouslings' which are little chubby mouse people with RPG themes. They can fit in as a band of beast-themed enemies or even as allied heroes. Now with BONES they have a 10-pack for 10$ which makes mouslings 1$ each!
My Stuff! Nick Kelsch's Chibis (NK)
I have been sculpting and converting my own SD dungeon guys for things I felt I needed. Right now I have just a few and as I make more I will post them here. I sometimes have extras of the models I cast, so if you are interested, let me know and I will see what I can do. I also may have IMPACT! cast and sell some things I make (like the Chibi fort)
Models I can still produce:
| | | | |
| --- | --- | --- | --- |
| Rats (NK) | Snakes (NK) | Maggots (NK) | Cockatrice (NK) |
Model Photos
Buildings
Being its own scale of miniatures, Chibi terrain is often smaller than normal much how video game sprites had 'overworld' icons to represent whole towns.
Heroes
♠ - Tanks
Tanks are the primary Close Combat fighter of the group. They can take a beating and still survive.
Level:
Attack:
Ranged:
Magic
Defense
Stamina
Wounds:
Special Skill:
J
4
0
0
4
d6
3
Cleave: May attack twice if he hasn't moved.
Q
5
0
0
4
d8
3
Cleave: May attack twice if he hasn't moved.
K
5
0
0
5
d8
4
Cleave: May attack twice if he hasn't moved.
A
6
0
0
5
d10
4
Cleave: May attack twice if he hasn't moved.
Pocket Healer (3 Meat): Summons a Minor Minion with the Heal skill
Soldiers
Trained by the Royal Army, These warriors are adept at protecting others and highly skilled in the ways of the shield.
| | |
| --- | --- |
| Hearthsworn Fighter (SDE) | Dungeon Cavalier (Imp) |
Barbarians
Barbarians live in rough climates and grow up fighting large beasts. They have been known to take down a whole pack of wolves with a single blow.
| | |
| --- | --- |
| ClawTribe Barbarian (SDE) | Dungeon Barbarian (Imp) |
Paladins
Some warriors display attunement to the holy light and augment their skills with holy power.
| | |
| --- | --- |
| Royal Paladin (SDE) | Paladin (Imp) |
Gladiators
Gladiators fight for money, and sometimes by force as a slave. Brutal and uncaring, they are adept with 2-handed weapons.
Berserkers
There are few warriors who fight like they have nothing to lose, often relinquishing defense for more offence, Berserkers are dangerous and unpredictable.
| | |
| --- | --- |
| Warrior Red (Imp) | Inugami (Imp) |
Samurai
Masters of the sword, Samurai are skilled warriors who can fell even the mightiest blow in one attack.
| | |
| --- | --- |
| Female Samurai (Imp) | Ronin (Imp) |
Adventurers
Many A peasant or hopefulkid grows up wanting to see the world and delve into a dangerous dungeon. Augmented by tools and treasure, these warriors can hold their own against the monsters of the world.
| | |
| --- | --- |
| Deeproot Scout (SDE) | Finn the Human (SDE NK) |
Heroes
Relying on willpower and skill, these warriors overcome any obstacle. Many have developed magical skills out of sheer determination and training.
Mario & Luigi (SDE)


Death Knights
Warriors corrupted by evil fight daily to redeem their past deeds. While powered by darkness, many have found redemption in service to others, or are walking a path of revenge.