13/11/07
I'm going to build a smal cityfight army. Knight walkers, Termies and Dreads for the bulk of the points, with some Cadian cannon fodder, some heavily armed/armoured Sentinel VDRs, and some 1:35 Tamiya WWII tanks modified to fit for Super-heavies. The scheme will be codex grey/ultra blue.
First preliminary pic. I generally paint marines and termies in pairs, so I think I should paint the Cadians in groups of 4. I'll clean and prime these today, they'll probably get another melta, a Commissar w/fist, and a transport. I'll use them to charge forward and support my
DP
Terminator landings.
15/11/07
ok this is what I got done last night. He was already primed (dark grey) and I spent a few hours painting this test mini. A fairly basic scheme that will be adequate for an army. I'll save the fancy stuff for Kasrkin, Ogryns and the like. The colours went on great over a dark grey base-coat, 2 thin layers was all it took. The mini is probably about 2/3 done (closer to 3/4 done if I'm going by time). Always nice to do a test mini, because it's hilighted a couple of things that need tweaked (most importantly I think I need a lighter shade colour for the grey. I took this from a pot labelled "+2", meaning I must have used it as a second hilight on something in the past, most probably a black hilight). Also, the face was a lot more dificult to paint than most faces I have done in the past. I think I'll invest in a
FW
Cadian rebreather sprue (which I would have done eventually, this merely confirms it).
I'm not sure if I should upload a whole load of various pics in this log or just the nice ones. I'll probably do the former, and then edit out the
wip
pics as I complete minis.
If I work in production line fashion I reckon I can crank out about 5 a week, so with that in mind, my plans for November are 9 more Cadians to bring this squad up to full strength, then in December I'll add a Sentinel and make a start on some Kasrkin (hopefully I'll get all 10 done before Christmas).
17/11/07
Starting to come together now. I did a bit last night, I think 1 more hour today and I'll be done with this first mini. Specifically I still need to hilight all of the blue and black, paint on a bit of silver, shade and hilight the silver, paint the Aquilas (a very light grey, almost white)add some weathering, then add decals and varnish. I haven't used decals for years, but I think this guy will really benefit from the addition. I'll have to buy some Microsol and some Testors Dullcote (which will be a hassle here in the
UK
, I only know of 1 webstore that sells it, I'd prefer to pay cash at a hobby shop but I don't have a choice).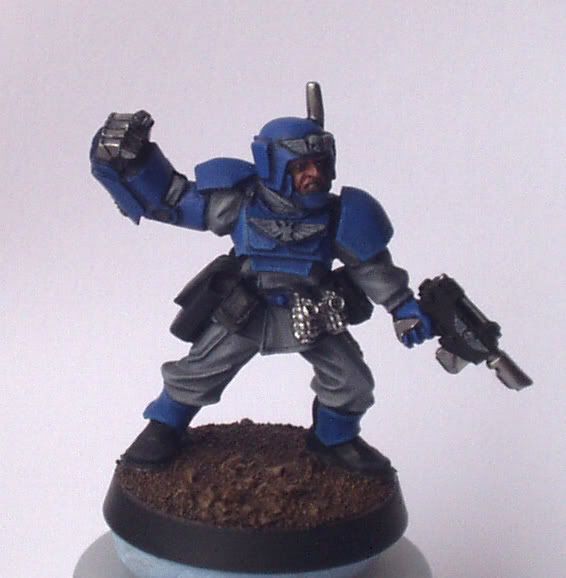 So, plans for the coming week-
-Finish this guy today
-Start the other Officer today (finish by tomorrow)
-Monday to Friday I can hopefully paint 3 more guys
19/11/07
Another fairly crappy pic of the almost finished mini. I painted some small armour chips after I took this pic, so now it's just some graveyard earth to drybrush on as weathering, and the decals, which I think will make a lot of difference on this mini. I won't be getting any dullcote or microsol for a while though.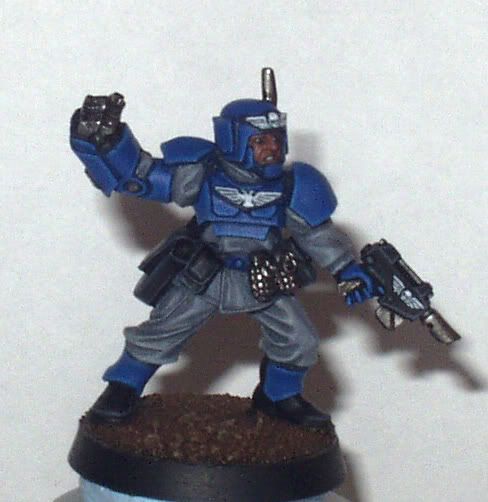 I am enjoying making this log quite a bit. It feels good to document a process completely, normally I just upload a pic and add a caption of 10 words at the most. I have decided that when I get a few good pics of completed work up I will have the first psot as a complete pic post, and move the logs with
wip
pics etc down the thread a bit.
I think I have fallen behind a bit. Maybe it's not good to micro-manage a Guard army in this way, but I have decided to change my goal for Friday again. New aims-
- Another p.fist Sgt and 3 lasgun troops - Very happy
- Another p.fist Sgt and 2 lasgun troops - I will be satisfied if I get this done
- Another p.fist Sgt and 1 lasgun troop - This will be the minimum acceptable progress.
Now, back to work on the next 2 guys.
20/11/07
No progress, just an updated pic. Slightly better than the last. Now I just need the decals and a touch of dirt.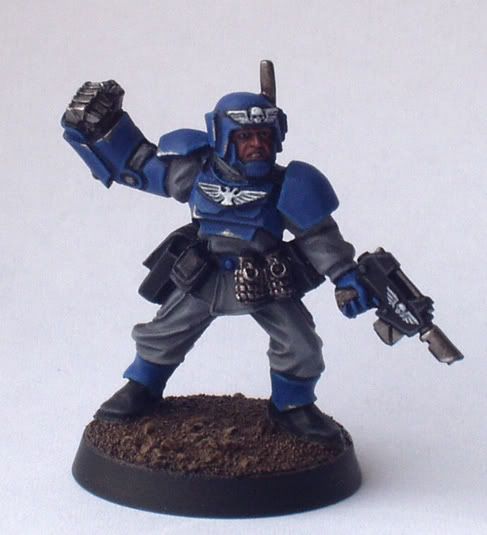 bigger pic
http://i225.photobucket.com/albums/dd176/Jazz_is_for_losers/Cadian%20log/5.jpg
21/11/07
A bit more progress today. I spent the morning cleaning and priming my first squad. I don't especially enjoy these production line jobs, I much prefer concentrating on single minis, but needs must in this case. However, to give myself a break from factory modelling I decided to concentrate all of my painting efforts on one guy. I got this done in a couple of hours. Hopefully by tonight he'll be finished and I'll be well on my way to finishing another guy too, thoughI may wait until Saturday to apint this guy's face as that's the next time I'm likely to get good light.
Also, I ordered this form
FW
today. Will they be any good in an army? Who cares when they look this good!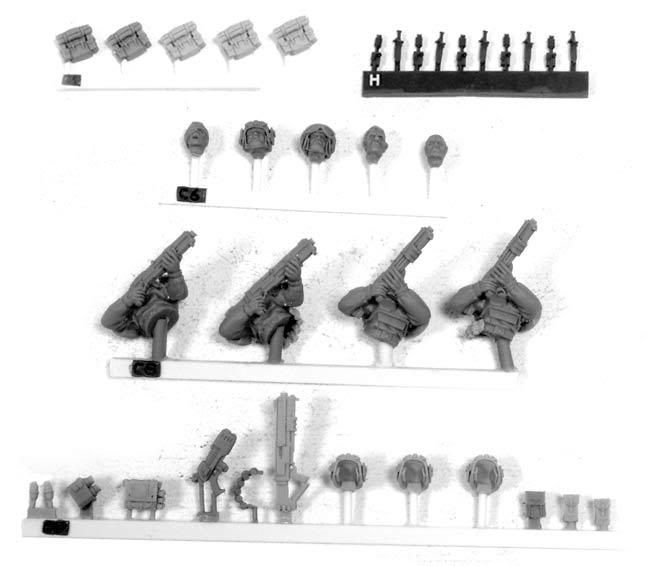 Now I'm going to have a small break and then back to work.