Well... as the Iron Warriors have, how shall we say, slipped from the top of the tournament scene... I figured I should probably make them more Adeptus Mechanicus styled, or at least, a very Techmarine heavy force. I already had this plan when I started building my
IW
army, as I have old Techmarine models as champions, and my
IW
Commanders are
WIP
techmarinish figures. Now I am planning on taking it a step further... possibly repainting a large portion of the army into a different scheme... though I have yet to figure that out.
I'm using Scions of Steel as a placeholder name for now. Anyways, this is being posted in the P&M blog forum, so off to the pictures. (Extra thanks to Yakface and the Machine Spirits who make this possible)...
So I've always wanted to build a MKIV dreadnought. The plastic dreadnought always seemed like it is a wealth of untapped possibilities. So off I went to try and build mr plastic dreadnought into a MKIV dreadnought! So without further ado...
Step 1. HACK OUT THE OLD SARCOPHAGUS!
So I removed old square body thing with my trusty jeweler's saw and then glued a spare Chaos Marine body to a piece of plasticard to make the new sarcophagus. I really dislike those conversions that just plaster the MKIV body onto the exiting torso.
Step 2. Rough out the dimensions!
Step 3. I decided to give him one of those Iron Warriors-esque helmet head.
Step 4. I didn't know what to do for his sarcophagus decoration... so uh... I ended up with this sort of accidentally.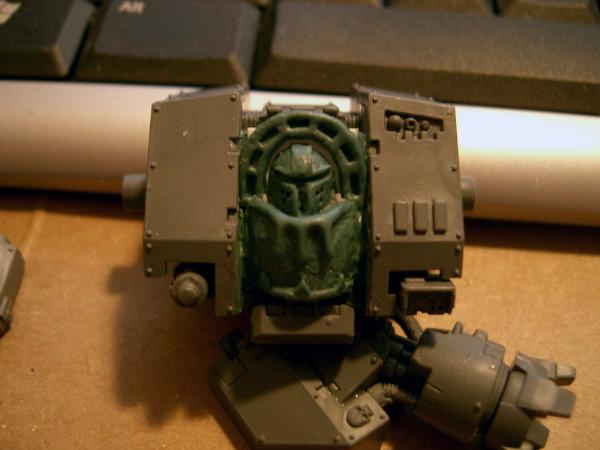 Step 5. I gave him one of those collar things around his head. It kind of looks like crap compared to the Forgeworld ones, but hell... this is more like Forgeryworld, so I guess I can't expect too much.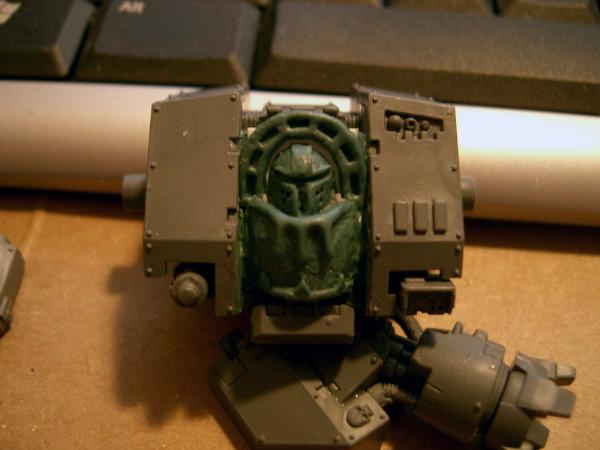 Step 5. His legs need some loving too...
Step 6. Add some gothic do-dads to the smooth section to get that well-worn MKIV baroque look...
Step 7. Due to the Adeptus Mechanicus influence I wanted to portray, decided on a "gears" motif. So here's the half assed completed dread. I might add a spiky ring above his head. As well, I haven't decided what guns to give him, since apparently Stelek has decreed that Chaos dreads suck - and we know that he's a huge authority on anything
40k
! Regardless, the lascannon / dreadnought
ccw
combo depicted is way too expensive due to the retardedly overcosted points value of the lascannon. That and you don't really want old psychotic-rusty-pants to fire-frenzy on your expensive tanks and troopers. Well... without further ado...
Ta Dah!
Conclusion (for now) - He's kind of hamfistedly put together, but he looks all right next to his loyalist brethern, but the converted Forgeryworld bits look positively primitive next to one of his Forgeworld brothers.
Edit-1
In other news, I'm looking for suggestions on color scheme. The boys are straight Iron Warrior scheme right now, with bolt gun metal bodies, a heavy ink wash, with details picked out in gold. I was thinking about making them part red, though the trouble is that doing that would be a lot of work, and red/gold is too Khornate. Red with bone banding would be awesome, but that would be a lot of repaints. Other trouble is that the bare-headed models have a pasty borg-esque skintone. I think I used scorched brown with codex-grey and rotting flesh mix for the first techmarine, and then tried without much success to duplicate it.
I'll try and post some more pictures of what I'm working with later.