I'm sorry for not having full reports in this thread. Really just battle summaries. I can remember a fair amount of details if anyone has questions, but I don't have time to write up real reports the way work is right now. Still, hopefully some pictures will make up for that a bit.
For more info about the missing
WE
models, please refer to this thread:
http://www.dakkadakka.com/dakkaforum/posts/list/210422.page
That said, here's a Adepticon
WH
Escalation summary report, with pictures.
I brought my super old-school
WE
. To make 3k and still fit both my
WE
and my
40k
army on the plane, I did have to go really character-heavy. So that level of the army is not as compy as I'd usually like. I'll post the actual lists later. I don't have them here at work.
First game:
Jeff Shea, with very fluffy Lizard army. Fluff is survivors of city captured by enemy during Lustria campaign. No wizards. Two blocks of 19 saurus, two units of skinks w/blowpipes, two heroes (one a
BSB
) with +1 dispel die mark, among other stuff.
Jeff was a great guy, but just didn't have enough maneuver elements. Swapping one of those blocks for some mobility (kroxies and sallies would have helped a lot) might have given him a reasonable chance, but as it was I surrounded him. I initially thought I wouldn't do much damage due to the hardness of saurus blocks and lizard heroes, but one lucky break check kept his general's block stuck for me to rear-charge with wild riders, and then an irresistible movement spell allowed the same thing to happen to his
BSB
's block. I wound up wiping him out. The tournament had 15 for win, 10 draw, 5 loss, with NINE separate bonus
vp
conditions, one of them worth two points, the others one point each. I got all of them.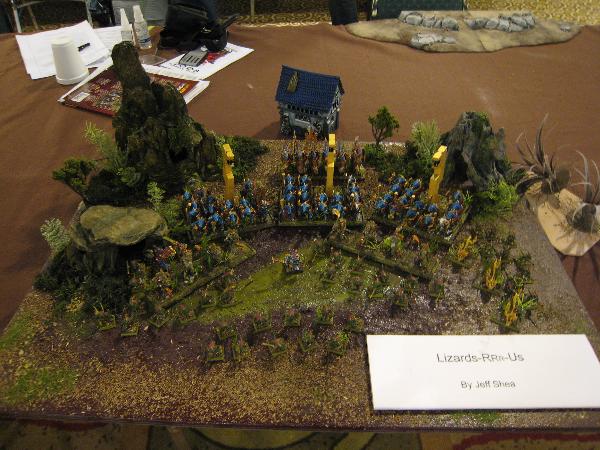 Second game:
Gary Luther, with Dwarves. Good opponent. Good sport and knew his stuff. Very classic list. No anvil. Lord on Shieldbearers in block of Hammerers Runesmith in Ironbreakers, Block of warriors on far left flank with Slayer hero running around their flank, two units thunderers, two bolt throwers, volley gun.
Very good game. I got faked out by his naked slayer hero and avoided flanking the warrior block, figuring he'd have magic weapon and/or strike first rune and kick my dryads and/or warhawks around. Volley gun wiped out my Wild Riders and a unit of Wardancers. My shooting and magic did practically nothing for the first two-three turns. Eventually I started getting to the support units, and my Treeman got into the flank of the ironbreakers. I managed to cover him from a rear charge from the hammerers by treesinging a wood behind him. Tree eventually got lucky and broke the ironbreakers, running them down. I sustained some substantial damage, but got a pretty solid win. +6 instead of +10 bonus points.
In the middle of all this I ruminated to myself that things were probably going so well just because I had the proxied models, and thus wasn't in contention. I mentioned this to Marty, and he very kindly informed me that my painting would be judged not including the proxied stuff, and I wouldn't be penalized for the units I left in New Hampshire. Very kind.
Third game:
Travis (blanking on last name). High Elves, Naggarythe themed. Awesome looking army. Initially thought they were Dark Elves. Led by Highborn, also including Alith Anar, but he wasn't the general (which I initially didn't realize). Three L2 wizards, +
BSB
with gem of being a L1 wizard. General had great weapon, in block of spears with Fire L2. Alith Anar in block of 10 Swordmasters.
BSB
in block of 15 White Lions (all converted from new
WL
chariot crew!) Dragon Princes on my far right flank (march-blocked for most of game, all converted from plastic
HE
lord!) had item to give them magic attacks. Two
RBTs
. Two units of archers (a mage in each). Two tiranoc chariots on far left flank.
Travis was a great guy, and we had a super tactical game. I felt pretty good about it overall, until on turn three or so, I moved my Treeman ancient out of the woods on the left flank to face off with Travis' general's block, a chariot, an
RBT
, and a unit of archers with second mage. He had suffered one wound already, and I cast the regen spell on him to keep him safe. I can't remember exactly how (
RBTs
? Chariot?), but my tree suffered four more wounds all at once, failed all armor saves, all wards, and all regens. AND the two re-rolls I had due to the scenario. Ugh. After that the general's block overran through a unit of my Dryads into the general, into the ancient.
I had my L4 general, L2, and
BSB
about 10" behind, behind a wood. My Wild Riders were on the left, facing off with a tiranoc chariot, and I decided to start them over to the right to get back in the game. Stupid me, I decided to move the Wild Riders directly through the wood, about 7" behind the tree. You can see this coming, I'm sure.
On the top of 4 my tree gets whacked, the general's block overruns 7", which would have left them harmlessly in the middle of a wood, ready to be Treesung to death on my turn. IF I hadn't put the Wild Riders there. So instead, they hit the riders. In my turn the general whiffs, but 13 spear attacks result in 8 hits, of which all 8 wound. No saves. Wild Riders wiped out, overrun into my three characters. The L2 died immediately. The
BSB
and L4 held on for a couple of rounds, helped by Travis forgetting to move the general back into contact in his first chance to do so. My general died in the top of turn 6. My
BSB
hung on until the bottom of 6. Challenge with his general (Great Weapon,
ASF
). 4 attacks from him. 4 hits. 4 ones to wound! He had a re-roll from the scenario. There goes my
BSB
!
The rest of the game was going not quite as well as hoped, though my magic was still clicking okay until my general died. At the end Travis was up by ~529 points, but the margin of victory was 750. Losing draw, though I got one or two bonus points. Good game. Just kicked myself for that stupid move with the wild riders.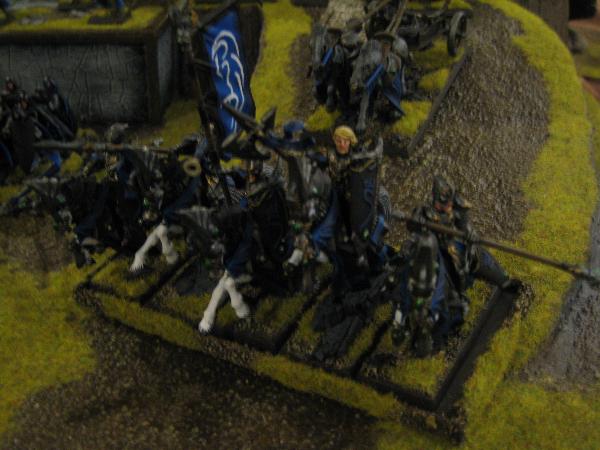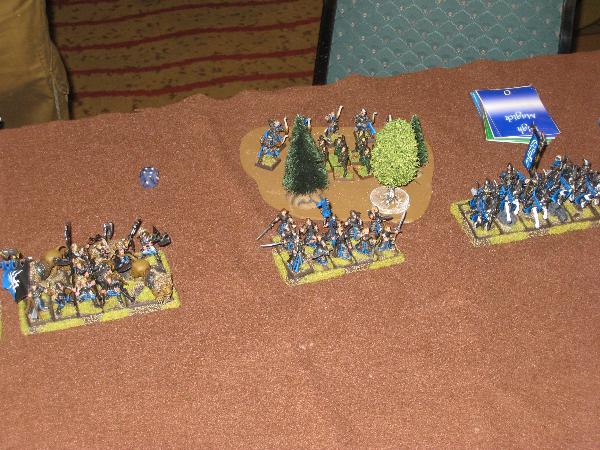 At the award ceremony they announce my name for Close But Not Quite! Bittersweet. Very happy to be called up and have my picture taken in my Lost Legion shirt, but bummed I dropped the ball in the third round. With a win perhaps I would have had it.
Caius comes up after and informs me that I missed winning by 7 points.
And that they gave me a zero on painting for the proxies.
I quietly flip out in my head, while being (I am fairly certain) very polite to Caius, and noting that wasn't what Marty had said would happen.
On my way back up to the room I decide to double-check with Marty, who has already talked to Caius and confirmed that they actually DID give me an 8 of 10 for painting (which if anything, is generous), and no, I wasn't robbed. Whew.