Hey all, this is my first project log here on Dakka. I've done Wood Elves previously, and Tau. But for the last year and a half I have been collecting these beauties. I always wanted to field Eldar, and have a go painting their tanks. Finally took the plunge with Dire Avengers and haven't stopped. I love to convert things, so most of my army is made up of conversions.
The theme was an offshoot of Craftworld Biel-Tan who are sent to the Exodite world of Ciodan to stave off an invasion. As such, I've used a mix of Exodite and Craftworld Eldar. Any guardians are from the Exodite world (and I plan on using a few Lizardman bits to convert them up).
Pictures below! (Forgive the quality, please. They are Blackberry pictures, as my camera decided to die.)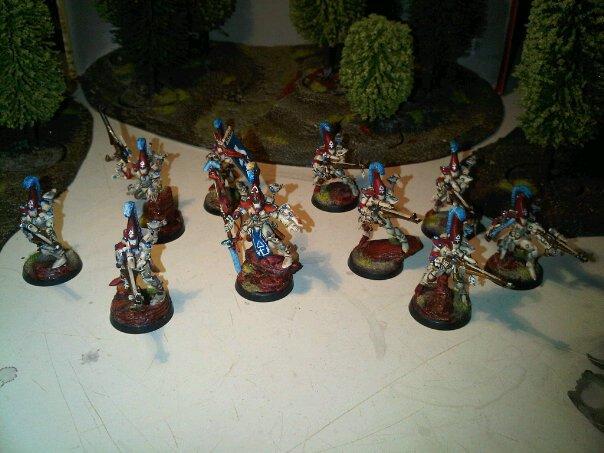 These are the guys that started it all. I grabbed them on a whim to paint up. The scheme just... happened. White prime, Red Gore helmet and right side, Devlan wash, Bone and Gore highlights, White and Blood Red highlights. Gun is black with Tin bitz. Helmet fuzz and gems are Enchanted Blue highlighted with Ice Blue.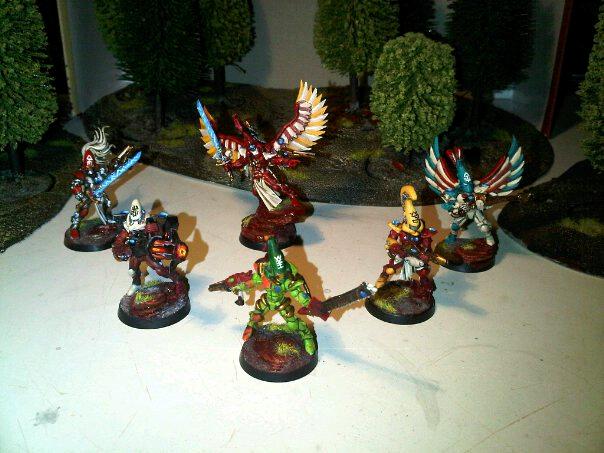 As I said, I love converting. I started with Dire Avengers, but loved their posability so much that I ended up making a bunch of other aspects from them. Autarch is straight from
DA
with plasticard wings, Scorpion is
GS
and plasticard sword, Fire Dragon melta is from Wraithlord, Swooping Hawk is like Autarch, with some
GS
. The Banshee was made from a Guardian, with the hair from a Daemonette.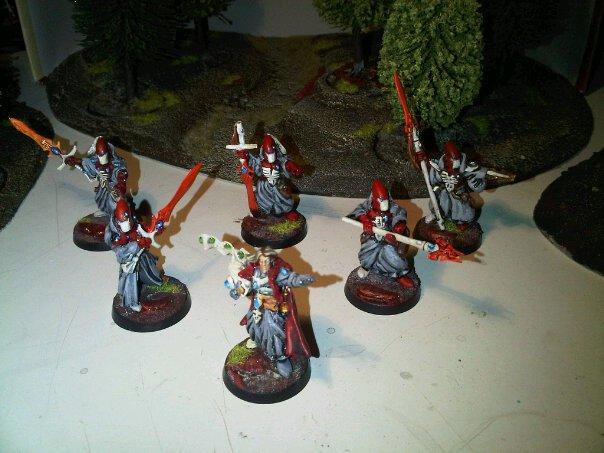 Because Seer Councils are amazingly powerful, I just had to have one. Converted them from
DA
bodies on High Elf Spearman legs, using swords and spears from the
HE
Princes.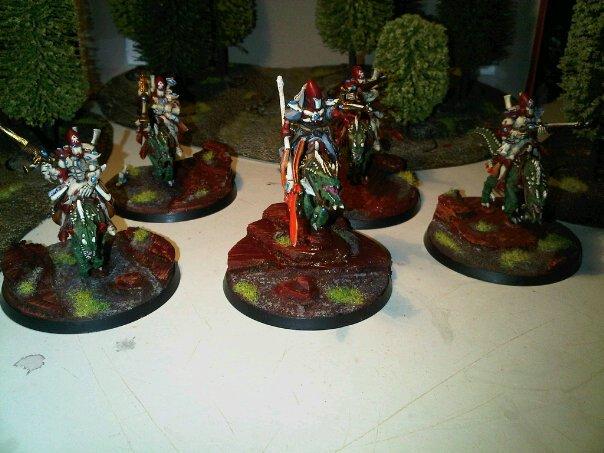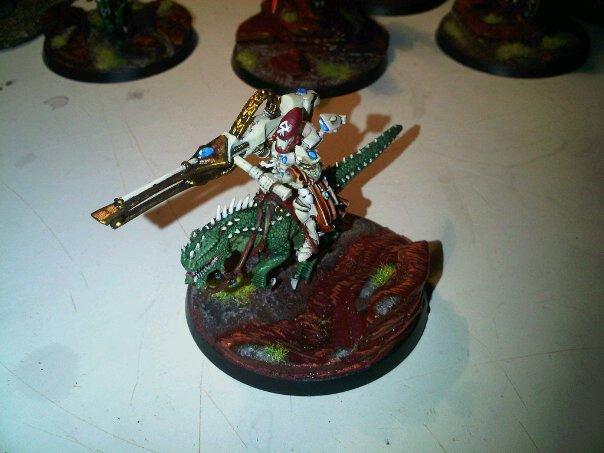 I love the Cold Ones, and don't really like the Wild Hog jetbikes, so it seemed a simple enough conversion. Cold Ones with DElf rider legs and Guardians above that. The join is covered by the use of
DA
tabards and Guardian accessories. For proxy purposes, they are the same height as jetbikes, and their bases are just a little bit bigger than the large flying bases.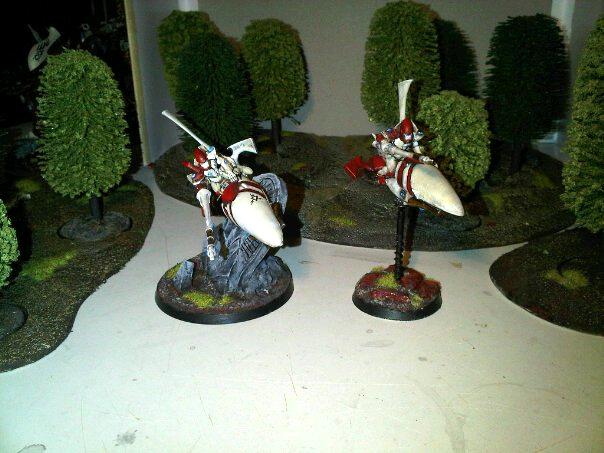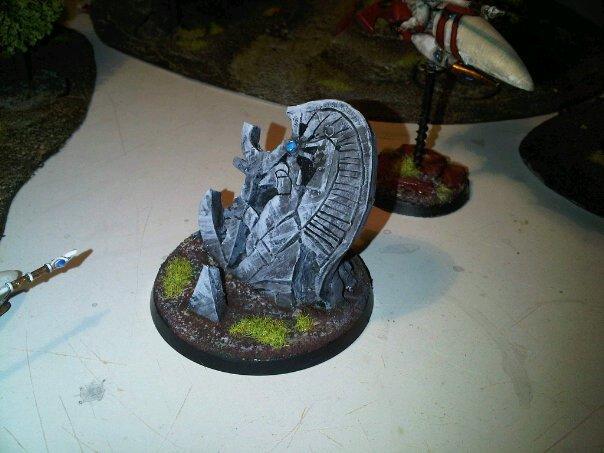 But even though I hate the Harley Davidson style jetbikes, I still wanted to do a dynamic Ninja style one as per the Jes Goodwin jetbike. I set about converting one. It took a lot, and putting the steps here would be pointless because the DEldar jetbikes work so well as a base now. These are my shining spears. The exarch is being painted. The base is one of a few I have planned, made out of foam core. I use it as an objective marker when I'm not fielding these guys.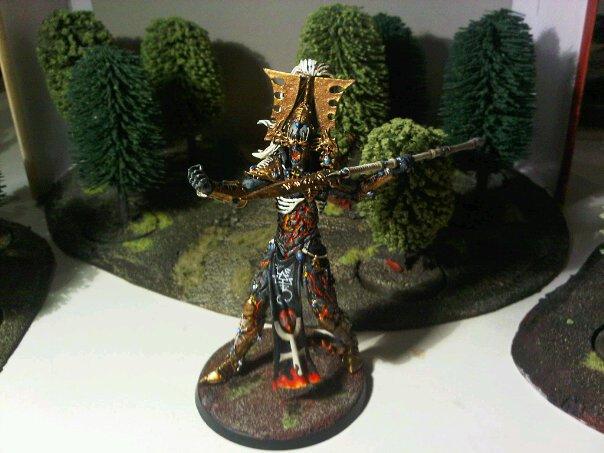 I LOVE the Forgeworld Avatar of Khaine, and I had to have one. This was a birthday present from me to me. I'll see if I can get my camera working again, because the lava-style skin and the robe loses a lot of detail in this picture.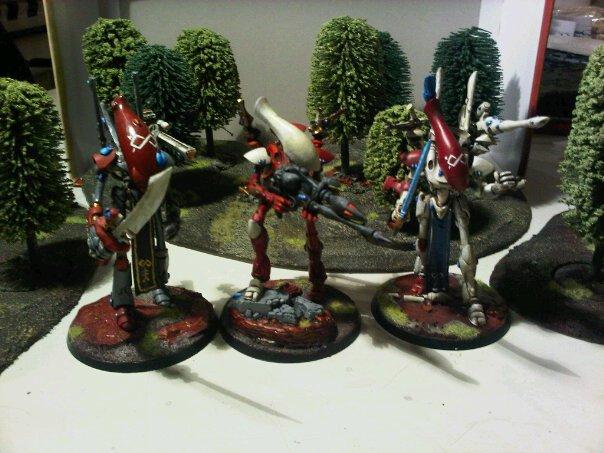 My three Wraithlords. This is a fantastic model. One of my favorites. I have to stop myself from buying several of them, to convert one for every aspect. Here are my Warp Spider sniper, Dire Avenger, and Wraithguard Wraithlords. As soon as I get the disposable income, I plan to make a Starcannon/flamer wielding Fire Dragon lord. The design on the sniper lord's head was taken from someone else. I can't recall who though. But I did not design that sigil (which can be seen below in the background of the Wave Serpent picture).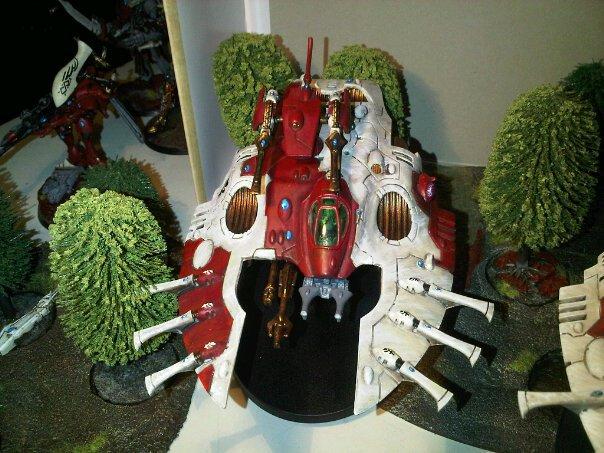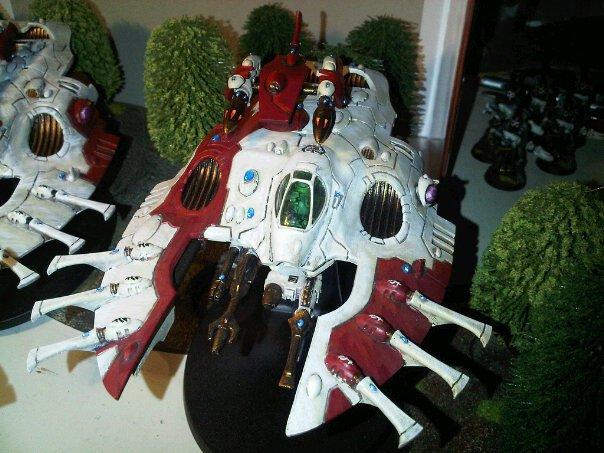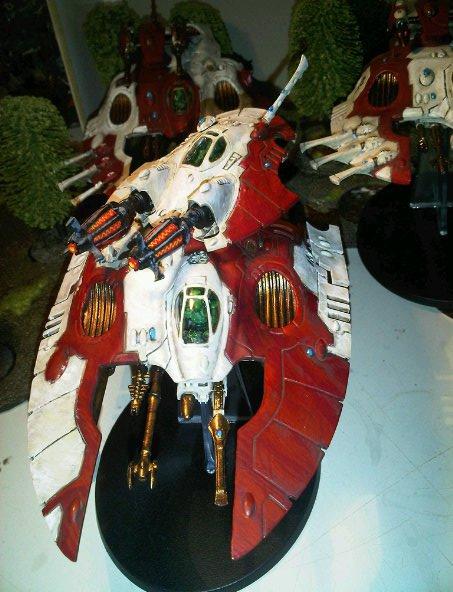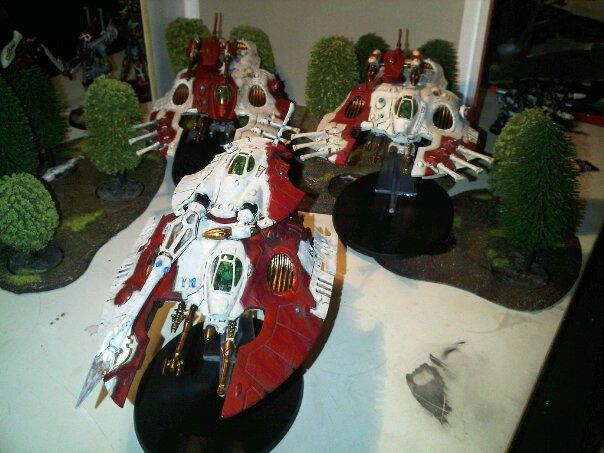 Speaking of amazing models... I wasn't sold on the Fire Prism at first, but I love it now. And the Night Spinner is fantastic! (I tend to use it against Terminators, because the dangerous terrain test and rending always claims at least one a turn.) These are my favorite tanks in the game. I decided early that I wouldn't paint the pilots real colours. Instead they are painted green, lit by their equipment console's glow.
I'm still working on the last of my Scorpions, another five Wraithguard, five more Warlocks, twenty Storm Guardians, four Jetbikes (Autach and three shining spears), need to do four more arms for my second
DA
squad, five more Banshees, four more Fire Dragons, one more Farseer/Autarch, eight more Warp Spiders (teardrop), three objective markers. A bit to go, in other words.
And now for some of the terrain I have done for this army...
http://img.photobucket.com/albums/v651/foxtale_shan/Warhammer/155005_465903963694_503258694_5501783_3906752_n.jpg
I wanted to do a Waygate, and ended up using the
DA
symbol (yin yang) as the main portal platform. Gems are from a crafts store.
http://img.photobucket.com/albums/v651/foxtale_shan/Warhammer/76770_465904253694_503258694_5501785_3272803_n.jpg
Bought in resin from Evil Mushroom Games. It's such a lovely piece of 5+ cover, don't you think?
http://img.photobucket.com/albums/v651/foxtale_shan/Warhammer/155495_465904088694_503258694_5501784_2183070_n.jpg
A ritual platform and also an interesting piece of raised scenery.
Well that's all for now! Will be busy with exams for the next week, then may dip into Dark Eldar a bit. But will be back soon with some new models! I hope you like them.