Hi everyone, here is some background I just threw together for the DIY Chapter I'm hoping to start this year. I'd been thinking of doing a surveillance and intelligence-focused Chapter for a while and when I read Know No Fear and saw the portrayal of Guilliman as a commander who places great emphasis on the processing of information and using it to draw accurate conclusions I decided to make them Ultramarines successors. I didn't want them to seem like 100% nice guys and so I used their focus on intelligence gathering to make them a somewhat sinister and insular Chapter. Meet the Silent Council (though they'd really prefer it if you didn't)!
Chapter name: The Silent Council
Progenitors: Ultramarines
Founding: Second Founding
Homeworld: Argus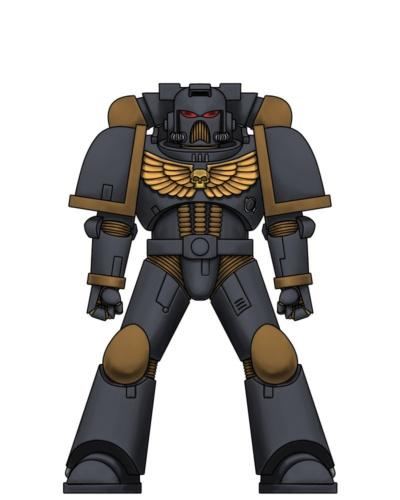 THE FOUNDING
The Battle of Calth served to reinforce for Roboute Guilliman the critical role of intelligence-gathering and the analysis of data in warfare, and the hard lessons learned during the conflict were the driving force behind the creation of the mysterious Ultramarines successor Chapter known as the Silent Council. The Silent Council is a Chapter with a reputation for insularity and secrecy, but also for wisdom and knowledge of when to strike the crucial blow.
ARGUS - THE EYE-WORLD
Argus is a relatively densely-populated civilised world home to a number of distinct cultural groups situated in the Segmentum Obscuris, midway along the border with the Segmentum Solar. This position, allowing as it also does relatively straightforward access to the Segmentum Pacificus and Ultima Segmentum, led Guilliman to select Argus as the base of a Chapter who would be charged with the gathering analysis and implementation of intelligence and surveillance data.
Argus is an Earth-like world that is noteworthy for its remarkably low levels of crime and disorder. This is due to the Silent Council's sinister practice of honing its intelligence-gathering techniques on it own homeworld. From the moment a citizen of Argus steps out of his or her front door, they are constantly being monitored and scrutinised by the global surveillance network, and they will often anonymously grant key intelligence to agencies such as the Arbites unbidden. Any transgression against the laws of Argus is pounced upon almost immediately.
The Chapter plays a significant role in the governance of their homeworld. This is carried out through advice and suggestion rather than the Chapter having any formal position in the planetary government, though such advice is followed immediately and without exception. This is typically done through heavily-encrypted anonymous transmissions to the appropriate agents.
Though the government and planetary institutions such the Arbites and PDF are able to petition the Chapter, worthy requests for advice will only on rare occasions be answered directly. It is far more likely that any assistance will be offered through more ambiguous means – for example, an Arbites officer seeking specific data such as surveillance footage from the master archives may suddenly find themselves stumbling upon it apparently by chance, or directed to it by an anonymous tip-off. Nevertheless, in other areas of daily life the Chapter does also communicate directly with those it aids, and this is most often done by the Listeners of the Tenth Company.
THE LISTENERS
The Silent Council follow the structure of the Codex Astartes with some slight changes. Scouts are known as Listeners and, as they advance of the road to becoming full Space Marines, they tend to take on a range of non-combat duties such as acting as ambassadors for the Chapter to planetary institutions both on Argus itself and worlds where the Council has some interest and spreading news of the Chapter's feats throughout nearby sectors.
This is a key part of their graduation from the Tenth Company as it is through proving their knowledge of the Chapter's history and doctrines and the realities of the galaxy, and their ability to accurately report back and even recommend possible courses of action, that the Scouts show themselves able to process and sift the flow of information that will be a vital part of their duties as full member of the Chapter. Another duty taken on by Listeners is the processing and study of data collected from scores of worlds and alien empires. For this reason, any Space Marine of the Silent Council has a firm understanding of numerous human and non-human cultures and mindsets, not to mention study and (rumour has it) incorporation of xenos combat tactics – an idiosyncrasy that has in the past led to them being eyed with suspicion by the Ordo Xenos, though when their agents visit Argus, any crucial evidence is typically nowhere to be found.
The Chaper recruits from Argus, but is also likely to approach possible recruits on nearby worlds where they have established clandestine listening posts and early warning stations (there are no second chances - if the candidate declines membership, the Council's representative will depart for good). For this reason, the names of their Marines reflect a broad spectrum of cultures, though this is the only clue to the background of any given member, for no member of the Silent Council, even in the Tenth Company, will show their face on the battlefield.
THE VAULT OF ECHOES
A Silent Council Space Marine's dedication to knowledge does not end when he is sealed within Dreadnought armour. Indeed, through means unknown, though said to be an understanding between the Chapter and the Adeptus Mechanicus brokered at the time of their Founding, the sophisticated systems of the Chapter's Dreadnoughts are, when not in battle, harnessed to effectively become powerful cogitators used to process vast torrents of data. The Chapter's Dreadnoughts reside within a vast, heavily reinforced domed chamber known as the Vault of Echoes.
The Dreadnoughts are able to access this data flow through a version of the noosphere interface favoured by the Adeptus Mechanicus, giving each one instant access to libraries of knowledge accumulated over centuries. For this reason, Dreadnoughts are as likely to serve as advisors to strike force commanders as front-line combatants. Silent Council Dreadnoughts are more likely than those of other Chapters to be of the Ironclad pattern, or equipped with enhanced armour, in order to protect these precious systems and their custodians.
COMBAT DOCTRINES
The Silent Council favour smaller, elite strike forces, and if possible prefer to identify and neutralise threats before any large-scale conflict can even begin. Therefore, a Silent Council attack will typically consist of Listeners preparing the way, sometimes weeks in advance, for a simultaneous assault by fast-moving ground forces and deep-striking specialists. They believe that the enemy can be defeated through careful study of their combat doctrine and tactics followed by a critical strike at the key moment. This is done through comparison of historical data, real-time intelligence gathering and countless simulations of future developments (another role where the Chapter's Dreadnoughts excel, often performing this last duty during the battle itself). This ocean of data is then carefully scrutinised to determine the exact point at which the enemy force can be struck with a single crushing strike. This has sometimes led to dismay among their allies when the Council suddenly seems to withdraw from battle altogether, their presence on the front lines merely being a means to study and probe the foe's strengths and weaknesses. Such dismay typically turns to elation when the enemy suddenly reels and staggers as their supply lines or command elements are crushed in a sudden explosive attack.
As mentioned earlier, no member of the Silent Council will show their face in battle, and battlefield communication is done entirely via closed and encrypted channels – much to the annoyance of their allies. They know that the gathering of information works both ways and so will not reveal any aspect of their plans, thus avoiding the slightest risk that idle talk could jeopardise a swift victory. At briefings and planning sessions the Silent Council's representative will absorb the relevant information and disappear without a word.