Regardless of setting, who doesn't love a good "dungeon crawl"?
Now imagine undertaking one in the violent and deadly grimdark universe of
WH40K
.
I have always had a soft spot for the "out of the way" locales in the
WH40K
universe: spacehulks, underhives, etc. and thus Zone Mortalis has always been intriguing to me.
Then reality sets in:
FW
Zone Mortalis tiles and accessories are [deleted] expensive!!!
Ok, deep breath and generate plan B: to build my own DIY modular ZM board.
Goals:
1. More modular
2. More personalized
3. enhanced variety of gameplay
4. Cheaper
5. Cheaper (yes I listed it twice)
Initial sessions where spent with pink foam working out general construction ideas. I've also worked out a design for bulkheads and created a 3'x3' surface.
I'll detail and break down some of these initial design attempts In later posts, but I've settled on the basic wall and bulkhead designs.
Also what is the most exciting is I've been able to pretty densely cover a 3'x3' ' surface with about $30 of foam which is less than ONE
FW
tile.
One thing that I find lacking about many of the commercial
FW
Zone Mortalis boards is they are all sort of the same and lacking in that "lived-in" aesthetic that brings terrain and games to life.
I don't just want a plain "minotaur maze", I want pipes and machinery and rooms that look like they have a function, etc.
Thus I am planning to build up a large supply of terrain items(machinery, pipes, barrels, etc.) to add cover, obstacles and visual flavor (with associated strategic variety).
An example (a rusty storage tank):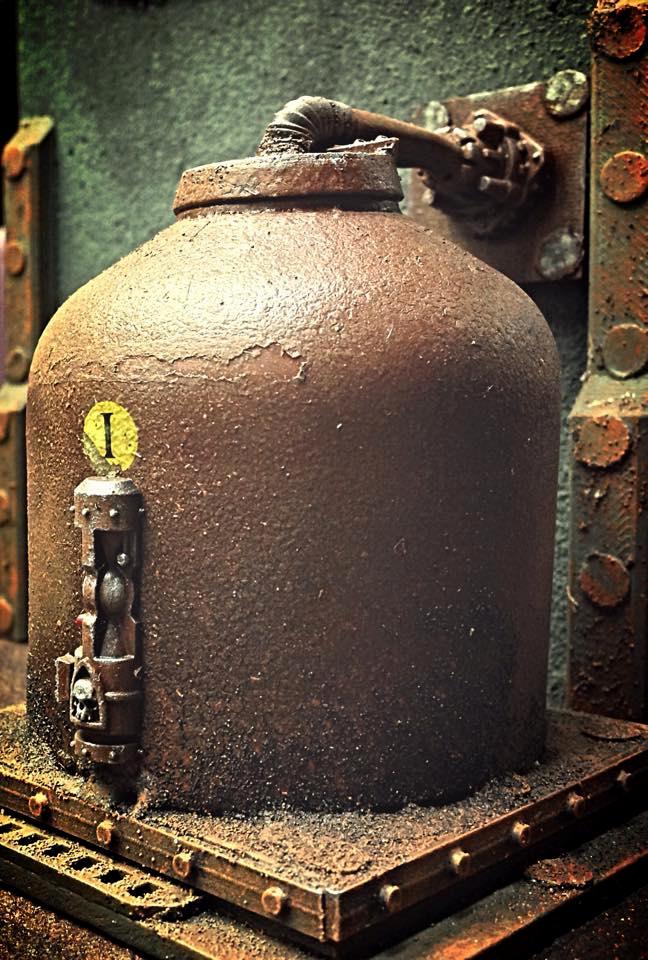 Updates to follow.
C&C welcomed.