So, let me start this post by saying that Millenium Con is amazing, and if you have the opportunity to attend, I would highly recommend it. The folks that throw it (Lone Star Historical Miniatures, and you could find every kind of tabletop game there that you could possibly want to play. Truly impressive event, here is the link to their site if you are interested in attending next year.
http://www.millenniumcon.info/
I did not take nearly enough pictures, so I borrowed some with permission from Charles Torok, one of the event's organizers (and a great guy, too!).
This was the table that I played two out of my three games on: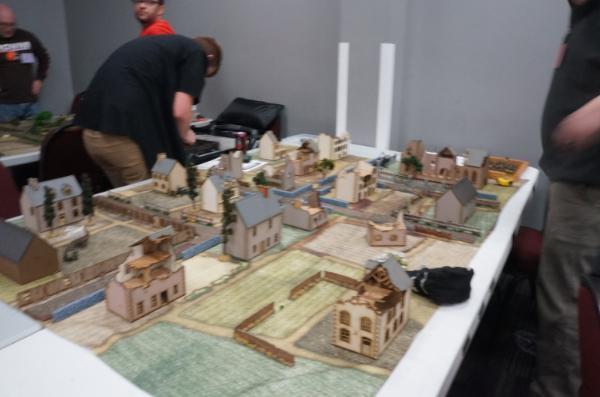 The
MDF
houses were top notch, but I was not able to find out who produces them. This table is pretty representative of the quality that LSHM brought to this event, and there were something like 11 tables just running
BA
during the tournament. Nate Culver was the tournament organizer, and he did a great job keeping things moving.
AAR:
Game 1, Friday Night - 1250 point Mid War, Scenario was Kitty Hawk Down from WWPD. Basically normal game up until turn 4, when a plane crashes down somewhere on the center line and acts like a heavy mortar shot. The crash site then becomes the objective. This game was pretty bruital, and we played into a 7th round, and still called it for time. This was my first real game of BAv2, and I was moving pretty slow. Opponent was Americans. Had a Sherman, medium mortar, two MMG's, bazooka, and a bunch of regular infantry. It was a pretty solid match up. He won by having more models close to the objective (4 to 2). If we had gone another round, it could have swung the other way.
Game 2, Saturday Afternoon - 1250 point Late War, Scenario was basic attack and defense with two objectives in the defenders zone and one in No Man's Land. Deployment zones were opposite long corners. This was a bit of a slog, but a fun game. Opponent was also Soviets, but our armies could not have been more different . He brought 2 IS-2's, a medium howitzer, and a bunch of 8 man guard units. His tanks focused on wiping out one of my Guard squads and an Assault Engineer squad (the one with the
FT
died having done nothing better than acting as a distraction, real sad). I had some really lucky Panzerfaust shots, and managed to kill both tanks! One came from a Guard squad, and the other from one of the Tank Hunters. Can't get better than 10 points of upgrades taking out 700 points worth of tanks. Nonetheless, he ended up winning this one, I just couldn't make it up to the two objectives in his deployment. I was holding the one in No Man's Land, and had units on his side at the end of the game, so not a terrible showing.
Game 3, Saturday Night - 1000 point Mid War - Scenario was pretty basic, with 5 objectives. One in the center, and one in each quadrant. Opponent was playing Germans, with four or so Shrafbat squads, some Vet motorcycles, a Captain, a truck with 8 Pioneers, and a stuka zu fuss. This game was like playing speed chess because the organizers had a strict two hour limit because they had to tear down to prep for the swap meet in the morning. We managed to play to round 4, I won by capturing 3 of the five objectives. Most of the game centered on the middle objective once we had both set up fire bases on our deployment objectives. It was interesting playing to a scenario where you know that the time is so short. My assault engineers wiped out one of his Shrafbat squads after rolling up in their truck, then were subsequently wiped off the objective by the Stuka. Turn three I had the assault engineers, a full squad of Guards, and an atitank rifle sitting on the objective. By the end of the game, it was just the ATR holding it uncontested. If we had played to 6, it could have gone either way, as I think he would have been threatening the center, but I had a decent chance of taking one of his backfield objectives.
List Lessons Learned:
+Assault Engineers+
I am really not sure how I feel about running two of these, or how I have them configured. They are definitely the bullet magnets of my army. Part of this is that there is not anything really remarkable in the rest of my list, which is by design. Having two brings great redundancy, but I have to wonder if I would not be better off with three Guard Squads with a separate Flamethrower team. ROKS-2 provides a nice buff to deal with one of the worse drawbacks of a team
FT
. Going to have to think this over a bit. They did manage to absorb a tone of damage, and would be able to take even more so if I got the armor upgrade. The extra 55 points to get SN-42 for a full strength squad is pretty steep, though.
+Medium Mortars+
I am less impressed by these than I had hoped. They are really good at keeping the enemy moving, but there are really only so many viable targets. Criss crossing mortars and spotters did allow for a lot of battlefield coverage, but my opponent would generally just make a small move to avoid ranging in. I may also have to rethink strategy with these, as there were a couple times I picked a the "wrong" target, but I think that I will probably just bring one in the future.
+Trucks+
These things are solid gold, especially with the pintle mounted MMG. Being able to run a big fat infantry unit up the board was huge in itself, but having a fast response unit that can provide fairly long range support fire afterwards is awesome. They are also a great distraction unit, as you opponent knows that they can be taken out with small arms fire. Gives them something to gamble one, but they are still only penetrating on 6's. Just like I had hoped, they were also great for clogging up roadways once they were KO'd. I am now planning on getting another 2 or three of these kits so that I can have a fully mobile force. On a couple of the scenarios, I would have loved to start in with artillery limbered up, but moving troops up the board was more important.
+Artillery+
The M-42 was okay, and it is cheap points wise, but definitely not an auto-include. The light howitzer was pretty nice, but the 2" template just does not pack a lot of punch, and the lack of a spotter is somewhat limiting. Having the option to fire indirect is great, though, and reduces concerns about having my troops block sight lines. I had thought about replacing both of these with one or two Zis-3's. I still plan on getting them because I think that they make better use of two artillery spots in a single platoon build.
The Zis-3 is 80 points, has 4 wounds, one order die, +5 Pen, 60" range, and can opt to shoot as a light howitzer. Collectively, the
LH
and M42 costs 108 points, have five wounds, 2 order dice, +4/+5 Pen up to 24" range and max range of 48", and put out a light howitzer round every turn. At 160 points, I could have two Zis-3's, which is kind of the best of both worlds. Tough choices without knowing what your opponent is going to bring. Having the option to move your anti-tank asset while the light howitzer fires is a pretty major bonus. I think that the
LH
and M42 combo re
+Anti Tank Rifles+
I understood going in that these were not going to provide much help, but I am convinced they are essentially a waste of points. Three order dice for 90 points is nice, but they do not fulfill the role that Tank Hunters do (Panzerfaust delivery), and I think that for Mid-war historical list you are best off doing what the Soviets did:
Rely on artillery for taking out tanks.
+Snipers+
I had good luck with these, and they are very flavorful, but I recognize that it was just that:
luck
. I still think they are worth taking, but I would be more hesitant in the future to take two of them. They are good bullet magnets, though, especially if you manage to kill something juicy with them.
@halonachos:
Looks like the kits have gone up to $38 on Amazon, but that is still better that $50 MSRP, and less than $1 a model.
I like the look of Anyscale's stuff, but balking at the likely shipping cost. There is a guy from San Antonio that runs a 3d printing service, and I have been considering having him print up a bunch of trucks, then just selling off my Tamiya trucks because the scale will probably be off (he prints in 1/56). It is either that, or stick with Tamiya and get one of their Opel's. It is kind of a trade off between durability and detail. 3d-prints are never going include the level of precise scaled detail that you get in a traditional plastic model kit because they have to make certain sections blocky. I really want to check out Rubicon's kits, as they are fairly affordable, and are built with wargaming in mind. Might be a happy medium.
Howitzers can direct fire, or indirect fire. Medium and above howitzers can have a spotter to improve Line of Sight. The Zis-3 is an antitank gun that can fire as a light howitzer with no upgrades, it just comes with that stock. At 80 points, it is a very flexible gun. The KV-2 is absolutely a beast, but it also costs 300 points at Regular. I plan on getting one, but I think that it would have to be the sort of thing that you center a list around. Honestly, if I was playing against a KV-2, I would never put a unit in a building. That's when you start deeply exploring ruins and dense terrain features.
See notes on snipers above. Single shot units are really kind of meh. I think that was my issue with the M42, too, though that has the opportunity with that single shot to take out something that costs 200-300 points. The most points you can kill with a sniper shot is a 70-90 point team. Granted,the sniper is more likely to take out that 70-90 point team than your ATG is to roll the series of numbers necessary to take out a heavy tank.
See notes on assault engineers above. I like the ampulomet from a game mechanics perspective, but they were solely an early war phenomenon. Likewise for bomb dogs, which were only deployed a couple of times in (relatively) small number to very little success.