i am having so much trouble dealing with pvc minis.
at my skill level the plastic is too soft- it doesn't cut well without leaving residue. i can't use files without leaving residue. i can't scrape mold lines without leaving residue.
i fully admit i am no where near the talent level of most of the people that play mantic games, but i'm not completely incompetent either. here's my frost giant-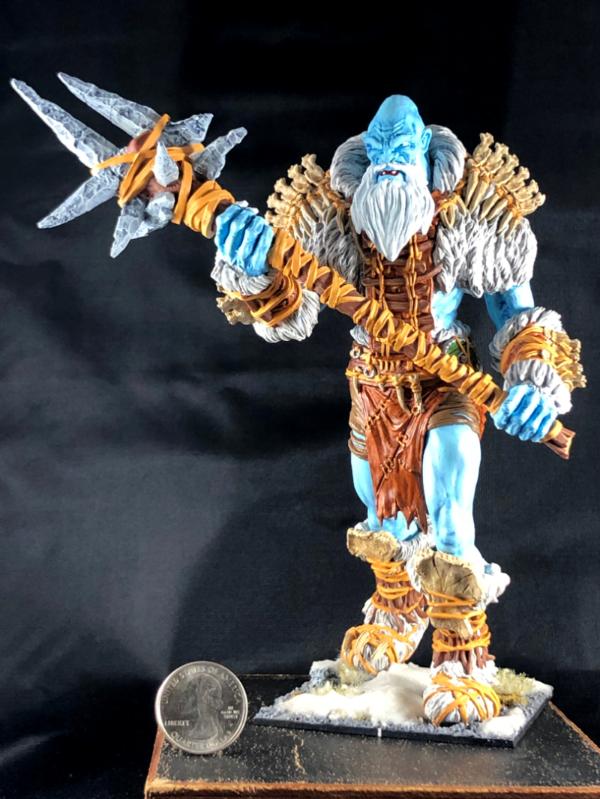 i feel like it looks pretty good, but a lot of the pvc in the vanilla giant figure was replaced by resin parts to convert it to the frost version. i had no problem dealing with the other resin figures that came with my vanguard pledge, either. i have had no problems with metal figures in the past. if i can actually get to a point where a pvc figure is clean enough to paint i think they look great, but getting to that point is a real struggle for me and i clearly need help. i really want to support the mantic and use their minis, but the frustration level is really becoming an issue.
i worry that this subject may be well worn territory, but to be honest i'm new to mantic games and the forums so this is a new problem to me. so any tips on how to increase my skill and knowledge so i can become a better hobbyist with the pvc material would be greatly appreciated.