My son wanted to play
40K
for New Years. It's been a while since we broke out any
40K
, we've been playing a lot of Fantasy lately. I let him pick the armies. He chose Blood Angels and Daemons for me. I only play among friends or at home so I stick to 5th ed, it's simpler and I already own all the books.
Daemons are going all Nurgle this time.
Blood Angels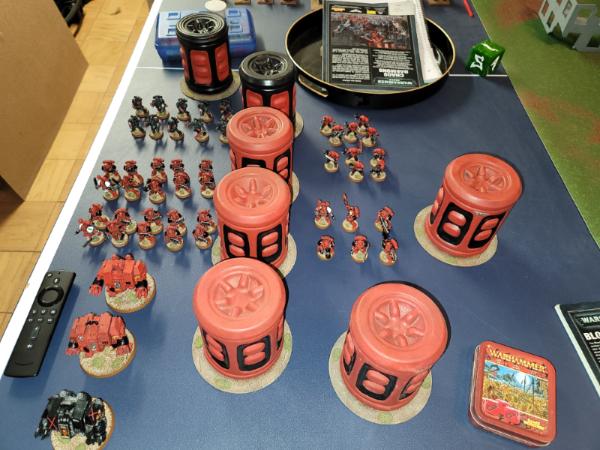 Turn 1
We are playing a simple "Capture the Objective" scenario. There are 4 power relays and a fuel dump to capture. The Blood Angel Scouts are the first on the table and capture 2 relays. They are quickly joined by the Librarian, a Furioso,
Tac
Squad and the Death Company. On the Daemons side the Herald comes in with 2 squads of Plaguebearers, 2 units of Nurglings, 1 unit of Beasts and the Soul Grinder.
The Plaguebearers take on the Death Company and the Nurglings tie up the Scouts in the center.
Turn 2
Blood Angels get another Furioso in. The other Furioso walks up and shoots the Soul Grinder in the face with a Meltagun. The rest of the table is a bit of a slap fight. For the Daemons everyone is in except the Great Unclean One.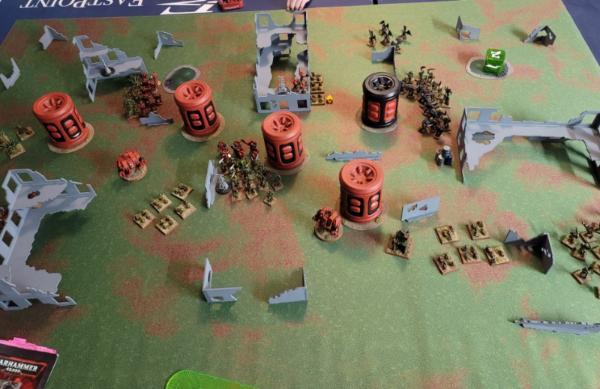 Turn 3
The Death Company are giving the Plaguebearers a beating, some Nurglings should help turn the tide!

The Death Company Dread and the last
Tac
Squad arrive. On the left flank the Beasts of Nurgle chase the Scouts off a power relay. In the center the Scouts beat down the Nurglings but the Furies move in to take up the fight. The Great Unclean One arrived and tried to take out a Furioso but got slapped in the face. The Librarian and his Honor Guard are slowly taking out the Plaguebearers in the center.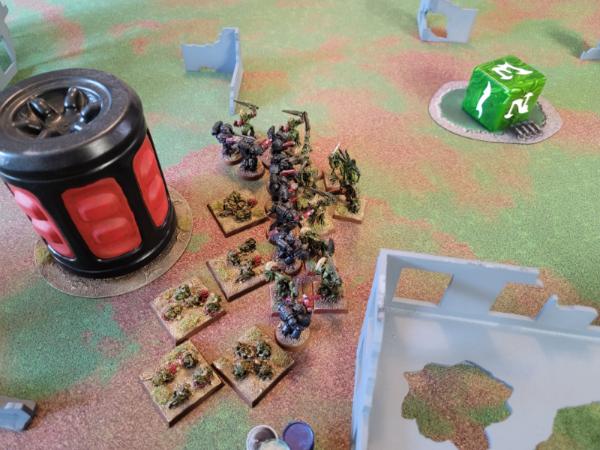 Turn 4
The Great Unclean One manages to immobilize the Furioso and Destroyed a weapon. Unfortunately the Librarian took out the last Plaguebearer and now big Poppa is outnumbered. The Death Company Dread plows into a unit of Plaguebearers and they will be stuck for the rest of the game. The Death Company keep chopping away at the Plaguebearers but the minions of Nurgle can't get through their armour. The Furies finish off the Scouts in the center.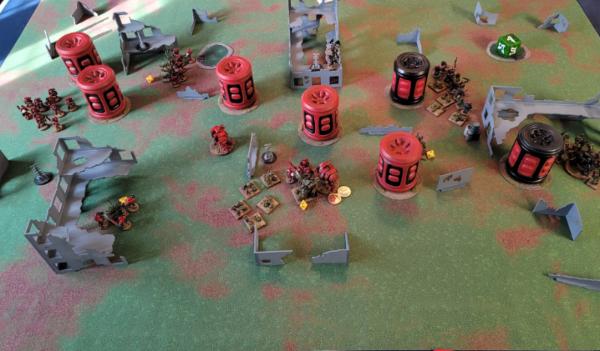 Turn 5
The Librarian punks the Great Unclean One and the Tactical Squad on the left capture a power relay. We decide to call it there, the Daemons have no way to capture or contest an objective in another turn.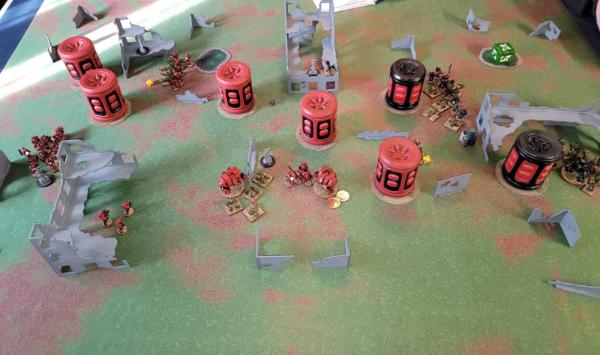 It was fun to play some
40K
again. This was my first time playing Daemons in
40K
, I've played them in Fantasy before. This was a crazy match up for Blood Angels the Fearless and Feel No Pain was everywhere

funny side note of this game, I threw the lists together fast and didn't realize the Soul Grinder was a Vehicle until my son blasted him with a Meltagun. I thought he was a monster

live and learn. Fun times, we may have some more coming.