My thread last year kept me going. Let's run it back! How many miniatures can I paint in 2021?
I originally painted these Jes Goodwin Skaven (mid-80's Citadel miniatures) a few years ago. I touched them up and rebased them recently.


NPC
tavern dwellers. The first three are Soldiers & Swords townsfolk. I don't know when they were sculpted exactly. The fourth fellow is a Wargames Foundry "Time Warped Wizard" released in 2016 (though sculpted in the late 80's, I guess)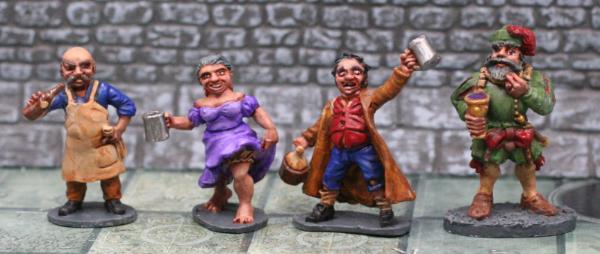 This lion is "Sholo the Lion" from TSR's Advanced Dungeons and Dragons - Conan line, featuring characters from the Marvel Conan comics of the early 80's. I believe this one was released in 1983. Most of TSR's
AD
&D miniatures have a (rightfully) bad rep, but the Conan miniatures were pretty decent.
Troglodytes sculpted by Tom Meier in 1983. They're currently available from Ral Partha Legacy.