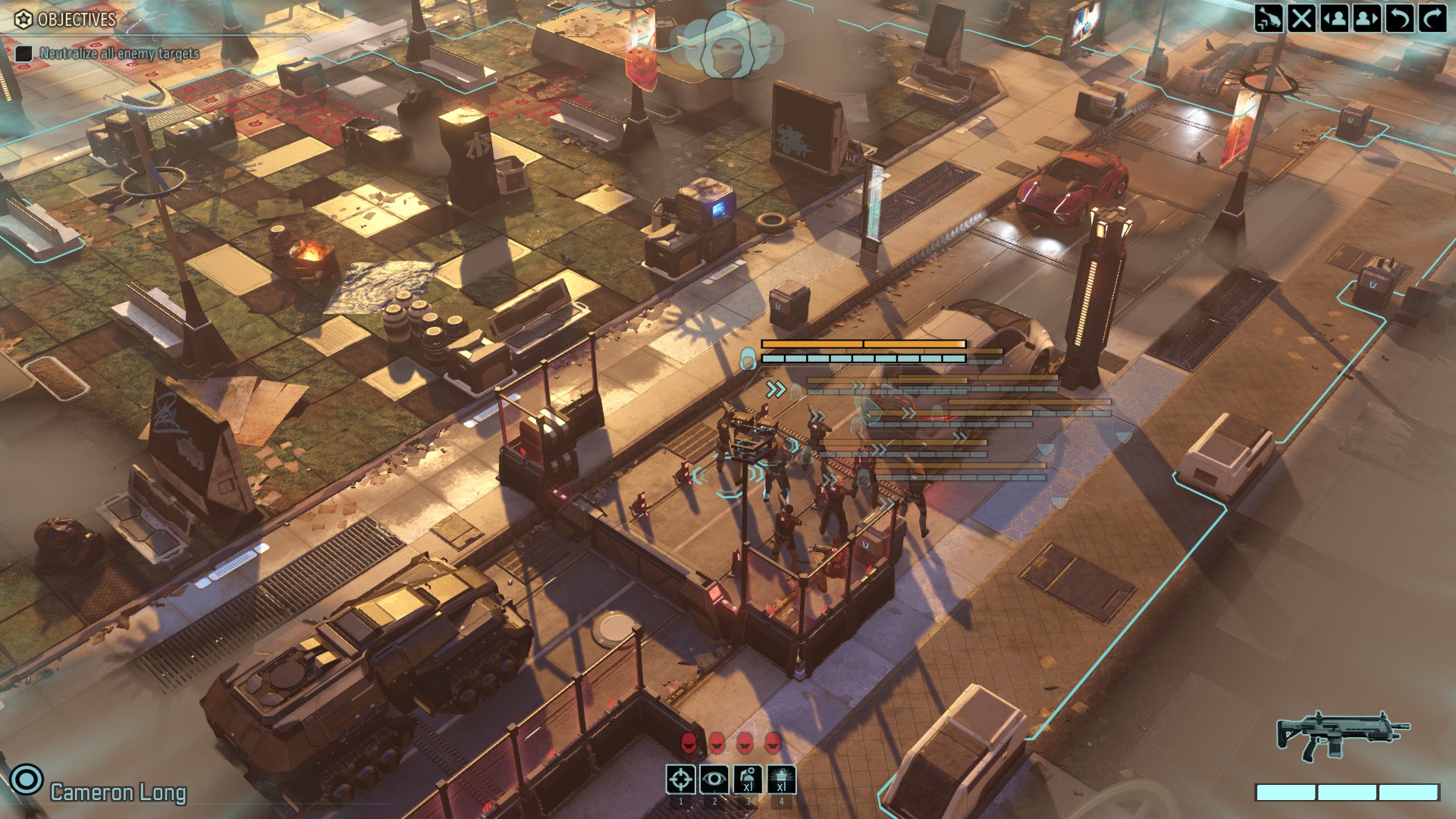 "KK Dakka Four take your team to that black marble monument at our twelve o'clock and lay up for the the ambush. Your main target is the Advent team in the road to the front. I take my team up to those park benches at our nine o'clock to put the other Advent team in our kill box over at their APC carrier. 45 sec's to complete the move. On my mark. GO!" SGT Rico briefed quickly. Both teams moved hunched over to their assigned area and took cover behind anything that looked sturdy enough to stop magnetic rounds from punching through.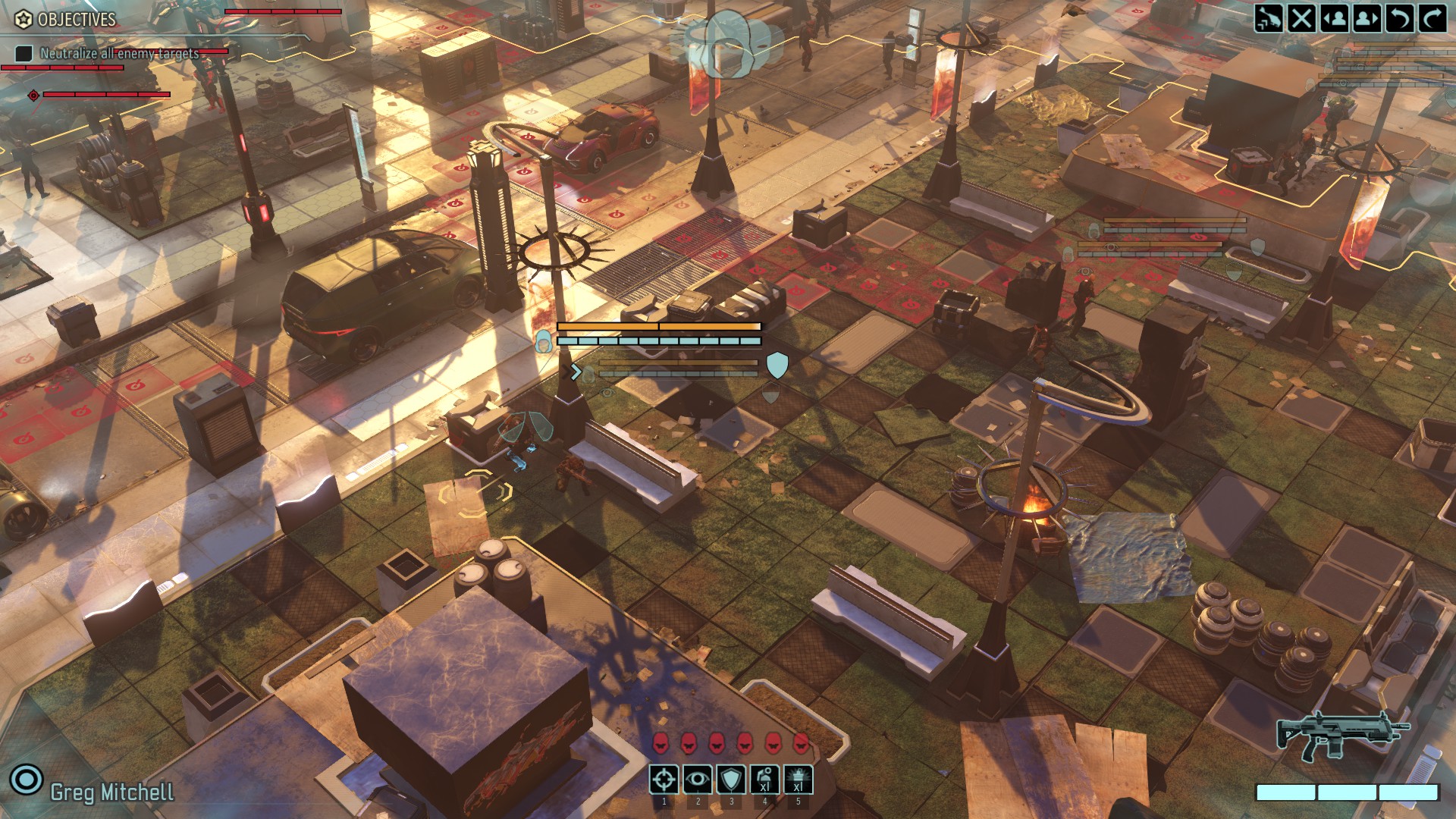 Everyone heard SGT Rico voice whispering over squad comms a minute later "Dakka Four this Redshirt 1, You good?". Dakka Four clicked once on the mic indicating good to go. Alright. When Dakka Five opens up unload everything at your targets." SGT Rico looks over to Dakka Five and gives him a thumbs up.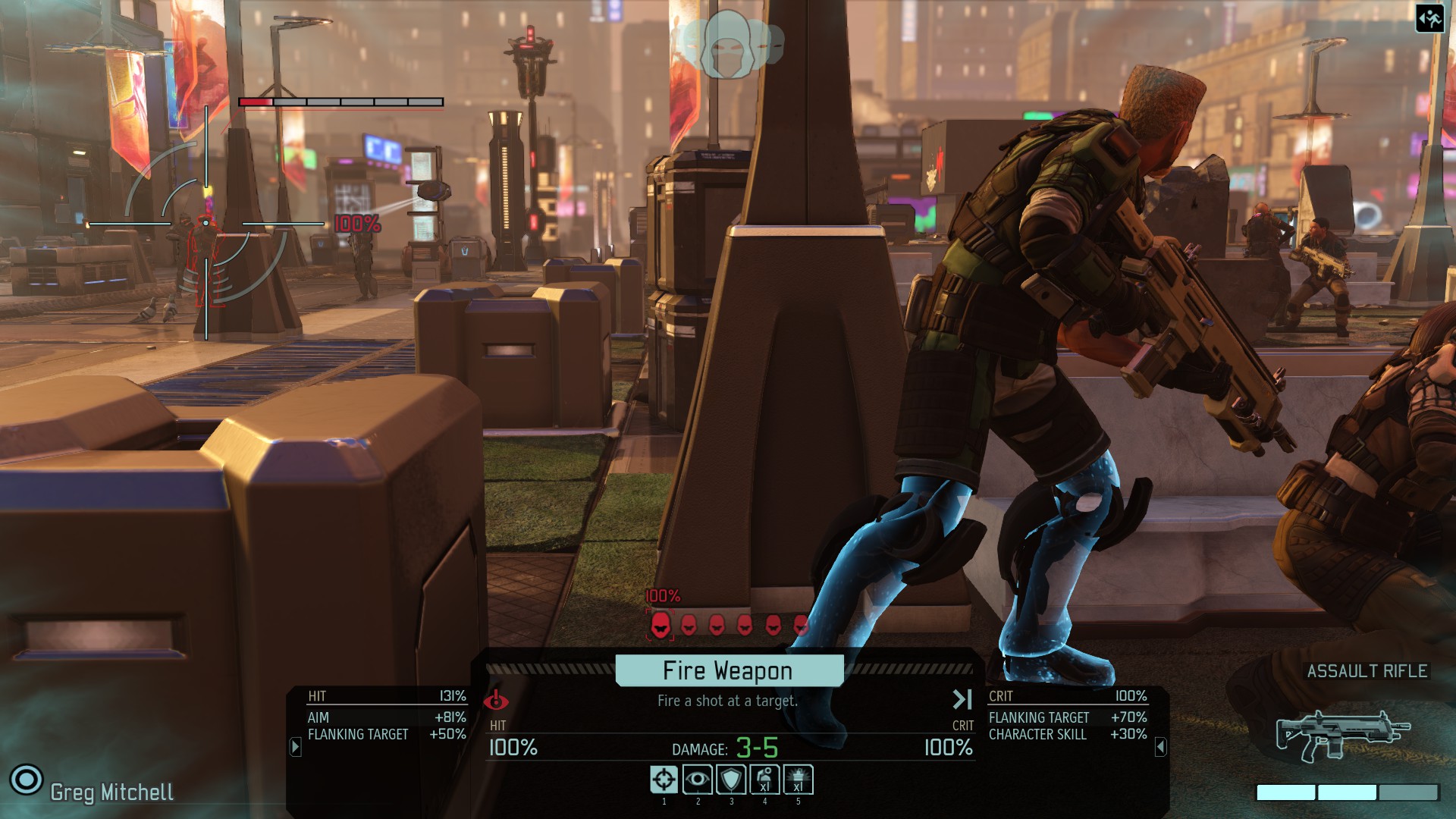 Dakka Five took a steady breath and lifted his Scar II to his shoulder and aimed at the Advent Officer. Dakka Five waiting till the Officer stopped moving and lined the sights up for center mass. Squeezing the trigger the Scar II 7.62mm burst fire broke the morning calm like Thunder. Followed by everyone in the entire squad firing into both Advent teams who were totally unprepare. The Advent Officer spun straight down into road dead as can be. A Advent Trooper flew back from multiple impacts on his chest armor killing him instantly. The Advent Drone and the last Advent Trooper made a vain attempt to rush the Second fire team position but was slammed hard into the ground by Dakka 3 while Dakka Four took a chance but missed nailing the driver for the Advent APC Carrier. SGT Rico screamed in rage and yelled "If you idiots can't kill Advent I set you on fire my damn self!" as none of his team took any of the Advent team he assign as their target. Everyone watched as the remainder of the Advent teams tried to take cover but unfortunally for Advent they were still in the kill box.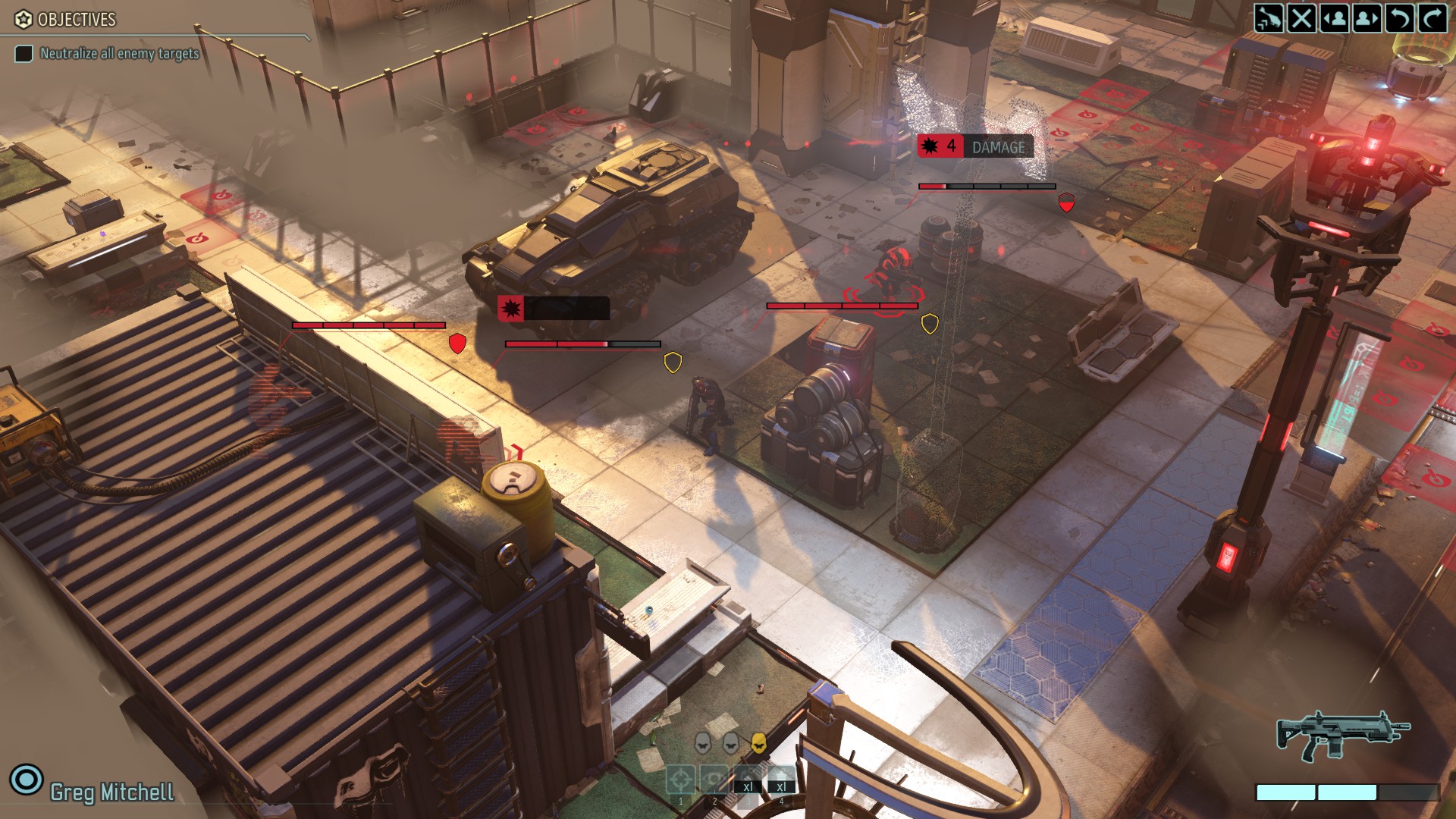 The Advents at the APC reacted like true veterans and took cover into the conex and the stacks beer kegs near them. Their Officer ran forward to lead by example but SGT Rico put a burst into him. Advent Officer body armor saved him from the kill shot but some rounds manage to make him hurt bad enough to lean on the light pole to stay up and weakly tried to coordinate his team response to Xcom attack.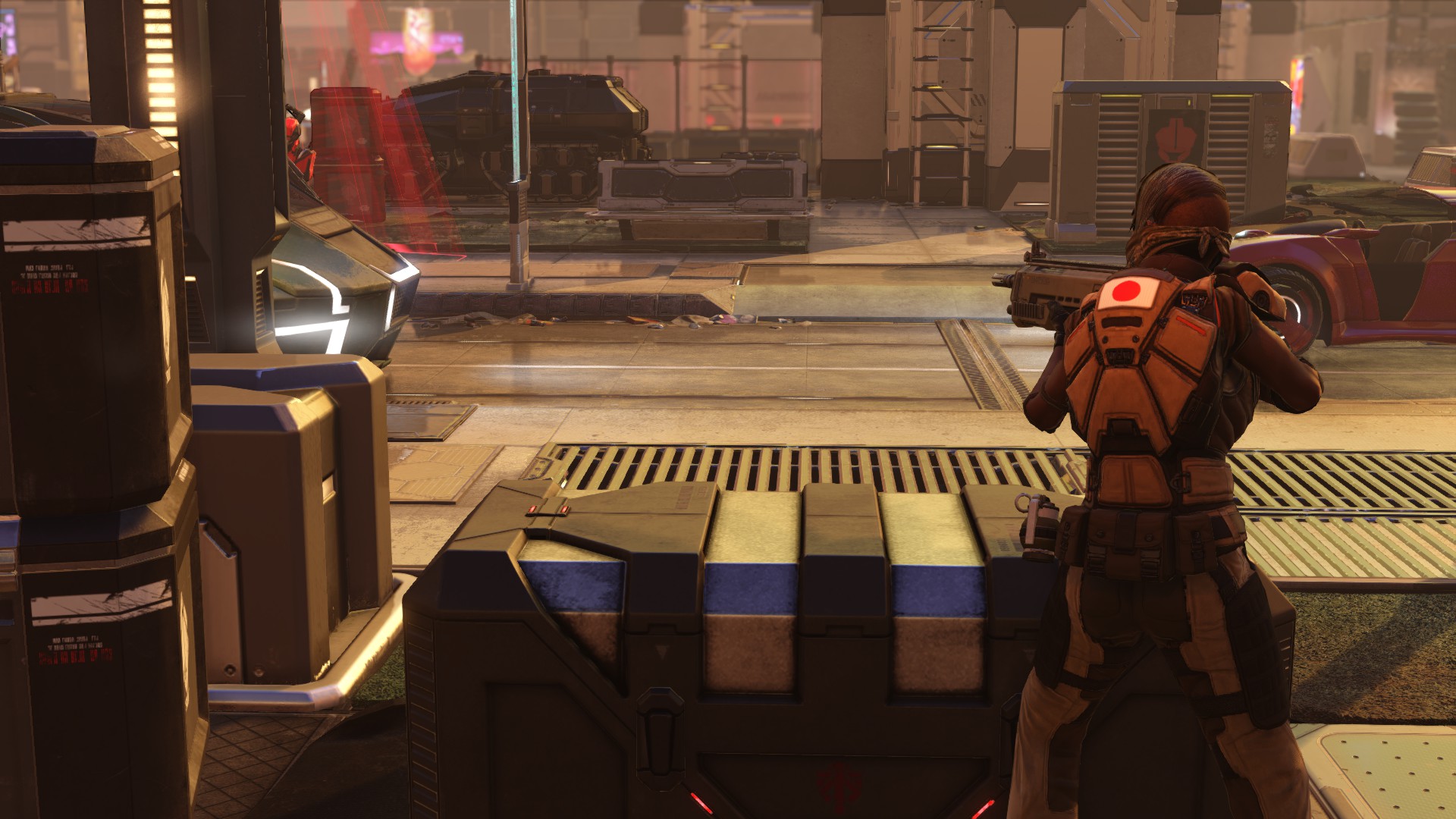 Dakka 5, from team 2, put abrupt stop to his attempt. Dakka 2 manage to pull back behind the stone bench as chunks of it went flying from rounds the Advent Trooper in the Conex returned fire. Rest of the Advent troops waited for a better target to reveal themselves. SGT Rico sized up the situation and drew one hard conclusion. End this fast or risk unacceptable losses. He yelled "HIT THEM HIT THEM GOGOGOGOGO!!!"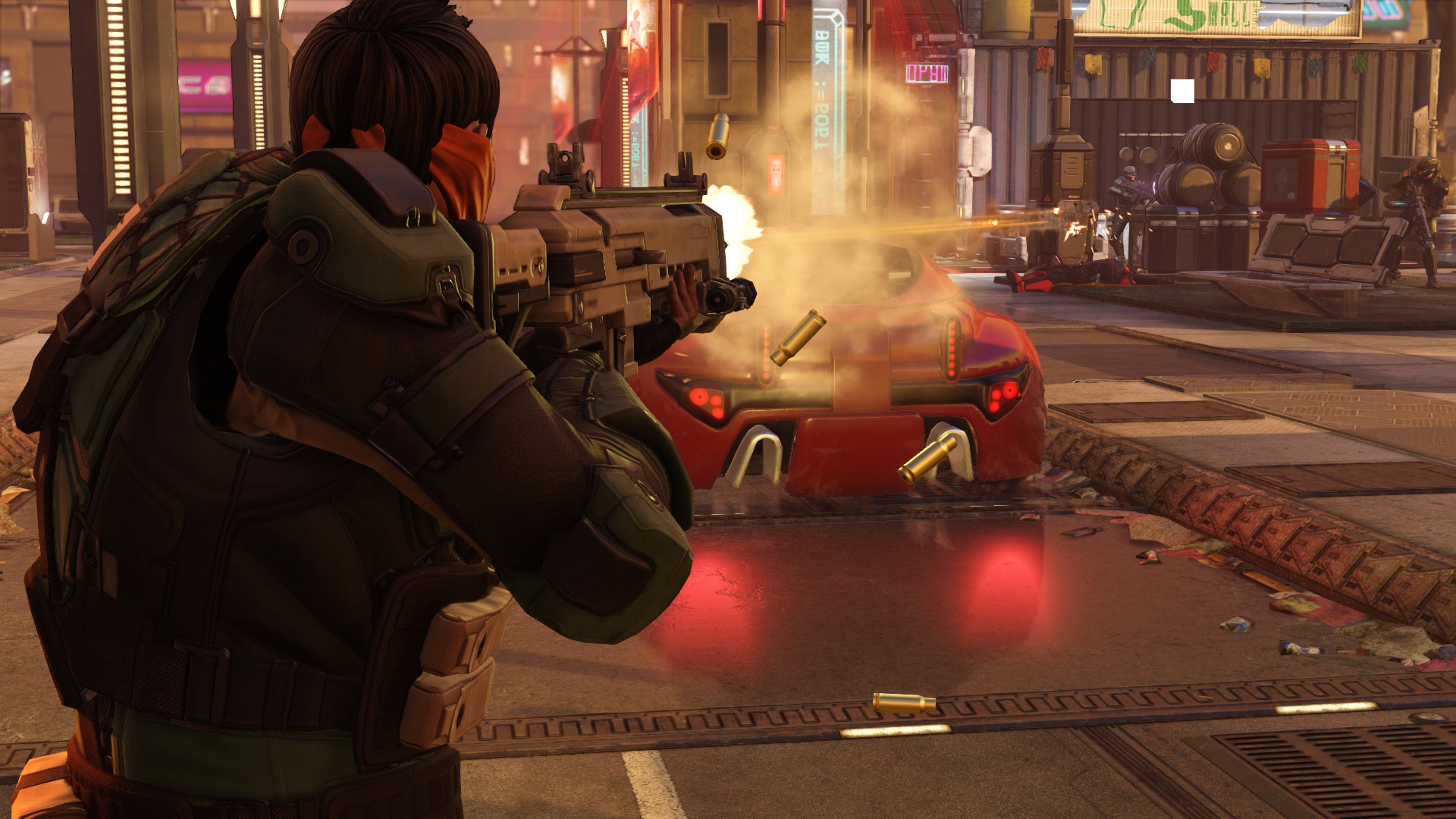 2nd Team rushed onto the road taking Advent position with flanking fire as 1st team moved forward firing straight at the remaining Advent troops effectively putting the enemy into a cross fire. One Advent trooper dropped followed by another who bounced off the beer kegs from Dakka 6 sudden arrival four feet from him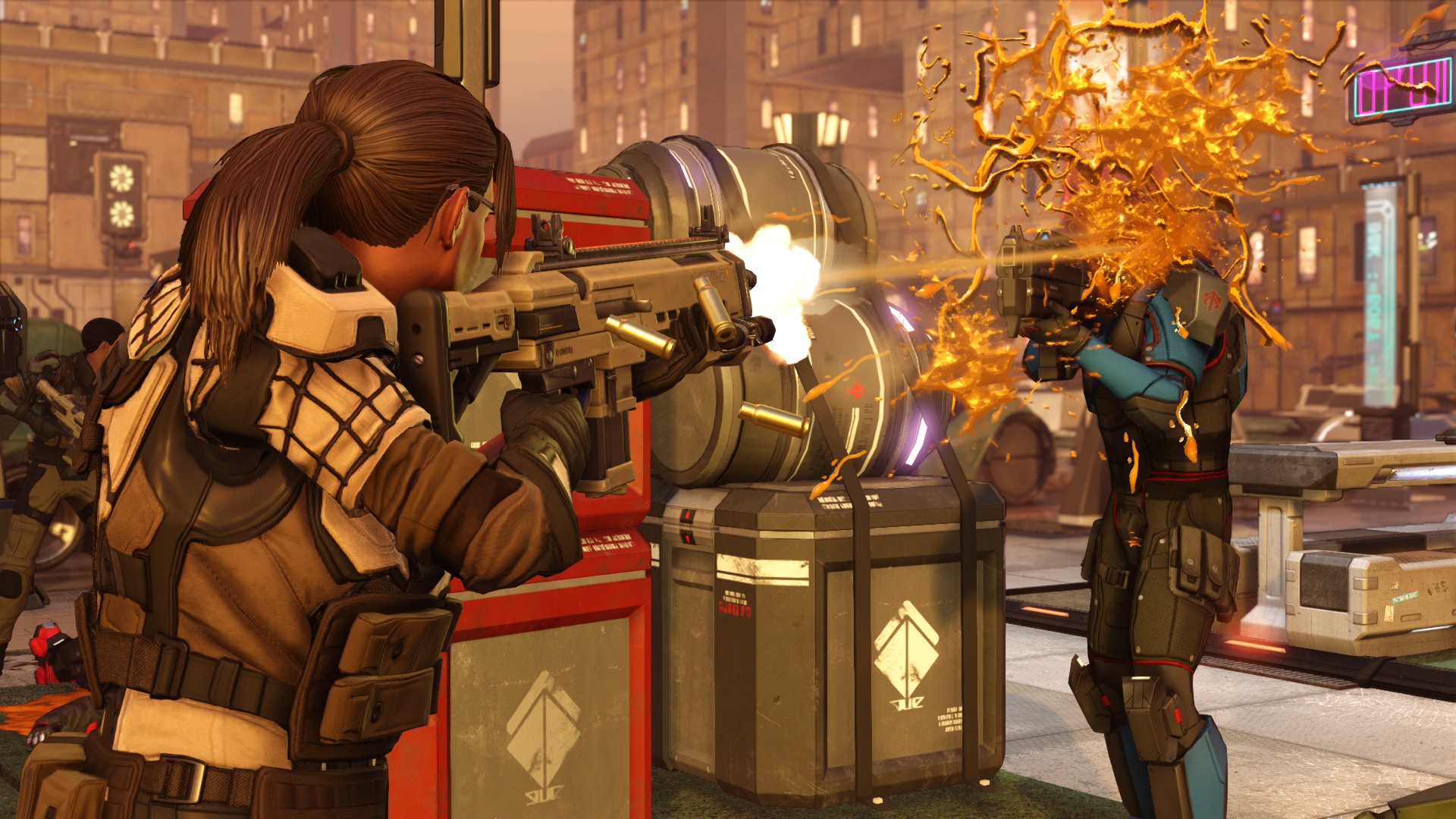 The remaining Advent trooper in the Conex came out firing but was propelled on his back on a picnic table dead before he landed.
SGT Rico quickly said on the comms. "On me. Reload. Check yourself and prep..." Dakka One sudden "ADVENT on the tower!! Engaging!"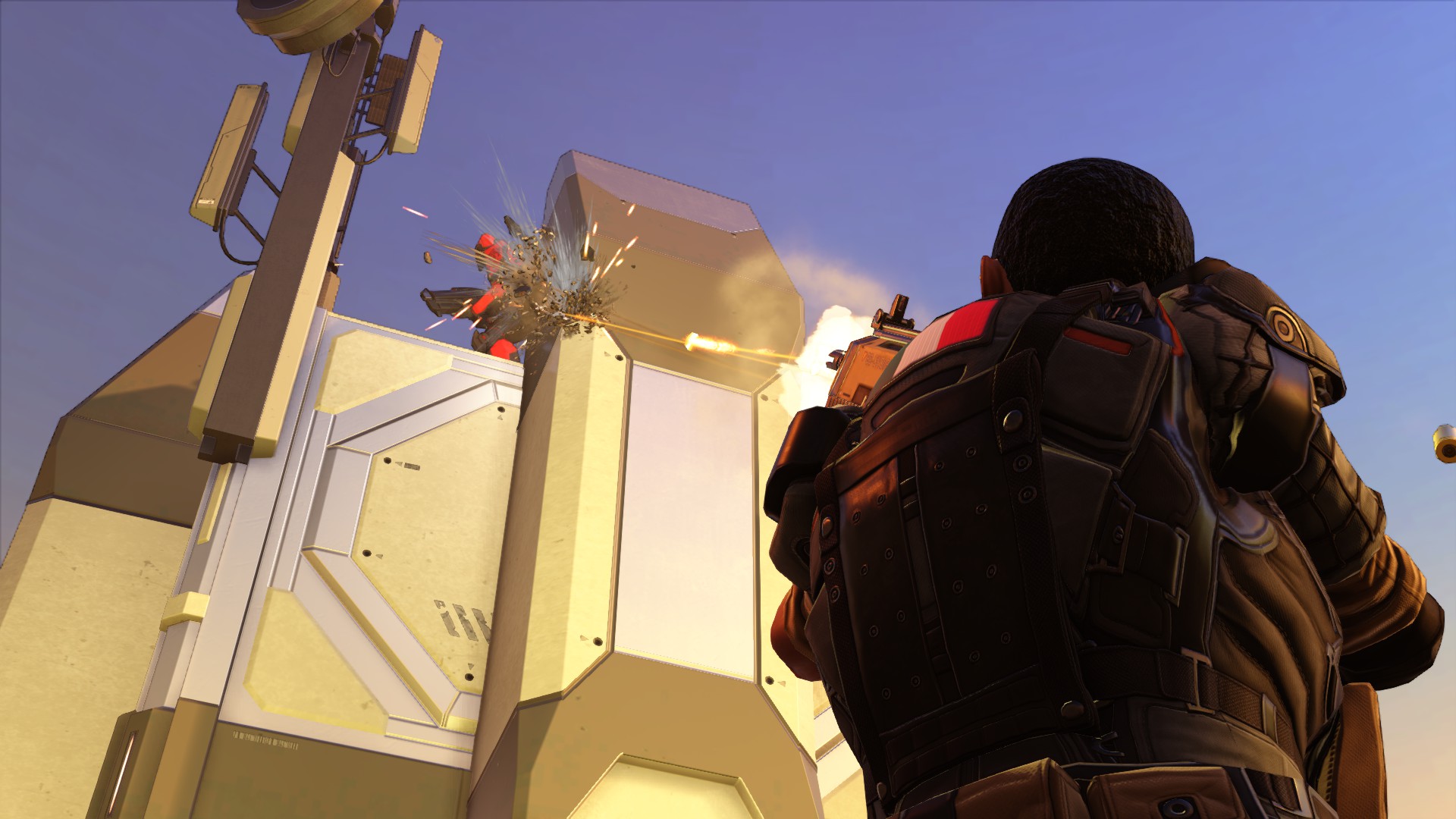 "SGT RICO CONTACT CONTACT we've a Sectoid to!!! ENGAGING!" Yelled Dakka 4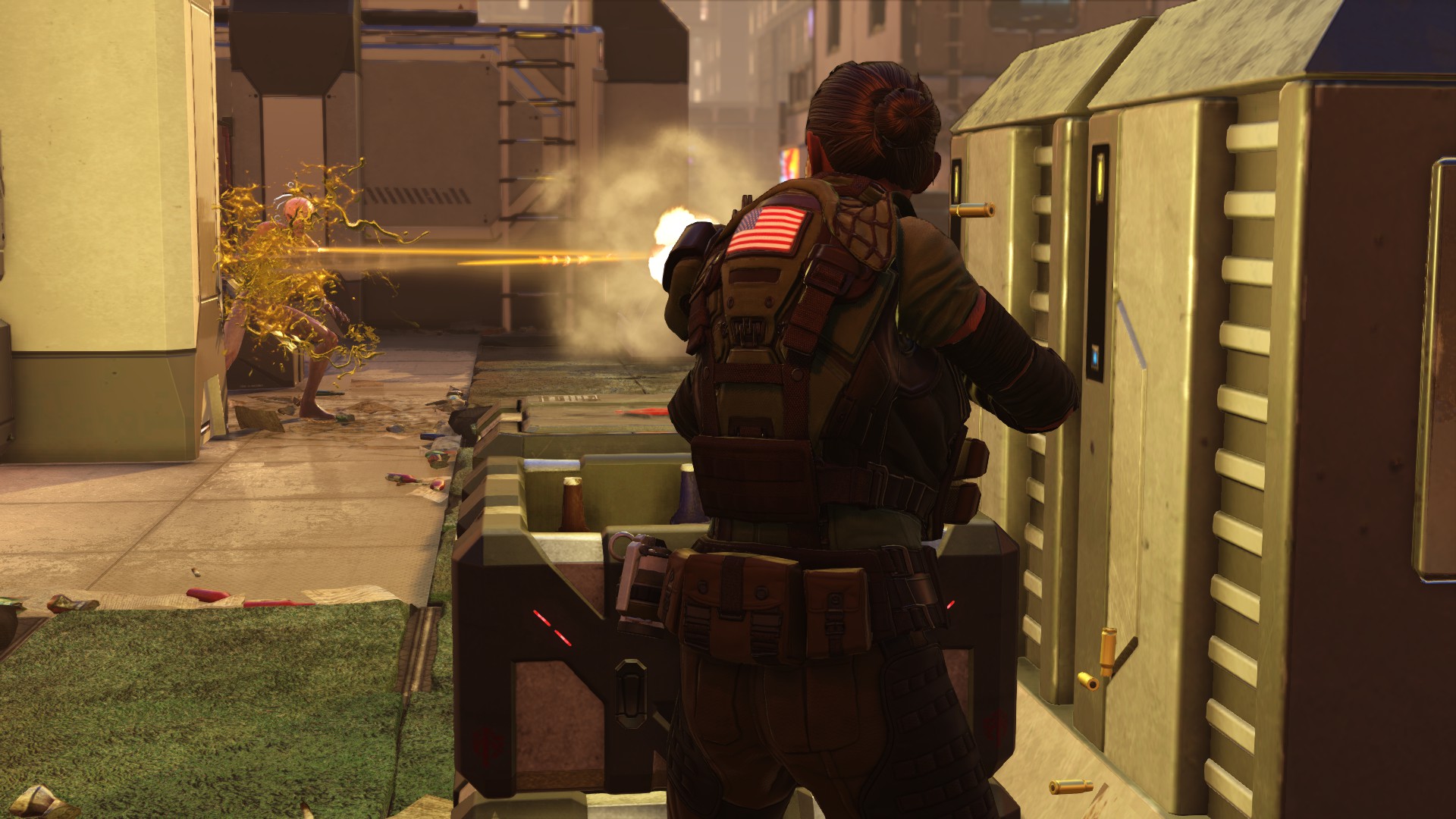 Dakka 7 also engagseconds both targets ed the Advent in the tower and Dakka 8 joined Dakka 4 into engaging the Sectoid. Within seconds both enemy targets were erased from the game.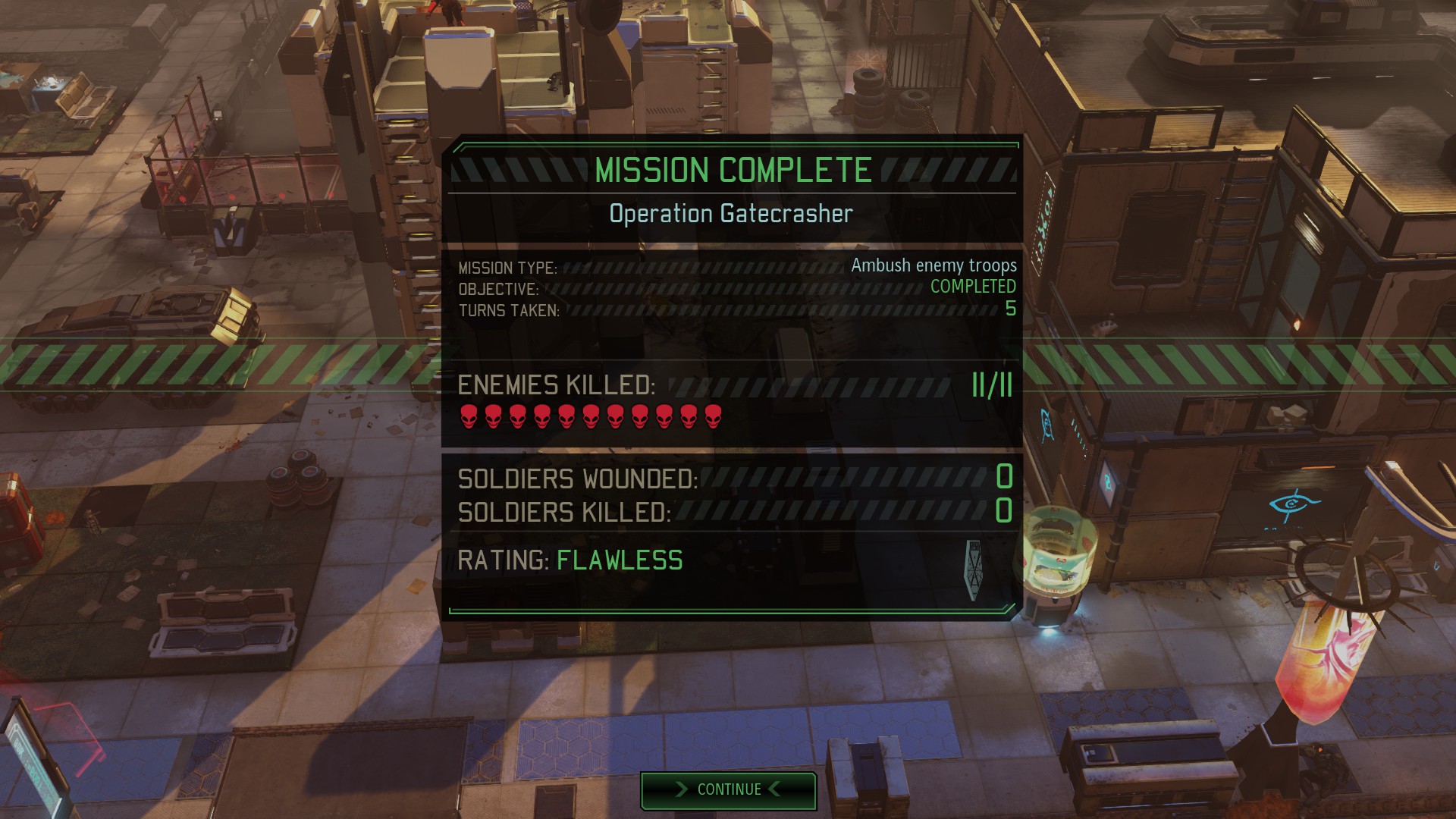 Call Sign earned. "Locked n Load" Baron Veigh
Promotions to Squaddies
Squad Redshirts