Battle One - Da Race- Gulash
The young warboss looked longingly at the yellow and black dakkajet as it stood with engines howling on the cratered Tarmak. Grots scurried over it completing final checks or at least trying to look busy.
"A ting o' beauty.."
His Mek, the gnarled creature known as Scarmahax spat. Scarmahax claimed to have been a yoof during the first waaggh, to have lived "Wild an' free" in a sewer during the entire span of time the hummies had rules the planet. When he wasn't claiming to have arrived on a ork pirate. Or in the belly of a genestealer infested humie frieghter. Gulash, being a keen orkish intellect, noticed the contradictions but didn't care.
"Its a hummie jet wif some gubbins and squig gas. An fancy paint. Not propa at all. Sure, I made it fast like you sed, but wot's da point of fast?"
"If only it was a bit bigga... ...like so I could fit... ...to be up dere... ...zoommm,zoomm, dakka dakka whoooshhhh!!!!"
"Its a zoggin Race. I don't see da point. We should be krump'n dese lads and making 'em see dat yer da boss. Yer won't amount to nothing with all this racin' and gamin' and eatin' an..."
But Gulash had wandered away to inspect the other dakkajets and fightabombas of his rivals and give some last minute instructions to his Flyin' Yoofs.
Da Game:
A race around two giant mushrooms over a world newly fallen to resurgent orks. Most laps wins. Or whoever is left.
Da Action
My dakkajets roared in low and fast and never shot at anything. Brian's Fightabombas orbited in the center, staying at mid to low altitude and shooting at everything. Insurgency Walker's jets stayed high, took some shots, but got hammered by the Fightabombas.
Da Outcome:
Gulash's planes got a few holes in them, but never suffered serious damage except for Da Red Squig which pushed the envelope and nearly ripped its own wings off making a turn. Insurgency's planes were downed by the fightabombas who never took much damage but never did a lap.
Da Thoughts:
Verdict is still out on Aeronautica. Very different feel from X wing since you do some guessing, but what you guess isn't nearly as critical as the number of planes you have and what you role for initiative. Altitude does work, but there don't seem to be the hard choices I'd hope for in an Energy Management flight game. None the Less, I enjoyed it and hope to play more. My opponents were very generous, including letting me change a maneuver when I literally couldn't keep straight which one was which.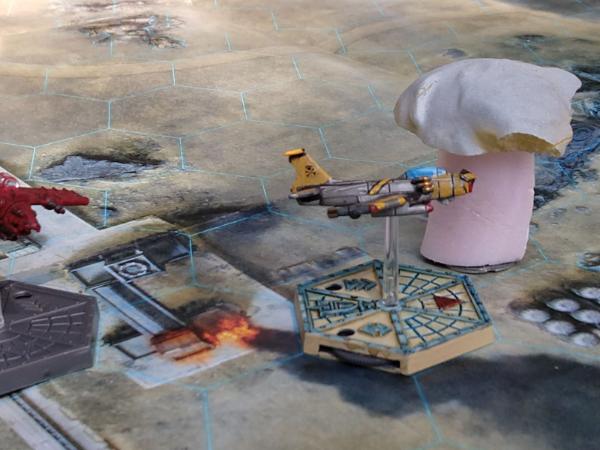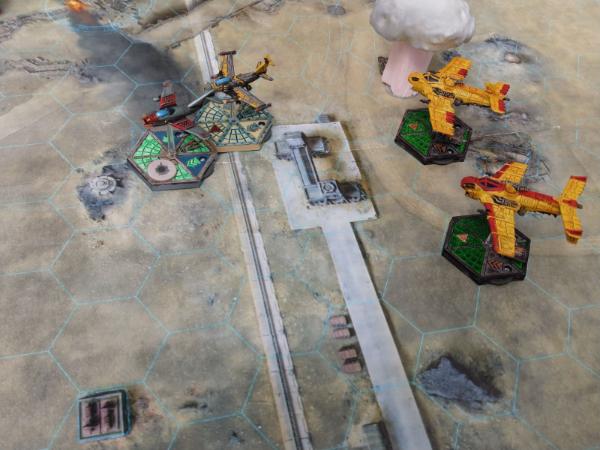 Automatically Appended Next Post:
I like the hexes and the way the map is done. I think the potential is enormous, but
GW
may not have gone the distance with this one.
Automatically Appended Next Post:
Another plus is the relatively uncluttered board, so it beats X wing on aesthetics.