So, here it is! I think this is the first battle report on here?!
Anyway, I may be missing a few photos and I forgot a couple of things that happened but this is basically it.
We played two games but this report is for the "Gather Supplies" mission. This reminded me a lot of Frostgrave - you're gathering supplies (or treasure) and then running them off the edge of the map and trying not to get krumped in the process.
One thing that I should note is that initiative order is rolled for at the top of each round. This made for an interesting game where you had to plan for multiple eventualities. I like this initiative mechanic and if you aren't familiar with it, I'd say give it a chance. It can really shake some games up and make things interesting. You will often be caught unprepared and have to adjust - something that I found to be kind of exciting.
Apologies for this photo but it at least shows our board setup. I realized that I forgot to take a photo at the start of this game and this is the best I could do. Here is a photo of the map we played on - just disregard everything else as it is set up for the other scenario.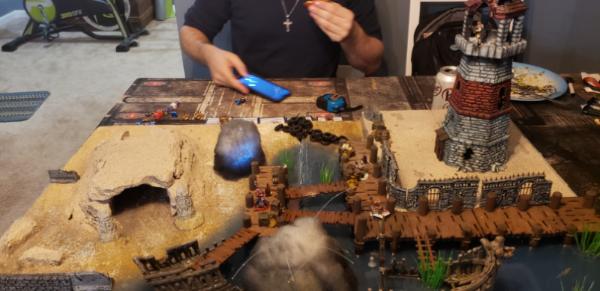 We placed our objectives in both the fore and aft section of the shipwreck and the rest were scattered across the docks and the beach.
The team I put together was fairly basic - no jetpacks or grappling hooks or anything too fancy for this test round. I decided to run the rogue traders from
40k
with Neyam Shai Murad leading her team of voidsmen into battle. This basically shook out to a few medium-sized mooks with rifles, one medium soldier with a machine gun, one with a shotgun, a small model (I think with a combat knife) to represent Aximillion, and finally my rogue trader with dual pistols. I took the regimented army trait which gave me the second in command perk for free. I gave that to my Voidsmaster model so that he could command his own small squad separately from Murad. I felt that this was a pretty fluffy inclusion - it felt like my voidsmaster actually had a functional second-in-command role. It's neat that the developers thought about this kind of thing. I can see it working for something like a starship troopers list or something too.
My opponent took a list that was based on Sisters of Battle. If I remember correctly he represented bolters with rifles and used the flak armor equipment upgrade to represent power armor. This way, each of his models could cancel out an additional wound through their armor. This seemed pretty fluffy to both of us. It's cool that representing things like power armor is possible. His units definitely felt tougher than mine with that armor upgrade!
Because I've already typed what feels like a novel I will make the battle report short and to the point. Here is how I deployed. I split into two groups. One was Murad and a few models on the right side of the board and the other was led by Nitsch and a couple of models on the left side.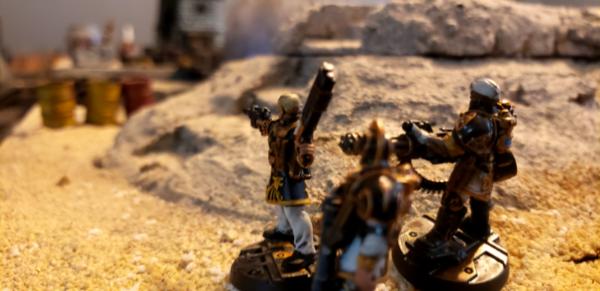 My opponent deployed on the other side of the board near the lighthouse. One of his units was in "deep strike." This is a perk for this game and it is called "drop troop."
On turn one I double moved pretty much everyone. I tried to get as close to the objectives as possible and stay in cover. I was able to get Aximillion into the stern section of the shipwreck. He grabs some cover and hunkers down. On the other side of the table it was pretty similar. Everyone moves up into position. I think one or two pot shots were taken but no one really had any great shooting positions and so nothing went through.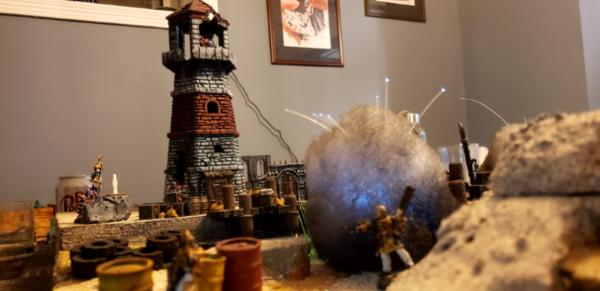 On turn two, things started getting tense. Aximillion had survived on his supply cache and I ran him back to my side of the board. While he valiantly retreated, Murad's team moved up to the docks, hoping to pressure some of the midfield objectives. On the left side of the board, the Sister Superior (or Cannoness I guess) and another sister moved up to a stack of tires and took a defensive position. A third sister climbed to the top of the lighthouse and started plinking away at my advancing troops. One of my voidsmen takes a regular damage and a critical hit while attempting to capture a supply cache on the docks. We rolled for the critical hit and it was determined that she was now bleeding out! Without medical attention she would die from blood loss next turn. In response, Nitsch and his machine gunner companion lay down covering fire, pinning the Sister Superior. Nitsch's shotgun goes through the sister superior's armor dealing three damage - one of which is blocked by her armor. Neyam Shai Murad and her troopers suppress another sister of battle on their side of the docks. We both grab whatever objectives we can as things quickly devolve into a frantic bit of moving and shooting.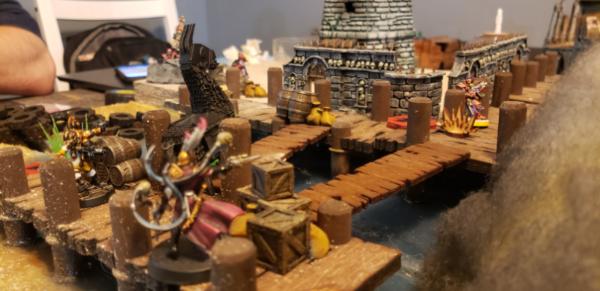 Turn three. Any units that are holding objectives now start to fall back a bit. Neither of us want to lose the units holding anything worth any points. The exact opposite happens with units who aren't holding objectives - they push forward, looking to assassinate enemy objective holders. I move my leader forward to get a short range bonus on her two pistols against the Sister of Battle holding the supply cache on the dock. Unfortunately, I fluff the rolls and the sister survives! I think she may have taken one damage, if any. My opponent's drop troop model (a sister of battle with a flamethrower) comes in. She drops down behind my machine gunner and lets loose with height advantage. By some stroke of luck, my machine gunner survives with one wound remaining! Because he is now suppressed, he doesn't have the actions to turn and shoot. Instead, he runs to cover, likely contemplating the fragility of life. With my machine gun silenced for the rest of the round, I'm unable to deal out as much suppression this turn. I focus on the sister of battle holding an objective near my leader. I don't want her to be able to take two actions this turn. She will now have to decide between running for cover and taking a close range shot at my leader. The sister in the lighthouse continues to rain death on my voidsmen and she nails one of Nitsch's guys for three damage and an instant death. He never had a chance. My injured voidsman tends to her wounds and is able to stop the bleeding. Her turn is ended by this action but at least she doesn't die. I can see how bringing a medic might be helpful in future games. Finally, Nitsch abandons the left side of the map and moves up to the injured voidsman to provide some cover. He manages to take out one of the sisters defending the left side dock with his shotgun. Aximillion manages to run off the edge of the board, scoring one victory point.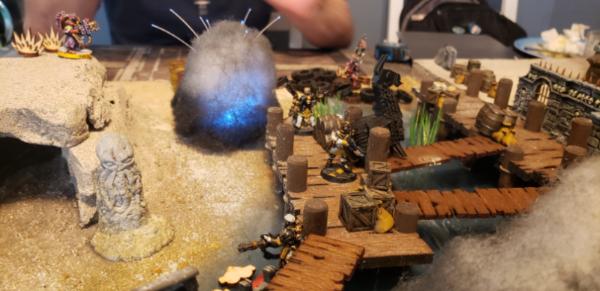 Turn 4. Murad moves up to the bow of the shipwreck and grabs the supply cache hidden inside. She is able to keep the nearby sister of battle in her firing arc and grab some cover at the same time. She doesn't have enough actions to do anything else. Nitsch shoots at the Sister Superior and manages another wound. Her return fire is less effective. The machine gunner comes out of hiding and plinks away at the sisters' flamethrower, suppressing her enough to keep her from barbecuing anyone else. We are trading wounds back and forth at this point but most of our models hang on, beaten and bloody. I find myself shooting to suppress models more than to kill them at this point. Keeping them from repositioning and shooting in the same turn is absolutely critical to get my dudes to safety.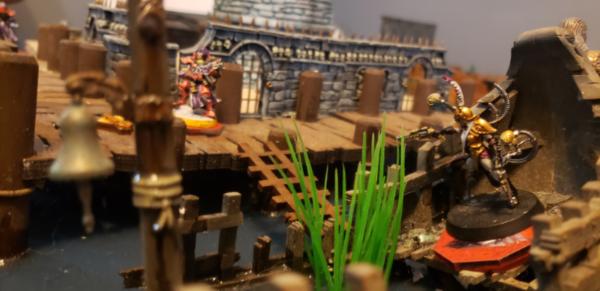 Turn 5. I manage to move my objective holders to the backfield and they all find decent cover. Murad hides behind a wall but is still shot at by the sister of battle in the lighthouse. Hiding in cover was helpful, however, and she hangs on. The sisters of battle flamethrower lightly toasts Nitsch but he survives and moves to take an advantageous position. At this point the game is over and we tally up our supply cache totals.
Neyam Shai Murad's Crew: 4
Sisters of Battle: 2
Overall Thoughts:
I really enjoyed this game! I was skeptical at first that I would really be able to represent the factions that I wanted to faithfully. That said, my rogue trader crew felt like a rogue trader crew. They could hold their own if positioned correctly but were relatively expendable. I enjoyed having a command structure with a second in command as well. I also felt like I was fighting sisters of battle. It will obviously take a few more games with some more varied factions to tell but I'm fairly optimistic that you will be able to "import" factions from other games pretty successfully. I might try to run a zombie horde next time. Or some space halflings!
I enjoyed not pre-measuring. My opponent and I were pretty lenient on the whole thing but if I caught myself pre-measuring something I would stop and say "I measured it so now I have to go through with it either way!" I think this makes the game a lot more fun. You can't know exactly how close you need to be to get that point blank short range bonus so you'd better just get as close as you can! It also adds another element of strategy. You can basically have cheap spotters for your big guns shoot first. Say they see an enemy unit far away. You can declare the shot and then measure. Now you know the distance between two points and can estimate better for your next shooter. Honestly, I didn't do a lot of that but it was something we talked about post game.
Initiative was swingy but I ended up liking it. It keeps you on your toes.
I think the biggest thing about this game is that it felt like movement actually mattered. In kill team and
40k
sometimes I feel like once you've moved into shooting range you just sit there and plink away. There are sometimes no reasons to ever move. In this game you can be flanked, you can gain height advantage, there are different bonuses for short and long ranges... And it is really difficult to take an enemy combatant out of action if you aren't stacking these bonuses in your favor. The game seemed less deadly at first but once you start lining up good shots, models start dropping. I really liked this.
I would definitely recommend picking this up and giving it a shot. We will be playing again for sure.